15 Actresses Who Were Secretly Pregnant While Filming Their Famous Movies
If your favorite female actress has started wearing baggy clothing or making a point of carrying groceries in front of her stomach, it can make you wonder. Hollywood stars may have been put on this earth to serve up epic stunts and fight alien invasions, but there's one thing they're not immune from – being human. Of course, being incredibly attractive (and rich) and living in a zip code crawling with people just like you is going to lead to something: the most beautiful babies on the planet. Angelina Jolie and Brad Pitt basically delivered us mini supermodels. Gisele Bundchen and Tom Brady did the same. While baby bumps are something to be proud of– not to mention being a giant money maker – not all pregnancies are ready to be announced.
Announcing you're pregnant in celeb land is risky. If you're a Kardashian, you're safe (unless you're Khloe). If you're an actress, though, telling the world you're eating for two isn't necessarily going to go down too well. Amazingly, some of the toughest movie roles in history were filmed by secretly pregnant actresses, and you'd be surprised to hear who. From writing pregnancies into storylines to flat-out pretending they don't exist, every director from Wonder Woman to Grey's Anatomy has had to deal with the biggest obstacle there is: a pregnant leading lady. The MCU? No different. These 15 actresses were all rocking a secret bump while filming. The world didn't know until now.
15

SCARLETT JOHANSSON: AN AVENGER (PLUS ONE)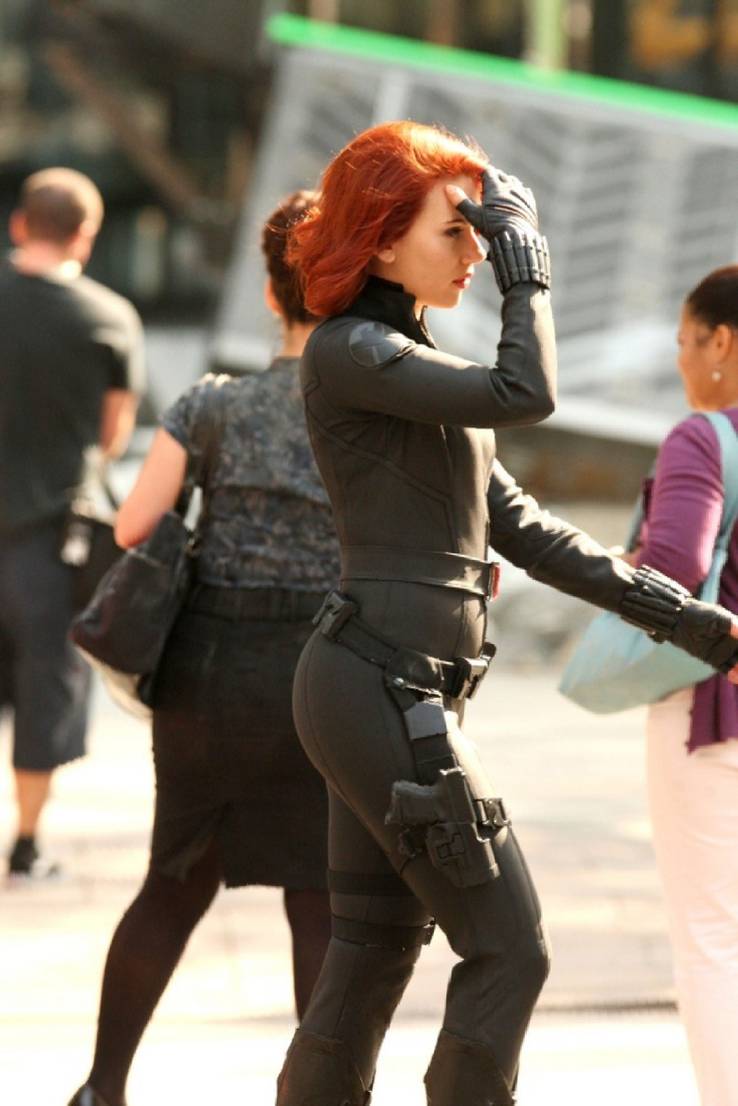 Most action actresses find themselves recast if they're pregnant. Everyone from Catwoman to Nicole Kidman has found themselves pushed aside in favor of "an actress who isn't pregnant, please." Rocking up to the set of the MCU with a boss attitude (and a bun in the oven), though? That takes a whole new level of brave. Scarlett Johansson is pretty much the biggest superhero face we've ever seen. The Avengers star has proven that there is no other Black Widow, and being pregnant wasn't going to get in her way. Form-fitting rubber and pregnancy don't mix, though.
Since ScarJo had appeared as the former S.H.I.E.L.D. agent in three previous MCU films, the producers had no choice but to work around her pregnancy for Avengers: Age Of Ultron. "I've never met a woman more 'happy pregnant' than Scarlett," Captain America actor, Chris Evans told ABC.
The actual logistics of ScarJo's pregnancy required a lot of planning. Filming scenes in pre-production stages to fight the baby bump clock pushed Scarlett to her limits, especially when you consider that the early months of pregnancy are delicate. Once Scarlett's bump was really showing. though. It was in with the stunt doubles and stand-ins. CGI versions of Natasha Romanoff even had to be created last-minute to smooth the editing over. Talk about a challenge.
14

GAL GADOT: WONDER MOM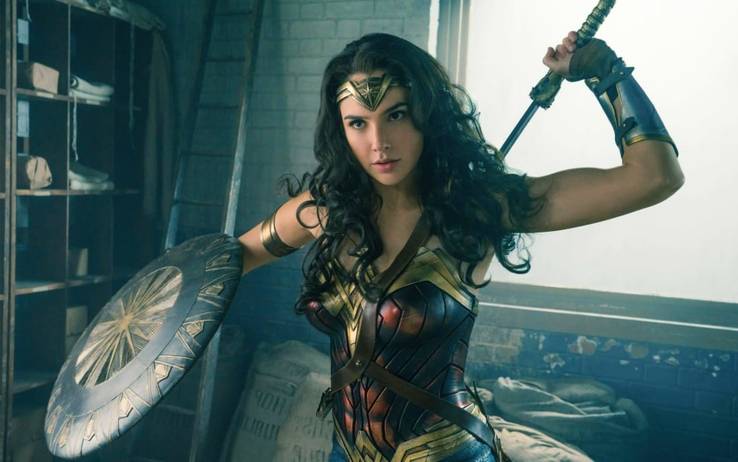 Playing a superhero is a challenge in itself. Prolonged action scenes don't film themselves, and Gal Gadot already stands at a firm "no" when it comes to body doubles. Having proven her stunt abilities in the Fast & Furious franchise, Gal wasn't going to do things any differently when it came to Wonder Woman. Here's the problem, though. Gal was pregnant! What's not really known (unless you've been pregnant yourself), is that the first few months are actually the toughest. Morning sickness, migraines, and backache are all common symptoms of the first trimester – not something you need while trying to be Diana Prince.
Gal Gadot was five months pregnant with her daughter during the reshoots of Wonder Woman, but she hid it using a green screen. "On wide shots I looked very funny, like Wonder Woman pregnant with Kermit the Frog," Gal said.
EW interviewed Gal about the ordeal, as 2016 reshoots had to work around an increasingly expectant Gal. "There are so many things we asked her to do," the director, Patty Jenkins said. "Now do it on one foot. Now shout while you're doing it. Now it's raining in the freezing cold and you've lost your voice." Gal hid her pregnancy from the crew out of fear, although she did eventually wear a green cloth over her bump that would be removed during final editing.
13

LISA KUDROW: WRITTEN INTO THE SCRIPT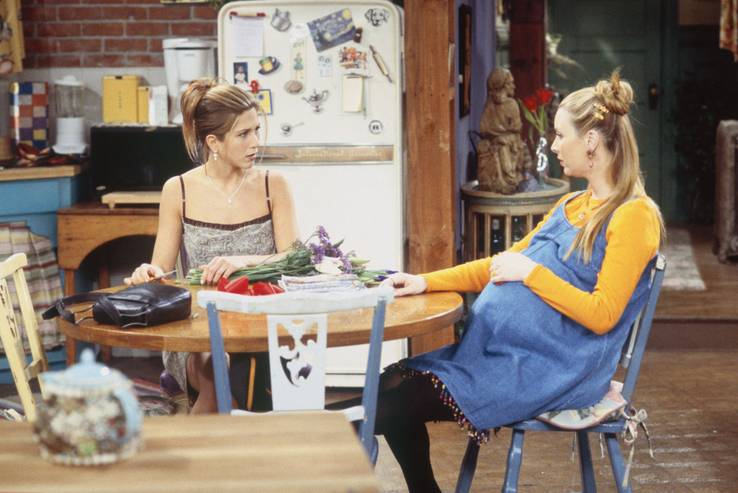 Friends fans will know that Phoebe Buffay's pregnancy was no regular deal. The quirky vegetarian didn't just offer to be a surrogate for her brother, Frank and his wife, Alice's baby. She did it for all three triplets. Lisa Kudrow was pregnant in season four of Friends, giving the writers no choice but to fiddle the script accordingly. Instead of awkward "above the neck" shots, the producers thought outside the box. They decided the best move would be to make Phoebe pregnant. Of course, when your character is carrying triplets, there's no limit on how big the bump can be.
Lisa Kudrow was pregnant during season four of Friends, leaving the writers no choice but to write a pregnancy into the script. A triplet-carrying Phoebe famously ate bowls of cereal off her giant bump.
Friends is enjoying a bit of a comeback, thanks to Netflix. The big six are now more famous than ever, and that includes Lisa. "People still do call me Phoebe and want to talk to me in the street," Lisa told The Telegraph. Lisa admitted that she's "not good with people," though. That said, with every Hollywood star out there signing divorce papers, Lisa does seem to be good at marriage. She's been with her husband since 1995.
12

BLAKE LIVELY: STUNT WORK WITH A BABY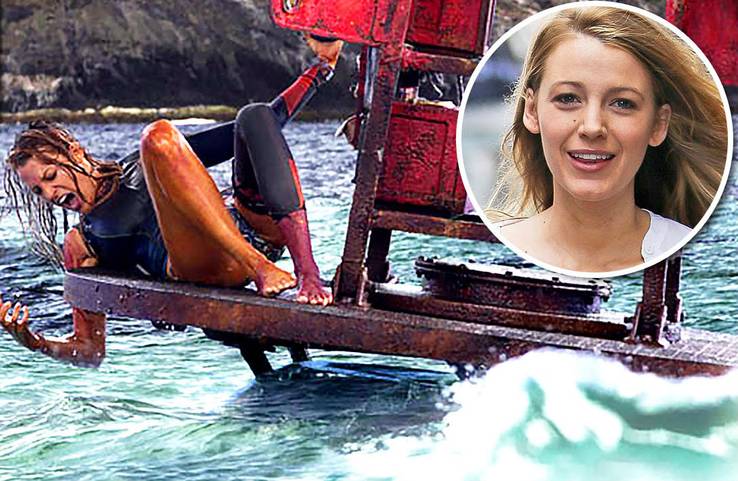 Blake Lively usually finds her way onto lists for being a style queen and marrying guys called Ryan. The Gossip Girl actress might have leaked a thousand pregnancy rumors on the TV show, but when it came to filming The Shallows, Blake was the pregnant one. Her iconic surfer girl image has gone down in history as one of the most #bodyinspiration moments, and we haven't forgotten that yellow swimsuit. While Blake was showered with praise over how amazing she looked while filming, no one knew she was actually pregnant. Blake Lively fell pregnant during filming of The Shallows in 2016. She briefly relied on a stunt double, but pulled most of them off herself. "The bloody nose was real," Blake said.
The Shallows is basically a one-woman show. Battling a great white shark while injured and straddled on dizzyingly high rocks required a full-on athlete, and Blake delivered. Pregnancy wasn't going to tie her down, and nor was her fear of sharks. "I used to be afraid of sharks, " Blake told News Australia. "The way to conquer your fears is to face them. So I went diving with some great white sharks. I was held under water while I was kicking and screaming to imitate what a shark's weight would be like." Marrying a Marvel icon? Totally fitting.
11

ANGELINA JOLIE: "FILMING GOT ME PREGNANT"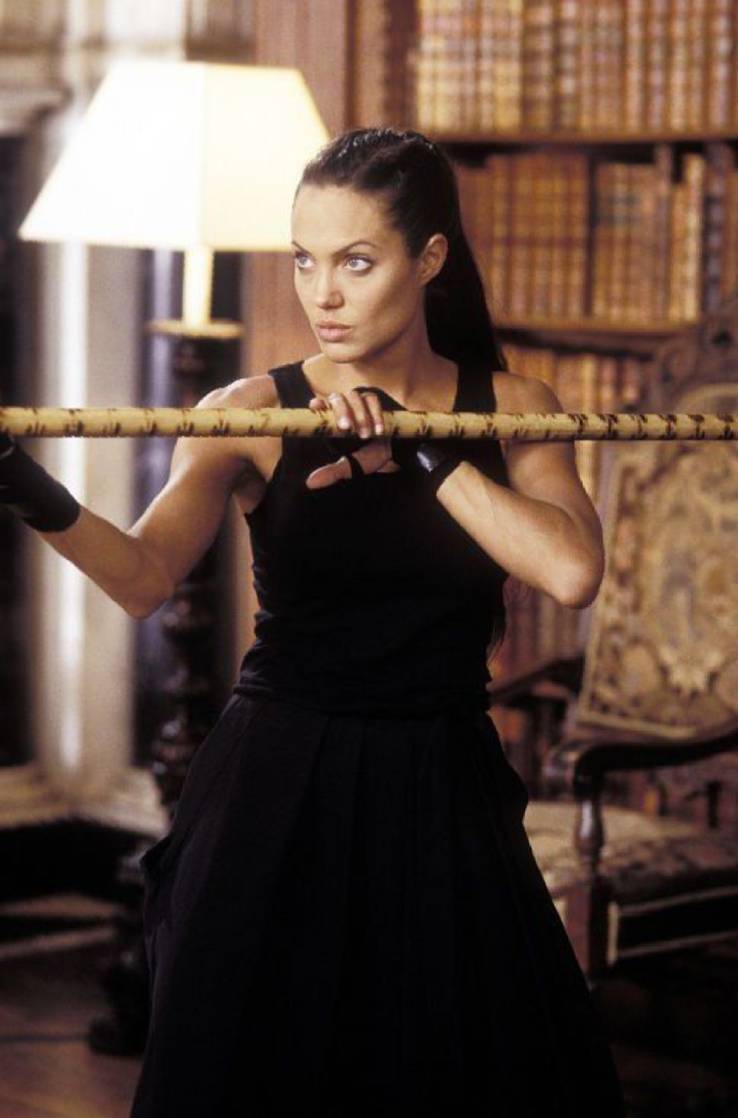 There's something you don't hear every day. Angelina Jolie has a pretty solid baby portfolio – six kids in total include her three biological children with Brad Pitt, plus three that she adopted. While most actresses painfully avoid getting pregnant on-set, Angelina actually said that filming the movie, Changeling "helped her get pregnant." The 2008 movie saw Angie take a step back from action roles like Lara Croft: Tomb Raider and Wanted for a more emotionally challenging role. Angie plays the mother of a kidnapped child in a world full of corruption, lies, and manipulation.
"I got pregnant right in the middle of it and I think partially because of it," Angelina told the Los Angeles Times. "I was so emotional about children, that something in me kicked into gear."
Angelina had no idea what she was getting herself into, though. Most pregnancy discoveries are pretty much: "Hey! Looks like I'm gonna have a baby!" Angie was pregnant with TWINS. She chose not to reveal anything to the public until the premiere, where a very pregnant Angelina wore emerald green. Of course, not revealing stuff is kind of how Angie swings. Aside from those hotel balcony arguments with Brad Pitt that were photographed in Australia, no one had a clue these two were on the rocks.
10

ELLEN POMPEO: CLEVER PLOTLINE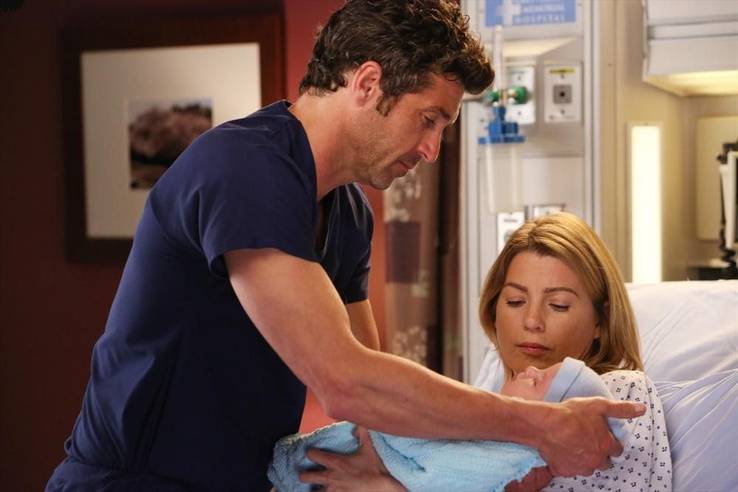 TV doctors often spend their time helping other people deliver babies. While we know Grey's Anatomy character Meredith Grey and her husband Derek Shepherd end up having three children, the real-life timing wasn't smooth sailing. Ellen Pompeo has become a household name thanks to the show, but just like any actress, Meredith has her own household. In 2009, Ellen's household chores took on a more "go-getter" take, as the actress found out she was pregnant.
Ellen Pompeo's Grey's Anatomy pregnancy was smartly worked around. Her character was set to give away part of her liver in surgery. Why that storyline? Maternity time off! "I gained 26 lb," Meredith said.
Meredith being pregnant at that stage of the show would have made zero sense. Once you're a bonafide TV superstar though, getting a body double isn't an option. Loose scrubs do however come in handy for covering up growing baby bumps. As that bump got bigger though, Ellen started to be filmed from the waist up. Ellen told The Huffington Post that she gained 26lb while pregnant. "I went up a pant size during pregnancy," she said. "I weigh 10lb more than I ever have. I love it." Ellen took just four weeks' maternity leave before returning to the set. "I felt I needed to work while I had the opportunity."
9

HALLE BERRY: BUSTING OUT OF THE SUIT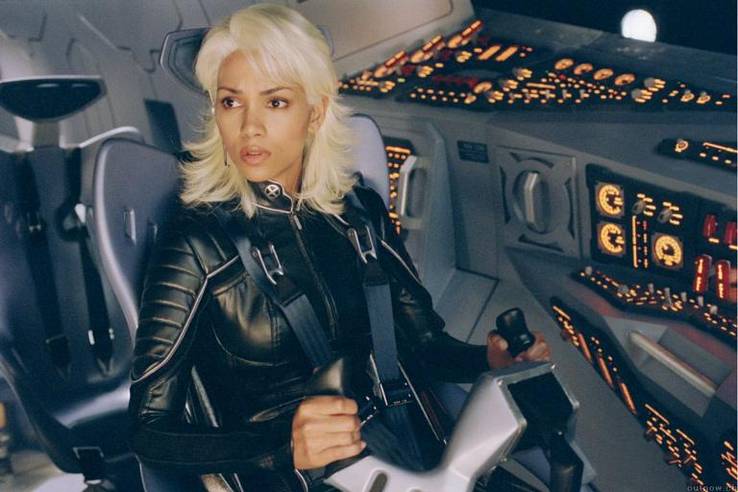 Much like Black Widow, there's a strict wardrobe of skin-tight leather for X-Men's character, Storm. That's all good and well when you're rocking that rigorously trained athlete body, but what about the baby bump? Most X-Men fans have no idea that Halle Berry was pregnant during the filming of X-Men: Days Of Future Past. Talk about a fitting title – well, the "future" bit, anyway. Storm's zip-tight costumes made it near-impossible to shoot large chunks of the movie, meaning that Halle's scenes had to be pushed to the beginning of production.
"I was busting out the suit!" Halle said. X-Men: Days Of Future Past was a nightmare to shoot with a pregnant Halle. "I had to shoot really fast."
The Oscar-winning actress appeared on The Queen Latifah Show in 2014, and in true Halle style, she'd already gotten right back into shape. Halle said that being three months pregnant was an absolute "battle against the clock." Two weeks was the longest Halle was able to last before bursting out of her tight bodysuit, although she managed to pull off a weather-creating mutant without a hitch. As to wearing that iconic white wig at home? "Well, my husband wishes I would," Halle joked. Fierce.
Featured Today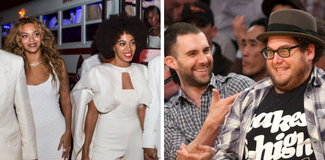 15 Celeb BFFs Who Are So Close, They Were In Each Others' Weddings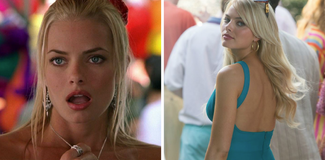 20 Female Celeb Lookalikes Who Made Us Look Twice

20 Surprising Pics Of A-List Celebs Using The Subway Like Normies

8

JULIA ROBERTS: PREGNANT PRANK WARS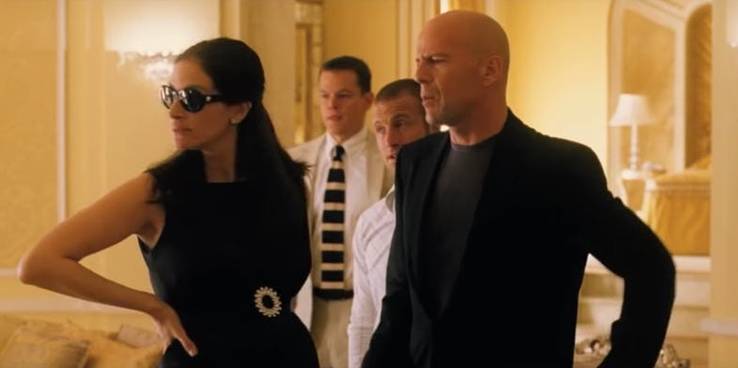 Well, if you're famous and pregnant, why not play someone who's famous and pregnant? Movie producers sure do pull out the weirdest stuff, and this one probably tops them all. Julia Roberts has been part of the Ocean's franchise for quite a while now, although Ocean's Twelve is the movie in question here. Julia's character, Tess is persuaded to pose as a pregnant Julia Roberts during her husband's latest heist. Fans found it "meh" overall.
Ocean's Twelve got around Julia Roberts' pregnancy by getting Julia to play herself, pregnant. "I got into prank wars with Brad Pitt and George Clooney," Julia said.
Julia spoke to W Magazine about being pregnant on-set, saying: "The cast treated me like I was made of porcelain." Still, this was a movie with Brad Pitt and George Clooney, and these two know how to pull a prank. Julia revealed that she landed in Rome for shooting, only to find a heavy bronze statue had been placed in her suitcase. "Because this was my gag, they put something very heavy in my suitcase. I was like, I'm pregnant! I'm fragile!" George quickly nabbed the statue out of her suitcase though, and it was Brad who found himself hauling bronze.
7

COURTENEY COX: KEPT THE WHOLE THING SECRET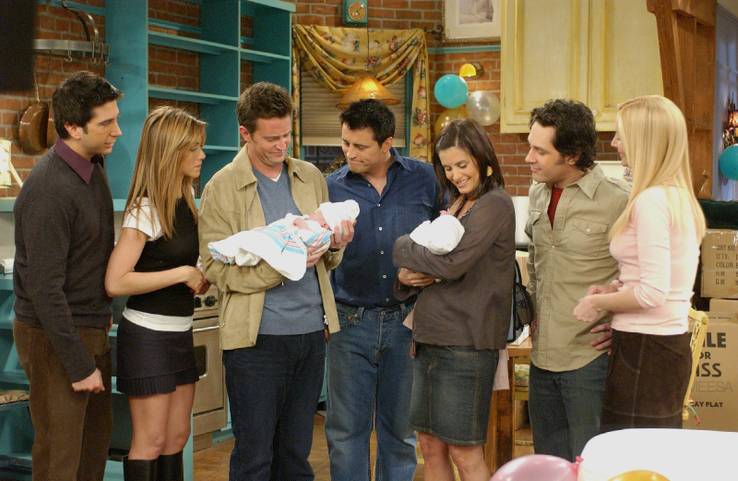 While Phoebe Buffay's bump served as a cereal bowl shelf on Friends, co-star Courteney Cox was less keen to have her pregnancy visible. This one kind of has a real-life twist. Friends fans will know that Monica and Chandler had to turn to adoption because they couldn't conceive naturally. For "baby obsessed" Monica, this was especially tough. Of course, Anna Faris stepped in to play their adoption mom, Erica. "Cute but dumb," as Phoebe would say, Erica wasn't the brightest crayon in the box. This made the "two heartbeats" surprise an awesome ending for Monica and Chandler, who became parents to twins. All along though, Courteney herself was pregnant.
Courteney Cox hid her pregnancy on Friends through an awkward series of baggy outfits and clever shooting. Courteney faced similar problems to the ones Monica faced, though. But the world never knew.
Courteney was pregnant in the final season of Friends. This was literally the season where Monica and Chandler's main storyline was about them not being able to get pregnant. Writing Court's pregnancy into the plot would have been impossible. Fans did notice that the super-slim Monica seemed a little "rounder" than usual, but with some clever wardrobe work (and standing behind doors), most of us were none the wiser.
6

JANUARY JONES: SEVEN HOURS OF PROSTHETICS
When it came to concealing pregnancies, Mad Men is a show that really went the extra mile. January Jones wass one of the longest-standing members of the TV series. Most fans agree that her character, Betty Draper literally couldn't be more "housewife." Between watching the kids and keeping an eye on that not-so-faithful husband of hers, Betty still took huge pride in her appearance. Her hair must be perfect. Her clothes must be pressed. Her mannerisms must be poised. Season five gave us an emotionally drained and comfort-eating Betty, who even seeks psychiatric help for her weight gain. The reason? January was pregnant.
January Jones felt it would have been "comical" to hide her Mad Men pregnancy bump. Weight gain was the solution, but most fans don't know that Betty Draper was pregnant under the "fat suit." A professional prosthetics team got to work to craft a "fat suit" for the rapidly expanding Betty Draper. Speaking to Collider, January opened up about just how much work was involved. "It was very difficult getting bigger and having to change the fat suit and the prosthetics. I had to arrive at work at 3 a.m. for six or seven hours of prosthetics." Betty Draper would call that "dedication," January.
5

ANNE HATHAWAY: PRODUCERS LOVED HER "BLOAT"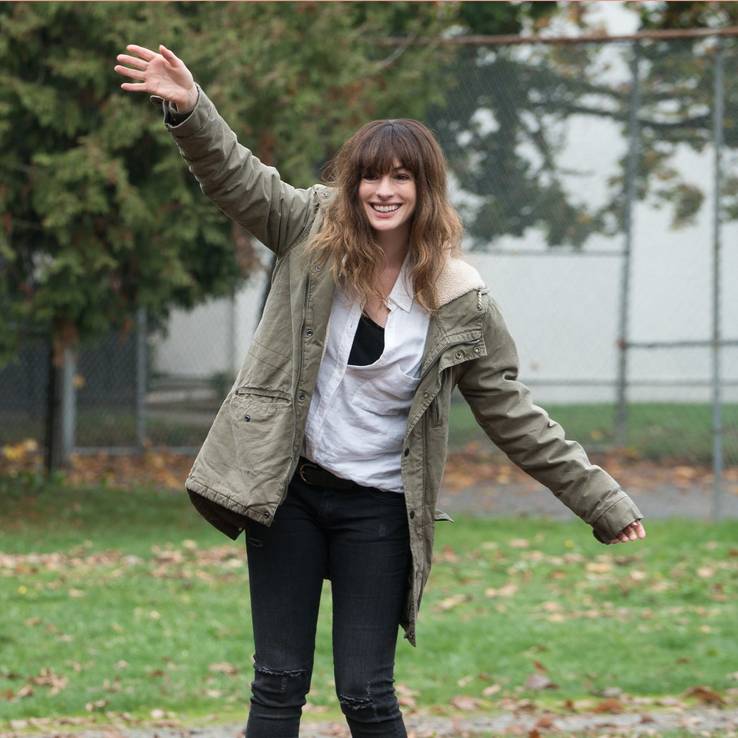 Not the first reaction you'd expect from a movie production team, but when it came to Anne Hathaway's secret pregnancy, the actress was in luck. Anne was cast in Colossal to play a struggling writer who spends most of her time in various states of intoxication. The Dark Knight Rises actress was well into her pregnancy in 2016 as shooting for Colossal was underway, but breaking the news to the movie's director was a hesitant moment for Anne. "Your character's [inebriated], you're bloated, it's perfect!" was the surprise reaction from Colossal director, when Anne Hathaway plucked up the courage to tell him she was pregnant.
If you watched this movie and found Anne's character a bit baggy-clothed, you have your answer. While Colossal isn't the first movie that comes to mind when thinking of Anne Hathaway, it was one of her most challenging. Speaking to The Daily Mail as a new mom in 2017, Anne said that becoming a mother made her "less tightly wound." The Les Miserables star said that filming Colossal while pregnant added a layer to her performance. "My character wasn't depressed. She was actually a party girl and she always brought the fun. I think my baby did that too."
4

LEAH REMINI: "I GAINED 80 POUNDS"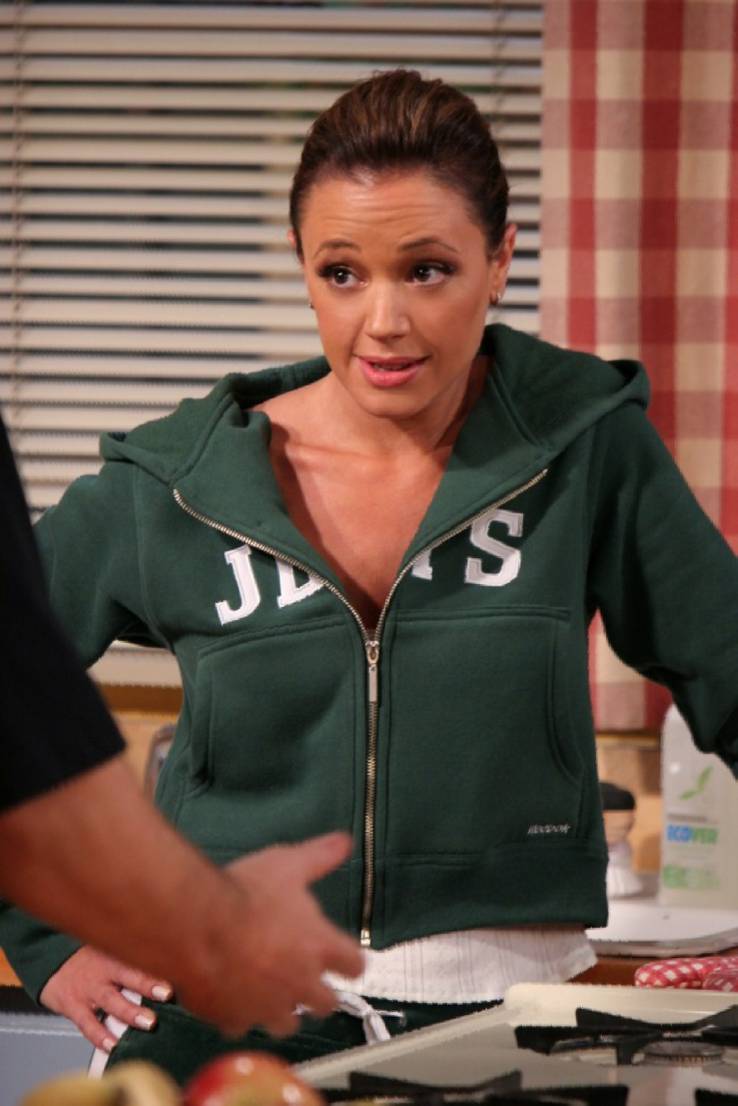 No one ever thought The King Of Queens star Leah Remini would make huge headlines so many years after the show ended. Of course, as Tom Cruise has shown us, being associated with the Church of Scientology is a pretty good way to get noticed. Long before Leah was making documentaries that made us all shocked, she was playing the hilarious housewife alongside her on-set husband, Kevin James. Of course, when you're on a show that airs for around a decade, it's very possible you'll find yourself pregnant at some point. "I was getting big as a house, and nobody cared. I gained 80lb," Leah said. "It was my time to have three boxes of mac and cheese, french fries, and hamburgers." Leah Remini hid her pregnancy on The King Of Queens, though.
Speaking to Working Mother, Leah said that the producers were surprisingly laid-back. "No one cared," she said. She even remembers asking co-star, Kevin James what he thought. "You look good," was his reply. Leah was lucky to have a casual wardrobe of sweats and baggy sweaters though, which came in handy since she wasn't ready to announce her pregnancy. The magazine went onto interview Leah for a zillion pages on how she lost the baby weight, but let's face it; no one cares. The word "Scientology" sticks like glue, and the Leah Remini: Scientology and the Aftermath star has found she has a lot to answer to.
3

REESE WITHERSPOON: LEGALLY PREGNANT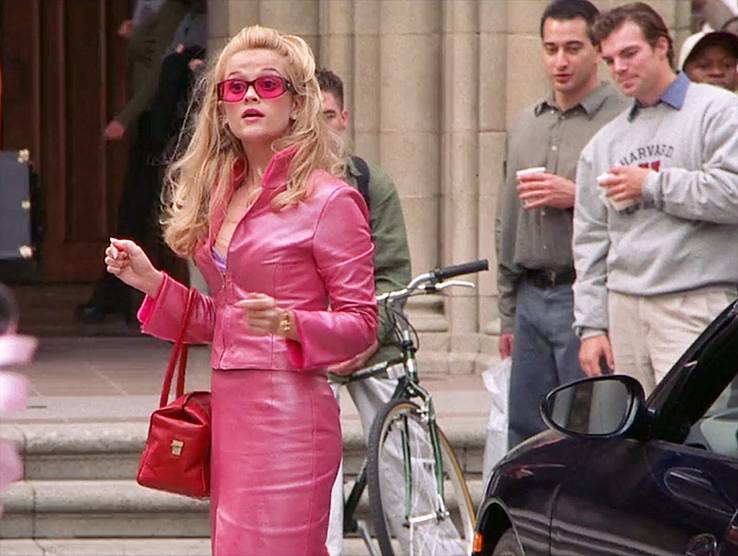 As her daughter Ava Philippe becomes a rising star, it's hard to think back to when Reese Witherspoon herself was pregnant. It's even harder, considering she managed to shoot multiple movies while hiding her pregnancy. If you thought the sweet and innocent Annette in Cruel Intentions was as young and free as her character suggested, think again. Reese was pregnant with co-star and then-husband, Ryan Philippe's baby. An unborn Ava was just as much part of the cast as her mom. To top it off, Reese also filmed Legally Blonde 2 while pregnant. Wait, there was also 19th-century drama, Vanity Fair. Does this woman ever film while not pregnant?
"I just wish I'd let myself be pregnant" Reese has said. This actress tops our list for the most movies shot whilst pregnant. Cruel Intentions, Legally Blonde 2, Vanity Fair, Devil's Knot, and Mud were all shot while Reese was pregnant.
Reese opened up to Closer, saying she actually regretted filming during pregnancy. "I did a movie every time I was pregnant, and I wish that I hadn't. I was losing my mind." The producers handled Reese's multiple pregnancies through a series of body doubles and a lot of from-the-waist-up shooting. "Actors aren't machines," Reese has said. Yes, but they do earn up to $25 million per movie. Bitter, much?
2

MELISSA RAUCH: THE BIG BABY THEORY?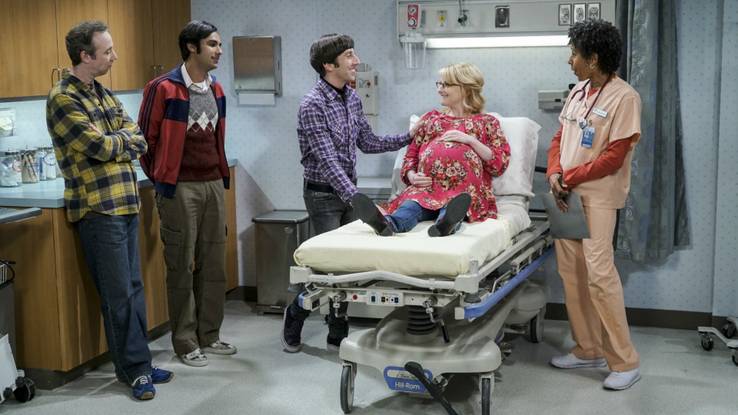 No one ever predicted that The Big Bang Theory would become this huge. A show about four impossibly brainy nerds and the street-smart, girl-next-door blonde exploded onto our screens in 2007, and the rest is history. While Kaley Cuoco's Penny character was the only main female at first, it wasn't long before Amy Farrah Fowler (played by Mayim Bialik) and squeaky-voiced Bernadette Rostenkowski (played by Melissa Rauch) were regulars. While Bernadette and her unusual pick of a husband, Howard Wolowitz become parents, not many fans know that Melissa herself was hiding a pregnancy. Melissa suffered a miscarriage before becoming pregnant in the middle of BBT filming. Her pregnancy was written into the script, but not many fans know that she was actually pregnant.
As a guest columnist for Glamour, Melissa wrote about her feeling of loss and sharing the news of expecting again. She wrote, "All I could think about was another woman mourning over her loss as I did, worried she would never get pregnant again, and reading about my bundle on the way." When Melissa found herself pregnant in real life, her character became pregnant again. Bed rest was for real this time. Presumably, Sheldon would have an argument against it…
1

ALYSSON HANNIGAN: LITERALLY "HOW I MET YOUR MOTHER"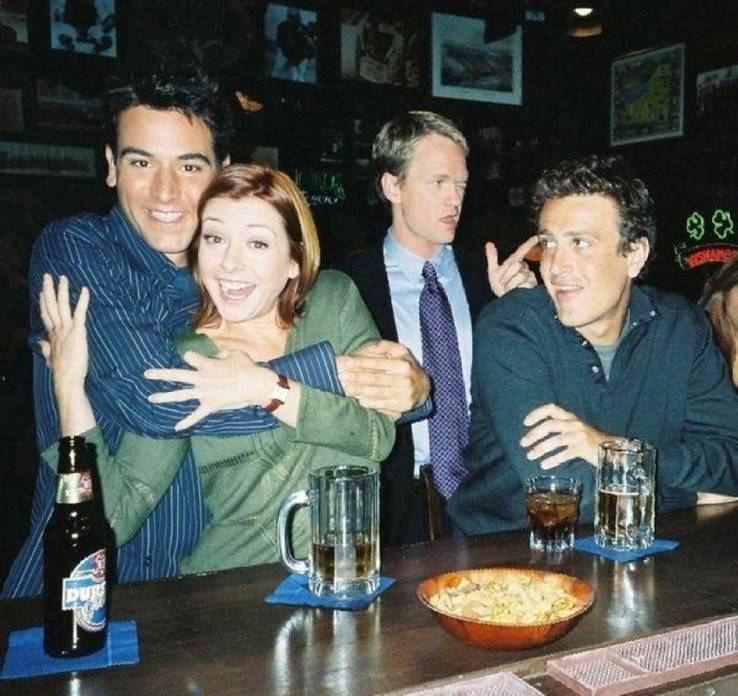 You'd think a TV show like How I Met Your Mother would manage to schedule the scripts in with an actress' pregnancy. Think again. Alysson Hannigan was pregnant on-set, but her character wasn't. In fact, Alysson was pregnant twice during her HIMYM career. The first round was kept well under wraps, although the writers finally pulled their heads out the sand for her second pregnancy. They allowed the character, Lily and Alysson to be twin "moms-to-be."
Alysson Hannigan's first pregnancy on How I Met Your Mother was hidden with basketballs, guitars, purses, and globes. That giant belly Lily had after a hot dog-eating competition? The "full belly" was really a very pregnant belly.
Alysson wasn't the only cast member who was pregnant while filming. Cobie Smulders (who plays Robin) was also expecting on-set. The show's producers spoke to The Chicago Tribune about dealing with two pregnant actresses at once. "We were expecting it with Alysson at some point," executive producer, Craig Thomas said. "With Cobie, it was much more unexpected. After the shock wore off, we found a way to write around it or have fun with it." Some of Lily's stories were "put on the back-burner," Craig added. No word on how the show handled the hormones, though…
It's unlikely you're a major nerd for every single movie or show covered here. But we know that put together, your friends are. They'll definitely need to know about their secretive superheroes, and if they're TV fans, you can serve it up to them on a plate. Hit share so they can see these secret on-set pregnancies. Leave us a comment on who you suspected all along (if you did).
Source: Read Full Article