5 things to know about Bravo's new crime series 'Dirty John'
Bravo's "Dirty John" premiered on Sunday night to great expectations.
The true crime series, based on the 2017 hit Los Angeles Times podcast, tells the story of a con man who finagles his way into the life of a mother of two — creating a destructive divide between her and her family that eventually spirals out of control.
With more than 30 million downloads, the 2017 podcast captivated audiences around the world, so the eight-episode series has a lot to live up to.
Check out 5 things you should know before tuning in this season:
The series features a star-studded cast
Australian actor Eric Bana stars as "Dirty" John Meehan himself, the now-deceased con man at the center of the plot, alongside Connie Britton as Debra Newell, the woman who was duped by Meehan.
A master manipulator who charms his way to total control. Eric Bana is #DirtyJohn, premiering this Sunday at 10/9c on @Bravotv.
A post shared by @ dirtyjohnbravo on Nov 23, 2018 at 12:06pm PST
On getting to know his character, Bana told Collider, "We came to a place, early on, where we realized that it was a bit of a waste of time to try to come up with answers and motivations."
"I came to the conclusion that a large part of it was just to do with always having a plate spinning, and always having the need to wreak havoc and lie, and the need to keep shifting and pivoting. That was his basic make-up. The reasons for that are way too complicated for even a therapist to unpack," he added.
Instead he focused on, "getting people to feel like I'm believable as that kind of person," he told Collider. "That was my job, rather than trying to diagnose his condition."
A post shared by Julia Garner ?? (@juliagarner94) on Nov 25, 2018 at 9:38pm PST
"Ozark" and "Maniac" actor Julia Garner stars as Newell's daughter, Terra, while Juno Temple plays her other daughter, Veronica, whose name was changed from Jacquelyn for the Bravo series.
Meet Veronica. Watch @dirtyjohnbravo at 10pm tonight.
A post shared by Juno Temple (@junotemple) on Nov 25, 2018 at 3:00pm PST
"Dirty John" showrunner Alexandra Cunningham didn't speak to Debra Newell before the show's premiere
Although the Newell family was involved in some aspects of the show's production, Cunningham told The Hollywood Reporter that she chose not to speak to Newell before the premiere because she needed to keep her distance for the sake of the story.
"I never would have agreed to do this show if I didn't already know that I was going to be as respectful as it was possible to be of their journey and what they've been through and their trauma," said Newell.
"But I also felt like — just purely from a person who has to run a writers' room and has to make decisions sometimes about when a story is working and when it has forward momentum, and when it's bogging down and it's too detailed or it's not detailed enough — that I was going to need to maintain a certain distance to keep that freedom that I might need to make choices that would deviate from what really happened."
Totally unbelievable. Frighteningly true. Based on the @LATimes critically acclaimed podcast, #DirtyJohn premieres November 25 on @BravoTV.
A post shared by @ dirtyjohnbravo on Oct 15, 2018 at 2:04pm PDT
The family was given a say in the show, though.
"At every step of the way, they could call and say, "Are you talking about this? We don't want you to. Are you using the name of this? Can you change it?"" she told the Hollywood Reporter.
Cunningham said Britton spent a lot of time speaking with Newell while developing her character.
Debra Newell faced negative consequences after the podcast
Newell was able to get her story out to the public with the podcast, but not all feedback was positive.
She told The Los Angeles Times that her company, Ambrosia Interior Design, was "somewhat hurt" from the coverage, and it eventually closed.
"It created problems here because I had such a squeaky clean reputation," Newell told the publication. "Some of them didn't want to be associated with murder."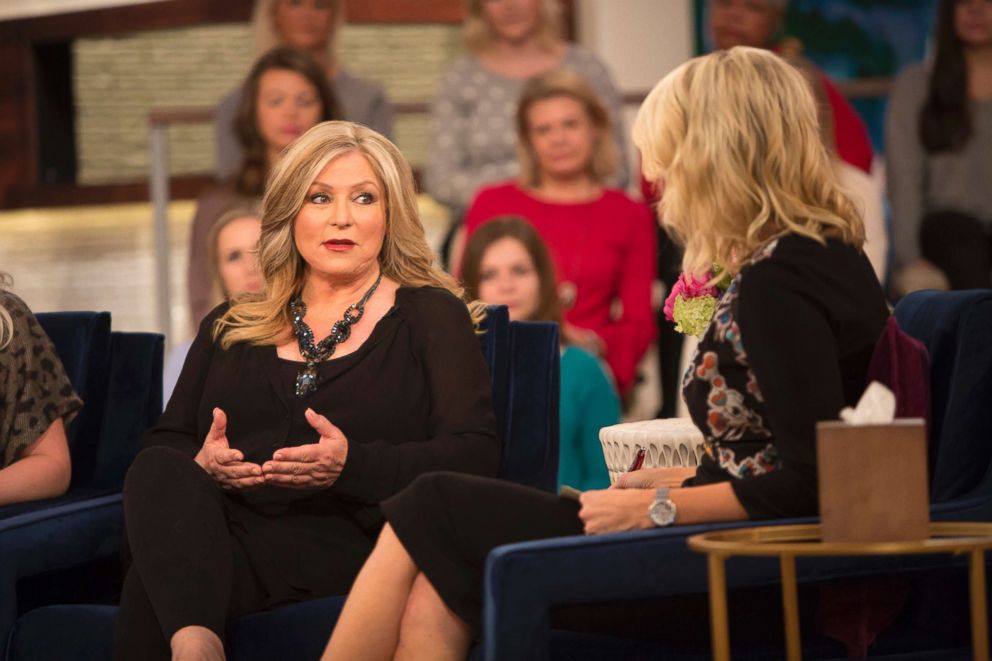 She also told Variety that she wasn't entirely pleased with the way she looked in the podcast.
"It wasn't really talking enough about what a bad guy John was or what he did," she told Variety. "And I'd never seen myself as desperate or insecure. I saw myself as an accomplished woman who really had it all except love."
The cast of the Bravo series was equally obsessed with the podcast
Before reading the script and signing onto the project, the cast checked out the podcast and many were immediately drawn to the story.
Britton told The Wrap that she'd heard about it from some friends but hadn't tuned in.
"They were actually sort of teasing me cause they were like, 'Oh, we know you are never going to listen to this.' Because I don't listen to anything because I'm a Luddite."
"Then, like, two days later my agent sends me an email. 'Have you heard of this podcast? They are thinking of turning it into a TV show.' And I was -— it was one of those things where I sort of had shivers go down my spine. I was very excited," she added.
Don't believe every selfie you see. #DirtyJohn
A post shared by @ dirtyjohnbravo on Nov 22, 2018 at 11:29am PST
She said she read the article and podcast that night and immediately signed on. Juno Teller was also quickly drawn to the story.
"It was a Friday afternoon, I put on the podcast and I literally didn't move until I finished it," she told Cosmopolitan.com. "I was completely immobilized."
Connie Britton believes this could happen to anyone
The actor wants viewers to consider how this situation is more relatable than one might think.
A post shared by connie britton (@conniebritton) on Nov 15, 2018 at 2:47pm PST
"One of the most important aspects of the story is that this could happen to anyone," she told The Wrap. "So it's really, really easy to let this happen, and hindsight is always 20/20."
She said one of the biggest elements of the show was portraying that relatability of the destructive situation on screen.
"So the challenge is to find the way to tell the story where you're not already immediately saying, 'What is she doing? Why doesn't she walk away from this guy?' And were we successful at doing that? Maybe sometimes yes, but maybe sometimes no. I think that was the challenge of the storytelling."
Source: Read Full Article