'Animal Crossing: New Horizons': Why So Many Players Hate Bunny Day
April has arrived once again, which means Easter is just around the corner. And for many Animal Crossing: New Horizons players, that also means a nightmare is on its way — Bunny Day. This week-long Easter-themed event has become infamous in the Nintendo game. Some Animal Crossing: New Horizons fans have appreciated the festivities, but there's also quite a lot of hate for Bunny Day online. So, if you're new to the event this year, here's why Bunny Day has gotten such a bad rep.
The history of Bunny Day in 'Animal Crossing'
Nintendo first introduced Bunny Day in Animal Crossing: City Folk on the Wii. Every year, on the same day as Easter in April, a character in a bunny costume named Zipper T. Bunny would visit towns to host an egg hunt. It was never made clear who was actually behind the costume, but he would become agitated if players stood behind him and saw the zipper on his back.
According to the Animal Crossing Wiki, Zipper hid 30 eggs around town that contained either bunny foil or candy. Whenever players found a foil, they could make an exchange with Zipper for a piece of furniture from the Bunny Day series.
Bunny Day returned in Animal Crossing: New Leaf on Nintendo DS, but it evolved to a slightly different concept. This time, players spent the day hunting for six different eggs types that were located in rocks, present balloons, water, trees, and the ground. The eggs contained either candy, regular tickets for Egg furniture, or grand prize tickets for Zipper's photo. Players could also give Zipper all six egg types to receive the Egg Basket.
Finally, there's the latest and most hated iteration of Bunny Day in Animal Crossing: New Horizons. The current version sees players once again collecting six different egg types. However, the event now lasts one whole week instead of one day. Zipper visits islands on the Sunday before Easter to introduce the event, giving players the rest of the week to collect as many eggs as possible. Then, they can use the eggs in Egg-themed DIY recipes on Easter once Zipper returns.
Why many 'Animal Crossing: New Horizons' players hate Bunny Day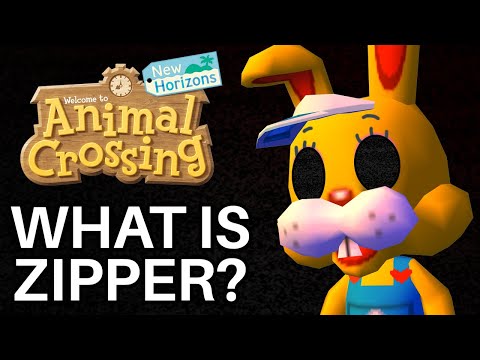 So, what's wrong with a good, old-fashioned egg hunt? For many New Horizons players, it's the fact that these eggs often replace in-game resources for the entire week. Trying to catch a fish? You get an egg. Want to collect clay and stones from rocks? Nope, eggs. Shooting down balloons in the hopes of catching a prize? Your prize is an egg. Zipper has even somehow replaced the wood on tree trunks with eggs.
For people who are just starting out in New Horizons, this is a big problem. Those materials like wood, clay, iron, etc. are all necessary for dozens of DIY projects. When they're mostly replaced with eggs for a week, that means players can't progress as much as they'd like.
Bunny Day was especially problematic when New Horizons first came out in March 2020. The event was only a few weeks after release, so everyone was new to the game. People were spending hours in COVID-19 lockdowns trying to build their perfect island paradises — they didn't want to collect eggs. Nintendo actually responded to the criticism by dialing back the egg spawn rate, but it still wasn't enough.
Animal Crossing: New Horizons fans on Reddit have also shared a few other reasons why they hate Bunny Day. For some, it's that Zipper is kind of terrifying with his wide eyes and crazed expression. Others don't like that it often overlaps with cherry blossom season, a 10-day window where cherry blossom DIYs hide in balloons.
"It was very annoying to have the cherry blossom trees, the fishing tourney, and Bunny Day all around the same time frame. I had a lot of fun with Bunny Day, but it was annoying because of all the other events," one Reddit user wrote.
The Bunny Day 2022 event is about to begin — here's how to ease the egg pain
Easter falls on April 17 this year, which means Bunny Day in New Horizons kicks off on April 10. If this is your first time experiencing this event, you should definitely give it a try for a day or two. Many fans actually enjoy Bunny Day because it's a chance to check off some DIY items and receive cool furniture items and clothes.
Just in case you end up not being a fan of Bunny Day, you might want to double up on resources in the days before April 10. That way, you can make up for some of the materials overshadowed by eggs. And if you do want to go fishing or slingshotting or diving, just keep trying. You shouldn't get an egg every time.
Animal Crossing: New Horizons is available now on Nintendo Switch, as well as the Happy Home Paradise DLC.
Source: Read Full Article