Ariana Grande Just Made A Surprise Coachella Appearance & The Photos Will Make You Cheer
If you're still recovering from Beyoncé's other-worldly performance at Coachella on April 13, weekend two's scream-inducing unannounced set definitely won't disappoint. On late on Friday, April 20, Ariana Grande shocked fans across the globe by joining Norwegian electronic DJ Kygo on-stage to debut her latest single, "No Tears Left To Cry," which had dropped earlier that day. Photos of Ariana Grande's Coachella 2018 surprise performance will make you feel like you were there, even though only the truly blessed witnessed the 24-year-old "Be Alright" singer's inspired show in real-time.
It all began when Grande's manager, Scooter Braun, started Tweeting about what Grande was up to that evening, studding his tantalizing post with that telltale cactus emoji.
Grande brought fans' speculative fever to a spike by sharing Instagram stories of herself and boyfriend Mac Miller aboard a helicopter while en-route towards the festival's Indio, CA fairgrounds. Of course, some eager followers had already figured out who weekend two's biggest surprise star would be, quickly gifting the universe with the deliciously timely hastag #Arichella. As if anyone needed more proof that 2018 was always destined to be the year of Grande.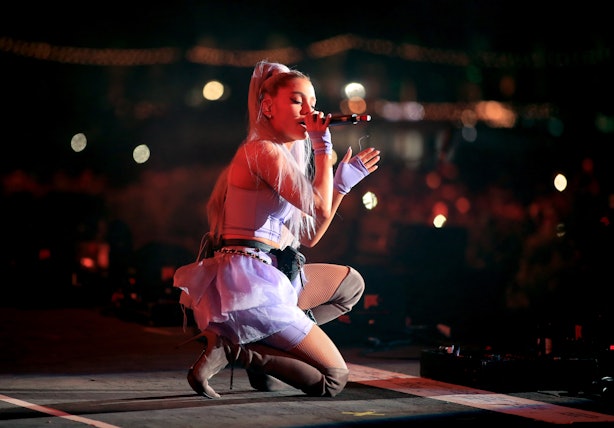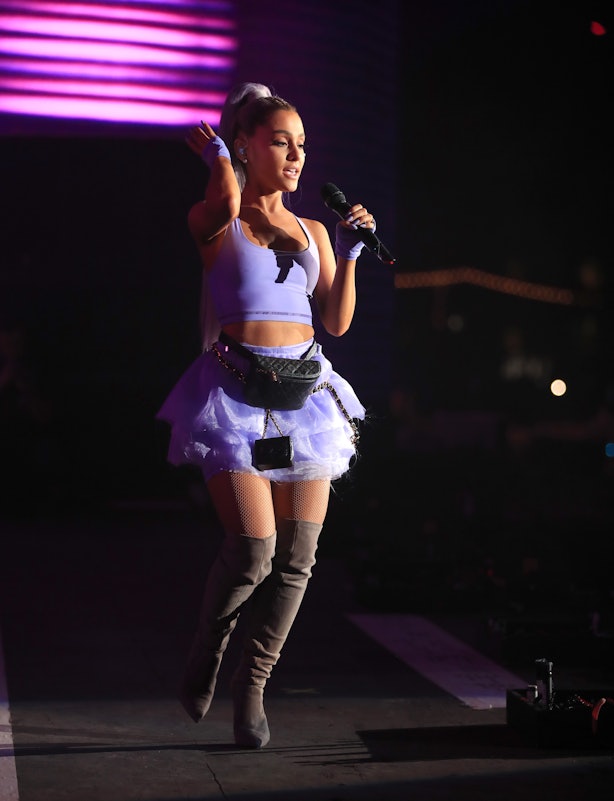 Once on stage, Grande joined Kygo for an emotional premiere of "No Tears Left To Cry" — her first new track since 2017's tragic bombing at the Manchester Arena. The single, which feels like a raw, courageous reflection on the terrorist attack that rocked the UK last May, is also featured in Grande's latest vertiginously futuristic music video, directed by Dave Meyers. Unsurprisingly, Grande's astounded Coachella fans were basically beside themselves, celebrating her exuberant performance as obvious proof of the "Problem" singer's undefeated strength and resilience.
And it wasn't an emotional night just for Grande. Hours after the death of 28-year-old Swedish DJ and EDM artist, Avicii, Kygo ended his Coachella performance with a heartbreaking tribute to his friend and mentor through a rendition of "Without You."
But while the show undoubtedly had poignant resonances beyond the Coachella stage, Grande also highlighted her playful side, thrilling audiences with a sultry performance of Marvin Gaye's impossibly sensuous 1982 hit, "Sexual Healing." Her only real competition for best Coachella 2018 cover? Jamie Foxx, who'd joined Kygo and Rita Ora on-stage during the first weekend to seduce fans with same song. Maybe it's something to do with that irresistible desert heat.
Grande also shared a few moments from the unforgettable performance on her Instagram, featuring a clip of herself calming any pre-show jitters with a deep breath and a chicly-placed rhinestone or two across her cheeks.
She also got some seriously inspirational support from her rapper boyfriend, Mac Miller, who she's been dating since 2016. "Very proud of this girl right here," Miller tweeted shortly after Grande wrapped her ground-breaking performance. "Welcome back. We missed you." Clearly, Grande's Coachella fans couldn't agree more.
Craving even more Grande after last night's incredible musical high? Don't miss "No Tears Left To Cry," which may foreshadow more new songs to come later this year (though Grande hasn't confirmed any new projects yet). Regardless, after last night, one thing's absolutely for sure: Ariana Grande is back — and with a new, undeniably compelling sound.
In the meantime, it's probably a good idea to keep refreshing Twitter to see exactly what else is in-store this weekend at California's most infamous music festival, though, devastatingly, none of it will be streamed by Coachella or Youtube. A few details we already know? HAIM, Fleet Foxes, and Cardi B will all bless us with sets — not to mention that wildly-anticipated second Beyoncé performance. Maybe Grande will lend fans her helicopter?
Source: Read Full Article