'Below Deck Med': Captain Sandy Doesn't Believe That Hannah Ferrier Is Really Leaving the Show
Things in the Below Deck world are changing. Hannah Ferrier is the latest cast member to announce that she is leaving the franchise. Ferrier has had a number of run-ins with Captain Sandy Yawn throughout her time on the show. Although Yawn should be happy that her on-screen rival is exiting Below Deck: Mediterranean, she doubts that Ferrier will actually follow through with it.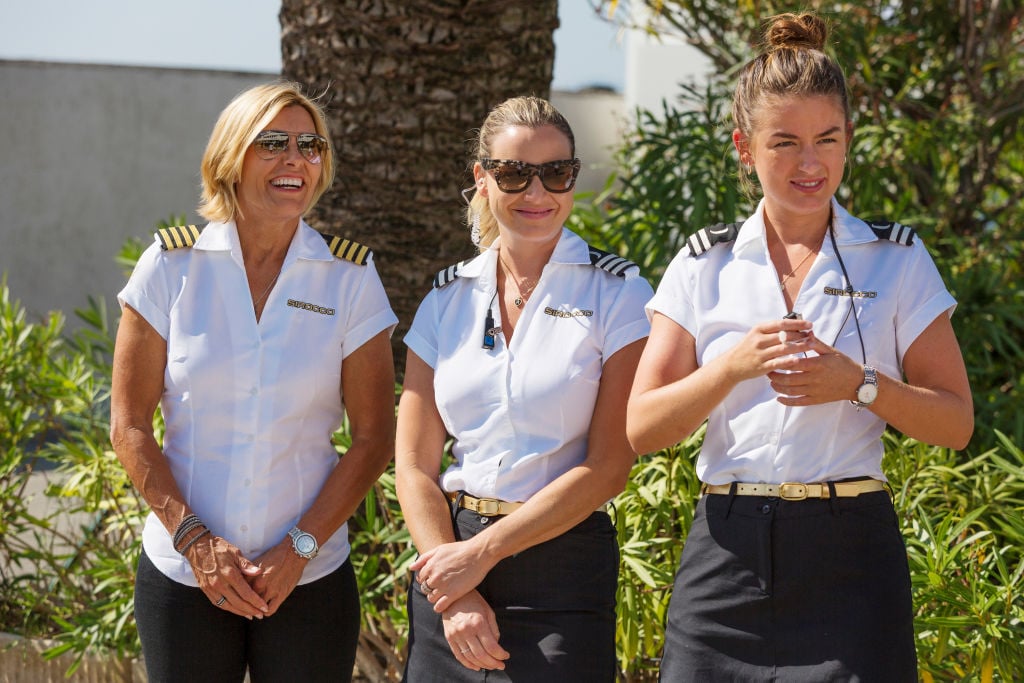 Hannah Ferrier announces her exit
Ferrier is the chief stewardess on the show, a role that is of paramount importance to each yachting trip. But she is ready to leave her crew and try something else.
"I think I'm probably done," Ferrier told Entertainment Tonight. "I learned when I first started yachting in my very early 20s, you know, I would see these women who were in their late 30s, 40s, sitting at a bar, getting wasted with 20-year-olds living in a tiny cabin, and I was like, I don't want [that]. I want this to be a good, fun, enriching experience that allows me to travel a lot, but I don't want to get to the stage where I'm locked into yachting and there's nothing else in my life except that.
"It's a bit different if you're captain, but as a chief stew? They just don't seem like very happy people to me," she continued.
Ferrier was already considering leaving before filming season 5 but returned for one last season to make sure an exit was what she wanted.
"I think that with yachting, you really have to be done-done with it before you can properly walk away, otherwise you're constantly questioning yourself about, did I do the right thing? Should I have done one more season? Could I have done this?" she said. "I think probably a part of me knew that before going into this season."
RELATED: 'Below Deck Med': Captain Sandy and Leah Shafer Receive Backlash For A Playful Photoshoot in the Desert
"I definitely went into this season going like, I'm here to, like, give the guests the best experience they could have," she continued. "Is this something that I wanna do even for the next two or three years? Probably not."
Captain Sandy doesn't believe it
Yawn and Ferrier have had a hard time seeing eye-to-eye since they began working together, which could be why the captain is having a hard time believing her chief stewardess.
"She's said that every season," Yawn told the outlet. "Do you know how many crews say that? Everyone at the end of the season.
"I don't live in Hannah's mind, thankfully," she continued. "I don't know. Like, that's up to Hannah. We get out of yachting and we get back into yachting. So many people do."
RELATED: 'Below Deck Med': Hannah Ferrier Asks Fans to Stop Messaging Her About the New Chief Stew
Kate Chastain's exit
Ferrier isn't the only chief stew to leave the franchise. Kate Chastain of the original Below Deck also recently announced that she was leaving the show.
"After many months of reflection and internal discussions, I have chosen to make a transition this year in starting to carve out a progressive new land based role," she wrote on Instagram. "I intend to step back as a senior member of the Below Deck Family and work to become financially independent, while continuing to fully support His Majesty Andy Cohen"
We'll have to wait to see how the new stewardesses shake up each show.
Source: Read Full Article