You Can BOGO At Some Chipotle Locations This Earth Day & The Deal Is Super Sweet
April 22 is Earth Day, and there are plenty of ways to honor the day, from volunteering with a local sustainability organization to taking the opportunity to reduce your carbon footprint by committing to doing more recycling, composting, or buying carbon offsets. And some lucky (and Earth-friendly) lovers of burritos will also get to celebrate by treating themselves to some Chipotle, because the company, which recently made a big commitment to sustainability, is offering a buy-one-get-one Earth Day deal to customers at participating locations, according to local Las Vegas Fox News affiliate KVVU-TV.
So far, the BOGO deal has been confirmed at Las Vegas and Bay Area locations, HelloGiggles reported, but you can check in with your local store to see if it's participating. Customers who head into participating locations will be able to "show off their reusable water bottles or tote bags to cashiers [to] score a free burrito, taco, salad or bowl with the purchase of one of the aforementioned items," according to KVVU-TV. The deal will last from 10:45 a.m. to 10 p.m. on Earth Day, KVVU-TV added.
Chipotle rewarding customers for their sustainable actions is pretty awesome given the restaurant brand's recent commitment to "divert half of all its restaurant waste from landfills by 2020," according to a press release about the move. In the press release, published April 9, Chipotle said that since 2015, it has "made significant strides towards reducing the amount of food and packaging waste bound for landfills," and as of 2017 was successfully diverting 40 percent of its waste away from landfills.
Caitlin Leibert, head of sustainability at Chipotle, said in the press release, "Increasing our waste diversion rate to 50 percent is an ambitious goal, but we feel it's important to be assertive in our efforts to advance our purpose." She added, "We remain deeply dedicated to bringing guests great tasting food while upholding Chipotle's values and commitment to food made with respect for the land and environment."
Chipotle has been working with sustainable farmers and local growers for years, including financially supporting small farms to help "cover the higher costs of enhanced food safety practices," according to Chipotle's website.
To reach its goal of reducing landfill waste, Chipotle laid out a series of steps it has taken to reduce waste, and further practices it will implement to reach 50 percent. The company said in its press release that it has implementing programs like the Mindful Prep initiative, "which trains restaurant staff to minimize food waste during the preparation process […] have lowered the amount of total waste upfront."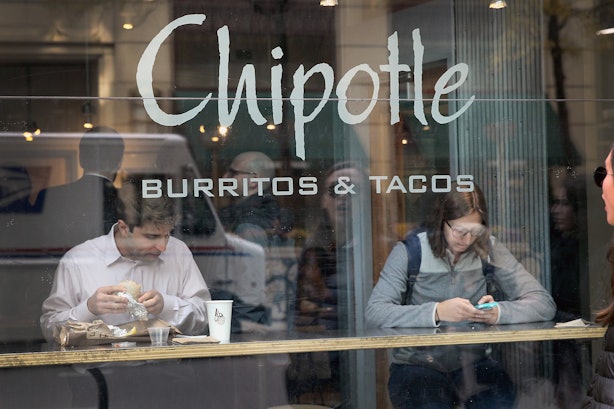 Chipotle also "adjusts services and food preparation to its sales per restaurant per day so less food is going to waste at the end of the day." And part of Chipotle's new commitment is that by 2020, "80 percent of its restaurants will participate in the Harvest Program, which donates leftover food to local community organizations," the company said in its press release.
As for other goals to achieve by 2020, Chipotle said it is working toward "ensuring 100 percent of its restaurants are recycling by 2020," and that it's also "committed to increasing the availability of composting in its restaurants to 20 percent by 2020."
If you're looking for other Earth Day deals, you're in luck, because some companies have other green-themed offers on the table, including those participating in the Blue Jeans Go Green program on April 22. If you mail in your old denim to be recycled (with a free shipping label courtesy Blue Jeans Go Green) or take it to a participating J.Crew, Madewell, or Rag & Bone store, you'll instantly save money on new pairs of jeans, Parade reported.
Other companies offering notable Earth Day deals include MAC Cosmetics, Target, Natural Grocers, and Guitar Center, Parade reported. Whether you end up taking advantage of Chipotle's sweet BOGO deal or any of these other deals, don't forget Earth Day is ultimately about our planet and the actions we, collectively and as individuals, can take to help extend the life of our planet. Because, unfortunately, there's no BOGO deal for Earth.
Source: Read Full Article