Dog the Bounty Hunter Is Engaged 10 Months After Beth Chapman's Death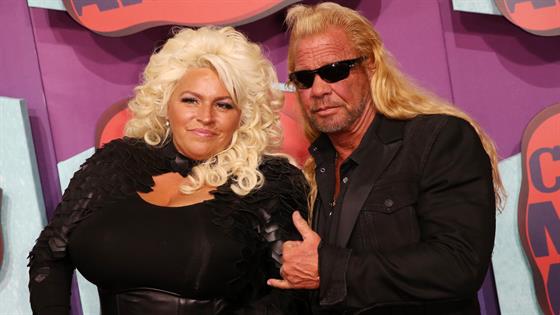 Dog the Bounty Hunter has confirmed that he's engaged.
The reality TV star, real name Duane Lee Chapman, is set to the tie the knot with Francie Frane. This news comes about 10 months after Dog's wife, Beth Chapman, passed away. Beth died in late June 2019 at the age of 51 after battling throat cancer.
"It's 5:32 in Hawaii, this is the time she would wake up to go hike Koko Head mountain. Only today, she hiked the stairway to heaven," Dog tweeted on June 26, 2019, confirming Beth's passing. "We all love you, Beth. See you on the other side."
Dog, who also sparked engagement rumors earlier this year, shared details of his proposal to Francie in an interview with The Sun, sharing that he wants to have the "biggest wedding there's ever been."
Francie, who started dating Dog earlier this year, also shared her reaction to his proposal.
"I wasn't expecting it at all," Francie told the outlet. "I think I had gone to pick up some food and then when I came back he had all the lights turned down with just a few lights on and a bunch of candles lit."
View this post on Instagram
#Repost @franciefrane • • • • • • So excited for this new chapter! ❤️
A post shared by Duane Lee Chapman (@duanedogchapman) on
"So when I came in I was like, 'Wow, this is awesome.' Then he said, 'Come in, sit down because I need to talk to you,'" Francie recalled. "So I put all the food in the kitchen and I came in and he said, 'I know that God brought you into my life and I don't want to spend one moment of it without you.'"
"And he got down on one knee and he opened the ring box and he said, 'Will you marry me and spend the rest of our lives together?'" Francie gushed. "Who can say no to that? It was wonderful."
It was just a week ago that Dog shared his love for Francie on Instagram, writing, "I scream & Cry Beth where are you why did you leave me then I look up & see you Francie & the pain turns to a smile I LOVE YOU WOMAN!!"
Source: Read Full Article