E! Is Going Live From the Red Carpet at the 2018 Met Gala: Details!
Fashion's biggest night is almost upon us and you know E! is going to be there, front and center.
A-list celebrities and fashion's elite will come together once again in New York City for one of fashion's most anticipated nights as E! presents Live from the Red Carpet: The 2018 Met Gala on Monday, May 7 beginning at 6:30 p.m. ET/PT.
Coming to you live from 30 Rockefeller Plaza, the program will feature E!'s very own fashionistas led by pop culture expert Giuliana Rancic, celebrity fashion stylist Brad Goreski, journalist and former Teen Vogue editor-in-chief Elaine Welteroth and fashion insider Zanna Roberts Rassi as they give us an inside look into the 2018 Met Gala.
E! News correspondent Zuri Hall will also be on the red carpet at the Metropolitan Museum of Art to talk to the biggest names in entertainment and fashion and provide an exclusive look at all the fashion-forward ensembles themed to "Heavenly Bodies: Fashion and the Catholic Imagination."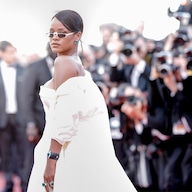 Photos
All the Times Rihanna Stunned in Met Gala-Level Style
E! will also be live streaming fashion's biggest night with Paper Magazine's Drew Elliott and fashion expert Tiffany Reid streaming on Facebook Live, E! Online, the E! mobile app, Apple News and YouTube starting at 6:30 p.m. ET with a first-look at the A-list guests.
Before hitting the red carpet, Giuliana Rancic will return to her hosting duties alongside Jason Kennedy for a special Met Gala 2018 edition of E! News at 6 p.m. ET/ PT. The duo will go behind-the-scenes with some of the biggest stars as they get ready for the big night and break down the latest celebrity and entertainment news surrounding the night's most fashion-forward festivities.
The week of the Met Gala, both Daily Pop at 12 p.m. ET/PT and Live From E! at 2:00 p.m. ET/11:00 a.m. PT will get into everything pop culture leading up to the Met Gala as they break down the buzziest headlines from the fashion spectacle.
E! News will also be debuting a Met Gala focused episode of the Snapchat series, The Rundown hosted by Erin Lim on Wednesday, May 9 and What the Fashion on Thursday, May 10.
E!'s got you covered! Don't miss all the Met Gala action kicking off Monday, May 7!
Watch E! Live From the Red Carpet: The 2018 Met Gala special Monday, May 7 starting at 6:30 p.m. ET/PT! For complete coverage of the 2018 Met Gala, watch E! News Tuesday, May 8 at 7 and 11 p.m.!
Source: Read Full Article