Helpmann's curtain raiser paves the way for a beautiful main event
A brand new Australian musical, a retelling of the life of Carole King and an operatic incarnation of Hamlet have firmed as early leaders in the 2018 Helpmann Awards.
Matt Verevis (second from left) and Amy Lehpamer (third from left) both won awards for their performances in Beautiful: The Carole King Musical.
The awards, which celebrate the achievements of the Australian live performance industry, this year are being held over two nights and Sunday night's curtain raiser has set up some clear front runners for the most successful shows of the year.
Beautiful: The Carole King Musical and Muriel's Wedding: The Musical both earned plaudits in the first night of awards, dominating the music theatre categories.
Beautiful's supporting cast Amy Lehpamer and Matt Verevis both won the best supporting actor in a musical categories while the show's Broadway director Marc Bruni was named best director of a musical. It was a big day for Lehpamer who was also named as the lead in the upcoming Australian production of School of Rock which opens in Melbourne in October.
Muriel's Wedding, which was a hit with audiences for producers Global Creatures and Sydney Theatre Company, took home four awards including best costume design for Gabriela Tylesova, best music director for Isaac Hayward and best choreography for Andrew Hallsworth.
Muriel's Wedding also won the award for best original score for the show's composer's Kate Miller-Heidke and Kier Nuttall.
Kate Miller-Heidke (second from left) and Keir Nuttall (right) have won best original score for Muriel\'s Wedding.
Brett Dean and Neil Armfield's operatic adaptation of Shakespeare's Hamlet dominated the opera categories earning Lorina Gore the best supporting female performer awards for opera while Armfield was named best director of an opera.
Kanen Breen took home the best supporting male performer for his performance in The Coronation of Poppea.
In theatre Mitchell Butel was named best male actor in a supporting role for his performance in Mr Burns, A Post-Electric Play while Anita Hegh won best female actor in a supporting role in a play for The Resistible Rise of Arturo Ui.
Mitchell Butel as Mr Burns in Mr Burns: A Post Electric Play
Sarah Goodes, the only female nominated as a director in any art form, was named best director of a play for her production of The Children.
Other awards announced on Sunday included best lighting design for Nick Schlieper's work on Bennelong and best sound design for Michael Waters work on the Bobby Darin jukebox musical Dream Lover.
Slingsby's Emil and the Detectives was named best presentation for children while Bangarra Dance Theatre's Our Land People Stories won best touring production.
Bangarra's Stephen Page also won best choreography in a ballet, dance or physical theatre production for Bennelong.
Melbourne Festival's decision to program Taylor Mac's epic 24 Decade History of Popular music paid off. The four six-hour marathon performance, which covered one decade of music per hour was named best special event.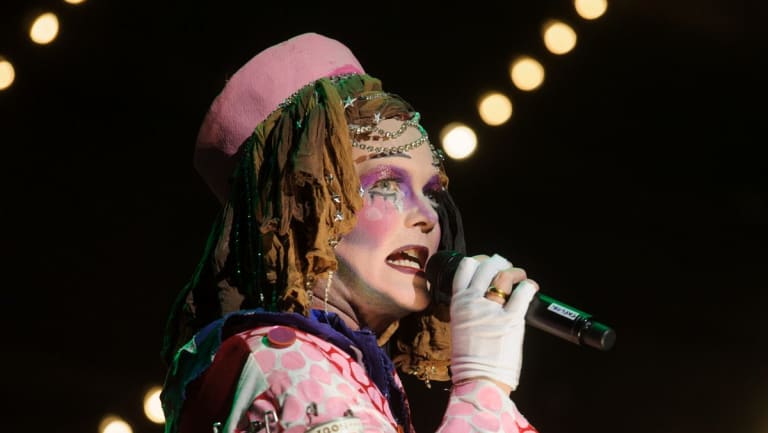 Part four of Taylor Mac's A 24-Decade History of Popular Music at Melbourne Festival.
2018 marks the first time the awards were split over two separate events with Sunday night's curtain raiser event acknowledging the supporting roles in the industry while Monday night's main event celebrates the rest of the achievements.
Monday's night's ceremony will be simulcast on ABC and will include performances from pop band Sheppard, the cast of Priscilla Queen of the Desert along with Maggie McKenna and Madeliene Jones from Muriel's Wedding.
Helpmann Awards 2018 Act I winners:
Best male performer in a supporting role in an opera
Kanen Breen – The Coronation of Poppea
Best female performer in a supporting role in an opera
Lorina Gore – Hamlet
Best male actor in a supporting role in a play
Mitchell Butel – Mr Burns A Post-Electric Play
Best female actor in a supporting role in a play
Anita Hegh – The Resistible Rise of Arturo Ui
Best male actor in a supporting role in a musical
Matt Verevis – Beautiful: The Carole King Musical
Best female actor in a supporting role in a musical
Amy Lehpamer – Beautiful: The Carole King Musical
Best costume design
Gabriela Tylesova – Muriel's Wedding The Musical
Best scenic design
Jacob Nash – Bennelong
Best lighting design
Nick Schlieper – Bennelong
Best sound design
Michael Waters – Dream Lover
Best music direction
Isaac Hayward – Muriel's Wedding The Musical
Best original score
Kate Miller-Heidke and Keir Nuttall – Muriel's Wedding The Musical
Best special event
Taylor Mac: A 24 Decade History of Popular Music
Best presentation for children
Emil and the Detectives – Slingsby
Best regional touring production
Our Land People Stories – Bangarra Dance Theatre
Best choreography in a ballet, dance or physical theatre production
Bennelong – Stephen Page AO
Best choreography in a musical
Andrew Hallsworth – Muriel's Wedding The Musical
Best direction of a play
Sarah Goodes – The Children
Best direction of an opera
Neil Armfield AO – Hamlet
Best direction of a musical
Marc Bruni – Beautiful: The Carole King Musical
BEST MALE PERFORMER IN A SUPPORTING ROLE IN AN OPERA
Source: Read Full Article