Here's How Long Royal Watchers May Be Waiting To See Will & Kate's Brand New Arrival
Anyone who's been patiently awaiting the newest royal addition woke up to great news on Monday — Kate Middleton gave birth to her third child on April 23, according to the palace. She's likely enjoying the new mom bliss before heading back to reality for now, but when will Kate Middleton go home from the hospital?
If you're dying for those adorable first photos as the royal family exits the hospital, you may be in luck — according to TIME magazine, Middleton and Prince William brought their second child, Princess Charlotte, out for her first public appearance less than 10 hours after she was born. And, according to a 2013 Washington Post report from just after their first child, Prince George, was born, they greeted the media and well-wishers when George was just a day old. So, if the pattern with the couple's other two children continues, it'll likely be a short wait before royal enthusiasts can take a peek at the newest addition to the family.
A statement given by Kensington Palace early Monday morning stated that Middleton safely gave birth to a son weighing eight pounds, seven ounces, and that both mother and child were "doing well."
According to The New York Times, the Lindo Wing of St. Mary's Hospital in London is a big part of the tradition of a royal birth. Not only is it where Charlotte and George were both born and subsequently presented to the public for the first time, it's also where their father, and his brother, Prince Harry, did the same in the 1980s. The first member of the royal family to give birth at the Lindo Wing was Princess Anne in 1977 and 1982, according to the same Times report. Given how important it's seemed in the past for Middleton to pay homage to Princess Diana, William and Harry's mother, it's fitting that she chose to make the same exact walk with her children that Diana did with hers.
According to Vogue magazine, there had been a buzz among British tabloids that the couple might choose to have this third child at home, which would have been a break in their usual custom, but not historically unprecedented. According to the outlet, Queen Elizabeth gave birth to all of her children at either Buckingham Palace or Clarence House prior to Princess Anne's St. Mary's visit. But alas, this proved not to be the case for Middleton, despite whatever rumors might have floated around.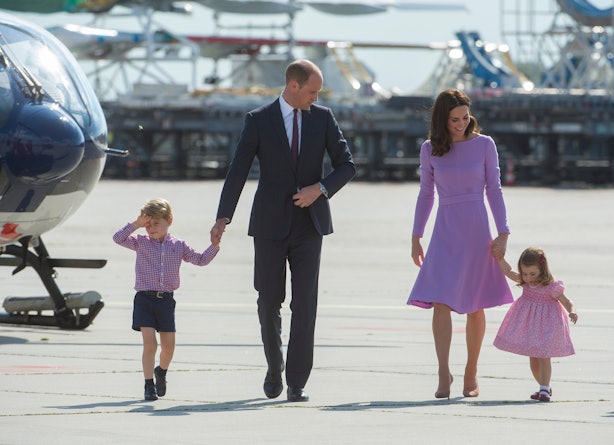 It makes sense that Middleton and William seem to depart the hospital quite soon after their children are born — according to another TIME report, crowds began gathering outside the Lindo Wing shortly after the birth announcement of this youngest child was made, and Kensington Palace is even tweeting about the international media who are prepping to snap the very first photos. Though the family probably can't fully escape public scrutiny, no matter where they go, heading home and getting to an even slightly more private setting certainly seems like it'd allow them to relax a bit more.
There's also the fact that St. Mary's Hospital is open to everyone — Middleton and William aren't the only new or expecting parents who need to pay the place a visit. According to People magazine, an unsuspecting couple was greeted by media prepping for the royal baby's arrival as they attempted to leave the hospital Monday morning. Though that's simply a funny memory for the couple to have, Middleton and William don't seem like the type to be keen on disrupting any regular folks' days, making their usual early departures all the more understandable.
Whenever the royal baby does peek his head out to the public for the first time, he'll have a welcome fit for a king. And, as TIME reports that the child is now fifth in line to the British throne, the worldwide excitement over his birth definitely seems fitting.
Source: Read Full Article