How to Organize Your Makeup Collection With The Best Makeup Organizers on Walmart.com
Whether you're the type of girl who wakes up extra early to tackle her makeup routine, or one that hits the snooze button like it's the last thing on her mind, we can all agree that keeping our beauty products organized makes all the difference in our morning routines. Make searching the depths of your apartment for that-one-shade of lipstick a thing of the past once and for all by organizing your makeup collection with one of the best makeup organizers on Walmart.com. They've made it easy and affordable to store all your essentials in one immaculately-organized area with a range of makeup storage drawers, shelves, caddies, and more. Goodbye, messy makeup bags, spilled loose powders, and broken eyeshadows.
Before setting out to find your makeup-organizer match, first take your needs into consideration and figure out what your collection really looks like. Do you have 45 shades of lipstick and no available counter top? Or 20 makeup brushes and 6 beauty blenders but a vanity with plenty of space? Either way, there's a makeup organizer perfect for you and your collection on Walmart.com — from table-top drawers, free-standing storage units, travel cases, and wall-mounted shelves — and we're sharing a few of the best, below!
Get A Smoky Eye in Minutes With This Makeup Brush Holder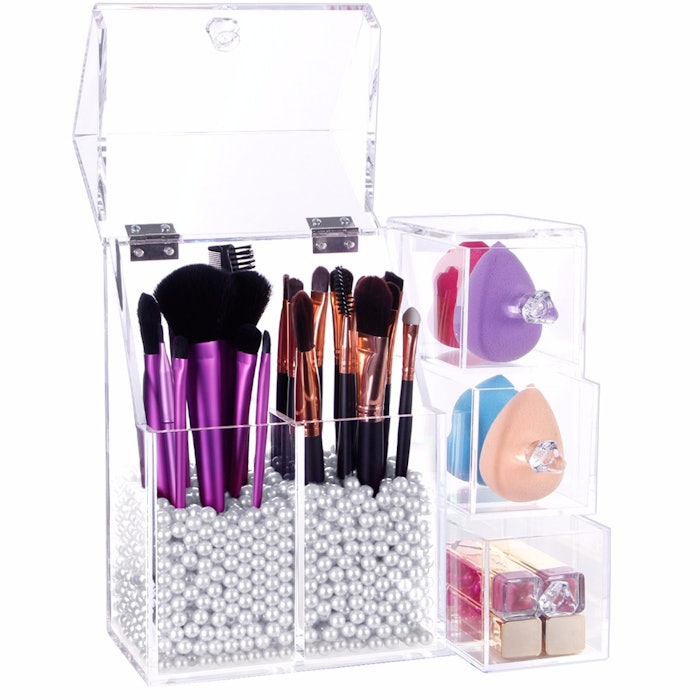 Lifewit Acrylic Makeup Organizer
$34
Walmart
Sometimes our makeup brushes and applicators need a storage unit of their own. This acrylic case comes with filler beans to keep your brushes upright and organized, and is enclosed to keep pesky dust away from your beauty tools.
Keep Your Bathroom Looking Tidy With This Peek-Free Set of Drawers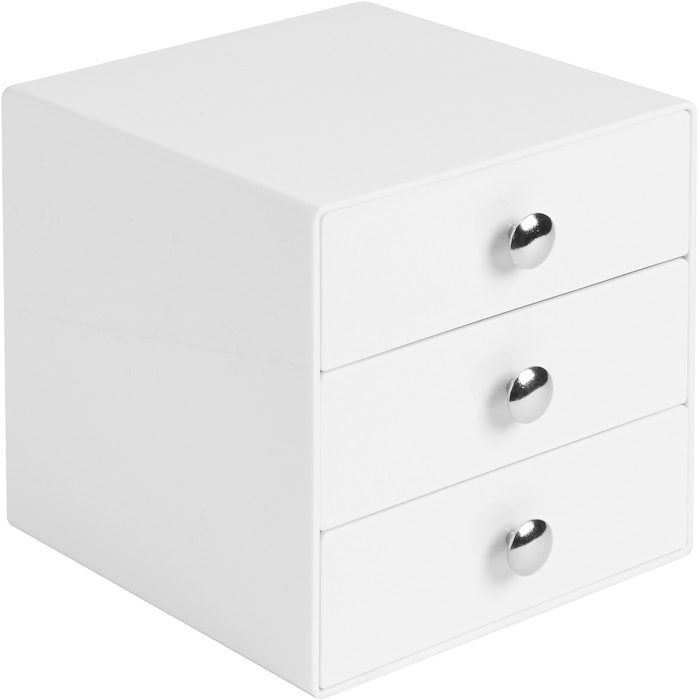 InterDesign Storage and Organization Drawers, Original 3-Drawer
$19
Walmart
If clutter just isn't your thing, or if you've got a curious roommate, this opaque set of makeup storage drawers will keep your beautiful mess disguised.
This Mirror Doubles As A Jewelry And Makeup Storage Unit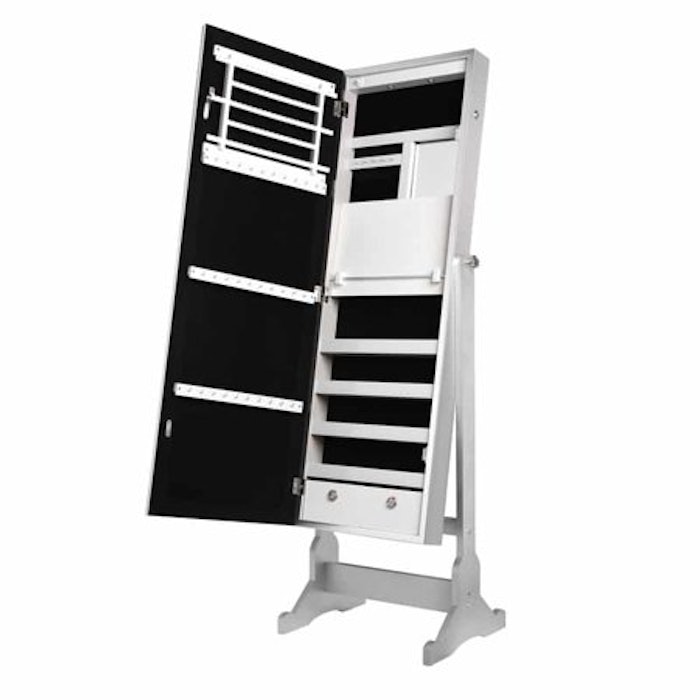 Adelyn Silver Full Length Jewelry Cheval Armoire – Makeup Storage
$153
Walmart
Another great way to disguise makeup clutter, this mirror-armoire will keep everything from your jewelry to your beauty products safe and organized. There's a small pullout table inside that doubles as a vanity, and the storage portion is LED-lit to make finding what you need effortless.
Get An HD Finish With This Mirrored Organizer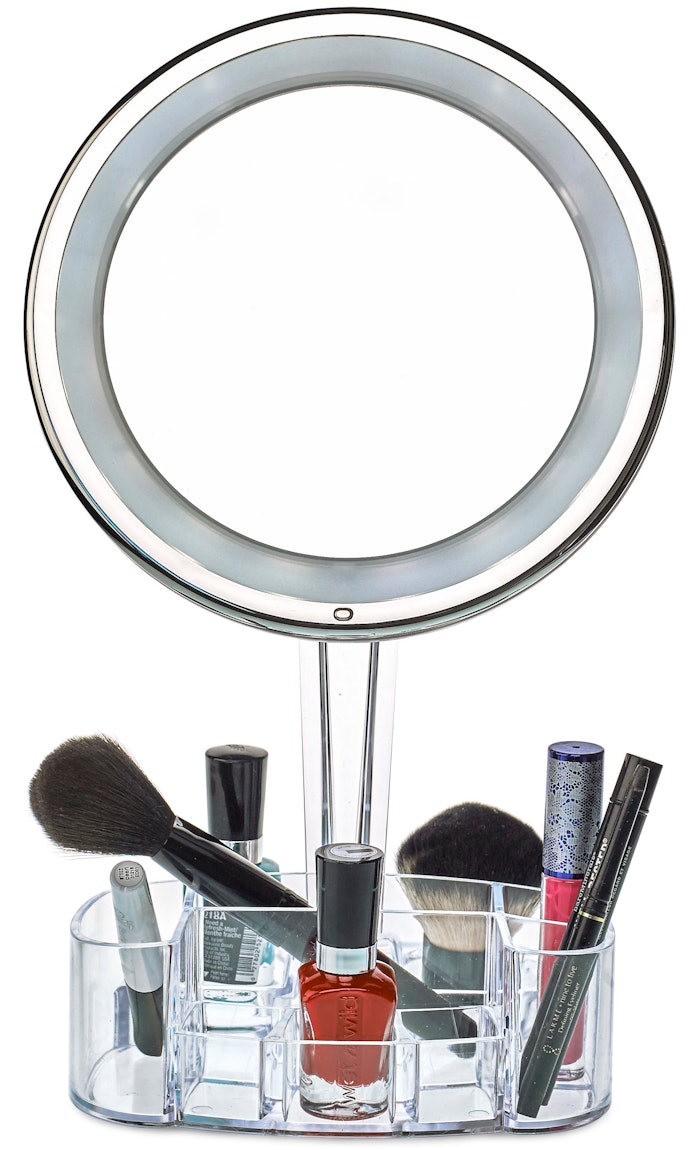 daisi Magnifying Lighted Makeup Mirror with Cosmetic Organizer Base
$20
Walmart
If you're not set on one single place to do your makeup, this makeup organizer and standing lighted mirror make moving from your vanity to the couch simple.
Store Your Skin Care And Makeup All In One Place With This Acrylic Organizer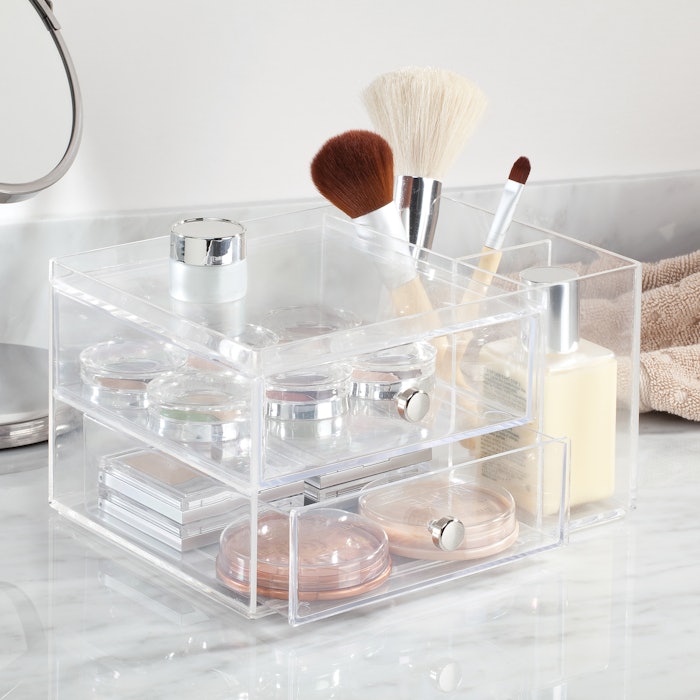 InterDesign Clarity Cosmetic Organizer for Vanity Cabinet to Hold Makeup, Beauty Products
$18
Walmart
This convenient cosmetic organizer treats makeup and skin care equally. It's clear acrylic drawers are perfect for your favorite eyeshadows, blushes, and bronzers, while its side caddy is large enough to store your favorite face mist and moisturizer.
Achieve Your Dream Lip Look With This Lipstick Organizer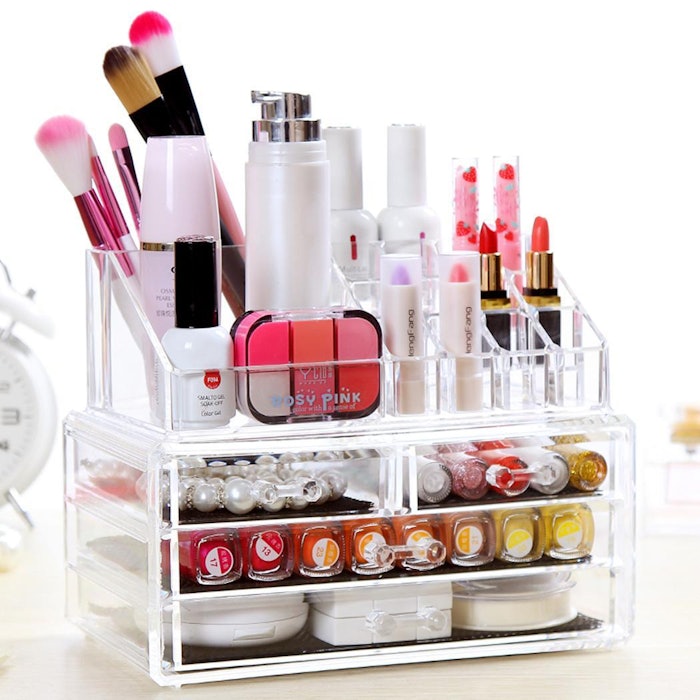 Clear Acrylic Tabletop Cosmetic Organizer
$27
Walmart
A perfect match for lipstick lovers, this four-drawer organizer with vertical storage on top will save you valuable time. Lay out your favorite lipsticks horizontally in the drawers with their shade-IDs facing outward so you'll choose the right product first try.
Keep Everything—Seriously, Everything—Organized In This 6-Drawer Unit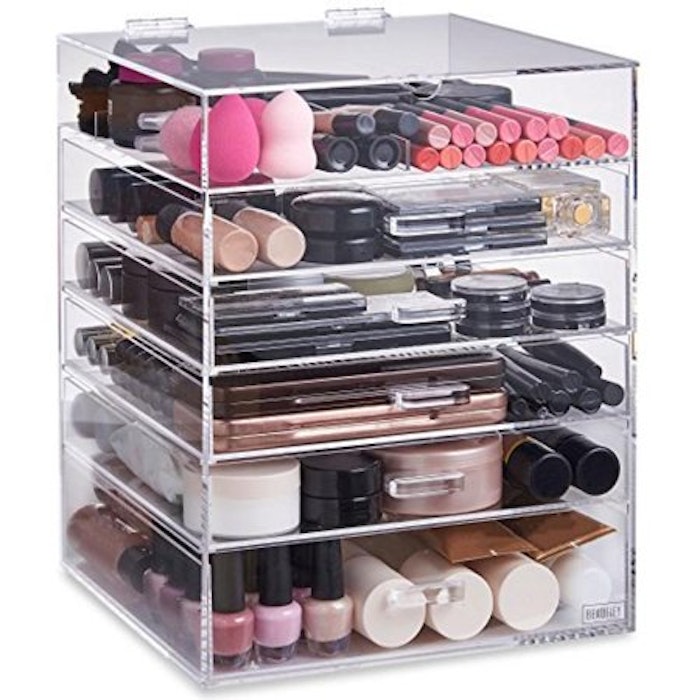 Beautify Extra Large 6 Tier Clear Acrylic Cosmetic Makeup Storage Cube Organizer with 5 Drawers
$95
Walmart
For the girl with makeup in excess (no shame if this is you), be sure to get a makeup organizer big enough to hold the extent of your collection. These clear acrylic drawers make finding that-one-shade of lipstick so much easier.
Achieve A 360-Degree Look With This Lazy-Susan Makeup Organizer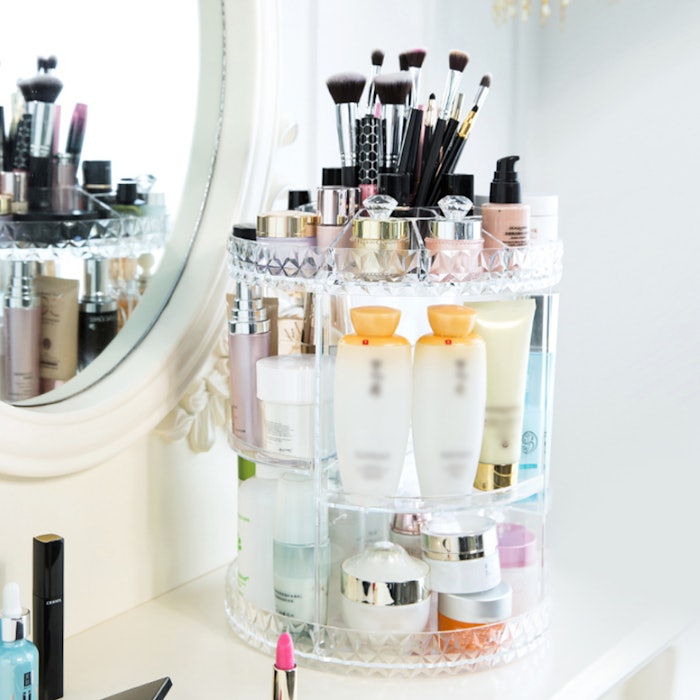 Fosa 360-Degree Rotating Makeup Organizer
$26
Walmart
This impressive 360-degree makeup organizer is no joke—it can hold up to 30 makeup brushes, 20 skin care products, and the majority of your lipstick collection. Plus, with a quick spin, everything you need is within arm's reach.
Take Your Collection Anywhere You Need With This Sturdy Carrying Case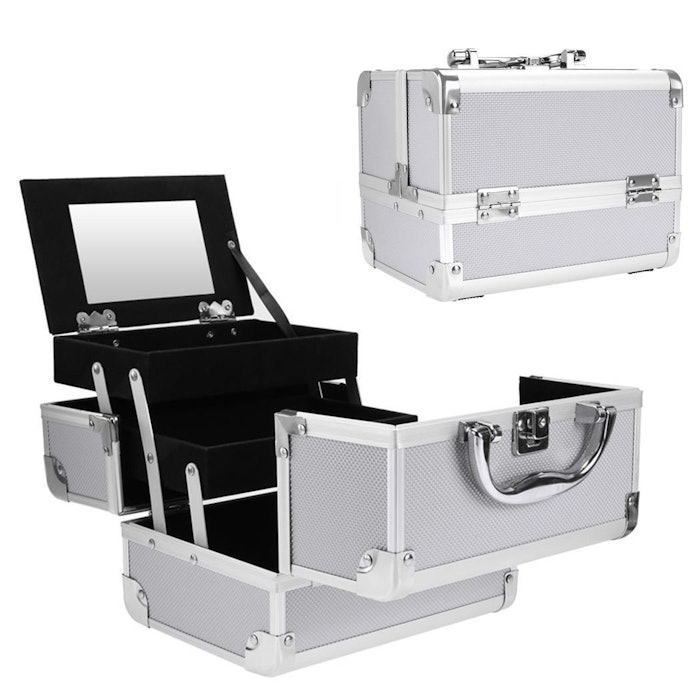 Alloy Metal Makeup Travel Case
$27
Walmart
Whether you're a makeup artist or not, this metal makeup travel case will definitely make you feel like one. With six extendable panels, there's plenty of room to comfortably store each and every product in your collection.
Keep Your Countertops Clear With These Wall-Mounted Organizers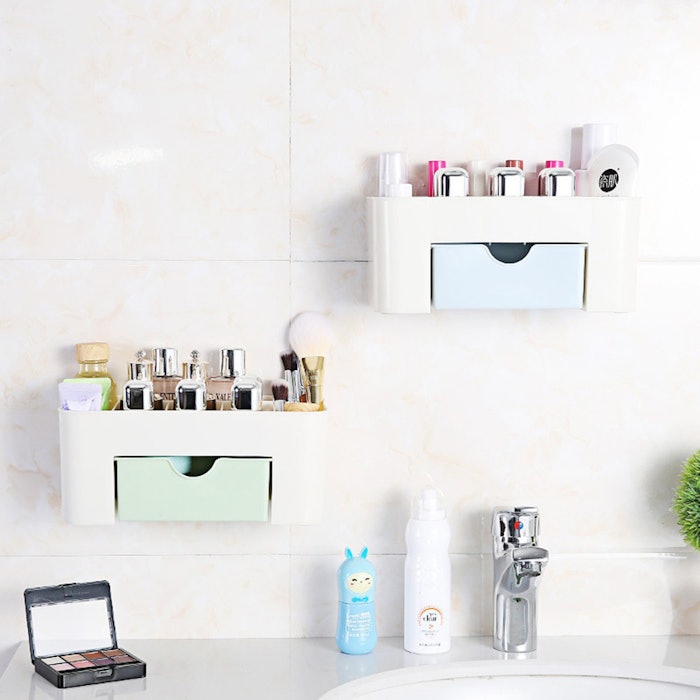 Micelec Makeup Cosmetic Holder
$12
Walmart
If you're anything like me and counter space is a luxury you have not been blessed with in this life, you can still find a makeup organizer fit for your space. These wall-mounted bins keep all your cosmetics at eye-level and come with a convenient drawer for smaller tools or products.
Bustle may receive a portion of sales from products purchased from this article, which was created independently from Bustle's editorial and sales departments. This article reflects price at publication and may change.
Source: Read Full Article