I survived the acupuncture facial celebrities are obsessed with
After noticing celebrities like Ashley Graham, Gwyneth Paltrow and Kim Kardashian posting photos of themselves with acupuncture needles coming out of their faces, I was really intrigued to learn what it was all about.
The treatment they all had been trying is called facial acupuncture, and it's said to come with some pretty amazing beauty and wellness benefits.
Acupuncture is the process of inserting tiny needles into strategic points on your body and is primarily used to relieve pain, according to the Mayo Clinic.
It's also a key component of traditional Chinese medicine.
Facial acupuncture follows this same practice, claiming to help boost stressed skin, reduce inflammation and enhance brightness, among other things.
Once I saw supermodel Ashley Graham post a funny video of herself going through the process, I was convinced I should give it a test drive too.
I reached out to licensed acupuncturist Stefanie DiLibero and owner of Gotham Wellness in New York City to find out when I could set up an appointment.
Facial goals
Once we settled on a date for my treatment, DiLibero told me that I would need to do a phone consultation with her.
During our chat, she asked me general health questions and what I was looking to improve.
At the time, I had been experiencing moderate stress, lack of energy, oiliness, some dullness and noticeable inflammation.
DiLibero told me that acupuncture could help with these issues.
Before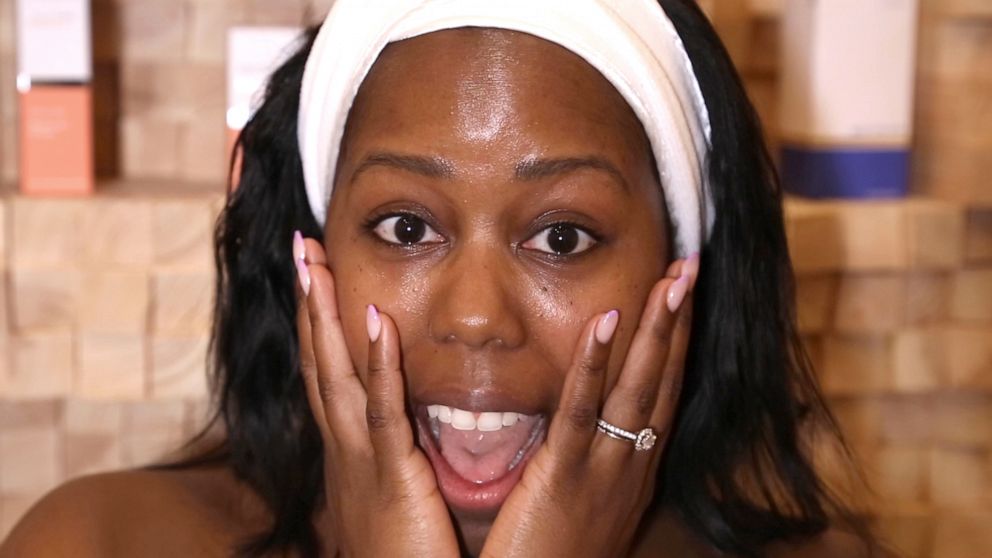 As you might notice in the photo above, I was equal parts nervous and excited to try the facial acupuncture.
There was an instant calm that I felt when I arrived at Gotham Wellness as the studio was really clean and DiLibero had a relaxing nature about her, which is pretty important when you're getting needles in your face — yikes!
"If you were to look at the needle, it looks like a wire," she told me. "It's as thin as a human hair."
"For someone who is just scared of needles, the last place they probably want it to be put is in their face, but once people have had acupuncture in their body, they realize it feels like pretty much nothing," she added.
How it works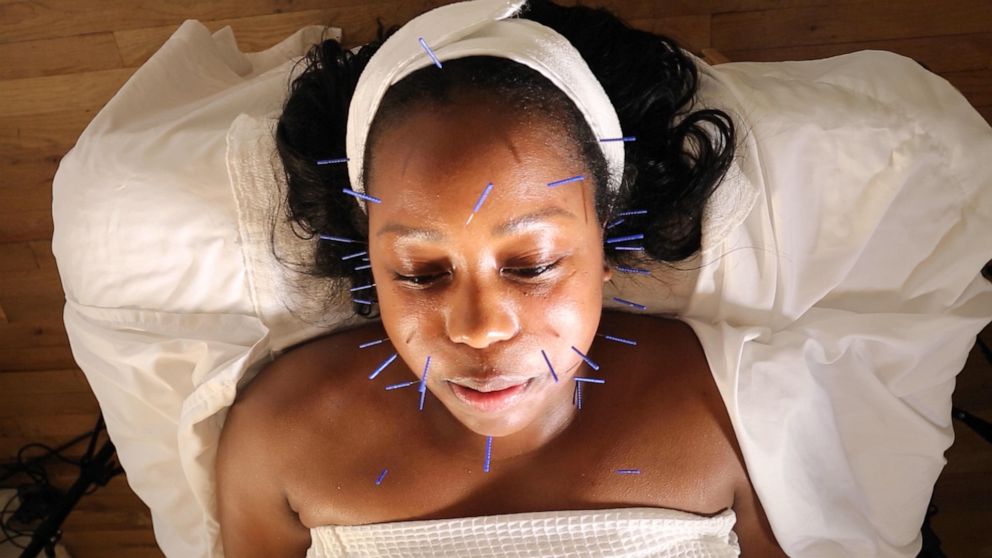 My treatment fell under the "Cosmetic Acupuncture" section of services, and it was called Aculectrics. This two-hour technique incorporates lymphatic drainage, gua sha, cupping, connective tissue face lifting massages, microcurrent and LED light, in addition to facial acupuncture.
All of these methods are said to help enhance the benefits of acupuncture.
DiLibero began by placing the needles on my feet and legs, and I was completely relieved that there wasn't any pain.
Before inserting each needle, there's a quick countdown, an inhale and an exhale, and once she inserts the needle, you can barely feel it. It's like gently poking yourself with a toothpick.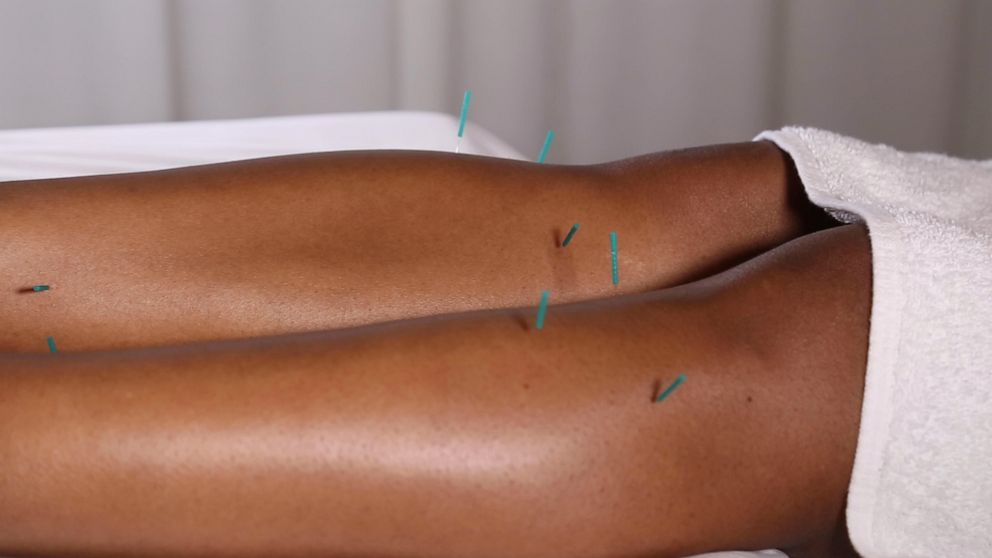 Then, DiLibero began to massage the connective tissues near my collarbone and face. This technique is said to help fluids move through the stomach more efficiently.
This is normal as the massage gets all the fluids in your body to move more rapidly, she said.
Next, DiLibero applied microcurrent to my face.
"It's therapeutical electrical stimulation," she explained. "It helps to keep the muscles nice and healthy. It adds energy in the form of electricity so that we're really moving things through now that we've opened up these channels."
During this time, there were temporary sparks of a metallic taste in my mouth, which is normal as your skin is responding to the electrical current.
Needle time
Roughly 30 needles were carefully placed in my face and, ironically enough, I was in relaxation mode.
The needles create micropunctures that help the skin go in overdrive to produce more collagen, DiLibero said, which helps to banish fine lines.
During this time, she says blood flow is enhanced in the face, which sends off a brightening effect.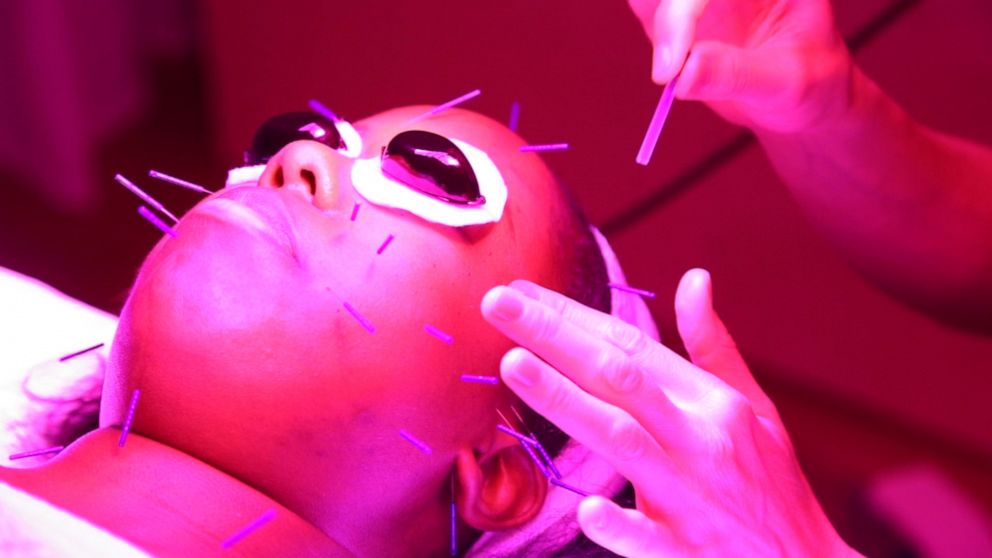 Finally, we used LED light therapy to complete the process.
"It's a technology which helps the body to heal itself," DiLibero said. It also helps to reduce common concerns such as inflammation, acne and bacteria.
After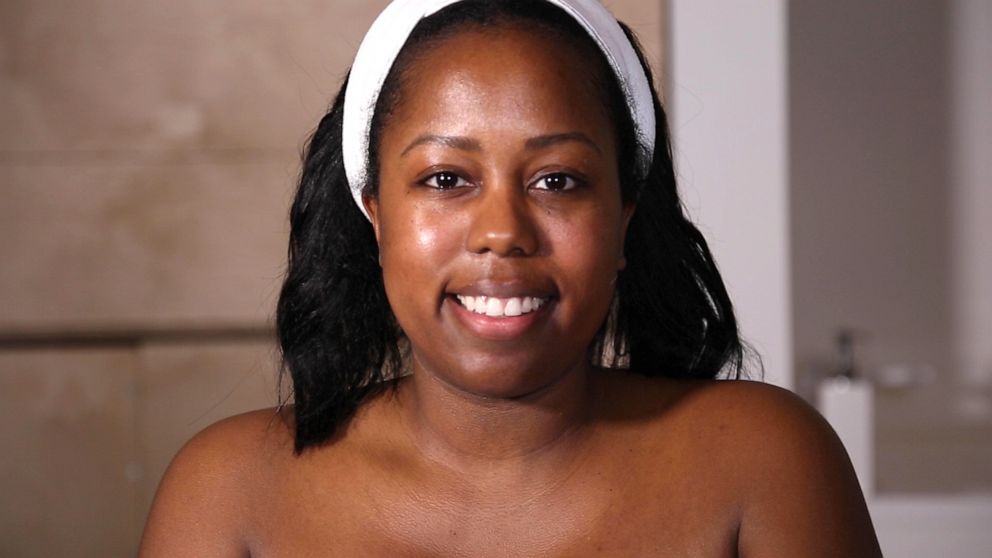 Once the needles were removed, I took a look in the mirror and couldn't believe how much healthier my skin looked.
There was an instant glow and lift near my cheeks.
The hardest part of the process was actually finding the courage to go through with it.
The treatment I went through with DiLibero is safe for all skin tones and textures because there are no external products. The results have surprisingly lasted for weeks post-treatment.
My husband even wondered if I had secretly done botox. Nope, just acupuncture to the face!
If you are looking to enhance your internal and external glow, it's truly an investment worth the shot(s).
Prices generally range anywhere from $100 to $250 or more, depending on where you go. It's best to check for certifications, licenses and reviews before making an appointment.
There are little to no risks involved, but mild bruising is possible, according to a study done by the National Center for Biotechnology Information.
Overall, I experienced a sense of head-to-toe clarity that made me feel like an optimal version of myself.
Source: Read Full Article