Inside Anna Wintour's Private World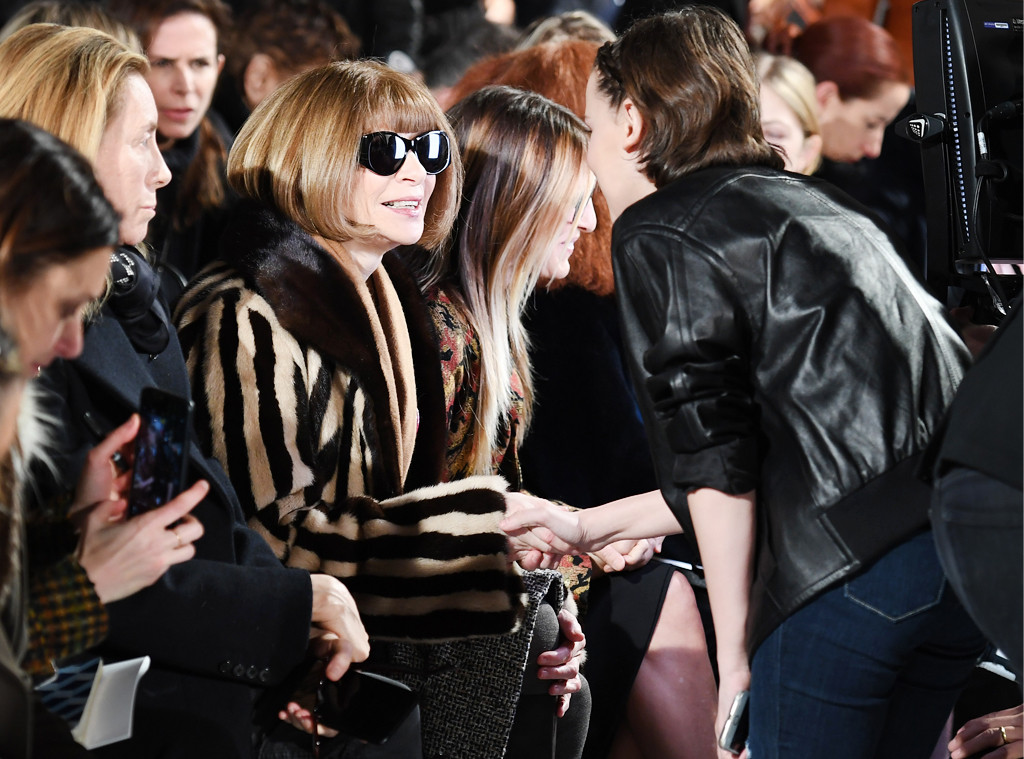 ANGELA WEISS/AFP/Getty Images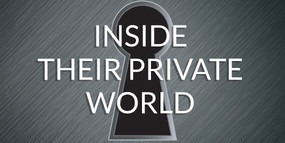 If you see Anna Wintour in the elevator, do not talk to her. In fact, avoid eye contact all together.
Sure, if you're Sarah Jessica Parker or Gisele Bündchenor Hillary Clinton, feel free. But if you're just some lower-level staffer at Vogue or otherwise visiting the venerable fashion publication's Manhattan headquarters…please courteously look away.
That was the word outside the hallowed halls of Vogue in 2004, anyway, a year after The Devil Wears Prada jolted the publishing world with its scathing portrayal of both the fashion magazine business and the character of "Runway" editor Miranda Priestley—whom most people took to be a thinly veiled take on Wintour. A sleek, silver-haired Meryl Streep would further immortalize the character in the 2006 film.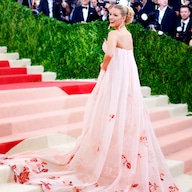 Photos
The Best Met Gala Looks Ever
"It wasn't a one-to-one portrayal," author Lauren Weisberger, who spent 11 months working as Wintour's assistant, told the Daily Mail in 2010. "But of course my time at Vogue informed the book, there's no denying that."
Ironically, though the book spent six months on the New York Times Best Sellers list and the movie rights were optioned immediately, it was Weisberger's heroine, Andy Sachs (and therefore Weisberger), who was criticized for coming off as just as much of a snob as anyone at Runway, the high-and-mighty Ivy League grad who thought she was too good for the frivolities of the fashion world.
Miranda Priestley, however, came off as kind of a badass.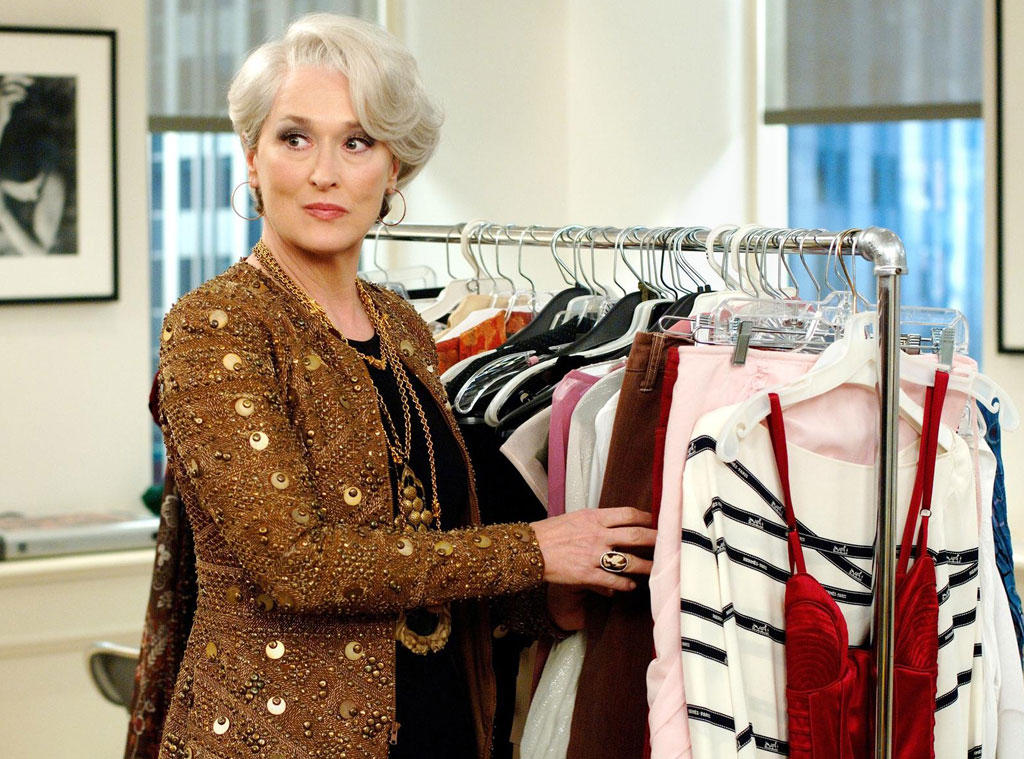 Barry Wetcher/Twentieth Century Fox
And Streep certainly approached the character as a fully formed human being, not just a well-coiffed dragon lady, an "empty, shallow, bitter woman who has tons and tons of gorgeous clothes and not much else," as Weisberger wrote in the book.
"I…wanted a scene where she is without her armor, the unpeeled scene in the hotel room—just to see that face without it protective glaze, to glimpse the woman in the businesswoman," Streep recalled to Variety for the film's 10th anniversary in 2016. Having always insisted that she never tried to play Wintour, per se, she channeled a variety of men.
"The voice I got from Clint Eastwood," the actress, who scored one of her 21 Oscar nominations for her performance, said. "He never, ever, ever raises his voice and everyone has to lean in to listen, and he is automatically the most powerful person in the room. But he is not funny. That I stole from Mike Nichols. The way the cruelest cutting remark, if it is delivered with a tiny self-amused curlicue of irony, is the most effective instruction, the most memorable correction, because everyone laughs, even the target. The walk, I'm afraid, is mine."
Which perhaps goes to show how hard the Anna Wintour had to work to ascend to her real-life role running one of the most storied magazines in the world.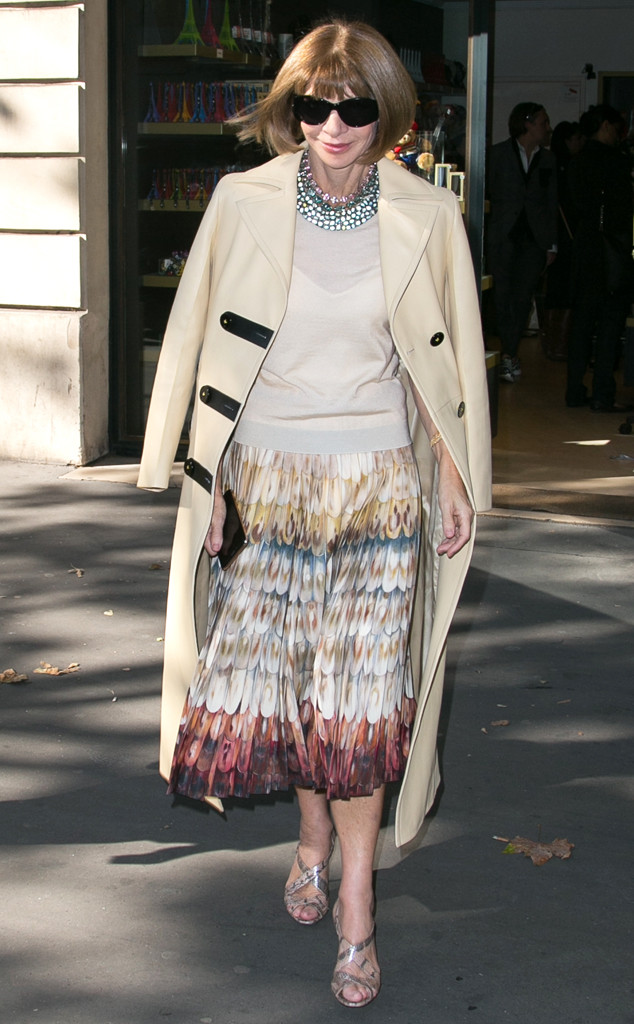 Marc Piasecki/GC Images
Weisberger said she was surprised by a more congenial (albeit still no-nonsense) Wintour, one who opens doors for people, as seen in the 2009 documentary The September Issue, about how the delightfully chubby and most important issue of the year is put together. "I did not see those things when I was there," she told the Mail.
"It was entertainment," Wintour, who happened to have attended the same preview screening as Weisberger, told 60 Minutes about The Devil Wears Prada in 2009. "It was not a true rendition of what happens within this magazine."
No one has ever claimed that Wintour isn't a tough boss, perhaps even one who over the years has made people cry and who strikes fear in the hearts of the minions scurrying around to make sure everything is up to her standards. But those same terrified minions are in Wintour's orbit because they're inspired. Because they want to be a part of the vibrant, taste-dictating world that "Nuclear Wintour"—a holdover nickname from her days in charge of British Vogue—has created in her 30 years atop Vogue's masthead.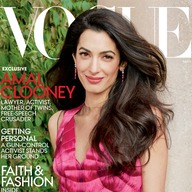 Photos
Stars' First Vogue Covers
"If I'm such a bitch then they must really be a glutton for punishment, because they're still here," Wintour noted on 60 Minutes in reference to the people who'd worked for her for 15 or 20 years. Simply, "there's on-duty time and there's off-duty time"—and when they're on duty, she expects those around her at Vogue to be singularly focused, as she is, on the magazine.
"If one comes across as sometimes being cold or brusque, it's simply because I'm striving for the best."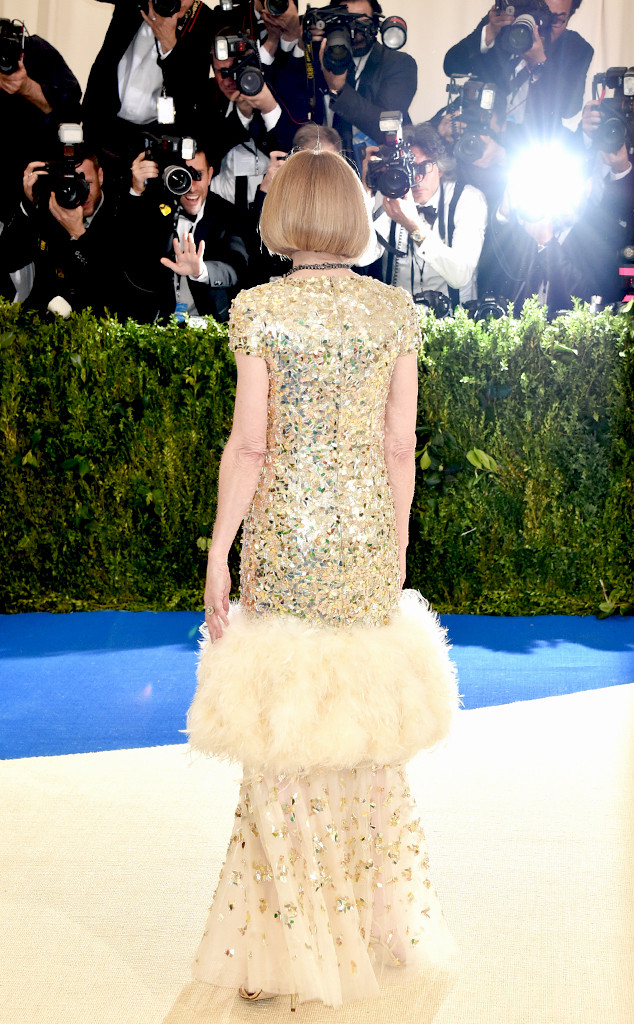 John Shearer/Getty Images
Rumors have been swirling that tonight's Met Gala, the annual $30,000-a-ticket, A-list affair that has usurped the Oscars as fashion's most important red carpet (again, thanks to Wintour, whom longtime Vogue creative director Grace Coddington credited with seeing "the celebrity thing coming before everyone else did"), could be Wintour's last as Vogue editor-in-chief and artistic director of Condé Nast, the latter a position she's held since 2013.
If so, it would be the true end of an era. A "host of stunned sources" have told Page Six that Wintour, 68, could leave as early as this summer after her daughter Bee Shaffer's s wedding.
However, while 30 years would be a nice round number at which to call it a day, and every other week print is declared dead, the "is Anna leaving?" speculation started almost 20 years ago, and has reappeared regularly ever since, all amounting to nothing. Moreover, Vogue and Condé Nast have denied the latest round of rumors.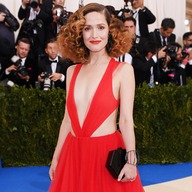 Photos
2017 Met Gala: Red Carpet Arrivals
But Wintour is closer to the end of her tenure at Vogue than she is to the beginning. Coddington, whom Wintour called "the heart and soul of the magazine," stepped down in 2016 after 28 years as creative director. She was brought aboard when Wintour, whom she previously worked with at British Vogue, became editor in chief.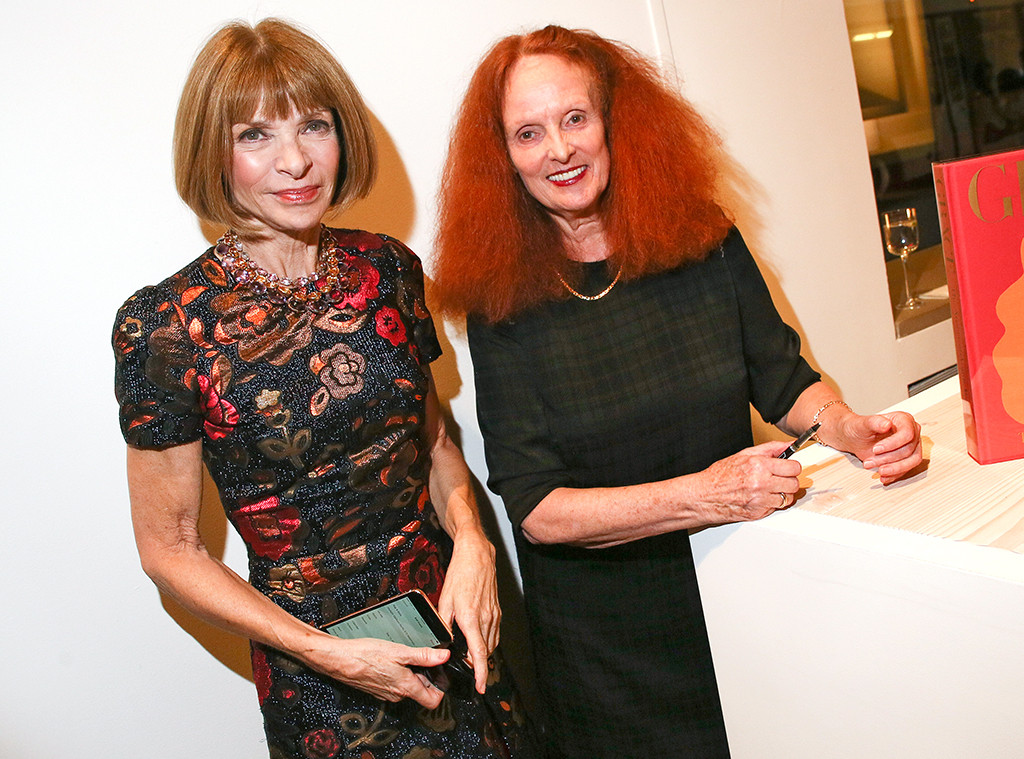 Evan Falk/WWD/REX/Shutterstock
Asked during a talk at the Vogue Festival in London in 2016 how she got along with someone as dominant as Wintour, the fiery-haired fashion icon quipped, "I'm older than she is."
She's joking of course, one admiring colleague to another. "I think she enjoys being not completely approachable," Coddington said approvingly of her longtime boss to 60 Minutes. And in her 2012 book Grace: A Memoir, she remembered realizing decades beforehand "how much significance Anna places on willpower trumping feelings."
Wintour wouldn't have risen to where she is without being relentlessly poised, tough as nails and capital-D Decisive—and she's hardly the only head honcho who doesn't want to chit-chat in the elevator.
Photos
See Which Celebs Went Makeup-Free on These Magazine Covers
"I'm very driven by what I do," she told 60 Minutes' Morley Safer in 2009, in response to some of the choice descriptors she's been called over the years, including "Darth Vader in a Frock." "I am certainly very competitive. What else am I—needy? Probably very needy, yes. A bitch? Um, well, I…" she smiled, thinking. "I hope I'm not. I try not to be. But I like people who represent the best of what they do, and if that turns you into a perfectionist then maybe I am."
Maybe because she's simply more comfortable shedding her armor these days after being at the pinnacle of her profession for so long, the smile she flashed readily in The September Issue has been making a lot more public appearances in recent years. The often stone-faced Fashion Week fixture even enjoys poking fun at her own severe image.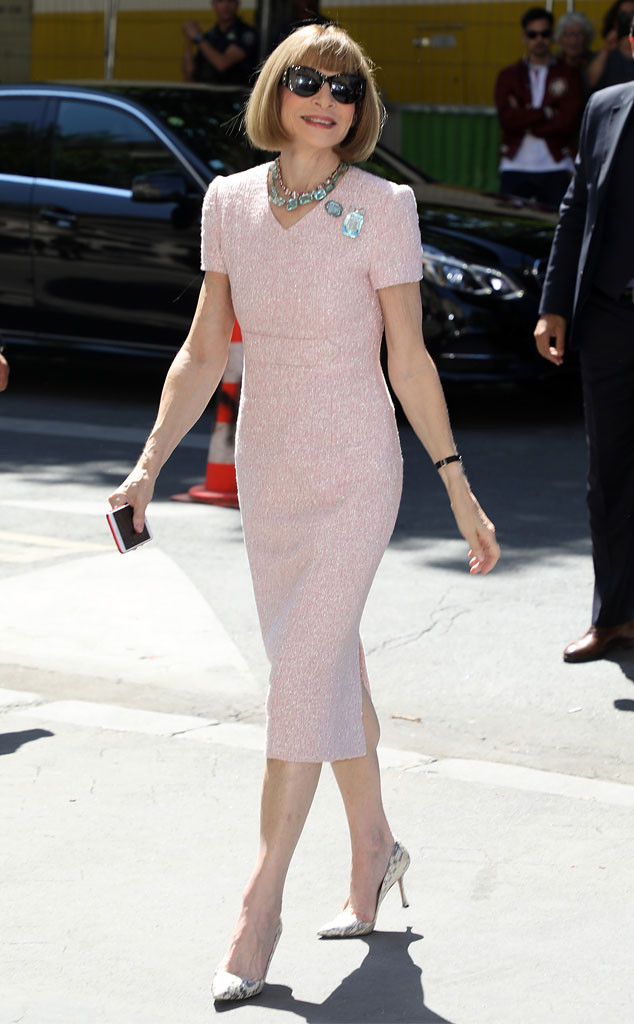 Pierre Suu/GC Images
She doesn't have a personal Instagram account or anything, but a few years ago she opened up her bright corner office at One World Trade Center, full of fresh blooms, framed photographs and the desk where so many decisions are made, to answer Vogue's 73 Questions. (She has Starbucks every morning, she doesn't drink alcohol, Hugh Jackman is her favorite action star, you'll never catch her in head-to-toe black, her favorite vacation spot is home and all the rumors about her are true.)
She was revealed as the comedy mastermind behind Saturday Night Live and Seinfeld in a brilliant bit on Late Night With Seth Meyers, where daughter Bee used to work as a segment producer. In 2016 she swapped lives with Vogue cover girl Amy Schumer for a day and did a set at the Comedy Store. And last year she sat down with James Corden (her favorite comedian) for "Spill Your Guts or Fill Your Guts," during which she took a bite of bacon-wrapped pizza rather than pronounce Ralph Lauren or Marc Jacobs better than the other.
Not exactly the ice queen everyone's talking about—though she did wear sunglasses a lot of the time.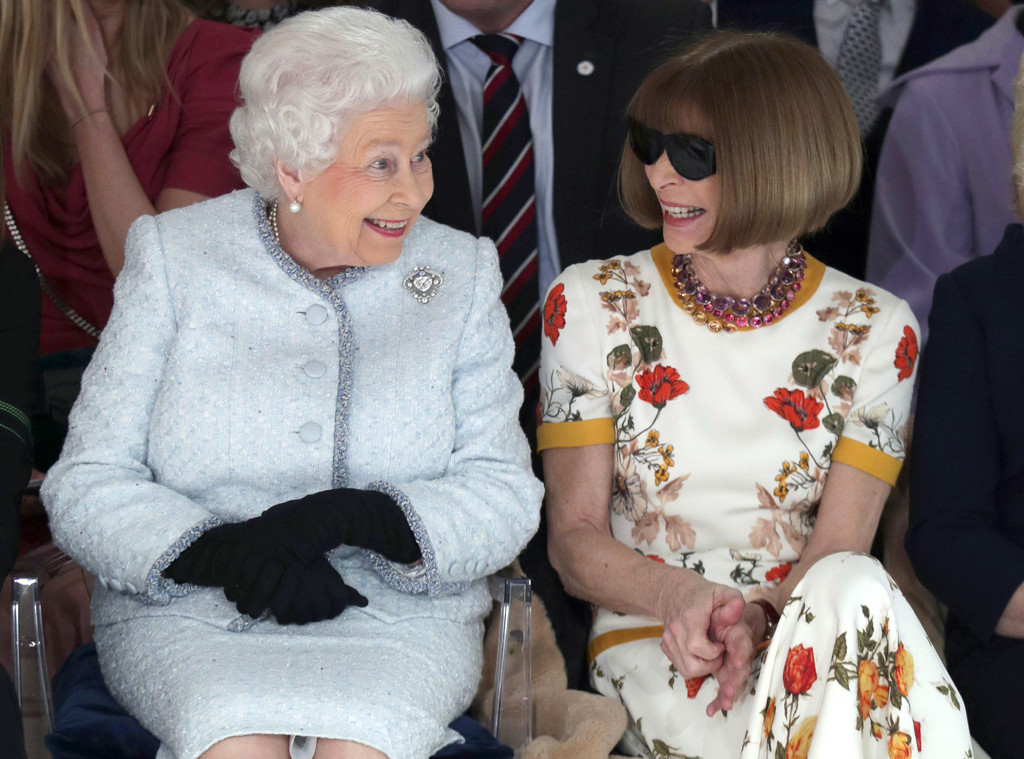 Yui Mok/AP/REX/Shutterstock
"They are seriously useful," Wintour explained to 60 Minutes about the reason she's almost never without a pair of sunglasses, usually Chanel and, these days at least, corrective. "I can sit in a show and if I am bored out of my mind, nobody will notice… At this point, they have become, really, armor."
Even Queen Elizabeth II didn't get a look at the whites of Wintour's green eyes when they sat next to each other at London Fashion Week in February, a move that didn't sit well with royal enthusiasts but which the royal herself didn't seem to mind. If anyone's going to understand a powerful woman who's set in her ways—it's the queen of England.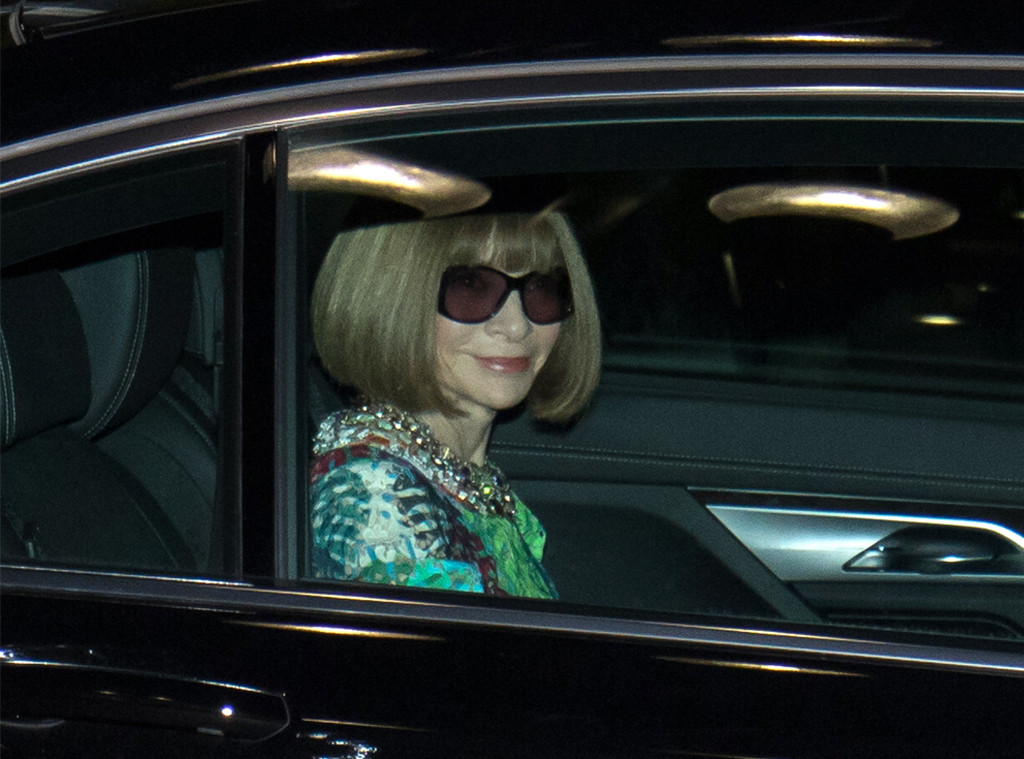 Splash News
Wintour rises at 5 a.m. and loves to both play and watch tennis as often as possible. In addition to her weekend home in Mastic, N.Y., on Long Island, she owns a historic four-story townhouse in Greenwich Village. She's been sporting the same bob haircut with thick bangs since at least the 1980s—the "Anna bob" is obviously an institution. (60 Minutes reported that Condé Nast picked up the tab for her makeup and those impeccable blowouts every day of the week.) She's invariably in skirts or dresses and loves a good print (or two).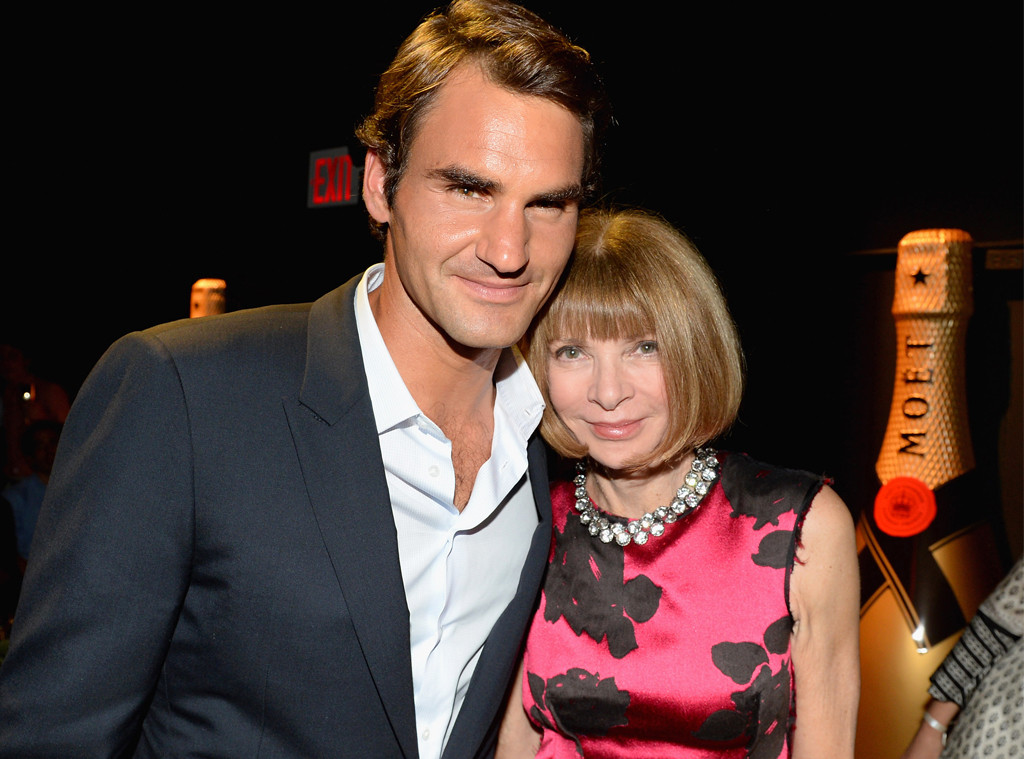 Andrew H. Walker/Getty Images for Moet & Chandon
And for the past 20 years she's been wearing custom-designed nude Manolo Blahnik slingback sandals, occasionally differing in texture and tone but primarily the same style, whether she's at the office or the Met Gala. (She was photographed in boots one time, but it was a blustery day in Paris.)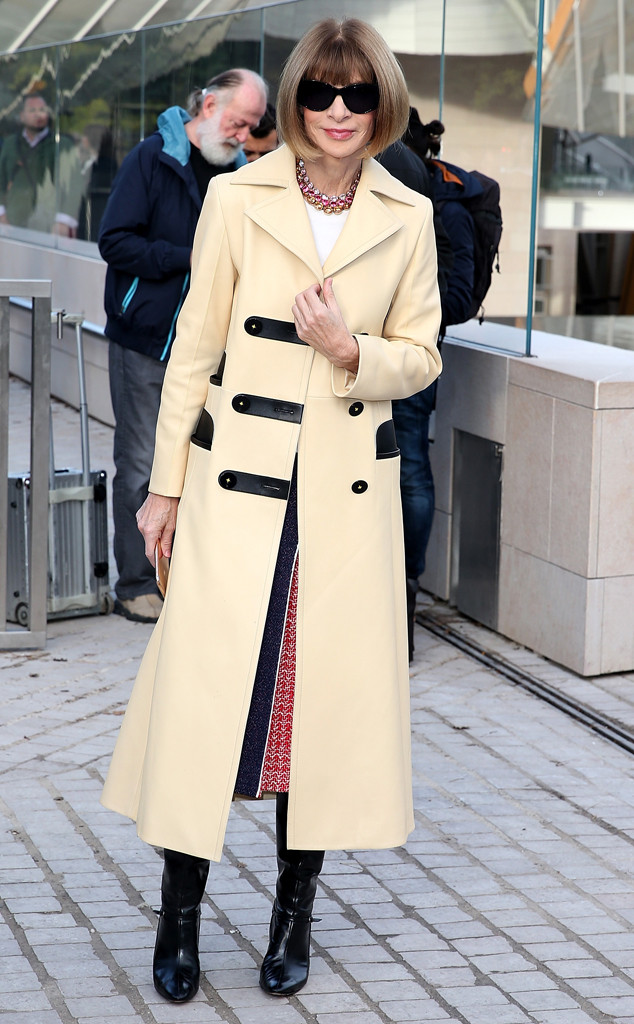 Pierre Suu/Getty Images
While that has mystified those who would assume that her shoe closet would be the 8th wonder of the world, it makes sense if she'd rather keep the spotlight on her outfit. Or maybe Anna Wintour's toes just need to breathe!
"I never comment on the number of pairs anyone orders, but Anna always likes to have her shoes, like everything in her wardrobe, impeccable at all times," Blahnik, who designed the not-available-to-the-public "A.W." for Wintour, told Vogue in 2011. "I often talk to Anna about what's inspiring her that particular season and what she's ordered for her wardrobe. Anna has fantastic legs, and her feet are always meticulously groomed."
Similar styles are available from the celebrity-favorite brand, of course.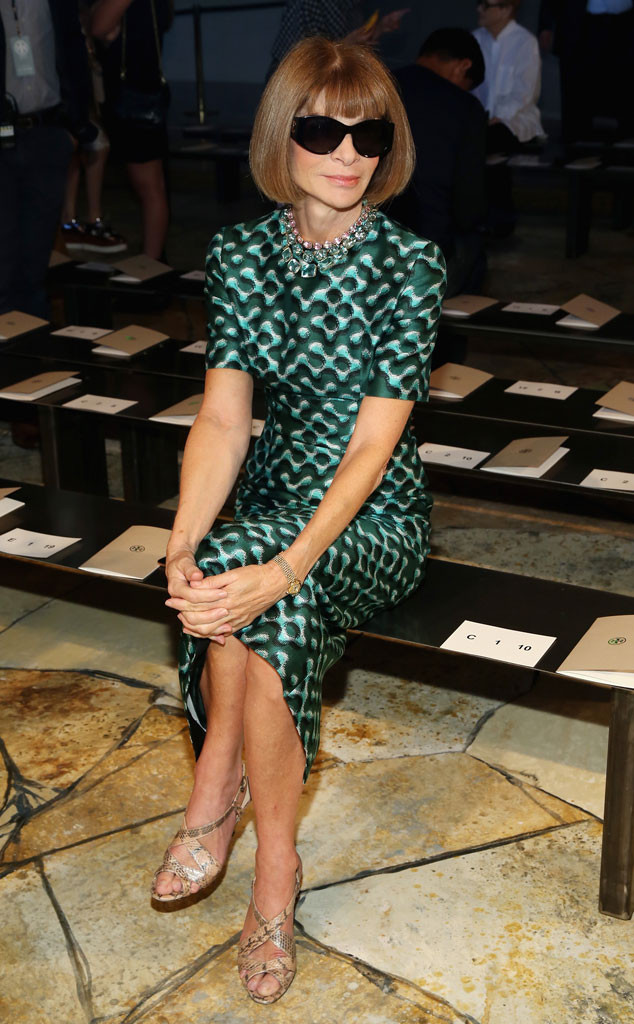 Cindy Ord/Getty Images for Tory Burch
Talking to the Telegraph in 2016, Blahnik called Wintour, who's featured prominently in his coffee table book Fleeting Gestures and Obsessions and the documentary The Boy Who Made Shoes for Lizards, "a divine woman. So normal and loyal. We went to the movies together all the time in New York, because we loved movies. So we went at 9 o'clock in the morning. This was before she was at Vogue. No time now, poor thing."
That's the sort of loyalty and adoration Wintour inspires among her inner circle, which in addition to fashion icons includes a host of celebrities, athletes (Roger Federer called about lunch plans during her "73 Questions") and political insiders. While her politics have made themselves known over the years, 2016 marked the first time Vogue had ever expressly endorsed a presidential candidate, and Wintour joined Diane Von Furstenberg and Huma Abedin in hosting a fundraiser for Hillary Clinton days before the election.
On Nov. 9, 2016, Vogue.com ran a story titled "How to Light a Spark on This Very Dark Day."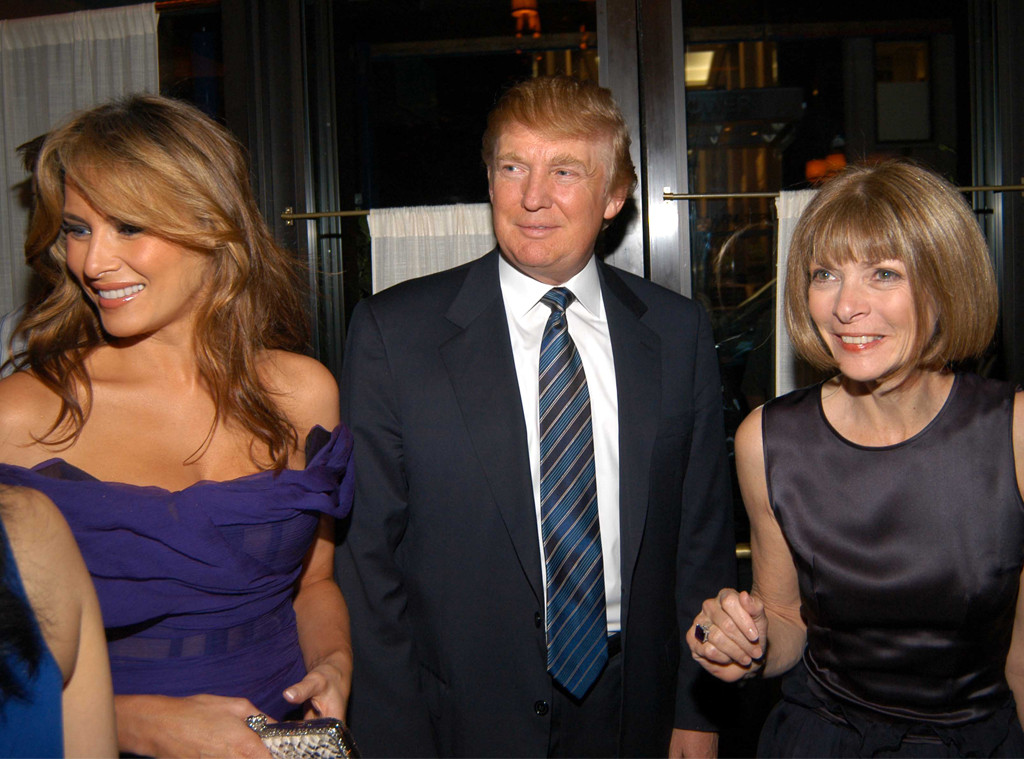 Neil Rasmus/Patrick McMullan via Getty Images
Still, Vogue has featured a wide swath of political and politically adjacent characters in its pages over the years, including Ivanka Trump and Melania Trump, and they and now President Donald Trump have attended the Met Gala many times, with Trump's appearances dating back to the 1980s with first wife Ivana Trump.
And while he's not invited this year (Wintour ducked the pickled pigs feet with James Corden by swiftly identifying Trump as a previous attendee who won't be invited back), the who's-who event plays hugely into the Trump trajectory—Donald proposed to Melania on the night of the gala in 2004, where she'd go on to flash her massive ring. Wintour attended their 2005 wedding at Mar-a-Lago.
But Trump presumably had more recent slights in mind when he tweeted in December, "Vanity Fair, which looks like it is on its last legs, is bending over backwards in apologizing for the minor hit they took at Crooked H. Anna Wintour, who was all set to be Amb to Court of St James's & a big fundraiser for CH, is beside herself in grief & begging for forgiveness!"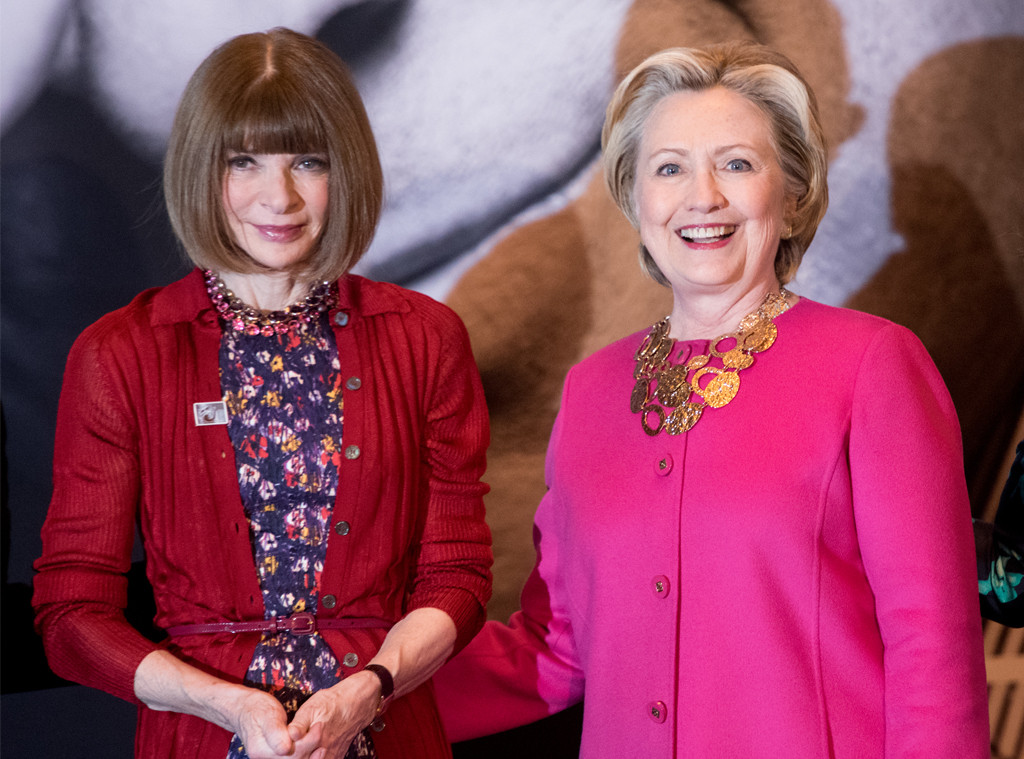 Noam Galai/WireImage
We can guess, but it will forever be unclear whether the president indeed made a mistake in implying Wintour was the editor of fellow Condé Nast publication Vanity Fair, which ended up apologizing for a misfire of a video in which a few staffers suggested Hillary Clinton take up knitting in her free time, or if Trump was knowledgeably singling her out because she's also a Condé Nast executive. (As for the rest, there had been talk that Wintour would have been in consideration for an ambassadorship to the U.K. if Clinton had won.)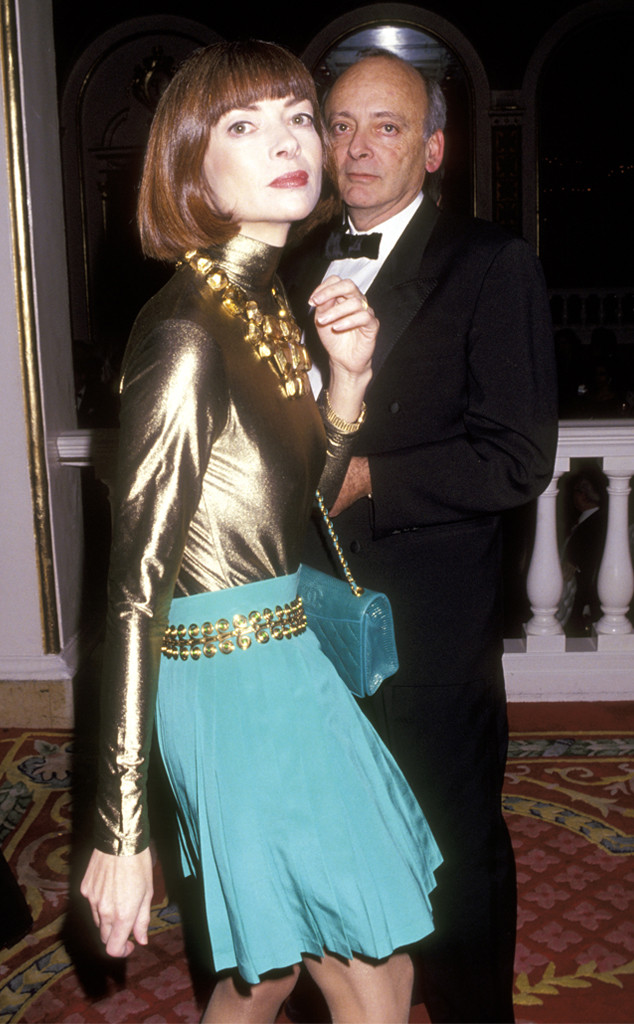 Ron Galella/WireImage
As for her own family life, Wintour, who was named after her maternal grandmother, is the daughter of Charles Wintour, who edited London's Evening Standard, and Eleanor Baker, an American social worker. Her brother Patrick is diplomatic editor for The Guardian and sister Nora is a human rights worker. Another brother, Gerald, died in a bicycle accident at 14.
Anna is mom to son Charles and daughter Bee with ex-husband David Shaffer. She married Shaffer, a pediatric psychiatrist and professor, in 1984 and they divorced in 1999—in the wake of Wintour having already moved on with telecommunications tycoon and prominent Democratic Party fundraiser Shelby Bryan, who was also married when they met at a charity ball. The end of her marriage, seen as a true union of the minds, was certainly scandalous among New York society, prompting speculation that Wintour's gilded tower was starting to tarnish.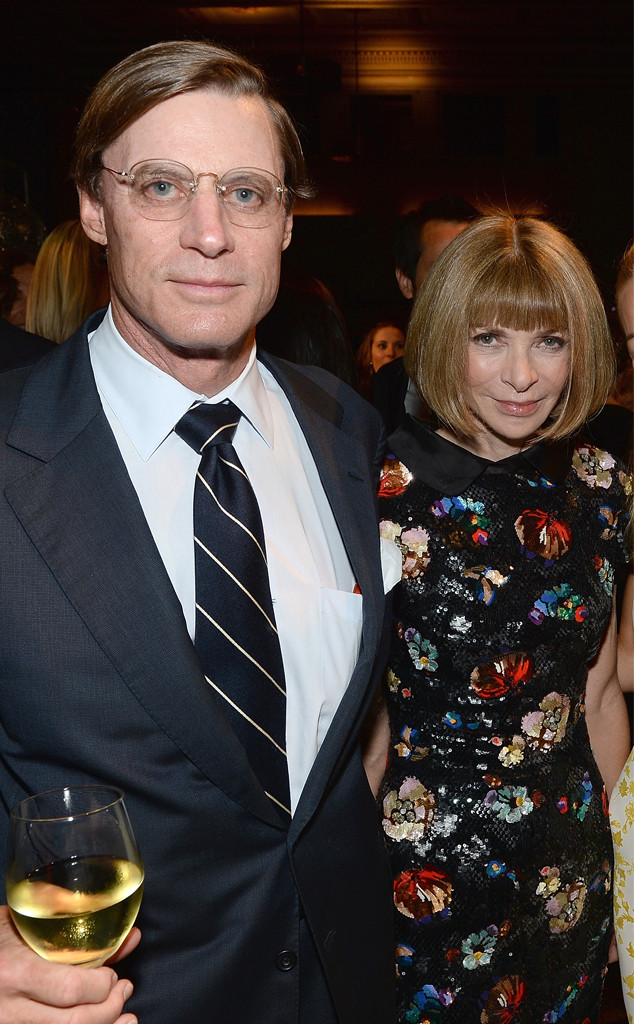 Dimitrios Kambouris/Getty Images for Novak Djokovic Foundation
Never one to really talk about her private life, then or now, Wintour told New York magazine in 1999, "There are certain things that no one wants to read about in the tabloid press…You know that your friends and your family have one vision, and if the outside world has another, then that's just something that you just don't focus on."
Similarly, Bryan, who hails from Houston, told Texas Monthly in 1999, "There's an old-fashioned view that your personal life should be kept private, and that's my view."
But while the qualities that won her so much admiration brought her just as much scorn from designers and others who felt they'd been given short shrift from Wintour, no one was seriously counting her out.
"What I feel bad about is people trying to use whatever situation is going on in her life to attack her professionally," Oscar de la Renta also told New York as rumors swirled that Wintour's bosses at Condé Nast could be losing faith in her. "Is she giving up her job? Is she not doing as good a job? It's easy to try to beat someone down. But anyone who'd try to do that to her would be a fool."
Isaac Mizrahi took an entirely optimistic view of her romance with Bryan, saying, "She's never seemed so giggly and sparkly-eyed and beautiful and happy. Listen, this doesn't look like a crisis to me. To me, it looks like a liberation!"
Despite initial chatter that Bryan was a notorious cad and/or social climber, he remains Wintour's partner to this day, so under the radar he makes Stedman Graham look like a Kardashian.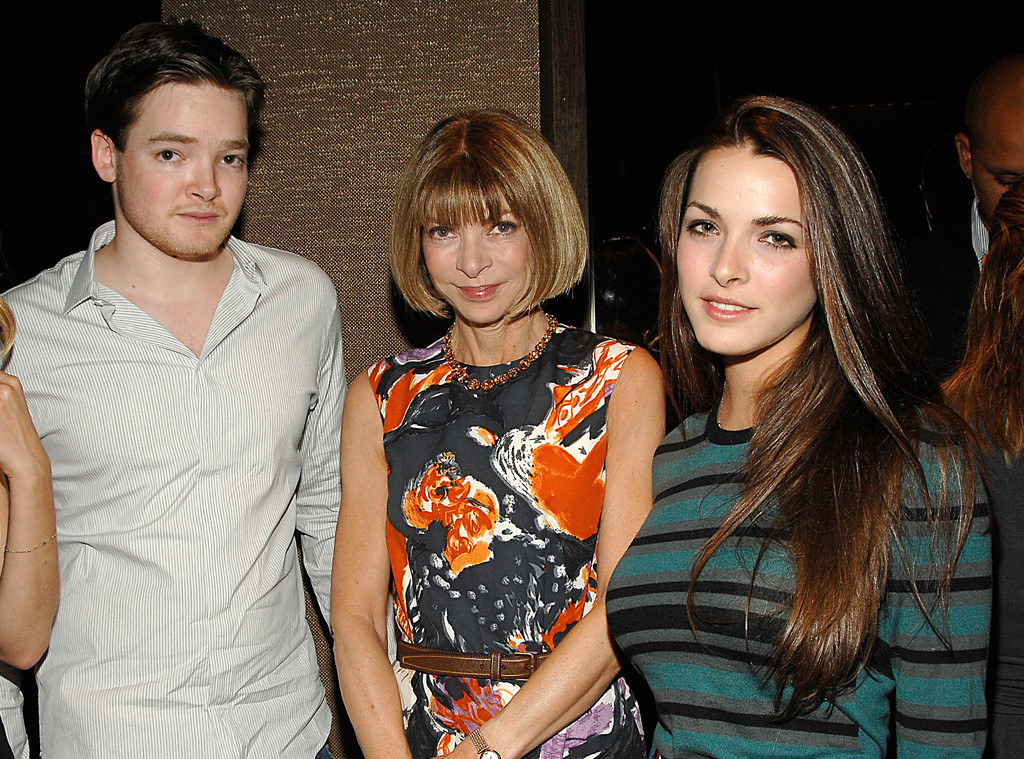 NEIL RASMUS/Patrick McMullan via Getty Images
Looking ahead to the summer, Bee Shaffer is set to marry director-photographer Francesco Carrozzini, son of the late Vogue Italia editor-in-chief Franca Sozzani.
If the wedding that Wintour threw for son Charles at her weekend home in Mastic, N.Y., when he married Elizabeth Cordry in 2014 is anything to go by, Bee and Francesco are going to have a quite picturesque big day. The bride wore Oscar de la Renta, the bridesmaids wore Prada, the flower girls wore Alexander McQueen, and the mother of the groom, only glimpsed briefly from the back in one of the pictures published on Vogue.com, wore Chanel.
Charles and Elizabeth welcomed daughter Caroline Anne Shaffer in March 2017, Wintour's first grandchild.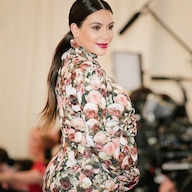 Photos
The Most Controversial Met Gala Outfits Ever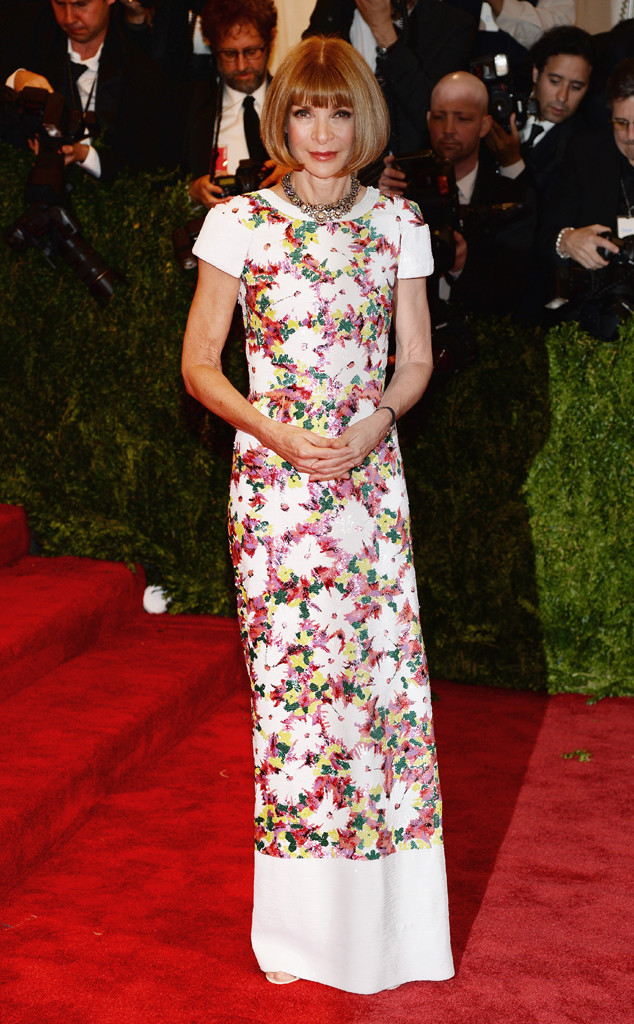 Dimitrios Kambouris/Getty Images
Wintour, who chaired the Met Gala for the first time in 1995, will co-host the ball tonight with Amal Clooney, Donatella Versace and Rihannawho just last year won the red carpet in Commes de Garçon.
This evening's theme is "Heavenly Bodies: Fashion and the Catholic Imagination," which just sounds tailor-made to enrage some people. (Someone is always enraged.) The event as always coincides with the opening of an exhibit at the Met's Costume Institute, which was rechristened in 2014 the Anna Wintour Costume Center. Along with vestments and accessories dating back through 15 papacies, pieces from Chanel, Donatella Versace, John Galliano and Cristóbal Balenciaga will be on display.
Forbes reported last year that, since Wintour became the de facto host of the benefit in 1999, the Met Gala had raised almost $175 million for the Costume Institute.
Asked by the New York Times in 2015 if she had envisioned the Met Gala turning into such an influential extravaganza early on, she answered via email, "There was no grand plan."
Watch E! Live From the Red Carpet: The 2018 Met Gala special Monday, May 7 starting at 6:30 p.m. ET/PT! For complete coverage of the 2018 Met Gala, watch E! News Tuesday, May 8 at 7 and 11 p.m.!
Source: Read Full Article