Jim's Mowing boss says racist letter sent to Indigenous senator is a fake
Save articles for later
Add articles to your saved list and come back to them any time.
Jim's Mowing boss Jim Penman says a racist letter sent to Indigenous Greens senator Lidia Thorpe under his name was faked and sent by someone else.
Senator Thorpe, who represents Victoria, used parliamentary privilege on Tuesday night to expose the contents of a letter she said she had recently received from Mr Penman, the chief executive officer of franchise chain Jim's Mowing.
Greens senator Lidia Thorpe says she has been subjected to racism and misogyny since being elected to the Senate.Credit:Dominic Lorrimer
Mr Penman has been an outspoken critic of Victoria's lockdown and has penned several open letters to MPs and Premier Daniel Andrews protesting the shutdown and its effects on jobs and mental health.
Senator Thorpe told the Senate she had recently received a personal letter from Mr Penman.
"He signed a letter written on his letterhead, which said, 'Get off your black arse and, instead of wasting time on Djab Wurrung country, do some work. Taxpayers' money was not meant for fat-arsed women. Devote your time going to the gym to exhaust your hormonal frustration and lose some weight'."
"I've been in this job, in public office, for only a matter of weeks and the misogyny, sexism and racism is already coming in thick and fast," Senator Thorpe later told the Senate."People need to be called out."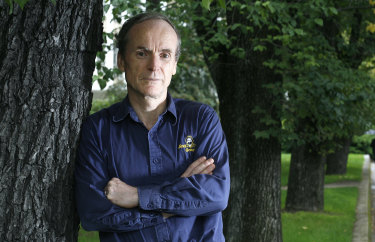 Jim Penman, CEO of Jim's Mowing, says the letter is a fake.Credit:Luis Enrique Ascui
Mr Penman told The Sydney Morning Herald and The Age he did not write the letter, that the views expressed in it were not his and the document must have been sent by a fraudster.
"Please convey my sympathies and best wishes to the Senator, but tell her this was almost certainly a fraud committed by someone offended by my stand against Daniel Andrews over the recent lockdown," he said.
"I find the statements made about her to be vile, sexist, racist and deeply offensive. I would like to take this opportunity to congratulate her on her achievement in becoming a senator. This is a major step forward for the Australian people and long overdue. If she is interested I would be very happy to convey my best wishes in person."
The letter sent to Senator Thorpe adopts the same formatting and electronic signature used for several open letters.
Mr Penman said his signature had been copied from the public electronic version used on those letters which spells out his name as two separate words. He provided a copy of his actual signature which was a single squiggle.
Senator Thorpe's office confirmed it did not verify with Mr Penman that he was the true author of the letter before naming him in Parliament.
Under the principle of parliamentary privilege, members of Parliament are given immunity and cannot be sued or prosecuted for anything they say in debate in the houses.
Most Viewed in Politics
Source: Read Full Article