How Kim Kardashian and Kanye West Just Ended Up Stronger Than Ever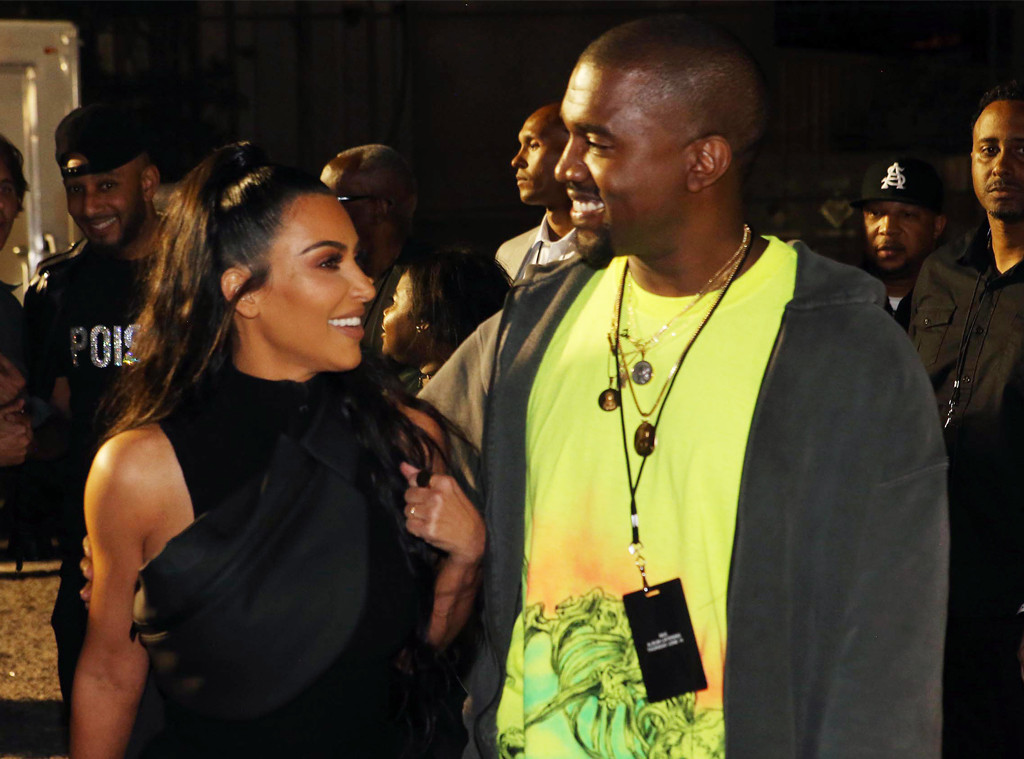 Johnny Nunez/WireImage
Wyoming. The Equality State. Home of Yellowstone National Park, Jackson Hole, the Teton mountains and Kanye West's re-set button.
There seemingly couldn't have been an unlikelier place for West and wife Kim Kardashian West to regroup after a strange month that had the Internet wondering just whose side Kanye was on.
Why, his side, and his family's side, of course.
"I am in too good a position to take a job where I have to be away from my wife and my son and my daughters, that just don't make no sense. For what?" West told Charlamagne Tha God in a wide-ranging interview last month. "Family is your most important currency."
Though he admits he sometimes has to explain himself, even to them, when his rapid-fire thoughts get carried away.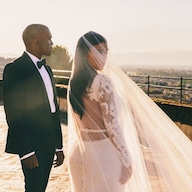 Photos
Kim Kardashian & Kanye West's Cutest Photos
The apolitical but reliably provocative artist had torched his reputation in some circles by tweeting support for the way President Donald Trump speaks his mind, and then his comment in a TMZ Live interview that hearing about slavery for 400 years "sounds like a choice" boggled more than a few minds.
Kanye told The New York Times recently, "There was a moment where I felt like after TMZ, maybe a week after that, I felt like the energy levels were low, and I called different family members and was asking, you know, 'Was Kim thinking about leaving me after TMZ?' So that was a real conversation."
As he rapped in his song "Wouldn't Leave," off of his eighth studio album, Ye: "My wife callin', screamin', say, "We 'bout to lose it all! / Had to calm her down 'cause she couldn't breathe / Told her she could leave me now / But she wouldn't leave."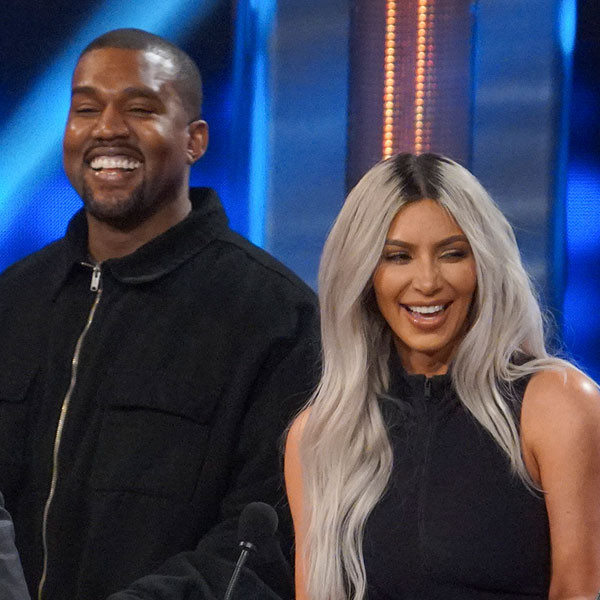 ABC/Byron Cohen
While Kim made it clear early on that she didn't necessarily agree with her husband's pro-Trump-sounding comments, the E! star having supported Hillary Clinton during the 2016 campaign (the three of them took a picture together), the vitriol directed at Kanye only made her more determined to protect him from the online mob, which was rushing to all sorts of judgments.
"To the media trying to demonize my husband let me just say this… your commentary on Kanye being erratic & his tweets being disturbing is actually scary," Kim tweeted on April 25. "So quick to label him as having mental health issues for just being himself when he has always been expressive is not fair."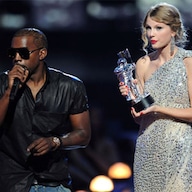 Photos
A History of Kanye West's Feuds: From George W. Bush to Taylor Swift
"Yesterday it was announced that Kanye had parted ways with some business people and media outlets made this about Kanye's mental health," she continued. "Rather than just a simple business decision. So I'm glad he tweeted about the state of his company and all of the exciting things happening."
Echoing some of the rapper's own words from his at one point days-long stream of consciousness, Kim concluded, "He's a free thinker, is that not allowed in America? Because some of his ideas differ from yours you have to throw in the mental health card? That's just not fair. He's actually out of the sunken place when he's being himself which is very expressive."
And finally, "Now when he spoke out about Trump… Most people (including myself) have very different feelings & opinions about this. But this is HIS opinion. I believe in people being able to have their own opinions,even if really different from mine…He never said he agrees with his politics." (Kanye himself had tweeted earlier that day, at least partly at Kim's behest, "You don't have to agree with trump but the mob can't make me not love him. We are both dragon energy. He is my brother. I love everyone. I don't agree with everything anyone does. That's what makes us individuals. And we have the right to independent thought.")
All of that was before the slavery comment, but Kim stayed the course.
Reflecting
A post shared by Kim Kardashian West (@kimkardashian) on
As they say, whatever doesn't kill you makes you stronger (in fact, both Kelly Clarkson and Kanye have said it), and sure enough Kim and Kanye have emerged from this crisis as close as ever.
"Kim and Kanye have a solid relationship, even with what's going on right now," a source assured E! News in May. "She loves and supports her husband. Even if they have differences in views and opinions, she knows his heart."
As for the rest of Kim's family, the source continued, "honestly, they know he is an artist. They love and respect him no matter what. He's a very loyal dad above all else."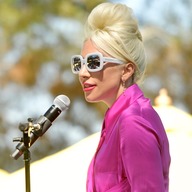 Read
Lady Gaga Speaks Out About Mental Health: "Secrets Keep You Sick"
Outside concerns for West's mental health dated back to November 2016, when he spent nine days hospitalized for exhaustion about a month and a half after Kim was robbed at gunpoint in Paris—the news of which sent Kanye scurrying from a New York stage mid-performance to be there for her.
It was a trying time for the whole family, which rallied around Kim, who then had to switch gears and be strong for Kanye when he needed her.
As just revealed by the NY Times, Kim even arranged for motivational speaker Tony Robbins to come to their house to help get to the root of the struggling artist's troubles.
"Really medicated, shoulders slumped down," West recalled, "and my confidence was gone, which is a lot of the root of my superpower, because if you truly have self-confidence, no one can say anything to you."
Apparently letting out some primal screams was a small, albeit promising, step on his eventual road back to feeling like himself again.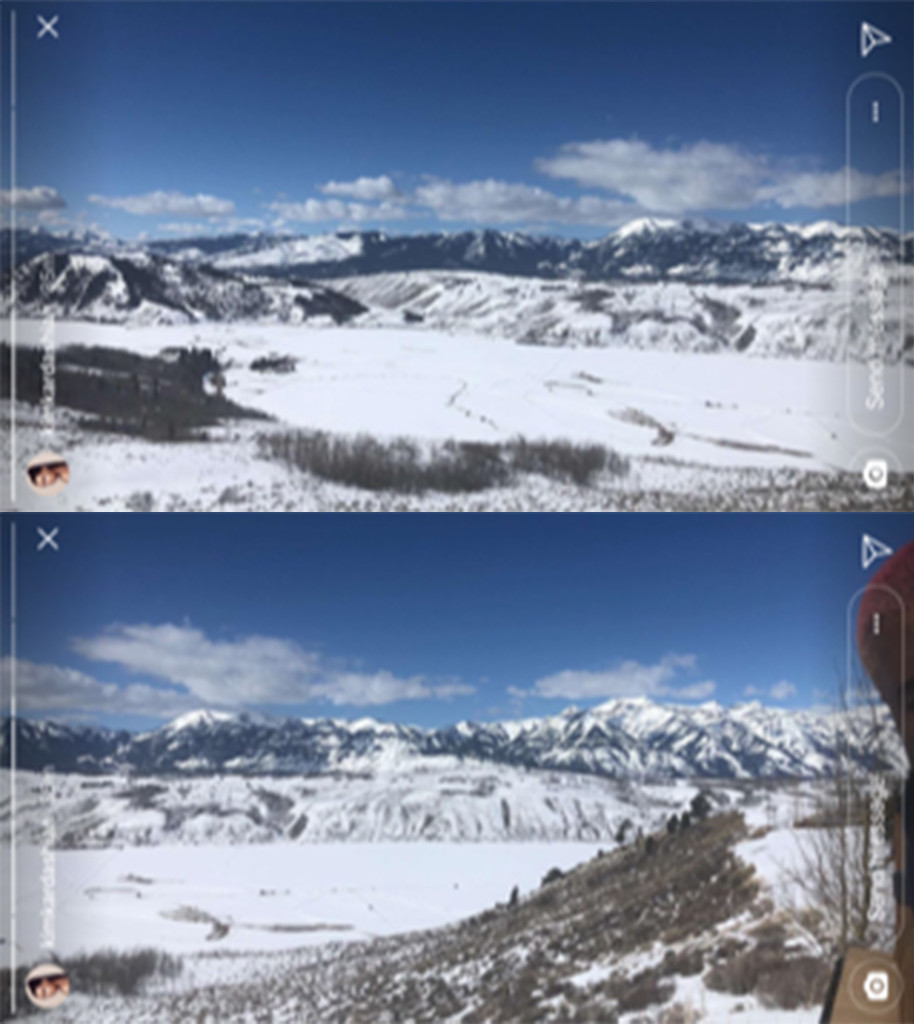 Kim Kardashian/Instagram
It was also in early 2017 that, after being diagnosed with bipolar disorder, he started going regularly to Wyoming, where he couldn't help but take the pace of his jam-packed life down a notch (though his private security still trailed him from a polite distance, even when he just felt like going for a walk through town).
"Kanye loves to escape to Wyoming to record his music because it is peaceful and he can lock up and really focus on getting tracks done," a source told E! News in March. Kim had just gone to visit him. "It's a good change of pace for her and some down time to relax," the insider added. "Its one of Kanye's places and he is in heaven being in Jackson."
"We came here just for healing," he told the Times the day after his well-attended listening party in Jackson Hole for Ye. "Getting my brain together and s–t."
Wyoming
A post shared by Kim Kardashian West (@kimkardashian) on
When they were both faced with life-altering trauma in 2016, he and Kim had also seriously been exploring surrogacy, the risk of complications if Kim got pregnant again proving too great to risk it; and though it took some time, they both emerged from the fog of crisis ready to have their third child.
Long story short, all went accordingly, and the Kardashian-West family welcomed daughter Chicago in January.
Kim had Kourtney Kardashian with her and the surrogate in the delivery room, while in an adjacent room Kanye played Connect 4 with some friends, the mother of three told Ellen DeGeneres about the experience.
Any fears she had that it might be harder to connect with this baby, since she wasn't giving birth to her, Kim said, "all of that goes out the door, and instantly she's ours. It was such a good feeling." They almost named her Jo, after Kris Jenner's mom, Mary Jo (M.J., as they often call her), and were also considering Grace, "and then it was Chicago."
Naturally!
Asked if that had anything to do with Kanye being from Chicago, Kim acknowledged it was "a place that made him [who he is], and the place that he remembers his family from." He wanted his mom, Donda's, name involved, but "I just felt like Chicago's cool and different." Chi for short, to go with her one-syllable siblings, North and Saint.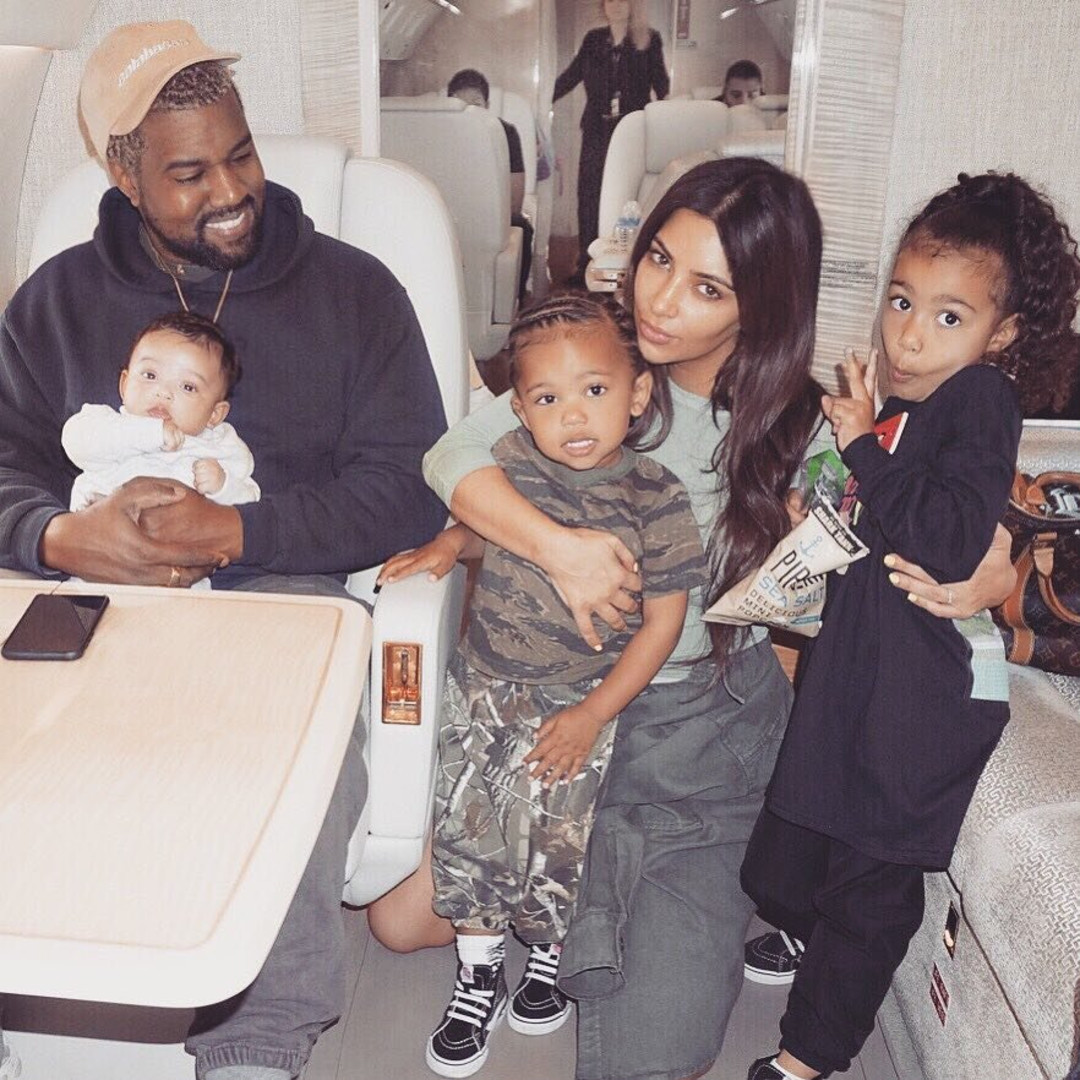 Instagram
So, much of 2017 for Kim and Kanye was also about getting ready to have a baby, without the physical stresses for Kim this time, and then the beginning of 2018 was all about doting on Chicago once she arrived and soon joined her siblings in experiencing the joys of private jet travel at a very early age.
Of course, in the Kardashian family's world, there are always half a dozen plot points competing for attention, and Kim and Kanye's baby took a relative back seat to the arrival of Kylie Jenner's first child, daughter Stormi Webster, and then Khloe Kardashian's daughter True Thompson, who was born just a few days after dad Tristan Thompson was accused of cheating.
Kim was busy fielding questions about her sisters and relaying her happiness with her own family of five when Kanye decided to unload a lot of news and pent-up thought on Twitter in April.
He started on a mild philosophical note, tweeting, among other things, "Sometimes you have to get rid of everything." To which Kim playfully replied, "Wait…EVERYTHING?!?!?!?"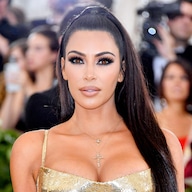 Photos
Kim Kardashian's Style Is Only Getting Better in 2018
"I didn't even know he got his Twitter again until I started seeing tweets come in from other people, like retweeting them," Kim told Ellen. "I was like, 'wait, is this real?' And then at night, he came in and was like, 'Did you see my tweets?'" She replied, "Yes, I did see your tweets.' And I followed him back and I wake up and I see—I mean, I hear him say all these things in the house just about…I think what he was saying about, really, to everything, he was talking about clarity and how we should not have our phones first thing in the morning, and in the house when we're with the kids, let's not have our phones. It's our rule that we really try to live by.
"So, I think he was talking about cleansing."
Kim said she'd like to take a trip, just the two of them, for their anniversary, but she was also busy planning his 41st birthday party for June—and she had some even bigger plans on her mind.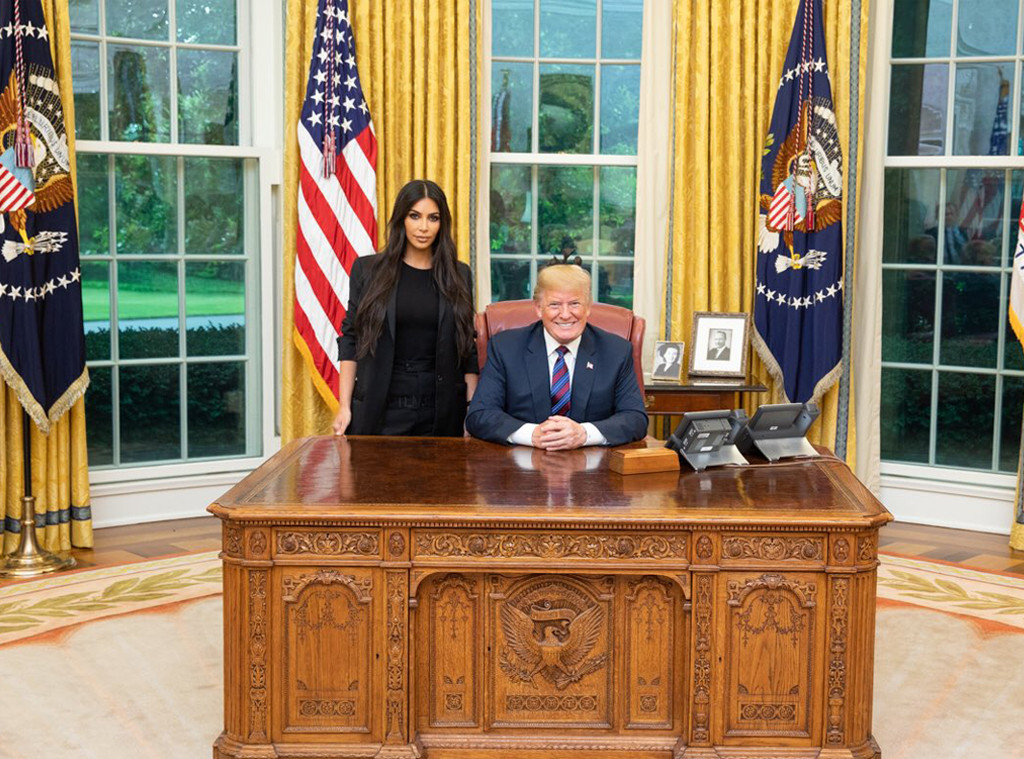 Donald Trump/Twitter
Building on her husband's acceptance of Trump as a fellow "dragon energy" kind of guy, Kim—with the help of Ivanka Trump and Jared Kushner—arranged a visit to the Oval Office on May 30 to speak with the president about prison reform and granting clemency to Alice Marie Johnson, a 62-year-old woman who was serving a life sentence for a first-time, non-violent drug offense. Kim first learned of Johnson's case in October.
"BEST NEWS EVER!!!!" Kim tweeted a week later when the White House announced that Trump planned to commute Johnson's sentence, effectively setting her free. In an official statement, she said, "Her commutation and forthcoming release is inspirational and gives hope to so many others who are also deserving of a second chance."
Talking to CNN's Van Jones afterward about her meeting with Trump, Kim said, "I did take a second to say, 'Wait a minute, we're in the Oval Office, this is crazy." When the president asked what exactly she was there to talk about, Kim recalled, "I said, 'What I really want to know, I'm here because I really want to know why did you kick Khloe off The Apprentice?' It was a laugh and it was funny and then we got into business." (Khloe was fired from Celebrity Apprentice in 2009.)
Kim said she knew going in that there would be "tons of backlash," but the cause she was fighting for was too important to heed the haters.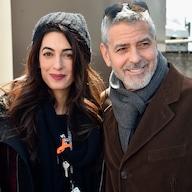 Photos
March for Our Lives 2018: Star Sightings
Talking about athletes and others who have stated their intent to not visit the Trump White House, "I do still respect their choice. Everyone can do what they want to do. I never judge other people and I do think sometimes situations are different."
Kanye, who obviously supported his wife 100 percent in her endeavors, retweeted her and a series of stories about the Johnson case.
Bow on our arrival
A post shared by Def Jam Recordings (@defjamrecords) on
After her trip to Washington, meanwhile, Kim flew right back to Wyoming for Kanye's star-studded private listening party, where fans and friends including Chris Rock, Jonah Hill, Scooter Braun, Nas and Teyana Taylorgathered to hear Ye for the first time, no one apparently too torn up anymore about West's controversial comments.
"No black man has taken more advantage of his freedom than Kanye West," Rock told the crowd. "So I can't wait for y'all to hear. Can't wait to watch you experience what you're about to see Listen without prejudice."
Since then Kanye has continued to retweet good reviews and some of the praise for Ye he's come across, including some from Seth Rogen(whose political ideology doesn't include Trump support), who wrote, "'And nothing hurts annnnnnnyyyymoooooore, I feel kinda freeeeeeeeeeee!!!!' – me, non stop, cause that shit is STUCK in my head and it's wonderful."
And so, Kanye the artist was welcomed back to the celebrity fold with open arms. His album was a work in progress right up until go time, and by the time it was out it acknowledged all sorts of recent events, including his TMZ interview.
"I feel like as a son and as a family member of the world and that's the reason why the world won't let me go because I'm just a family member," Kanye reflected to Big Boy TV earlier this month. "They might disagree with me on certain s–t, but I'm they family. I've been here for 15 years, 18 years and I feel like the best thing I can do is sit there and go in that studio and keep chopping that thing that only I know how to do and only me and my crew know how to do."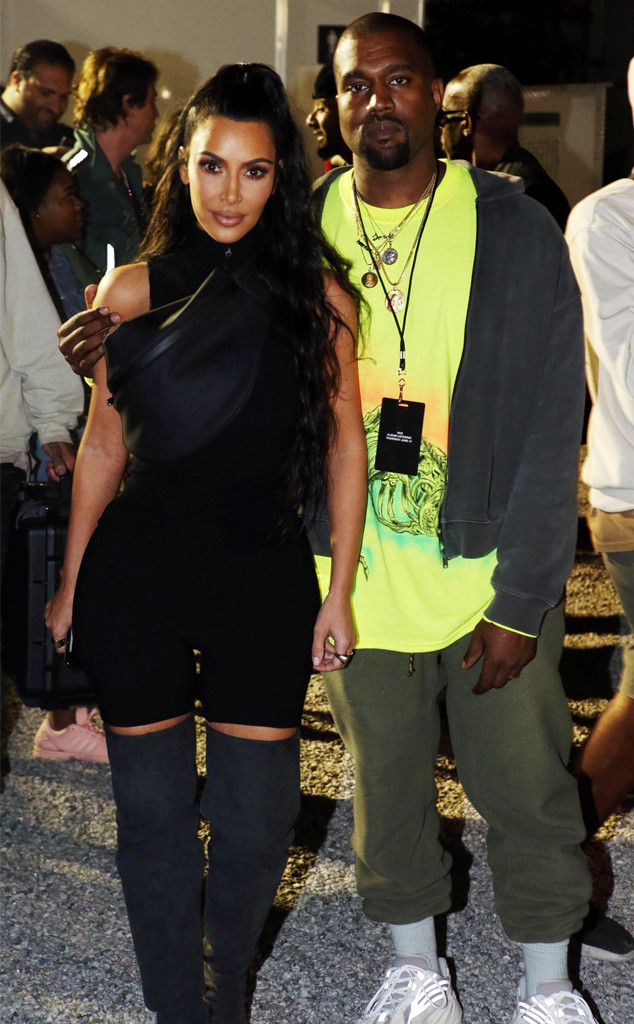 Johnny Nunez/WireImage
Kanye has also tried to clarify his position on a number of points, telling Charlamagne Tha God that his ideal presidential candidate would run a no-rules campaign like Trump, but with Bernie Sanders' politics.
Questioned pointedly about the fact that he was making some people think he supported the president's policies, he replied, "I don't have all the answers that a celeb is supposed to have. But I can tell you that when he was running, it's like I felt something. The fact that he won proves something. It proves that anything is possible in America. When I see an outsider infiltrate, I connect with that."
More recently, to the New York Times, when asked if he "liked the sound" of things like the Trump administration's travel ban on people from six largely Muslim countries, West said simply, "No, I don't agree with all of his policies." (He and Kim also brought North to the March for Our Lives rally for gun control in D.C. in March.)
Welcome to the good life…
A post shared by Kim Kardashian West (@kimkardashian) on
Since then Kim did throw the candlelit dinner party she'd been planning for Kanye on the Sunday after he turned 41, complete with a cake in the shape of the family's now cherished Teton Range mountains in Wyoming. North and Saint also helped bake a cake for their dad earlier in the week for the family's more private celebration.
A few days later Kim and Kanye attended the album release party for Nas, whose latest, Nasir, was executive-produced by Kanye and recorded at his Jackson Hole ranch, now a go-to destination for the hip-hop elite.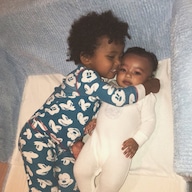 Photos
Chicago West's Cutest Pics
They also just went to Paris for Fashion Week, Kim's first trip back since the robbery (they no longer keep any big-ticket art, jewelry or other values anywhere their kids are staying), then it was back to L.A. for a Teyana Taylor listening party, Kanye having produced her album, too.
"This whole flight back from Paris Kanye has been finishing up Teyana's record OMG it's soooo good!!!!" Kim tweeted appreciatively.
Happy Birthday babe!!!!! It's been a wild year but we're here & life is good! So proud of you dropping back to back albums & fulfilling your dreams. You inspire me to make the impossible always become a reality. Love you ?
A post shared by Kim Kardashian West (@kimkardashian) on
And so they've dealt with their latest bump in the road and come out just as devoted to each other on the other side.
Amid the turmoil they celebrated their fourth wedding anniversary on May 24, with Kanye tweeting, "gratitude and happiness best describe what my wife means to me. I'm deeply grateful and purely happy."
Kim posted a photo from their fairy-tale-caliber ceremony in Italy, writing, "4 years down and forever to go…. Thank you babe for giving me our family and caring so much about us. Thank you for inspiring me on a daily, I'm so lucky. I can't wait for forever… Happy Anniversary."
She summed it up even better in her birthday message, however, when she wrote, "It's been a wild year but we're here & life is good!"
Or as Kanye raps in "Wouldn't Leave": "One and one is two but me and you, that's infinity."
Keeping Up With the Kardashians returns for its 15th season on Sunday, Aug. 5, at 9 p.m. ET/PT
Source: Read Full Article