This is the Right Way to Do a Barn Wedding
One of the most touching details in the classic rom-com 'When Harry Met Sally' is the intermittent scenes of documentary-style interviews with real-life elderly couples describing how they met and fell in love. In the clips, the devoted seniors talk over each other and finish each other's sentences—the kind of dialogue that comes from lives so perfectly entwined, it's impossible to imagine that the individuals could have married anyone else.
It's easy to imagine Olivia Fleming and Matt Rubin like that one day. From the moment they met, it seemed like the most natural thing in the world to be together. And unlike some relationships, which thrive on isolation and mantras like "distance makes the heart grow fonder," Olivia and Matt's joy in each other's company has an almost magnetic quality that invites those around them to bask in that happy energy too.
Watch Olivia & Matt–and three other adorable couples–talk about their instant connection below.
Matt Rubin, a product manager at Squarespace, first spotted a photo of Olivia Fleming, BAZAAR.com's Senior Features Editor, on mutual friend Dana Drori's Instagram. When Olivia invited him via email to Dana's surprise birthday party, Matt was excited to see Olivia's name in his inbox. "I was like, 'Oh my God, I got an email from that girl!'" he said.
But at first, Dana wasn't exactly encouraging; "No way you're ever gonna date my best friend," Dana had told Matt. As it happened, Olivia and Matt never actually had a conversation at Dana's party, and even though he had her email address, Matt didn't pursue Olivia after he learned that she had a boyfriend. It wasn't until a couple of months later that they spoke for the first time. "I went to this Paris Review party with some mutual friends, and then she walks in with her boyfriend," Matt says. "But at this point, I'd heard through someone that they were gonna break up. He was moving far away or something. I kind of knew that it wasn't bad to talk to her."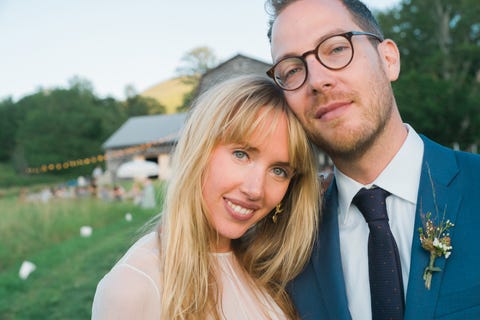 "We talked to each other the whole night long," Olivia said. Matt, a self-confessed internet nerd, had been showing Olivia how the then-new SnapChat app worked, when she asked for his number. "She was just asking me for my number to add me to SnapChat," Matt confessed. "I could have said, 'You don't need my phone number,' but I decided not to. I'm glad I did."
The pair had also bonded over a love of soft-boiled eggs with "soldiers", a word New Zealand-born Olivia used to describe toast sliced into dippable sticks. Kansas native Matt had never heard the expression and found it charming. "My plan was to add each other on SnapChat, [then] I would make my soft-boiled eggs, and I was gonna send her a pic," he said. "And she replied to the SnapChat of my eggs via text. I still have the photo."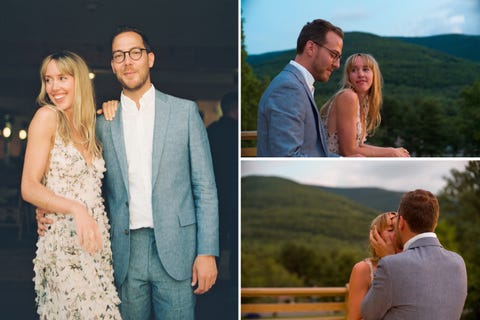 Digital wall broken, Olivia suggested a group dinner, including Dana and another mutual girlfriend. "I was too scared to invite him on a date," she admitted.
"We went to Jack's Wife Freda, and we sat across from each other and ate dinner with the group, in the loudest restaurant in all of New York," Matt said. After dinner, the group moved on to the now-shuttered Joe's Bar. From there, the girls had planned to go on to a Versace event, but Olivia chose to skip the party and stay at Joe's with Matt. "I didn't think she liked me," Matt remembers. "Her saying that she was gonna stay was like, oh my God, this is a thing. This is happening. It was pretty cool."
"A few hours later, we're still talking and hanging out in the back," Olivia said. "He walked me home, and then we talked outside the door, and then he leaned in for the kiss." Matt would go on to describe that kiss as "the moment when the world stopped" in his wedding vows.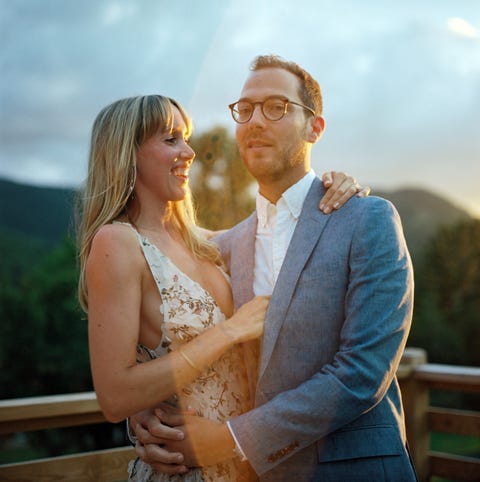 "Olivia, my love. I remember every moment that has led up to this one. And I have been looking forward to this moment for a very long time. Remember the first time we talked? I fell in love with you then and there. We were at a party. In you walked with your Annie Hall pants and brightness. I instantly knew there was something very special about you–you lit up the room. I'll never forget that feeling; I still I feel that feeling every time I see you. A week later, we had our first kiss outside of your apartment. In that moment, the world stopped…
Olivia, you are the woman of my dreams, what I was looking for my entire life…you truly are the most beautiful woman in the world (inside and out). You've shown me love I've never ever felt before. It takes me one second to realize how lucky I am to have you in any moment that I start to forget.
We complement each other in so many ways. I worry 5 years into the future and you worry 5 minutes…I'm excited to combine my Kansas with your New Zealand. Maybe that unique combination is the reason we can spend thousands of hours together and I still want more. You're my partner in crime, and we're unstoppable when we're together…
With that in mind, here is what I promise to you. I promise we will always have the most magical christmas celebrations. I promise I will go on any adventure you want to go on whenever you say. I promise to bring you coffee every morning…I promise to catch you if you clumsily fall. I promise to always come up with wild business ideas just in case one of them works…I promise to always communicate, to be honest, to work through a disagreement and make up within 10 minutes of arguing. I promise that we will always love and support each other, through jobs that we like and jobs that we don't, weird diets and bodies, travel awes and travel woes, forever and ever. I promise to take care of you in whatever comes our way and to love you this much for the rest of my life." – Matt Rubin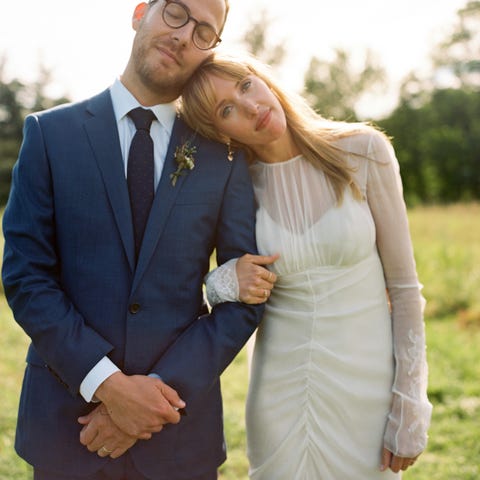 Still, Matt feared he was being "friend zoned" when Olivia suggested a brunch for their first date. "But against all odds and social norms, we met for brunch," he said. "And then spent the rest of the day together. And then I've seen her every day since."
Everything about their relationship just felt very natural, Olivia echoes. "There was no game plan," she said. "It was just like, 'Oh, we like each other. Let's hang out.'" The couple dated for a year before moving in together, and like their relationship, it happened without much fanfare. Olivia, who lived with a roommate, was already spending all of her time at Matt's 600 square-foot studio. "We decided to get rid of her place," Matt said. "It just made sense, we were together all the time."
Matt says he knew Olivia was the woman he would marry from that very first date. "I was at a point in my life that I knew enough about people, and that when you find someone like this it's a rarity," he said. "I'd never met anyone like her. She's a magical human."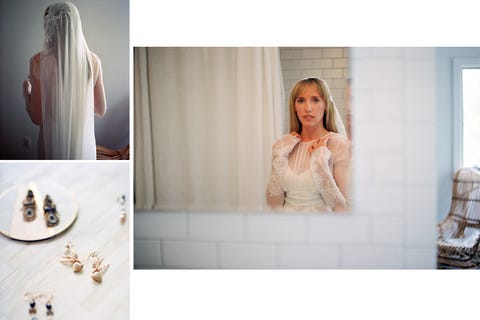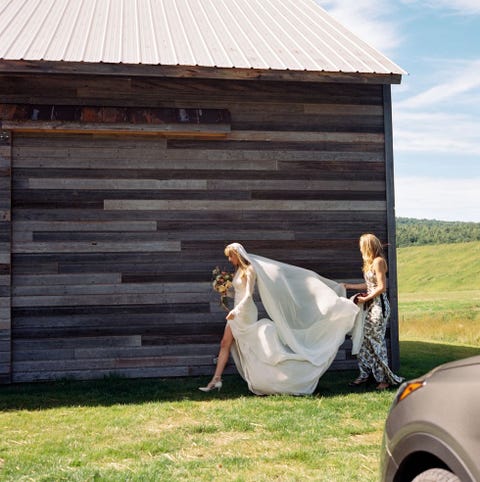 He started planning the proposal around six months before it actually happened. And while he has a tendency to be neurotic and anxious, this decision didn't faze him. "It was the first time in my life that I wasn't scared, and I didn't try to come up with a million reasons why I shouldn't," he said. Even the pressure of commissioning a bespoke ring [from the woman who makes the jewelry for Olivia's company, Olivia Kane] didn't stress him. "I just trusted that because of who she is, even if she doesn't love it she could just change it," he said. "And she's still wearing it, so I guess we did okay. [Proposing] was the first time I went forward, without worrying, and it was awesome."
While Matt had planned to wait for the perfect moment, once the ring was in his pocket, there was no stopping him. "I literally called her on my way home and was like, what do you wanna do for dinner?" In fact, he jokes, Olivia ended up planning her own engagement: a picnic dinner on a blanket on their roof. "It was really cool and special. And she had no idea. But it was awesome."
The couple spends most weekends exploring the Catskills, so it was a natural choice for their wedding. "It made sense that we would curate those adventures for everybody to come and enjoy, and celebrate like it was just another weekend," Matt explained. Invites by Dallas Clayton detailed a three-day celebration in which friends of the couple had a hand in almost every part.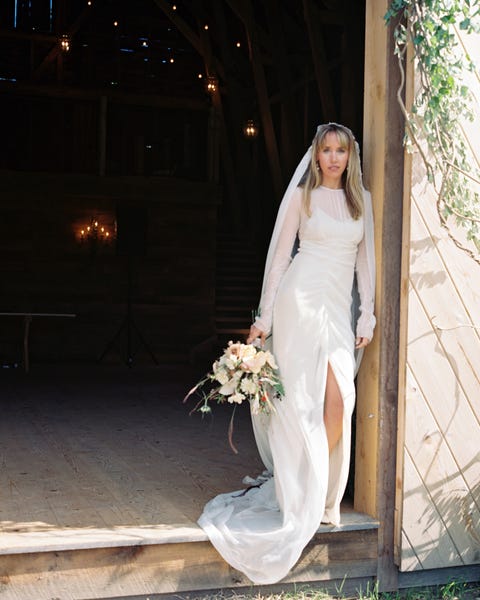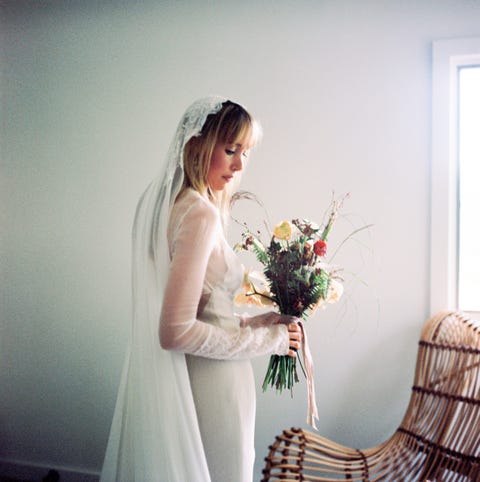 The home base for the weekend was Scribner's Catskill Lodge, whose restaurant, Prospect, is a favorite of Olivia and Matt's. It served as the location for an intimate rehearsal dinner, followed by welcome drinks on the balcony for all of their guests. Guest rooms were furnished with seagrass gift baskets filled with Antipodes water and Whittaker's Hokey Pokey chocolate from New Zealand, and Kansas-style barbecue chips, to give guests a taste of both Olivia's home in Auckland, and Matt's hometown of Kansas City. They also included a map of the area, the latest issue of Upstater magazine, and a welcome note designed by Olivia's friend Saskia Rysenbry.
The wedding itself was at Hayfield, a barn in a picturesque valley in Catskill State Park. The property was still under construction when the couple first visited, but its owners, Christiana and Scott, sold them on it. "They were really special people," Matt said. "There was something really magical about the fact that they hadn't even finished it yet." Olivia and Matt were only the second couple to wed at the property, and the owners were guests at their wedding.
Someone asked me recently if I called New York home. You already know that for me, even after six years of living here, that feeling of truly belonging somewhere—of feeling still and at peace in one place, of feeling satisfied and content—has always been a foreign concept. And I'm still not convinced New York is "home," not yet; but for a long time it has felt like home because you're here. You are my home. You are what makes me feel grounded and safe, no matter where I am. You have become my refuge from the bad and my anchor to the good. My favorite part of every day is our mornings together, waking up to you bringing me coffee in bed, or to you pulling me closer for one last hug. It's like a like a cove of calm before we face the day separately, but always together.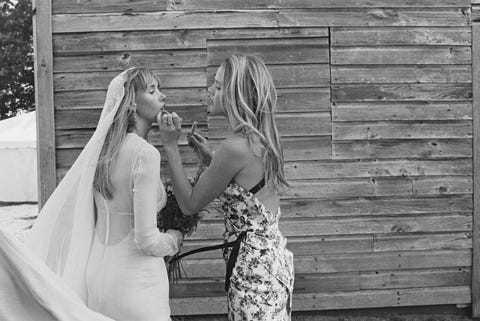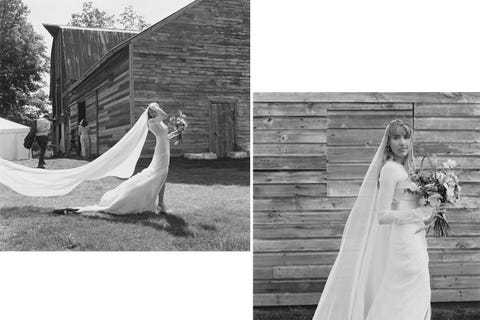 "Every day I feel grateful that I found you, someone who, without fail calls me everyday around lunchtime just to tell me he loves me, someone who is so exceptionally honest and trustworthy that even I sometimes find it hard to comprehend; someone who genuinely respects my opinion above everything else; someone who is up for any adventure as long as I'm there; and someone who looks out for me, always, even if it's just to tell me when there's a crack in the sidewalk because he knows otherwise I'll trip.
You have never made me question your love for me, not once. Not even when you're frustrated at me, like when I forget to rinse the dishes or tell you we've run out of coffee, or when I sing the wrong words to famous songs, or when I always finish your sentences. You're the first to say sorry after an argument, even if I'm the one in the wrong; you listen, really listen, when I need you to; you've always put me first. And each time I walk through the door, you look at me like I'm your entire world…
It's not easy to find someone who will stand with you to face the world no matter what. You have taught me what real, deep, unconditional love is— and what it really means to feel at home.
So, with that, I promise to never take you for granted and to always consider you in the big and the small. I promise to be patient, no matter how many times you ask me if your outfit looks okay in the morning, or how many times you ask me if everything's going to be okay. Everything will be okay because we have each other…I promise to always laugh with you, even when what life throws us isn't so funny.I promise to never stop listening to your needs and wants, and I promise to always be honest and open about mine. I promise to never stop finishing your sentences and I promise I will try to remember to tell you when we're out of coffee.
And I promise to love you, unconditionally, always and forever." – Olivia Fleming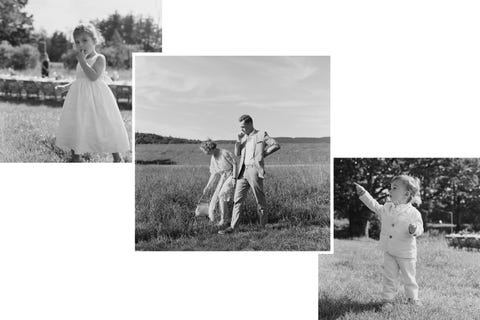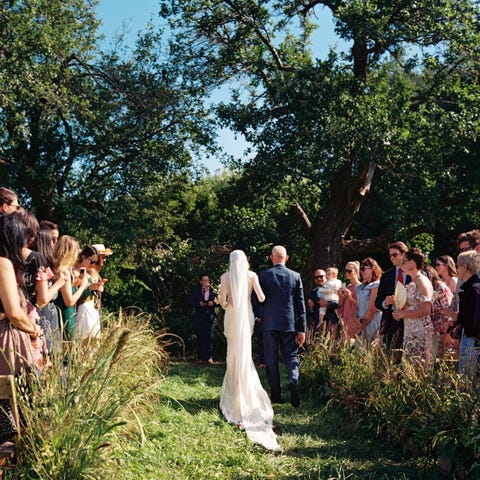 The ceremony took place between two 200-year-old apple trees by a creek that runs through the Hayfield property, and was officiated by one of Matt's oldest friends, Brad Johnsmeyer. "He knows Matt better than anyone else," Olivia said. "And I'm really close to him too. That wasn't even a discussion, it was just like, that's what we want." Olivia walked down an aisle of wildflower arrangements by Hops Petunia to Van Morrison's 'Sweet Thing', played by friends Kevin Morby, Andy Jenkins; and Jarvis Taverinere and Jeremy Earl from the band Woods.
Famously known for trying over 80 wedding gowns until she landed on "the one,"Olivia's gown was a long-sleeved, slim-fitting custom Vera Wang creation in silk chiffon, with super-long sleeves bonded with lace and an oxblood tint in the train. The gown served as her something new, as did a custom lace-trimmed veil by Danielle Frankel, who used the same Chantilly lace that decorated her sleeves to embellish the chapel-length veil. Olivia accessorized with Bionda Castana shoes and vintage earrings from Doyle & Doyle, which served as her something borrowed and something old. Makeup was by Sarah Rose of Rose + Rogue using all-natural products. Matt wore a J.Crew suit, Taylor Stitch tie and Allen Edmonds shoes.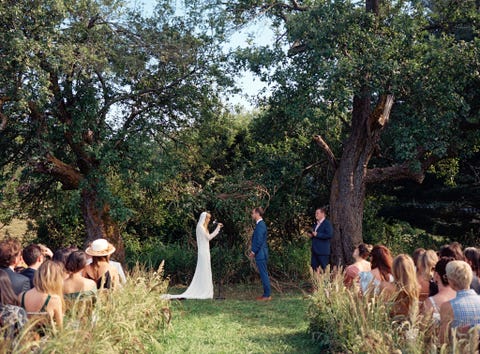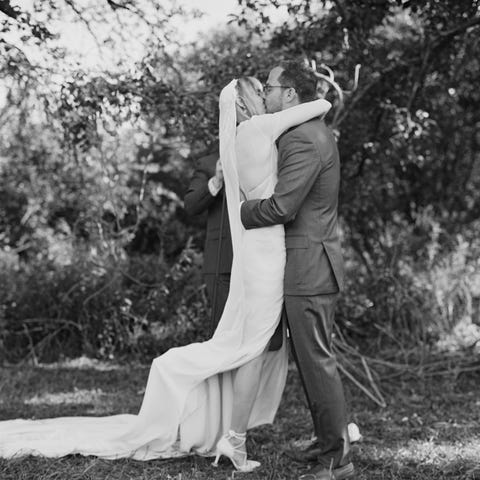 If the readings—which included Dallas Clayton reading his "An Awesome Book of Love!"—didn't trigger tears among the guests, the couple's vows certainly did. "I was very adamant that we write our own vows," Olivia said. "If [Matt] had his way, we would have done traditional wedding vows, but I made him do it [and] he stole the show."
"I was really nervous," Matt admitted. "[But] I have never felt so at one with one human in my whole life, while people watched. It was like we were having a conversation. I've never felt that feeling in my life."
The couple exchanged rings they had made themselves through their respective jewelry companies (Olivia Kane and Mr OK), and walked back up the aisle to The Cure's 'Just Like Heaven'. One of Olivia's favorite moments was when Matt stopped and pulled her in for a kiss as they reached the end of the aisle. "That is one moment I'll never forget," she said. "There were so many moments from the wedding, but that one was very spontaneous, and I will cherish it forever."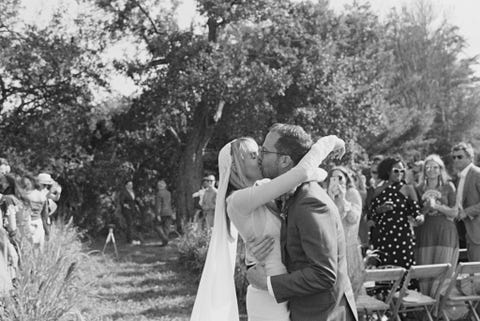 Matt likes to say that the wedding felt like a food and music festival—and they were two aspects of the day that he had a big hand in planning. "Most of [Matt's] friends are in bands or really successful musicians, so that's why he wanted them all involved in some way," Olivia said. "Kevin [Morby] is one Matt's best friends. He sang our first dance, 'If Not For You', by George Harrison."
Dinner was served family-style on two long tables outside the barn at sunset, and later under the stars. Amanda Shine and Billur Kazaz from The Setting helped style Hayfield with furniture from Hudson Valley Vintage Rentals, contrasting floral and printed linens that were handmade in India through Piece & Co, and parasols that Olivia had custom made in Bali. Hops Petunia created loose floral arrangements of roses and ranunculus in custom ceramic frogs by 28a Clay. "It was Billur's idea to have the tables make a 'V' in front of the barn," Olivia said. "They essentially transformed what was in my head into a reality, putting together furniture vignettes inside the barn and creating my dream table settings." Napkins were embroidered with each guest's name as a place setting, Janis Studios's blue thread serving as Olivia's "something blue."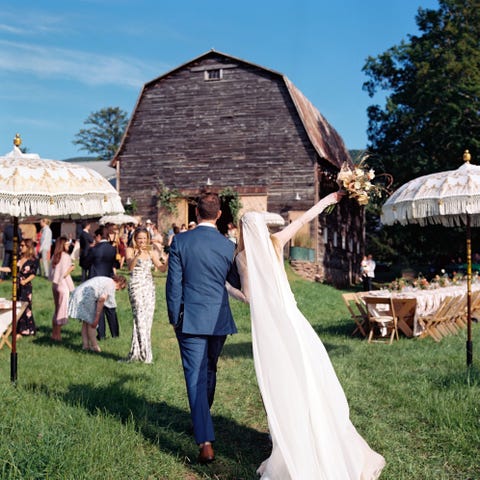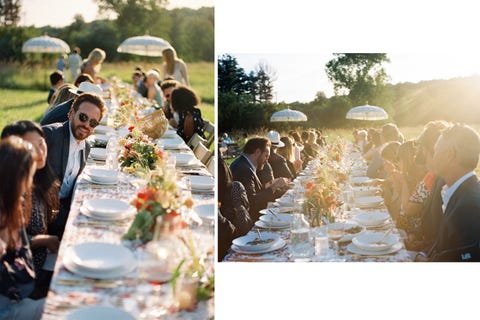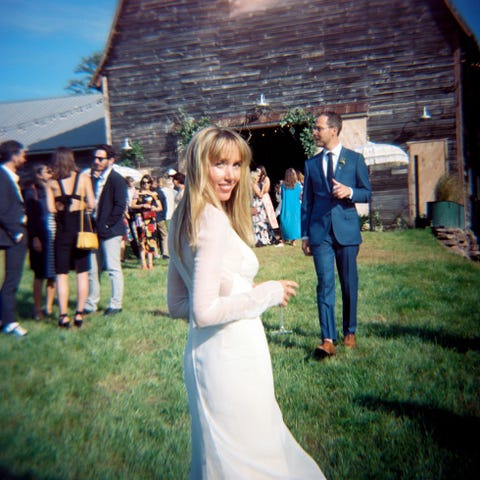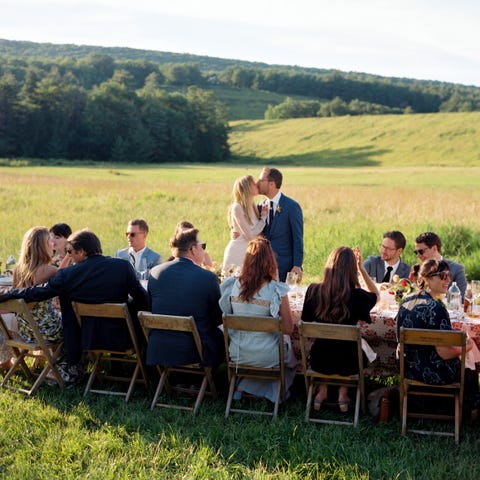 The menu was created by Brushland Eating House. Owners Sohail and Sara, also friends of the couple, closed their restaurant on a Saturday evening in the height of summer to cater the wedding. "We have literally driven three hours from Manhattan just to eat Sohail's food," Olivia said. "They served our favorite dishes like pork schnitzel, kale salad, roasted carrots and burrata." The meal ended with Pavlova, a meringue-based dessert native to New Zealand.
Brushland's wine distributor also happened to be the only one in the U.S. to carry Seresin Estate wines, an organic, biodynamic winery in New Zealand. "That's my favorite wine in all of the entire universe, and Matt and I had been to the winery together when I took him home," Olivia said.
The musical stylings of DJ Michael Saltsman drew guests towards the barn for dancing. "He was so helpful every step along the way it almost felt like he was my best man," Matt said. "He read the crowd and knew exactly what to play when. He kept everyone on the dance floor for the entire night."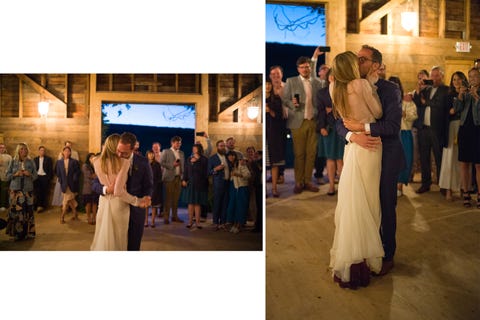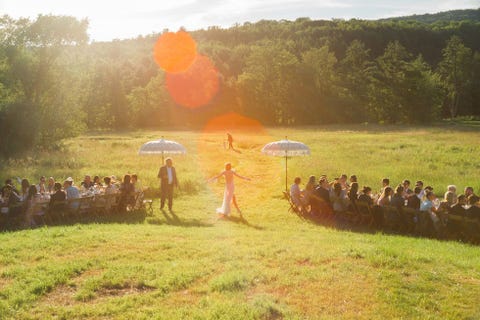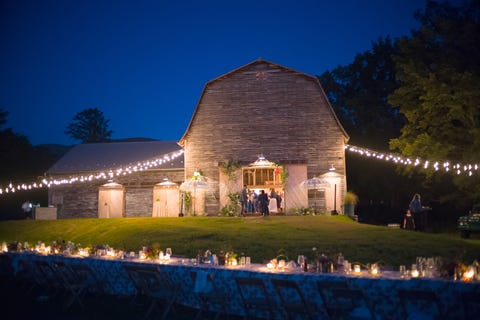 The dancing was fuelled by more sugar in the form of a cake by Amirah Kassem of Flour Shop, her gift to the couple. On one side of the cake was an array of candy from New Zealand and on the other, candy from the U.S., as well as Flour Shop's famous cake balls. "I'm so grateful to her, because cutting the cake with Matt is one of my favorite memories from the evening," Olivia said. "Our photographer, John Dolan, quietly pulled us away from the dance floor so it was an intimate, hilariously fun moment that I would never trade." Guests were also treated to artisanal candy floss from Fluff + Fluff in flavors like rose, coconut and mango with chili powder.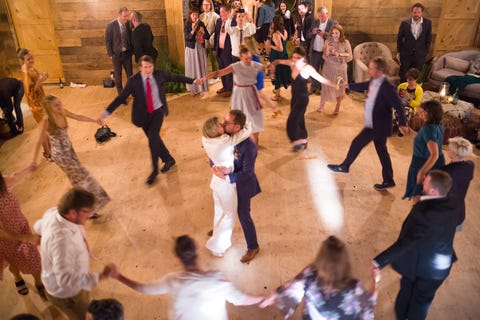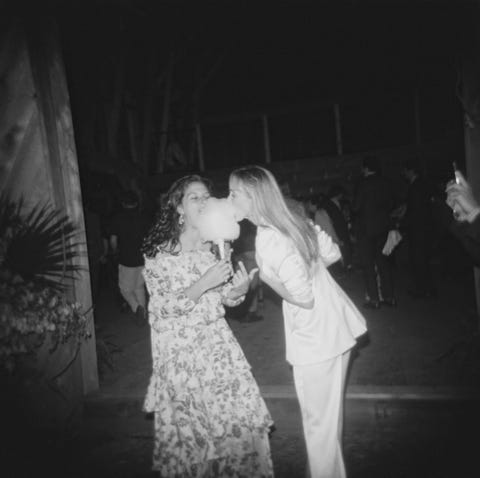 A highlight for Olivia, who changed into a hammered satin white suit by Elizabeth Fillmore for the dancing, came at the end of the evening. "Our friends and family formed a circle around us as we danced to New Order," she said. "That moment is forever etched in my mind among the happiest, most blissful minutes of my life."
Initially, the couple chose not to have a wedding planner. Matt was happy to leave the décor to Olivia, and as a former stylist, she knew what she wanted. "I was lucky, I also had Carrie Goldberg, BAZAAR.com's Weddings & Travel Editor as my sounding board for an entire year."
But as the wedding neared, it became clear that they would need some help on the day; Angela, of Elite Wedding Planning, stepped in. "Hiring her was honestly the most important decision I made," Olivia said. "I can't imagine my day without her. She just made the entire thing so seamless. I had someone whispering in my ear when it was time to throw my bouquet—something I would have forgotten because I was having too much fun on the dance floor."

Thanks to Angela, the pair were able to enjoy their wedding's countless special moments, like when they were standing by the barn at the top of the hill looking down at their guests seated for dinner. "I just remember going up there and seeing a weird, curated group of people that you couldn't ever imagine would all be together," Matt said. "It was the coolest thing I've ever seen. Now our friends are all [keeping in touch and] inviting each other to stuff. I've never seen anything like it."
Given that the guest list included 12 professional photographers, the couple wondered if they would even need someone to capture those moments, especially given their taste for natural, candid images. "I didn't want my wedding photos to look like a Pinterest board of posed shots," Olivia explained. It wasn't until they were introduced to John Dolan that they knew they had found someone who would do their vision justice. "John only shoots on film—and there's just something about that photo quality," said Matt, who majored in photography and is a talented photographer himself. "I knew he would capture the day it in a non-cheesy way, more editorially, and not in an Instagram-y kind of way. I knew that the photographs would be very timeless."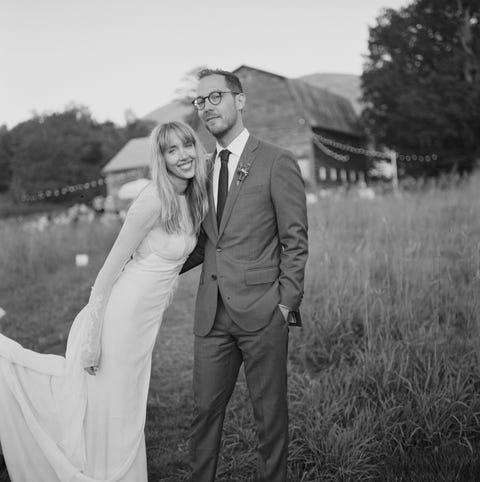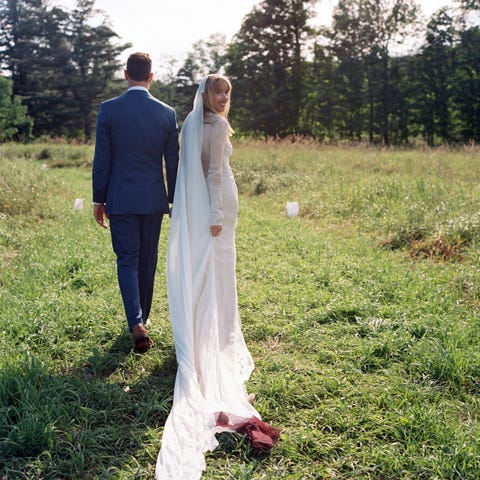 For Matt and Olivia, their wedding reflected them, their life together and the friends that surround them perfectly. Now, as they prepare to mark five years together, they are still excited to come home to each other. "Whether it's coming home from work or coming home from a night out with my friends, I'm always really excited to see him," Olivia says. "I've never had that with anyone else."
"I've never been with someone this much in my entire life, and not gotten sick of them," Matt adds. "I've always liked my alone time, and now, I don't think I have alone time. And I don't want or need it."
Source: Read Full Article