Sarah Hyland's #NationalSelfieDay Hospital Photo Is A Crucial Message About Self-Care
After being hospitalized for unknown reasons, Sarah Hyland shared a selfie of herself at the hospital that's being described as "shocking" all over the internet. Fans are wondering if Sarah Hyland OK and, although the Modern Family actor hasn't given fans details about her condition or why she was hospitalized, the raw photo shows Hyland as almost completely unrecognizable.
On Thursday, Hyland posted the selfie to her Instagram Story, in which she seems to be in the hospital and wearing a hospital gown. On the photo, she wrote, "Sometimes a selfie is more than just a good angle and feelin cute. This time for #nationalselfieday I've decided to share my truth. As painful as it is." She continued, "So here is my face that was torn from work against my will. But I'm very grateful it was. Health should always come first. #stayhealthymyfriends."
In an age when perfectly-filtered selfies have become all the rage, Hyland's post is so real and refreshing, even if audiences don't know all the details behind it or why she's in such pain. In an IG Story post that followed, Hyland shared a video of herself cuddling up with her dog which was taken on Sunday, the day before she was admitted into the hospital. "Can't wait to come back to my precious angel princess. She's perfect and knows exactly what I need at all times," she wrote on the video. "This was taken this past Sunday. Day before hospitalization. She was literally telling me to get treatment."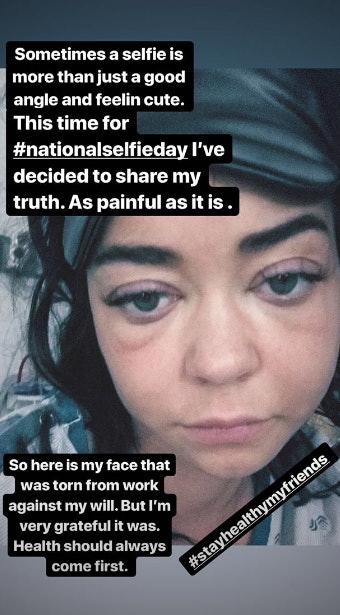 Fans are speculating that Hyland's condition may have to do with her battle with kidney dysplasia, which she has spoken about in the past. In 2012, the actor had to undergo a kidney transplant and explained how the illness and surgery affected her fluctuating weight. Last year, she addressed comments about her weight on social media, writing, "I haven't had the greatest year. Maybe one day I'll talk about it but for now, I'd like my privacy. I will say that this year has brought a lot of changes and with that, physical changes." She continued, writing, "I love to be STRONG. (I'll be using that word a lot) Strength is everything. Being strong has gotten me where I am. Both mentally and physically."
A few months ago, Hyland tweeted about chronic illness, again, without giving away too many specifics regarding what exactly she was enduring.
Now, fans are showing the actor their support and well wishes.
According to MedicineNet, kidney dysplasia is a condition formed in the womb when "the internal structures of one or both of the baby's kidneys do not develop normally." Further, the illness causes fluid-filled sacs, or cysts, to replace normal kidney tissue. Side effects of the illness include pain, high blood pressure, and UTIs.
Hyland's boyfriend, and former Bachelor star, Wells Adams has yet to comment on her hospitalization. However, the day before she was in the hospital, he posted a photo of the two on Instagram, writing, "I need a time turner so I can go back to this weekend in New York with you. Miss you like crazy @sarahhyland."
Hyland has been a star on Instagram for quite some time now. She posts self-deprecating photos of herself trying to look like Beyoncé and captions about how she has a tendency to overthink everything. But she clearly also uses the platform to show how she means business, posting photos from March For Our Lives, city hall marches, and others in support of Time's Up. Hopefully she'll let fans know more about her health journey soon (not that she owes them that), and more importantly, feels better.
Source: Read Full Article