'Sharp Objects' Music Producer: "You'll Notice There Are a Lot of 'Mama' Songs"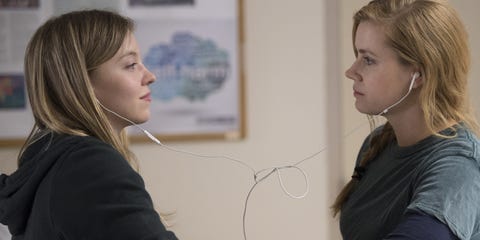 Sharp Objects director Jean-Marc Vallée is unusual in that he doesn't use score or enlist a composer. Instead, he uses songs that exist within the narrative—be they playing on an iPod, a record player, or in the background of a dive bar—to create the soundtrack. Just as in last year's Big Little Lies, which Vallée also directed, the music of Sharp Objects is almost entirely diegetic, meaning that it comes from an on-screen source as opposed to score that exists outside of the narrative.
In the very first scene, we hear the track that will come to define the sound of Sharp Objects more than any other. As a sleeping Camille (Amy Adams) dreams of her younger self, a chilling blend of wind chimes and ambient noise gradually rises in the background as the scene becomes more disturbing. That piece of music recurs throughout the season, sometimes overlapping with others, and feels completely like score—but it's a track named "Tumbling Lights" by electronic music quartet The Acid, one of many songs that plays directly from Camille's cracked iPod as she sleeps.
The origin story of that iPod in Episode 3 of the season, "Fix," emphasizes the importance of music not only within the show, but to Camille personally. Her reliance on music to self-soothe is a relatively new development, a new coping skill she learned from Alice, her roommate in a psychiatric unit. "In Big Little Lies, Chloe had her iPod, and here we have Alice's iPod and also Alan's record player," music supervisor Susan Jacobs tells BAZAAR.com. "I knew before we started shooting that both those things were going to be huge story points, and were going to really define the sound." Read on for more insights from Jacobs.
On music as escapism in Sharp Objects:
All of the music on that iPod is what was given to Camille by Alice, along with this ability to use music to escape—we would call it the "flying off" music. That scene where Camille lies down with Alice and says "Let's get out of here"—it broke my heart. Both Jean-Marc and I are music freaks, and we both think music plays a huge role in mental health. Camille and Alan don't have a ton in common, but that ability to just put on a song and get away is what Alan is always doing as well, in his study. I mean, that is not a happy marriage! Music becomes really important escapism for both those characters, especially in their relationships with Adora.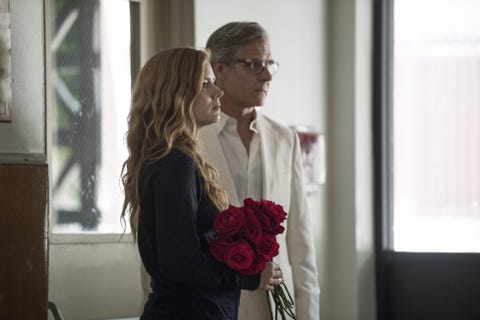 On the dizzying ending of Episode 4, "Ripe," in which Nana Mouskouri's 'Les parapluies de Cherbourg' overlays with other tracks:
Once your characters have their individual sound, you can really start to weave them together. Alan's got the old standards like your Engelbert Humperdinck, and the classical music, and he has this high-end stereo system, but it's all very conservative. That's his sound. Camille's sound is much more progressive, with The Acid and Hurray For The Riff Raff, and then she has the old rock 'n' roll given to her by Alice, which is the Led Zeppelin. Amma's sound is edgier, and in that sequence she and her friends are listening to Emily Wells's "Mama's Gonna Give You Love"—you'll notice there are a lot of 'mama' songs! With Snoop Dogg's "I Love My Momma" and 2Pac's "Dear Mama," and even Sylvan Esso's "Comedown'" is a mama song. Camille and Amma dealing with Adora, and the trauma of that relationship for Camille, is such a big part of the show that we wanted to do that as a kind of homage.
"You'll notice there are a lot of 'mama' songs!"
On the Easter egg in Sharp Objects' opening credits:
If you watch all of the opening title sequences, it's the same piece of music re-interpreted in a different genre every time, always starting with the record player. We start off in Episode 1 with an old 1950s melody from Alan's music, which is a piece called "Dance and Angela." In subsequent episodes there's a solo piano version, a dance version, a hip hop version, but they are all interpretations of the same basic melody.
The hip-hop version, which is called "Cupcake Kitty Curls" by Mark Batson, if you listen very closely to the words in that song, there is another layer of significance there. There's a few Easter eggs that we've hidden for people, and that's one of them, to see who figures out what those words mean.
On using music as character development:
Curry is basically the only character that listens to soul and funk black music, and meanwhile at the bar, everybody in that town listens more to conservative white artists, and you have Alan at home with his headphone and Humperdinck. There's all these little subtle things that tell you who people are. There's nothing casual in any of the music choices—everything is coming from a point-of-view and everything is really thought through.
"It's like Camille's screaming for us all."
On why the show resonates with viewers despite its dark subject matter:
It's a challenging show, but I've been so thrilled with how much people are relating to it. There's a surreal feeling to it that echoes how the world feels right now, where people are just feeling 'How did this happen? Where are we?' Gillian [Flynn, who wrote the novel] was talking about how she felt when she saw the words on Camille's back on-screen for the first time, and she said it's like they're popping out of her, rather than being cut into her, like they can't be contained. I think this show is feeling so cathartic for people right now. it's like a big scream. It's like Camille's screaming for us all.
Source: Read Full Article