'Solo' Stars Alden Ehrenreich & Emilia Clarke Have Nothing But Praise For Each Other
There is so much buzz around the movie Solo: A Star Wars Story. But aside from curiosity about the film itself, it's only natural to be interested by the actors behind the movie. Are they just co-workers or have they formed close bonds filming Solo. Are Alden Ehrenreich and Emilia Clarke friends in real life? They do look like they're having a lot of fun together on the red carpets and other promotional appearances for Solo.
There's no definitive evidence or quotes that show these two, who play love interests in the film, are at "best friends forever" status, but they clearly get along. On May 11, Clarke shared a photo of herself and Ehrenreich on the red carpet at the Los Angeles world premiere of their film. In the picture, they're standing pretty closely and looking each other right in the eye. This seems like a photo of two people who are actually friends.
Clarke even captioned the photo: "'Did anyone ever tell you you look ALOT like Harrison Ford?' #jokessponseredbystarwars #theyllgetbetter #thismovieisthebombBABY." Ehrenreich is playing the same character that Harrison Ford played for years, which makes her caption a pretty cute one.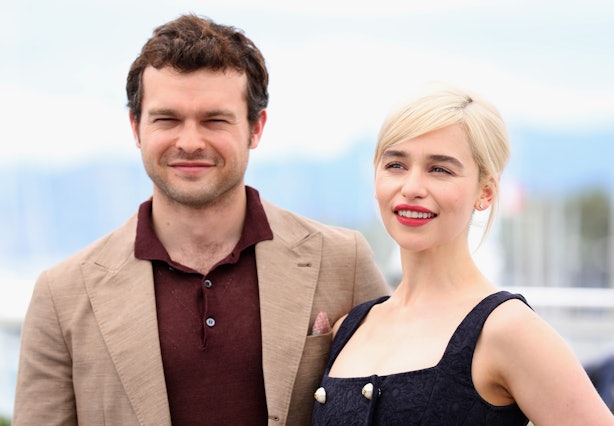 But aside from the silly social media post, it does seem like Ehrenreich and Clarke do genuinely get along and think highly of each other's abilities as actors. During a May 22 interview with Variety, Ehrenreich discussed the pressure of playing the iconic character Han Solo. "I've tried to use this whole experience as an opportunity to get really good at navigating pressure and what other people think," he said. "That pressure is always there on every movie, you always want to do a good job, you always want people to like the movie and this is just a very intensified version of that. Learning that lesson, it's a nice thing to hold on to."
One person who thinks Ehrenreich handled the situation well is Clarke, who plays Qi'ra in the film. During the same Variety interview, she interjected, "I have to say though, the way Alden handled the pressure was genuinely brilliant and a lesson for all of us to be able to see he did it with such grace and poise." That could just be a co-worker complimenting a co-worker, but it would make sense to get some "friend" vibes from her praise.
During a May 2018 interview with Vanity Fair, Ehrenreich shared that Clarke, "had to deal with quite a large sword and some pretty elaborate fight choreography, and she made it look easy."
And Ehrenreich has apparently praised Clarke for more than just her sword abilities. While discussing her character's look during a People TV interview in May, Clarke revealed that her co-star was very much on board. "It was the biggest seal of approval I've ever had for a costume," she said. "When I walked on set and Alden just went, 'Damn', I was like, 'Yes.'"
Emilia Clarke and Alden Ehrenreich are not rocking matching "best friend" bracelets or officially declaring that they are close friends, but it does seem like they are friendly. They get along well enough to joke about each other, compliment each other, and be affectionate on red carpets. And on top of that, now they'll always be part of movie history together for their roles in the Star Wars saga.
Source: Read Full Article