Target's Boxed Wines Hold Four Bottles Each — And They're Only $18
Lovers of wine and/or people who just appreciate affordable alcohol! I come bearing tasty, tipsy news! You can buy $18 boxed wine at Target. Well, technically it's cubed wine, or rather, a Wine Cube: the fancier, more grown up version of boxed wine. Friends, it's wine in a box and it's cheaper than buying it in a bottle. That is the important information here.
Each $17.99 three-liter cube is the equivalent of four bottles of wine. That's about $4.50 for a bottle of wine. Where else can you buy wine that cheap? (I hear a chorus of Trader Joe's truthers screaming FOUR DOLLAR ROSÉ from across the internet, so I will rephrase.) Where else can you buy that much wine, for that cheap, in a packaging format that fits conveniently in your fridge AND doesn't remind you of college hangovers? (Sorry, Franzia. I love you but I've grown up and we've both grown apart.)
Target's Wine Cubes come in ten different varieties that will please any picky palate. There's a Chardonnay with notes of tropical fruit and butterscotch; a Sauvignon Blanc featuring honeydew and citrus aromas; a Cabernet Sauvignon with hints of black cherry and vanilla. There's even a Pink Moscato. Target's website says it has flavors of white peach and caramel, but let's be real: it tastes like pink.
Basically, there's something for everyone: fans of reds, whites, pinks, or just easily accessible wine.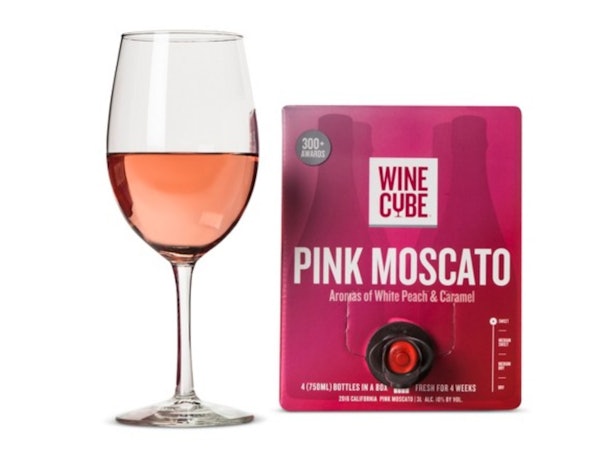 The cube design, as mentioned, makes for slightly less bulky storage in your fridge. The reviews online note that the spout is "super convenient" and easy to pour. (Good to know for those of us prone to spilling anything and everything.) The packaging is also slightly more eco-friendly, cutting down on unnecessary and bulky plastic.
However, the reviews are mixed in regards to taste. Some people are big fans. Others, not so much. One person said the Pink Moscato was "sweet" and noted its "wonderful aroma." A one-star review said it wasn't sweet enough for them and said it tasted "more like a rosé." (But depending on who you are, that's more a selling point than a criticism.)
The Pinot Noir is currently sitting at two stars with just two reviews. One person said it wasn't "THAT bad." Another said, and I quote, "No no no no no…. No." They then went on to recommend Bota Box, which is comparable in the amount of wine and price but perhaps more trustworthy in taste.
One word of advice, according to Delish, is to store your Wine Cube upside down. People who stored it right-side-up had problems with the packaging leaking. So, best to flip it the other way in your fridge until it's time to party. Or until it's time to…study?
Recent research suggests some wine may be good for your brain. One recent study found that low doses of alcohol can help with brain health. While alcohol has certainly been linked to adverse effects on the body (anyone who's had a hangover doesn't need a scientist telling them that), this new report suggests alcohol in moderation may also provide long-term benefits. "In this study we have shown for the first time that low doses of alcohol are potentially beneficial to brain health," lead author Maiken Nedergaard said in a press release, "namely it improves the brain's ability to remove waste." The New York Times also recently reported on the health benefits of red wine. Specifically, red wine contains resveratrol, which has been linked to slowing signs of aging.
Thankfully, these Target Wine Cubes are airtight and can stay fresh for up to four weeks. So, you can keep your preferred fountain of youth chilled and on tap.
Source: Read Full Article