The Cast of Melrose Place, Then & Now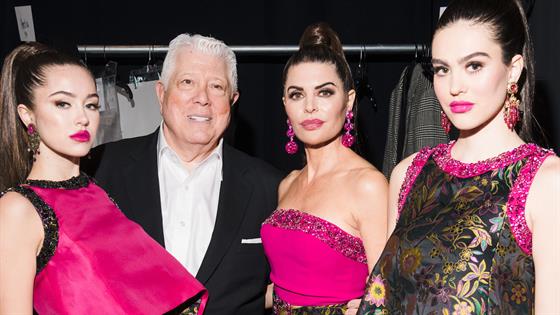 Get ready to return to America's most dramatic apartment complex.
Before you breathlessly watched The Bachelor with Twitter every Monday or couldn't stop texting your friends about the latest twist on Gossip Girl a few years ago, there was Melrose Place, the frothy and fun drama that delivered some of TV's most iconic twists, relationships and characters in the '90s.
And now the cast of the iconic Fox soap is set to reunite later today, Tuesday, April 28, with some of the series' biggest stars coming together for the first time in years for a very special cause.
Heather Locklear, Josie Bissett, Thomas Calabro, Marcia Cross, Laura Leighton, Doug Savant, Grant Show, Andrew Shue, Courtney Thorne-Smith and Daphne Zuniga are all set to reminisce about their time spent in Aaron Spelling's infamous West Hollywood complex as part of the Stars in the House benefit series for The Actors Fund.
While many of the original cast members reunited when they appeared in the CW's short-lived revival of the '90s hit, this will be the first time the main Melrose Place ensemble has come together since 2012.
First premiering as a spinoff of Beverly Hills, 90210 in 1992, series, which was created by Sex and the City's Darren Starr and produced by the legendary Aaron Spelling, ran for seven seasons and made its young cast some of the biggest stars in Hollywood.
But what has the cast been up to since the complex closed in 1999?
Find out what the stars of Melrose Place are up to today, including one of the most popular Real Housewives, one of Sex and the City's leading ladies and more…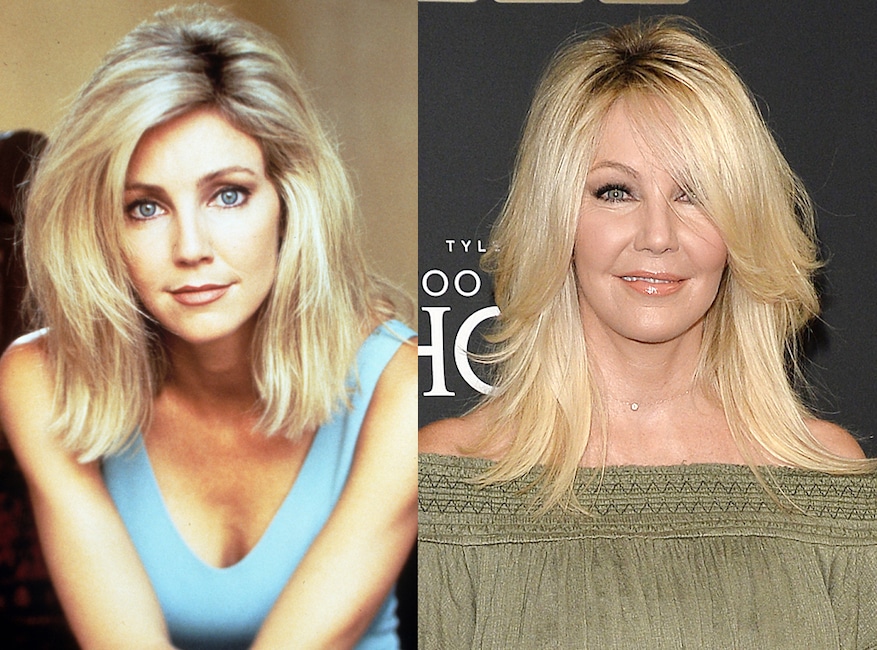 Snap/Shutterstock; REX/Shutterstock
Heather Locklear
Then: Credited for helping the show become a mega-hit, Locklear began guest-starring as Amanda Woodward in the first season and was quickly promoted to series regular for the remaining six seasons after becoming the breakout star. She earned four Golden Globe nominations during the series' run.
Now: Over the years, Locklear has struggled with addiction issues, resulting in several arrests (DUI in 2008, hit-and-run in 2010, domestic violence and assaulting a police officer in 20018), stints in rehab and treatment facilities (2008, 2010, 2017, two times in 2018, and two times in 2019) and several hospitalizations and psychiatric holds after family members were concerned about her well-being.
Following her divorce from guitarist Richie Sambora, whom she shares daughter Ava with, in 2006, Locklear went on to date her former M.P. co-star Jack Wagner. After announcing their engagement, the couple split in 2011 after four years together.
The actress went on to date her high school sweetheart Chris Heisser, with their romance beginning in 2016. But in February 2018, Locklear, 58, was arrested for domestic violence, with Heisser being arrested for DUI later the same day. The couple broke up in January 2019.
In May 2019, Locklear returned to rehab six months after being placed on a psychiatric hold following her "worst relapse."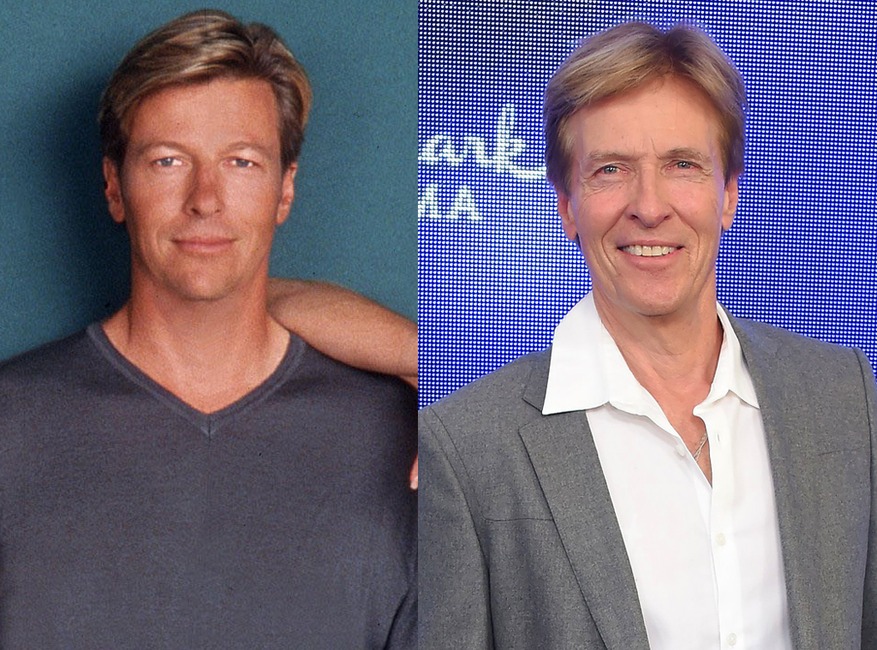 Darren Star Prods/Fox Tv/Spelling Tv/Kobal/Shutterstock; AFF-USA/Shutterstock
Jack Wagner
Then: Was introduced as hospital chief of staff Dr. Peter Burns in season three.
Now: After Melrose Place ended, Wagner spent nine years playing Dominick Marone on The Bold and the Beautiful, exiting the longrunning soap in 2012. Wagner, 60, now has a working relationship with Hallmark Channel, starring in their hit series When Calls the Heart and Wedding March TV movie franchise.
Wagner dated his former co-star Heather Locklear for four years, beginning in 2007. After proposing to Locklear in early 2011, they called off their engagement in November 2011.
Snap/Shutterstock; Scott Roth/Invision/AP/Shutterstock
Andrew Shue
Then: Played one of the eight original main characters, Billy Campbell, a young writer trying to make it on his own, while also competing off-screen as a professional soccer player for the L.A. Galaxy.
Now: Shue hasn't done much in the acting realm since Melrose Place, but did help produce the movie Gracie with his sister in 2007. Shue shifted more into the entrepreneur space, co-founding the social networking site CafeMom.com in 2006, and Do Something, a global non-profit dedicated to inspiring young people to make a positive change.
Following his divorce from his first wife Jennifer Hageney in 2008, Shue, 53, went to marry 20/20 co-anchor Amy Robach in 2010. Shue has three sons from his first marriage, Nate, 23, Aidan, 21, and Wyatt, 16, while Amy has two daughters from her previous marriage.
Article continues below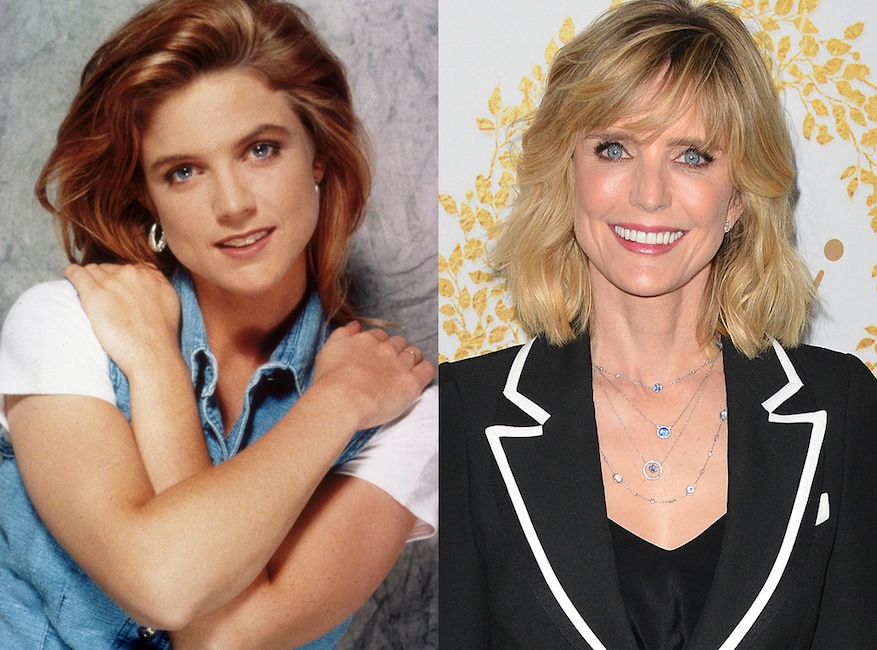 Snap/Shutterstock; Broadimage/Shutterstock
Courtney Thorne-Smith
Then: She was one of the original leading characters, Alison Parker, the receptionist at D&D Advertising, before exiting the series in 1997.
Now: After immediately starring in Ally McBeal following her exit from Melrose Place (though she lost the lead role to Calista Flockhart), Thorne-Smith ended up on another long-running hit series, starring as Cheryl on the CBS sitcom According to Jim.
The 52-year-old also appeared in 52 episodes of Two and a Half Men as Jon Cryer's love interest, and leads Hallmark Movies & Mysteries' Emma Fielding Mysteries TV movie franchise.
Following a six-month marriage to geneticist Andrew Conrad in 2000, Thorne-Smith went on to marry Roger Fishman in 2007, with the couple welcoming their son Jacob in 2008.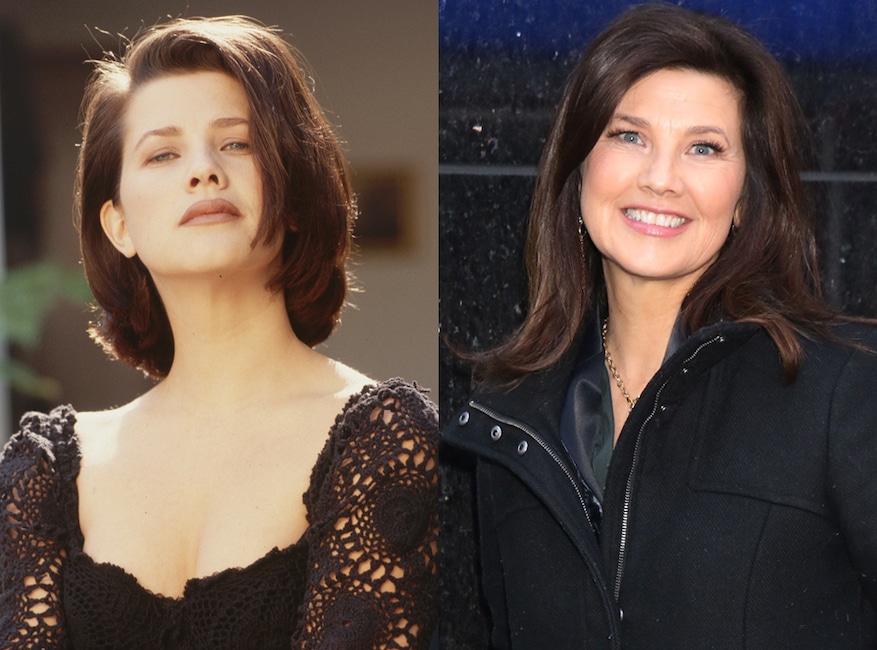 Lynn Goldsmith/Corbis/VCG via Getty Images; MediaPunch/Shutterstock
Daphne Zuniga
Then: Zuniga, known for her turns in cult comedies Modern Girls and Spaceballs, replaced Amy Locane when she took on the role of abused photographer Jo Reynolds mid-way through season one.
Now: Zuniga would go on to join the cast of One Tree Hill, playing Victoria Davis from 2008-2012, while also reprising her role on the short-lived Melrose Place reboot. She recently guest-starred on NCIS.
After dating for over a decade, the 57-year-old married businessman David Mleczko in a private ceremony in 2019.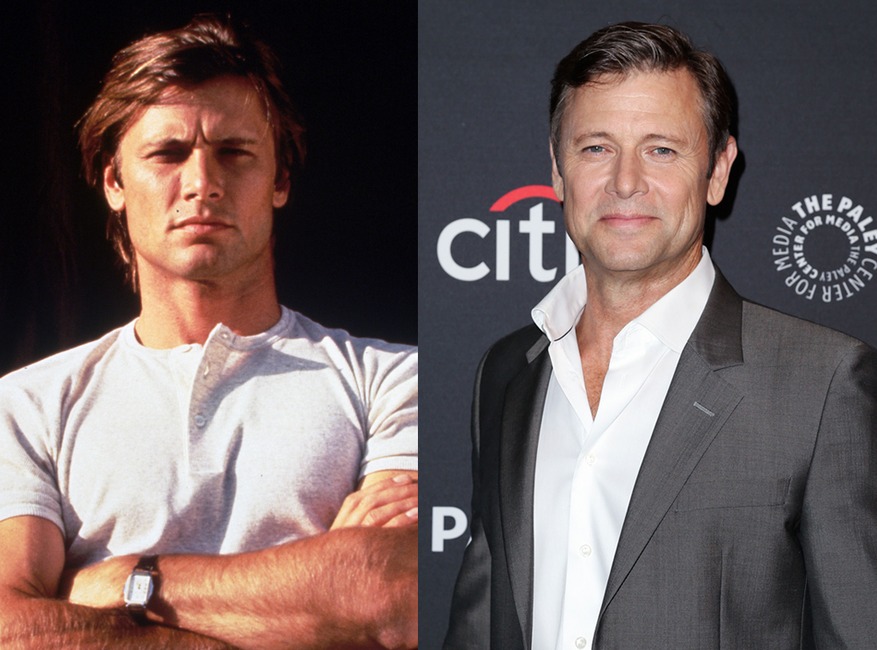 Snap/Shutterstock; David Buchan/Variety/Shutterstock
Grant Show
Then: Played bad boy Jake Hanson for the first five seasons of the drama, with his character serving as the bridge between Beverly Hills, 90210 and Melrose Place.
Now: Following a string of series, including Swingtown, Point Pleasant and Dirt, Show found success once again via a soap, starring as Blake Carrington in The CW's revival of the iconic soap Dynasty. Prior to Dynasty, he starred on the Lifetime series Devious Maids for three years.
After dating Melrose Place co-star Laura Leighton during the show's run, Show, 58, would go on to marry model Pollyanna McIntosh in 2004, with the couple divorcing in 2011. After getting engaged to actress Katherine LaNasa in 2012, the two we just one month later, going on to welcome daughter Eloise in March 2014.
Article continues below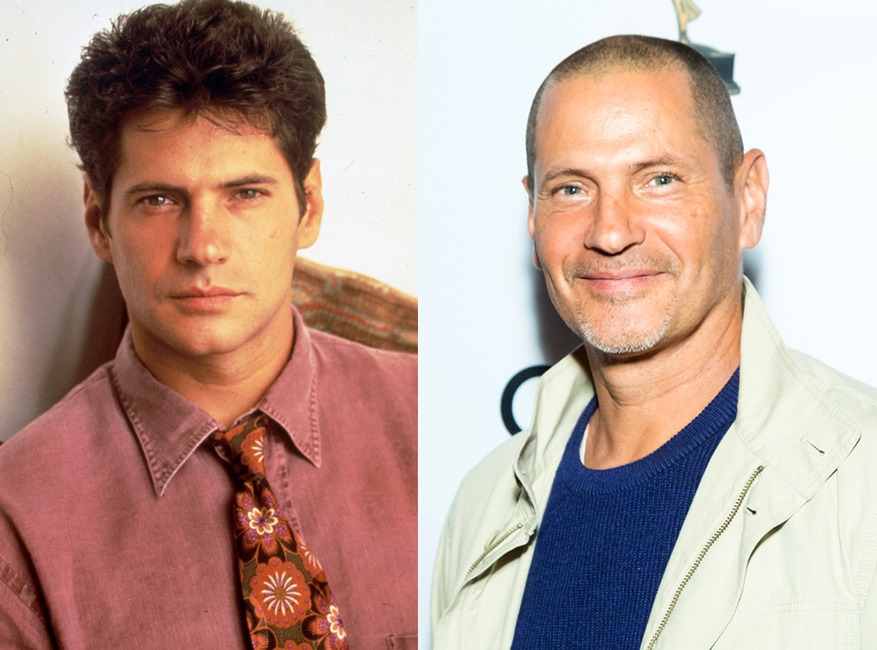 Snap/Shutterstock; Greg Doherty/Getty Images
Thomas Calabro
Then: The only original castmember to stay on the show for the entire run, he played Dr. Michael Mancini, who worked at Wilshire Memorial Hospital.
Now: Calabro reprised his role for the short-lived CW revival, and guest-starred on Castle, NCIS, Glee and other hit series. Most recently, he appeared on The Last Ship.
In 2015, Calabro married Lisa Calabro, his second marriage following his 2006 divorce from Elizabeth Pryor. The 61-year-old and his first wife had three children together.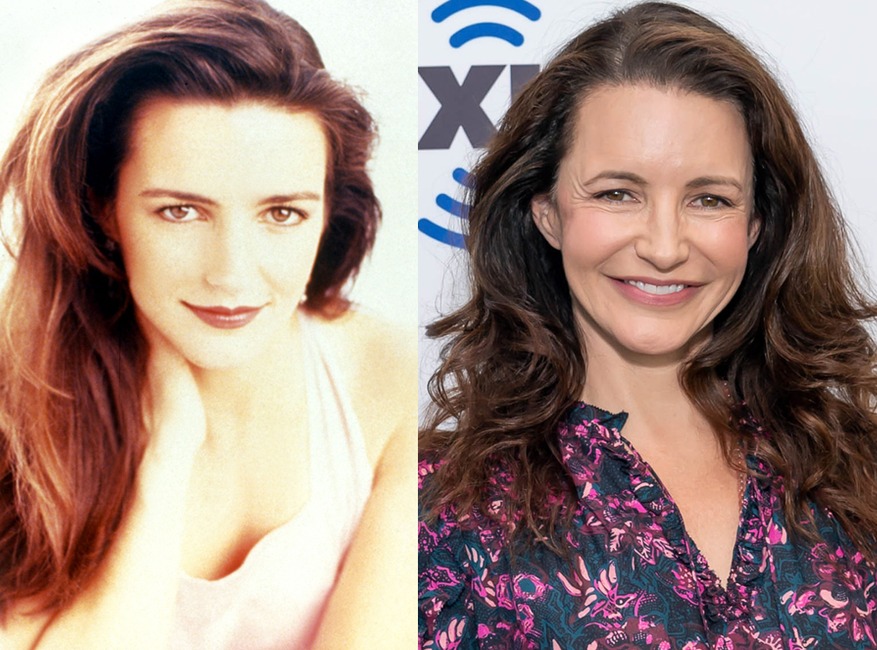 Moviestore/Shutterstock; Emma McIntyre/Getty Images for SiriusXM)
Kristin Davis
Then: First introduced as intern Brooke Armstrong in season three, Davis was bumped from recurring to series regular the following season.
Now: Hello, she's Charlotte York! Davis went on to find mega-success when she starred on HBO's iconic series Sex and the City, which ran from 1998-2004. She also reprised her role as the group's most conservative member in the Sex and the City movies in 2008 and 2010. Most recently, Davis starred in (and produced) the Netflix movie Holiday in the Wild with Rob Lowe.
Davis, 55, adopted her daughter Gemma in 2011 and her son Wilson in 2018, with the trio living in Los Angeles.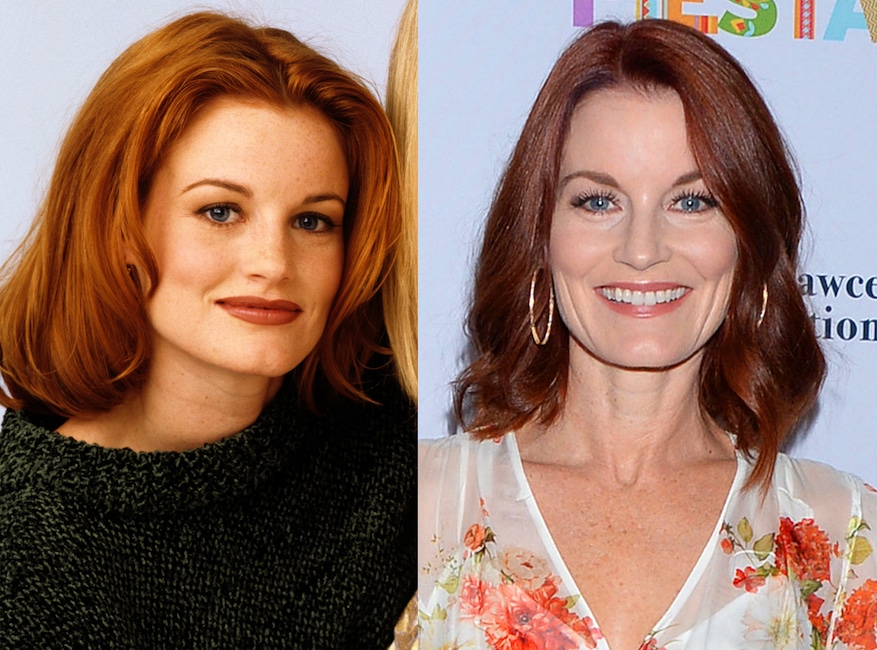 Deborah Feingold/Corbis via Getty Images; Broadimage/Shutterstock
Laura Leighton
Then: Played Jane's problem sister, Sydney Andrews, from season two through the series' end.
Now: In addition to returning for the short-lived revival on the CW, Leighton starred on Freeform's hit series Pretty Little Liars as Ashley Marin, Ashley Benson's mother, for all seven seasons.
After briefly dating co-star Grant Show, Leighton would go on to marry co-star Doug Savant in 1998. Over 20 years later, the couple is still together and have two children, Jack, 19, and Lucy, 14, who join Doug's two children from his previous marriage.
Article continues below
mikel roberts/Sygma via Getty Images; Broadimage/Shutterstock
Doug Savant
Then: Savant openly gay social worker Matt Fielding for the first six seasons, being one of the first gay characters on mainstream network TV.
Now: Savant went on to star on another hit soap: ABC's Desperate Housewives, playing Felicity Huffman's husband, Tom Scavo. He's since guest-starred on Hawaii Five-0, Lucifer, 9-1-1 and NCIS.
Savant, 55, has been married to former co-star Laura Leighton since 1998, with the couple having two children together. He also has two children, Arianna, 28, and Madeline, 26, from his first marriage to Dawn Dunkin Savant before the couple divorced in 1997.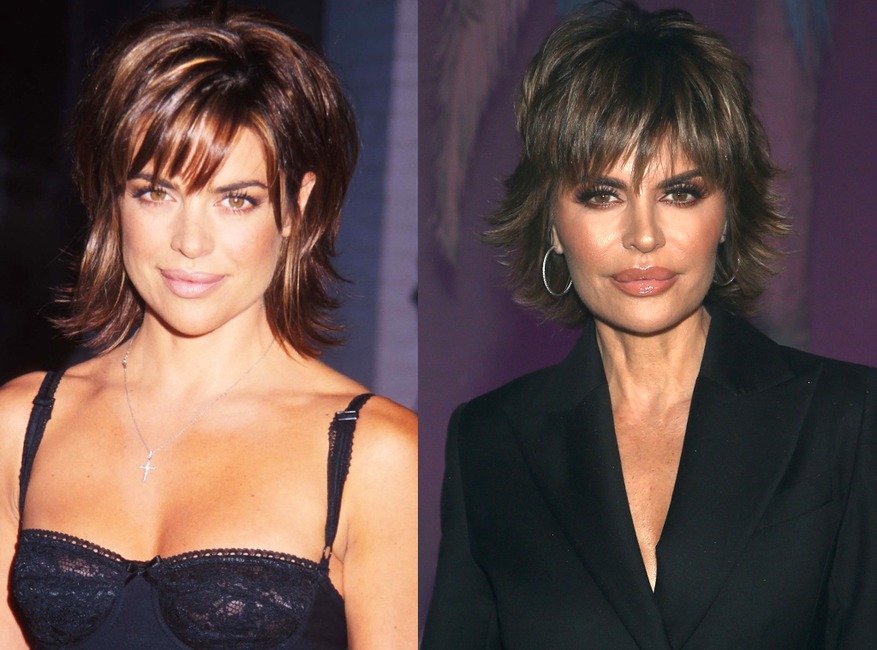 Barry King/Liaison; MediaPunch/Shutterstock
Lisa Rinna
Then: Joined the cast in season five as Kyle McBride's wife, Taylor.

Now: Since Melrose Place, she's stayed busy on Days of Our Lives (Billie Reed), Entourage, Hannah Montana and Dancing With the Stars. But it wasn't until the 56-year-old joined the cast of Bravo's The Real Housewives of Beverly Hills that she really started "owning her s–t," to use her own iconic phrase.
Rinna has been married to actor Harry Hamlin since 1997, with the couple's two daughters Delilah Belle, 20, and Amelia Gray, 18, going on to have careers as models; all three make regular appearances on RHOBH.
She's also had a QVC line, the Lisa Rinna Collection, since 2012, and isn't above being the spokesperson for adult diapers.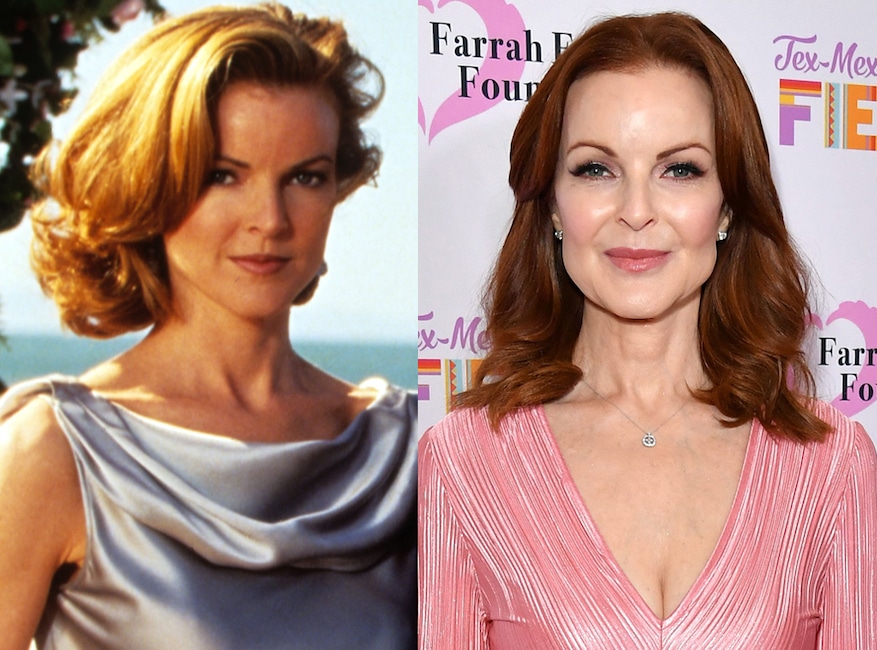 Darren Star Prods/Fox Tv/Spelling Tv/Kobal/Shutterstock; Rob Latour/Shutterstock
Marcia Cross
Then: Played Dr. Kimberly Shaw, who first made an appearance when she slept with Michael in season one. In season three, Kimberly was made a a series regular and was a fan-favorite, delivering one of the series' most infamous moments when she removed her wig to reveal massive scar following her shocking return from the dead.
Now: Cross would go on to star on Desperate Housewives as the type-A Bree Hodge for eight years, with the ABC hit ending its run in 2012. Cross earned three Golden Globe nominations, as well as an Emmy nomination during her time on the show. She would later go on to star on ABC's Quantico.
After marrying stockbrocker Tom Mahoney in 2006, Cross became pregnant with twin daughters Eden and Savannah in 2007, with several Desperate Housewives scenes be filmed at Cross' home after she was put on bed rest.
In September 2018, Cross revealed she was a cancer survivor, opening up about her battle with anal cancer.
In a 2019 interview with CBS News, the 58-year-old said she spoke up in the hopes of breaking the taboo surrounding anal cancer, saying, "I know that there are people who are ashamed. You have cancer, do you then also have to feel ashamed, like you did something bad because it took up residence in your anus? I mean, come on, really. There's enough on your plate."
Article continues below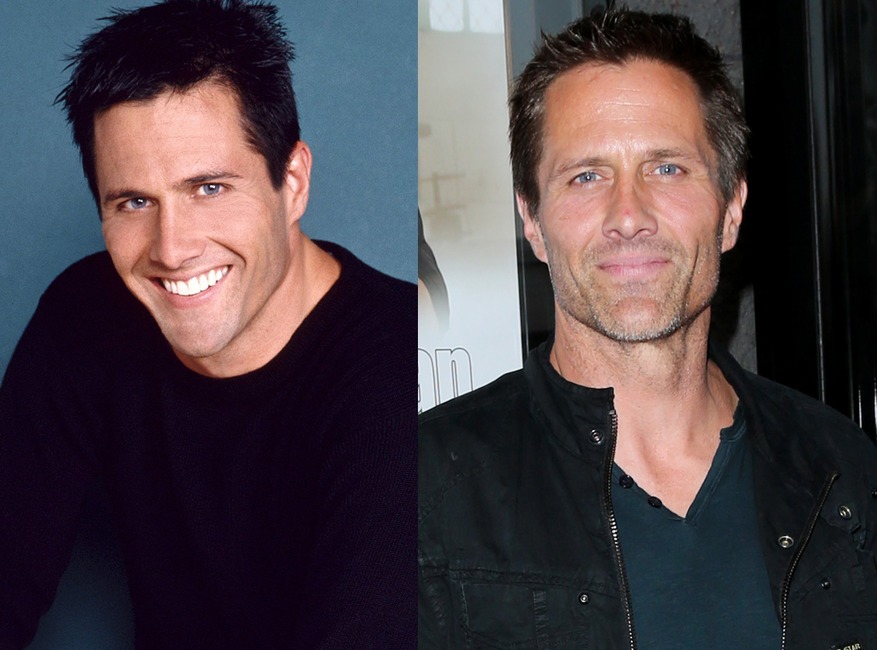 Darren Star Prods/Fox Tv/Spelling Tv/Kobal/Shutterstock; Rob Latour/Shutterstock
Rob Estes
Then: Joined the cast in season five as Kyle McBride, the restaurateur married to Lisa Rinna's character, Taylor, though he originally guest starred as a completely different character three seasons earlier.
Now: Remaining within the Beverly Hills, 90210 universe, Estes would go on to join the cast of the revival series 90210 as the lead characters' dad and the school principal, Harry Wilson. After exiting the series prior to season 3, Estes would go on to guest star on CSI, Major Crimes and Famous in Love.
In 2006, following 14 years of marriage and two children (Mason, 21, and Maya Rose, 18), Estes and former Melrose Place co-star Josie Bissett divorced.
Estes, 56, would go on to marry teacher and surfer Erin Bolte, with the couple welcoming son Makai in April 2011.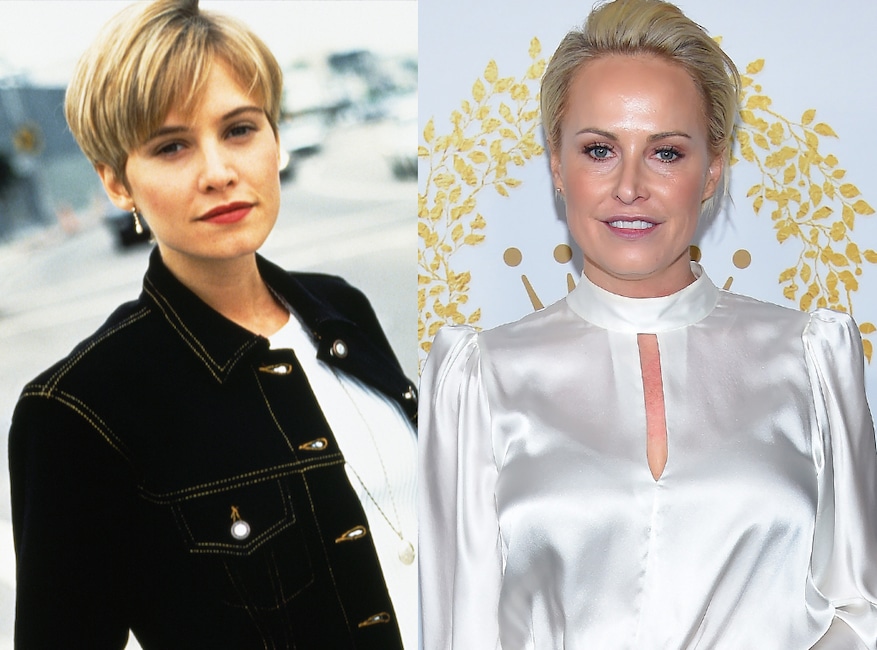 mikel roberts/Sygma via Getty Images; MediaPunch/Shutterstock
Josie Bissett
Then: Played Michael's wife, fashion designer Jane Mancini, through season five, and reprised her role in the seventh season.
Now: In addition to also reprising her role on the Melrose Place reboot, Bissett starred on The Secret Life of the American Teenager as Kathleen Bowman for five years.
After the series ended in 2013, the 49-year-old has gone on to star in Hallmark Channel's Wedding March TV movie franchise opposite her former co-star Jack Wagner, and has also guest-starred on his hit series When Calls the Heart for the network.
Following her 14-year marriage to former MP co-star Rob Estes, with whom she shares two children, Bissett went on to marry Thomas Doig in 2017 and the couple resides in Seattle.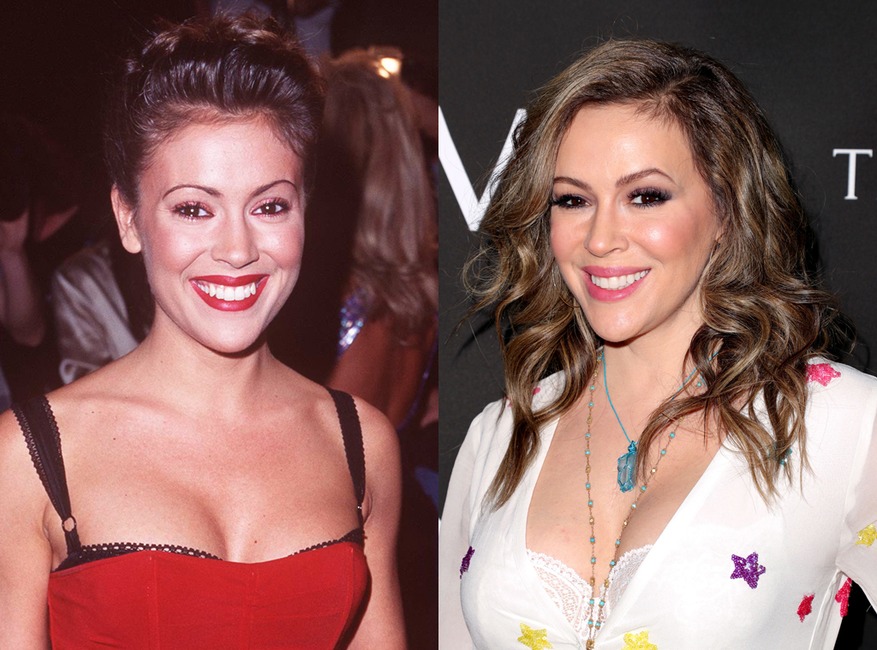 Steve Granitz/WireImage; Chelsea Lauren/Shutterstock
Alyssa Milano
Then: The Who's the Boss star joined the Melrose Place cast as a guest star in season five as Michael's sister, Jennifer Mancini. After making quite the entrance, she was soon bumped up to series regular the following season before leaving the show in 1997.
Now: Milano continued to work for Aaron Spelling, played Phoebe Halliwell on the WB's witchy drama Charmed, infamously clashing with co-star Shannen Doherty. After Charmed ended in 2006, Milano joined the cast of My Name Is Earl before starring in Lifetime's Mistresses in 2013, the same year she began hosting Project Runway: All Stars. Recently, Milano, 47, starred on Netflix's polarizing series Insatiable and guest-starred on Grey's Anatomy.
And she just released her second book, Hope: Project Animal Rescue, telling E!'s Daily Pop hosts that she "wanted to write a series about kids in middle school and giving them the tools to change the world and to make a difference and to find their voice." Milano has also been a vocal support of the #MeToo movement in Hollywood.
In 1999, Milano married singer Cinjun Tate, but the couple divorced a year later, with Milano going on to date her Charmed co-star Brian Krause for several years. In 2009, she married Hollywood agent David Bugliari, going on to welcome a son, Milo, in 2011 and a daughter, Elizabeth, in 2014.
Article continues below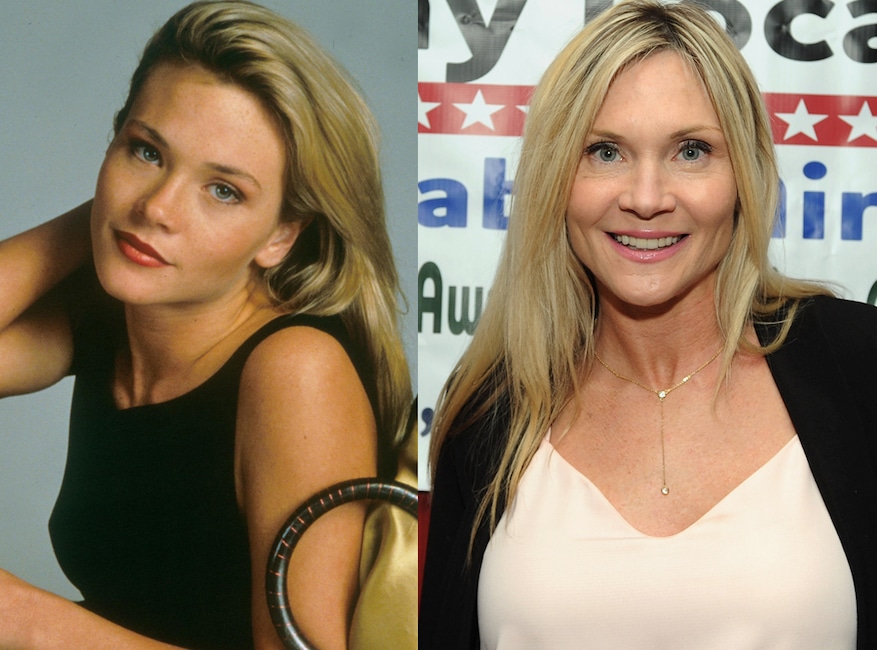 Moviestore/Shutterstock; Bobby Bank/Getty Images
Amy Locane
Then: Only in the first 13 episodes, Locane played Southern Belle Sandy Harling, who worked as a waitress and had dreams of being an actress. Her character was written off the show, with Daphne Zuniga's Jo replacing her.
Now: In 2006, Locane mostly retired from acting after getting engaged to firefighter Mark Bovenizer, with the two getting married in 2009. The couple had two children, daughters Paige Cricket, 13, and Avery Hope, 11, before they divorced in 2017.
Locane was charged with second-degree vehicular homicide for causing a fatal DUI crash in 2010, going on to receive a three-year prison sentence in 2013 for the death of 60-year-old Helene Seeman.
But after serving her sentence, Locane, 48, was charged with five years in state prison in February 2019 following an appeal filed by the Somerset County Prosecutor's Office saying her previous sentencing was "excessively lenient." But the ruling judge stayed her sentence, with her attorney planning to appeal on double jeopardy grounds.
In court, Locane, who now works as a life coach for "Cite of Angels" to help people coping with addiction, told the judge, "There is not a day that has gone by that I have not thought of the pain that my actions caused. I have done everything I can do to be not the person who did what I did nine years ago."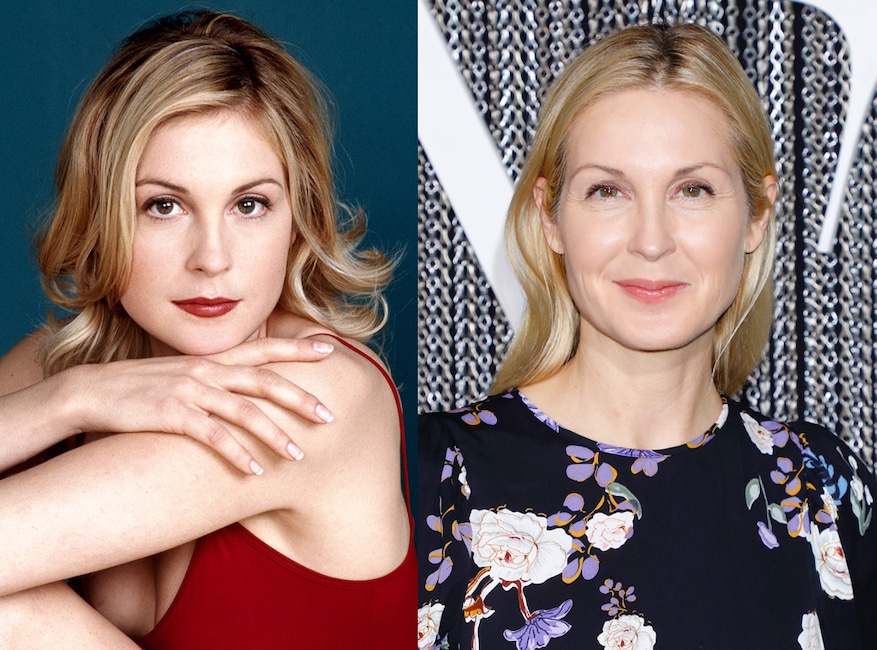 Darren Star Prods/Fox Tv/Spelling Tv/Kobal/Shutterstock; Gregory Pace/Shutterstock
Kelly Rutherford
Then: Brought onto the show during season five as Megan Lewis, the prostitute with whom Michael has an affair.
Now: She went on to star as the affluent Lily van der Woodsen on Gossip Girl, playing Blake Lively's mother throughout the CW hit's entire run. She's also had recurring roles on ABC's Quantico and the CW's Dynasty.
Following a six-month marriage to banker Carlos Tarajano in 2001, Rutherford married her second husband German businessman Daniel Giersch in August 2006, going on to give birth to their son Hermés in October 2006. But in 2008, while pregnant with their second child, Rutherford filed for divorce, beginning a long and bitter international child custody battle that went on for years.
After giving birth to their daughter Helena in June 2009, the former couple battled it out in court with the details playing out in the media, with Rutherford obtaining a temporary restraining order in 2010. In 2012, they were granted 50/50 custody, with Giersch residing in France as his U.S. visa had been previously revoked.
But in 2015, Rutherford, 51, legally lost custody of the children, who now live with their father in Monaco.
But Rutherford still sees her children, telling People in May 2019, "They're just growing so fast. They're just becoming their own people like, you know, all of us. It's beautiful to see, and I love that they share it with me. They're really open with me. We're just really bonding, which is nice."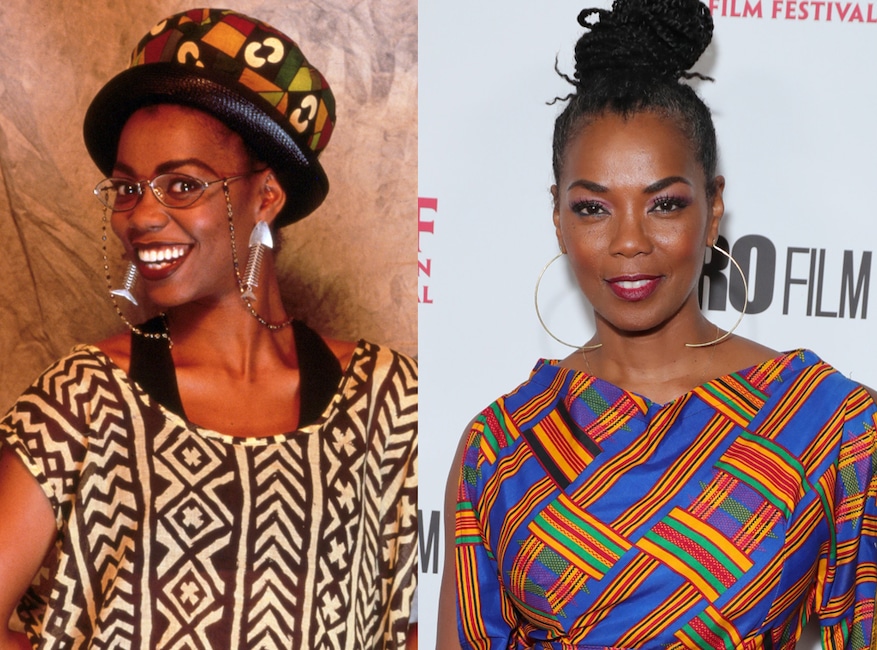 Snap/Shutterstock; Leon Bennett/Getty Images
Vanessa Williams
Then: Williams did not return for the soap's second season after starring as aerobics instructor Rhonda Blair, one of the original characters.
Now: While her stay in Melrose Place was short-lived, Williams has never stopped working. She went on to star in ABC's hit series Ugly Betty, earning Golden Globe and Emmy nominations for her deliciously villainous role, and joined the cast of Desperate Housewives for its final two seasons. She's also guest-starred on The Mindy Project, The Good Wife and Modern Family.
Williams, also has a successful music career, releasing eight albums and receiving 11 career Grammy nominations, co-authored a memoir in 2012, and launched her own clothing line in 2016.
Following her five-year marriage to former Lakers star Rick Fox from 1999-2004, Williams married Jim Skrip in 2015. Williams has four children, three (Melanie, Jillian Hervey and Devin) with her first husband, PR specialist Ramon Hervey II, and a daughter, Sasha, with Fox.
Article continues below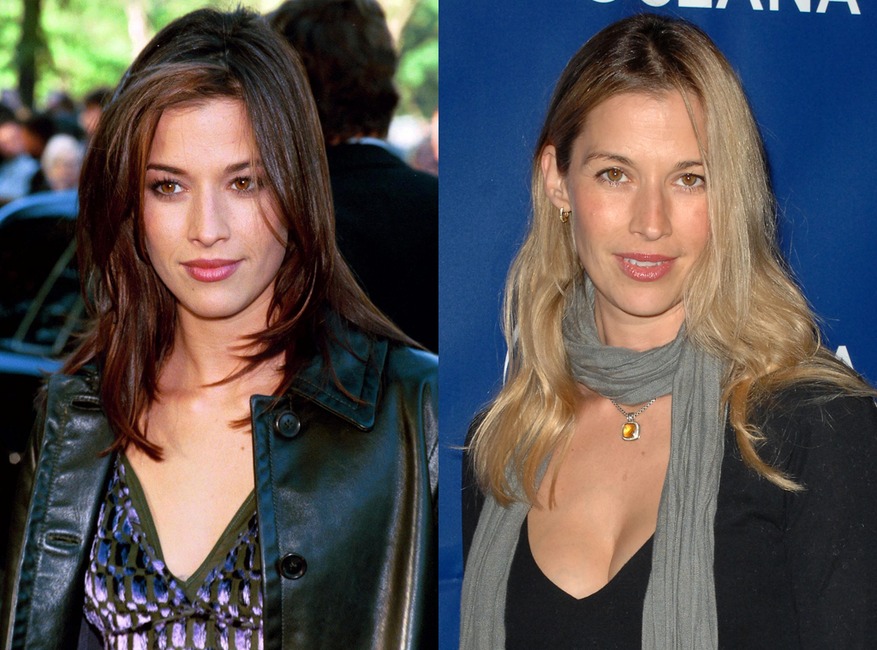 Charles Sykes/Shutterstock; ANDREAS BRANCH/Patrick McMullan via Getty Images
Brooke Langton
Then: Her character, artist Samanta Reilly, rented in Melrose Place starting in season five.
Now: After her two years as a Melrose Place resident, Langton, 49, starred opposite Keanu Reeves in the 2000 football comedy The Replacements and guest-starred on several hit shows, including Friday Night Lights, Bones and Supernatural. More recently, she recurred on TNT's The Last Ship.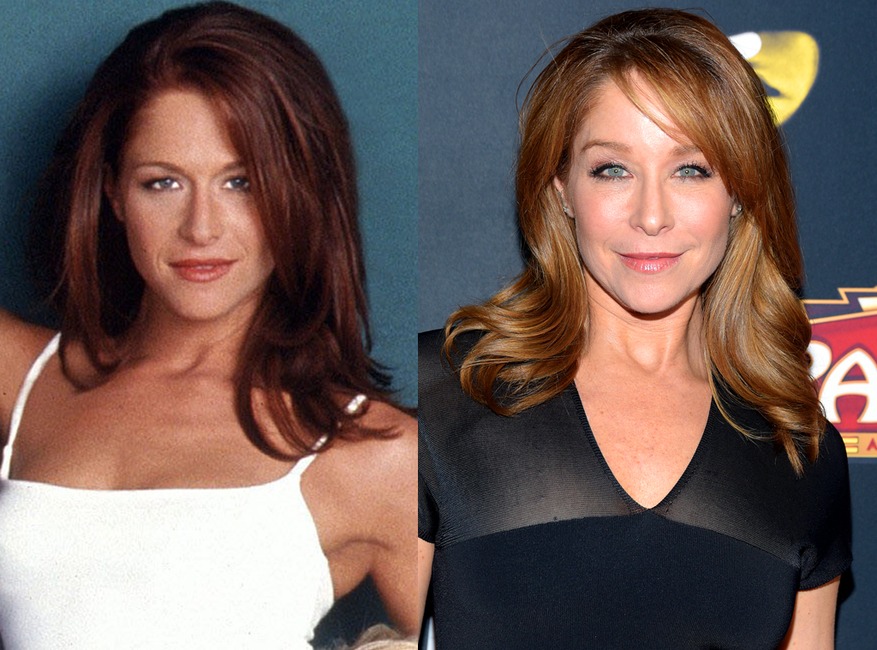 Darren Star Prods/Fox Tv/Spelling Tv/Kobal/Shutterstock; Michael Tullberg/Getty Images
Jamie Luner
Then: Joined the cast in season six as Dr. Brett Cooper's sexy ex-wife, Lexi Sterling.
Now: Luner transitioned from Melrose Place to another drama-filled show, All My Children, playing the character Liza Colby until the series' cancellation in 2011.
Since then, Luner, 48, has starred in several Lifetime TV movies, and has made guest appearances on series such as Supernatural, Two and a Half Men, True Blood and Murder in the First.
The Melrose Place reunion airs Tuesday, April 28, at 8 p.m. ET on the Stars in the House YouTube Channel.
Melrose Place is currently streaming on Hulu.
Source: Read Full Article