The DustDye Rose Robe On Etsy Is A Chrissy Teigen Fave
ICYMI, tie-dye is back in. While some people prefer to get their hands dirty and go all in with a tie-dye kit, I prefer sparing others from my horrible crafting skills and buying my stuff pre-made. The latest thing I've got my eye on: the DustDye Rose Robe on Etsy, a Chrissy Teigen fave.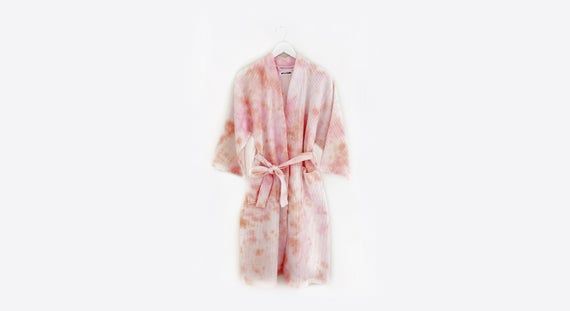 The robe is a waffle-woven, kimono-long robe with a waist tie made in pink tie-dye. The design features a blend of pink, honey, peachy, and other neutral tones. It's made of a blend of cotton and polyester, so the robe is absorbent and breathable. It's also double-stitched making it super durable.
Chrissy posted a photo wearing the robe to her Instagram. In the pic, she's posing with her mom on a staircase.
https://www.instagram.com/p/CLnNmvlhy1U/
A post shared by chrissy teigen (@chrissyteigen)
The handmade robe is available on Etsy from the BffsAndBabes shop. Customers say the robe is cozy, in addition to being pretty.
"This bathrobe is top notch! I got it for my sister who is expecting her second child and it's her new cozy favorite. Will shop again!" wrote one reviewer.
It's offered in three sizes: medium, which fits small/medium sizes, one-size, which fits all sizes including large, and XXL for those looking for a larger fit. You can get it on Etsy right now for $99.00.
Source: Read Full Article