Victoria seeks urgent approval to bring in 400 foreign cast and crew
The Victorian government is seeking urgent approval to bring 400 foreign cast and crew into Australia as the state's booming screen sector expects to host 25 film and television productions – nine of them from overseas – by the end of the year.
Announcing an additional $120.7 million over four years for screen industries at Dockland Studios on Monday, Creative Industries minister Danny Pearson said Victoria was in discussion with the federal government about arrangements for foreign cast and crew involved in 18 separate productions to enter the country.
Director Kate Dennis, producer Tony Ayres and actor Sullivan Stapleton were at Docklands for the announcement of a $120 million boost for screen activity in Victoria.Credit:Jason South
"This year alone we will be requiring 400 people to come in from overseas," he said. "This is important. These 18 productions will create more than 8700 jobs, with a direct benefit of more than $500 million to the economy. There's a lot riding on this."
Film Victoria chief executive Caroline Pitcher said she had no doubt approval for the international cast and crew would be forthcoming. "There is a commitment to growing screen," she said. "We understand the need for this industry to contribute to the economy and we understand that we have to be globally connected."
The state government's Vicscreen package will support film, television and games development. Funding will be directed to both local and global projects, and despite the growing appetite for big-budget foreign productions to shoot here the stated aim is to lift the overall participation of Victorians in the sector.
"At the moment 73 per cent of Film Victoria productions are led by Victorians. We want to see that increase to 85 per cent by 2024-25," Mr Pearson said.
Noting the "insatiable demand" for screen services globally, Mr Pearson said the additional funding was aimed at "really putting Victoria on the world stage. We're open for business, we want to supercharge our local economy, we want to supercharge our local screen talent."
Increased federal and state government incentives have made Australia a far more appealing destination for Hollywood in the past couple of years, and its relatively COVID-free status has only heightened its attractiveness in the past 12 months. But with wave after wave of international projects announcing they will shoot in Australia, concerns have been raised that local activity will suffer, particularly because of a shortage of crew and the resulting inflation in their costs.
The stated aim of the Victorian plan is to grow the sector as a whole by making it easier for local producers to work with international commissioners. Recent examples of that include Robert Connolly's film The Dry, which was produced by Made-Up Stories, the company co-founded by Hollywood-based Australian Bruna Papandrea, and the Netflix series Clickbait, shot at Docklands Studios by locally-based Tony Ayres Productions.
Increasingly, Ayres said, Hollywood figures drawn to Melbourne by circumstance were finding it an appealing place to set up shop more permanently. "One of the people I worked with on Clickbait just doesn't want to leave," he said.
Since returning from Hollywood last year, Emmy-nominated director (for The Handmaid's Tale) Kate Dennis has been encouraging her contacts at HBO, where she has a "first-look" deal, to consider basing work in Australia.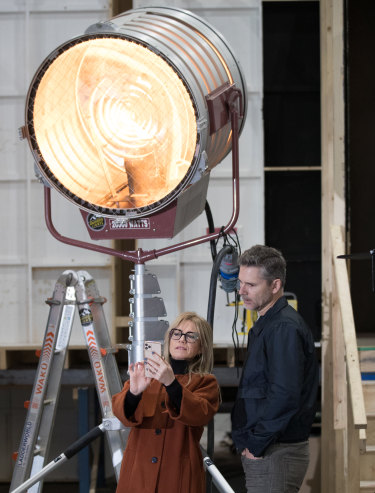 Actor Eric Bana, right, with Andrea Denholm, head of development at Tony Ayres Productions.Credit:Jason South
"Melbourne is a city with soul. And when you're working 16 hours a day on a show that means something," she said. "It's a creatively nourishing place to work, and I'm hoping to entice some of my favourite UK and US producers here to experience it."
However, the union that represents the interests of cast and crew has urged some caution in throwing open the floodgates to foreign workers.
"The Australian screen sector is enjoying a welcome burst of activity at the moment but we all know this short-term sugar hit won't last forever," MEAA Victoria and Tasmania regional director Adam Portelli said. "It is essential that we use this period to ensure a sustainable future for the Australian screen industry so it can continue to provide meaningful work for Australians."
Mr Portelli said it was imperative that imports did not take positions that might reasonably be offered to locals, or for which locals might reasonably be trained, and that they be employed on the same terms in order to guard against undercutting of pay and conditions.
"The current boom in the screen industry must be coupled with well-paid secure jobs for crew and cast."
Email the author at [email protected], or follow him on Facebook at karlquinnjournalist and on Twitter @karlkwin
Most Viewed in Culture
From our partners
Source: Read Full Article