Watch Brad Pitt and Jennifer Aniston Virtually Reunite for Fast Times at Ridgemont High Read
Brad Pitt and Jennifer Aniston virtually reunited for Dane Cook Presents Feelin' A-Live: A Virtual Table Read Of Fast Times at Ridgemont High. Watch the exes' scene here.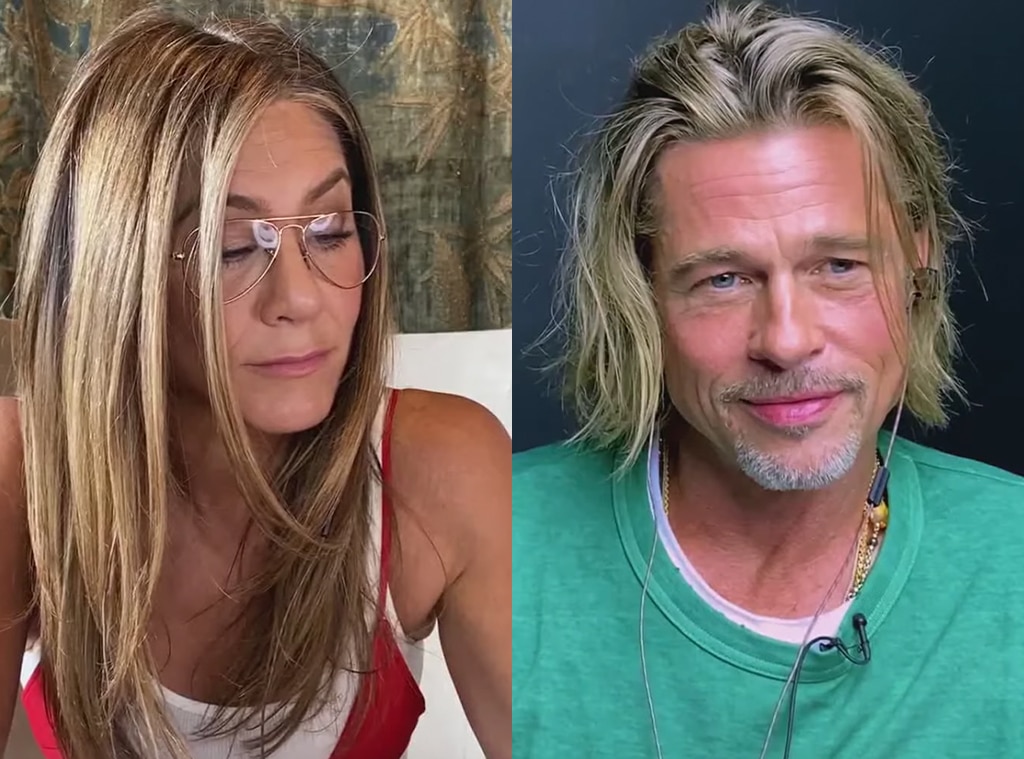 It's the reunion we've all been waiting for.
Jennifer Aniston and Brad Pitt virtually came together for the Sept. 17 premiere of Dane Cook Presents Feelin' A-Live: A Virtual Table Read Of Fast Times at Ridgemont High. The 51-year-old actress and the 56-year-old actor reenacted the 1982 film along with a few of their fellow A-listers, including Dane Cook, Morgan Freeman, Henry Golding, Jimmy Kimmel, Shia LaBeouf, John Legend, Julia Roberts, Ray Liotta, Matthew McConaughey and Sean Penn, the latter of who was in the original flick.
"It's so nice to see all these friends," Pitt said. "How beautiful." 
Aniston played Phoebe Cates' character Linda Barrett for the table read while Pitt played Judge Reinhold's character Brad Hamilton. And while working alongside an ex could be awkward for some, Aniston and Pitt proved there's no bad blood.
"Hi, Aniston," Pitt said upon greeting his fellow castmates.
"Hi, Pitt," she replied.
"How ya doing?" he asked.
"Good, honey," she answered. "How are you doing?"
Although, their co-stars couldn't help but chuckle when the two performed the pool scene in which the character Brad is caught having a sexual fantasy about Linda—especially when Aniston, who dressed for the part by wearing a red bikini over her white tank top, read lines like, "Hi, Brad. You know how cute I always thought you were. I think you're so sexy. Will you come to me?"
Trending Stories
Brad Pitt, Jennifer Aniston Virtually Reunite for Celebrity Table Read
Khloe Kardashian & Scott Disick Pull the Ultimate Prank on Kris Jenner
Chrissy Teigen Accidentally Reveals the Sex of Baby No. 3
As for their fellow stars, McConaughey played the role of Mike Damone, Legend played Charles Jefferson, Liotta played Mr. Hand, Roberts played Stacy Hamilton, Cook played Mark "Rat" Ratner, Golding played Mr. Vargas, Freeman handled the screen directions and Kimmel portrayed a number of characters. And while Penn played Jeff Spicoli in the original movie, he let LaBeouf do the honors this time around. The event benefitted Penn's nonprofit CORE (Community Organized Relief Effort) and Reform Alliance.
This wasn't the first time Pitt and Aniston had reunited since their 2005 divorce. In fact, they've run into each other a few times over the years. The duo recently made headlines after they had a run-in at the 2020 SAG Awards.
Watch the video to see their virtual reunion.  
Source: Read Full Article