What Made Jon Stewart Choke Up at Congress?
Jon Stewart has been known for making people laugh as the long-time host of The Daily Show, where he provided funny commentary on American politics as well as world affairs.
However, after leaving his job on The Daily Show in 2015, Jon Stewart has largely been absent in the media, although recently he made news for shedding tears when speaking to Congress.
It's clearly the opposite of what people have come to know Jon Stewart for, so what exactly is going on? What has Jon Stewart been up to and why did he choke up during a session with Congress?
Jon Stewart has been helping 9/11 first responders after retiring from 'The Daily Show'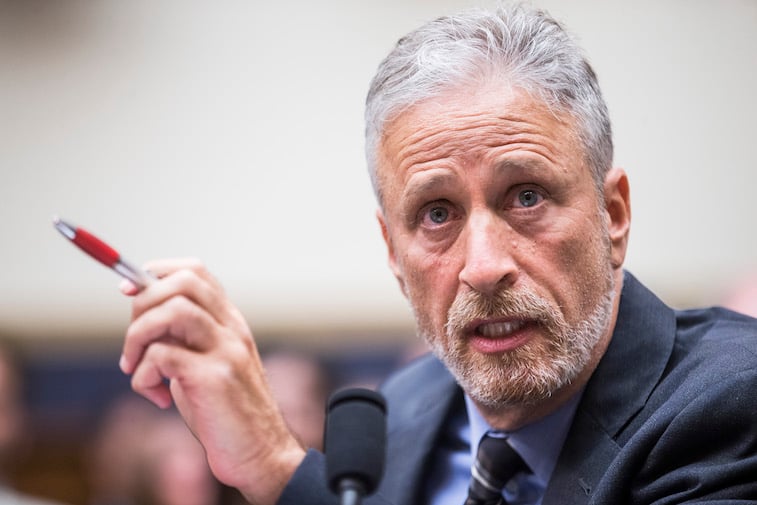 Jon Stewart had a hugely successful career on Comedy Central's The Daily Show, so after leaving his post in 2015, many people were looking forward to seeing his next projects. After all, Stewart was a popular figure and no doubt would have been able to land another lucrative job elsewhere.
Nevertheless, Stewart did not pursue another big comedy gig. Rather, he opted to spend much of his time advocating for 9/11 first responders, many of whom are still affected by illnesses after breathing in the toxic air at Ground Zero. Stewart has been passionate about making sure that they can get the health care and benefits that they deserve.
Jon Stewart was born and raised in New York City, so the 9/11 attacks were not something that he felt complacent about. He often advocated for these first responders on The Daily Show and tried to use his influence to make sure that they were getting properly compensated for their work.
Jon Stewart recently made an emotional plea to Congress in place of 9/11 first responders
In 2001, Congress started the September 11th Victim Compensation Fund to help those affected by the attacks. The fund was reauthorized again in 2011 and would go on until December 2020. However, it was announced a few months ago that money from the fund was being depleted and that it would be giving out a lot less money in the future.
On June 11, 2019, Jon Stewart went in front of Congress to criticize lawmakers for failing to secure more money for the Victim Compensation Fund.
He first pointed out how pitiful it was that only five Congressmen were present at the hearing.
"Behind me, a filled room of 9/11 first​ responders and in front of me, a nearly empty ​Congress. There is not a person here, there is not an empty chair on that stage that didn't tweet out 'Never forget the heroes of 9/11. Never forget their bravery. Never forget what they did, what they gave to this country.' Well, here they are… Your indifference cost these men and women their most valuable commodity: time. It's the one thing they're running out of."
The hearing was an emotional one for Stewart and he was often seen fighting back tears as he shared about the struggles that the first responders faced.
Jon Stewart also reminded Congress that these 9/11 first responders were met with skepticism from the government when they first revealed that they were developing diseases after working at Ground Zero. He shamed lawmakers for continuing to ignore their problems and trying to sweep them under the rug.
"No American in this country should face financial ruin because of a health issue," Stewart said. "Certainly 9/11 first​ ​responders shouldn't decide whether to live or to have a place to live… Why this bill isn't unanimous consent and a standalone issue is beyond my comprehension."
Congress immediately acted after Jon Stewart's testimony went viral
Jon Stewart's words seemed to have touched many members of Congress because the day after his hearing, it was reported that the House of Representatives' Judiciary Committee unanimously voted to pass a bill that would secure funding for the Victim Compensation Fund until 2090.
The legislation is expected to also pass when the full House votes on it since it already has a lot of bipartisan support.
However, whether members of the Senate feel the same way about the bill is still unclear. Senator Chuck Schumer is currently trying to get more members of his chamber to support the funding.
"We will reach the point soon, most likely this year, when more will have died from 9/11-related illnesses than on 9/11 itself," Schumer warned.
Source: Read Full Article