Whoa—Meghan Markle's Sister Just Called Chrissy Teigen A 'Pudgy Airhead' Who 'Sucks'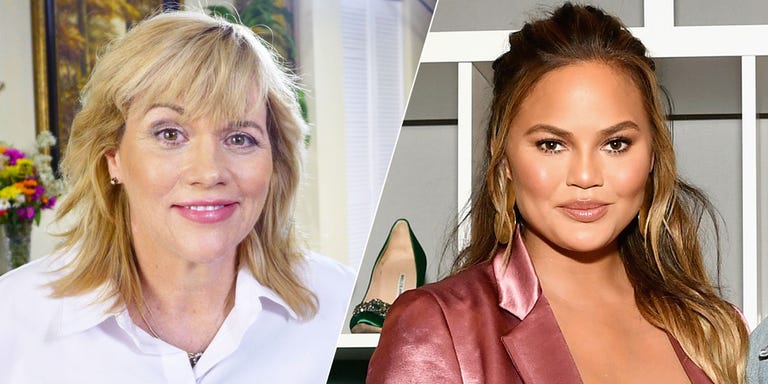 In case you missed the WTF news, Meghan Markle's dad Thomas Markle gave a 9-hour interview to The Daily Mail, saying all kinds of weird and wild things about how Meghan would be "nothing" without him. Basically, Thomas Markle brought the drama, and you know who was deeply unimpressed? Chrissy Teigen. And you know who's deeply unimpressed about Chrissy Teigen being deeply unimpressed? Meghan's sister Samantha Grant.
But let's rewind for a moment. Basically, Chrissy tweeted the following musing about Thomas Markle, saying "this guy sucks" and "let your daughter be happy, please."
this guy…this guy sucks. what is wrong with him? let your daughter be happy, please. this is embarrassing. pic.twitter.com/FADsBT5sfX
And in response, Samantha hit up her own (private) Twitter account to call Chrissy a "pudgy airhead," which is obviously quite disrespectful, not to mention false. Her full comment is as follows: "So this pudgy airhead @Christinetiegen Who knows nobody in the family is opening her pie hole? 'This guy' is our father and deserves a lot of respect,.. you are the one who sucks."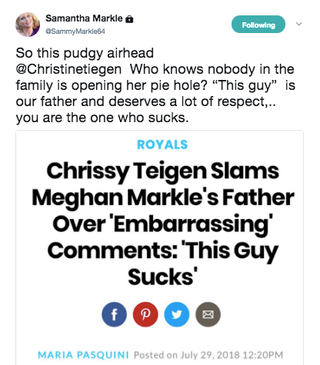 Twitter
Chrissy hasn't responded to Samantha, probably because she doesn't follow her on Twitter and has better things to do with her life—like care for her two beautiful children, hang with her soon-to-be (hopefully!) EGOT-winning husband, and write amazing cookbooks.
From: Cosmopolitan US
Source: Read Full Article