'90 Day Fiancé': Tom Brooks Compliments Darcey Silva On Instagram; Fans Call Him Out
Darcey Silva and her British beau, Tom Brooks, had quite the messy breakup on TLC's 90 Day Fiancé: Before the 90 Days.
Tom, 39, who hails from the UK, asked Darcey, a 45-year-old Connecticut mom of two, to meet up with him in person…before telling her she'd put on weight. Later, while juggling memories of Darcey with his new Canadian girlfriend, Shannon, Tom headed to the East Coast once again to leave a note on his American ex's car.
Finally, the troubled couple called things off for good. Since then, Tom hasn't exactly been gracious about Darcey on social media. But on a recent Instagram post, Tom sent some unexpected love Darcey's way.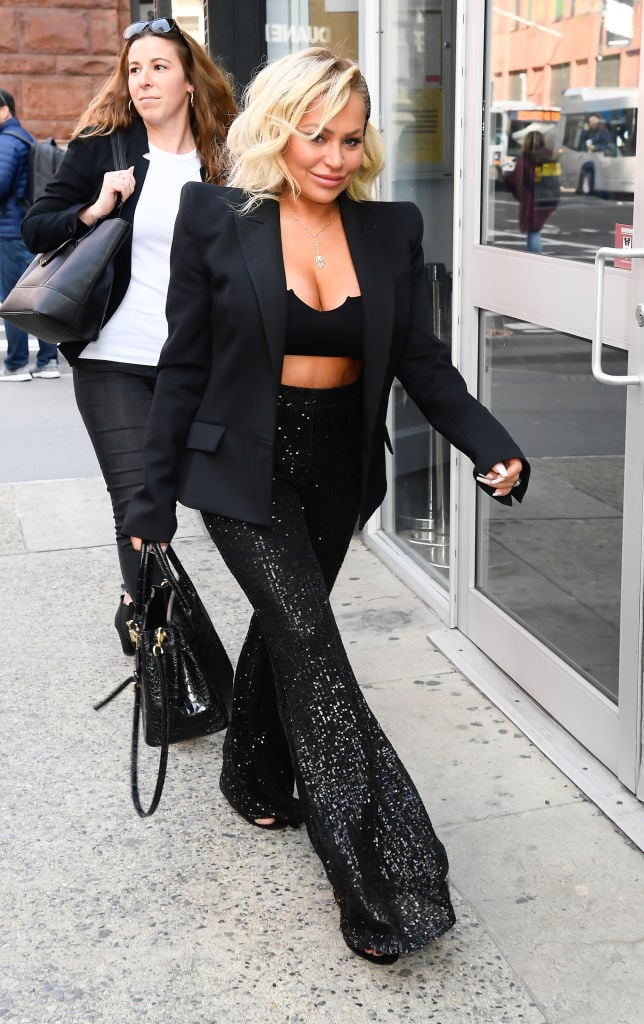 Tom uncharacteristically complimented Darcey on a recent post about her daughters
On the Instagram account she shares with her twin sister, Stacey Silva (who has also appeared on 90 Day Fiancé: Pillow Talk), Darcey shared a sweet photo of her teen daughters, Aniko and Aspen Bollok, in prom dresses. Darcey captioned the photo, "I love you Aniko & Aspen! Keep shining bright and inspiring! I'm so proud of you both! Keep believing in yourself and dreaming big!"
Aspen and Aniko recently appeared on the May 17 episode of 90 Day Fiancé: Before the 90 Days with their mom. Darcey even shared that her daughters had been a source of emotional support and empowerment for her since her difficult breakup with Tom. It's clear that she's very close to both girls.
While Tom has primarily made negative comments about Darcey's appearance—from her lip fillers to her blonde extensions—on Instagram, he uncharacteristically complimented his American ex under the post. "One thing you are is an amazing mother… true reflection of your inner beauty," Tom commented. "You should be so proud."
RELATED: What Did Darcey Silva Do Before '90 Day Fiancé?'
'90 Day Fiancé' fans called Tom out, suggesting he was being fake
90 Day Fiancé fans immediately side-eyed Tom's sweet comment. After all, Tom has mocked Darcey on his Instagram stories and in comments on social media since their dramatic breakup.
In addition to posing for photos with Darcey's Dutch ex, Jesse Meester, and hinting that Darcey cheated on him, Tom has appeared to make fun of Darcey's appearance on several occasions. He posed with fake lips and a blonde wig in one Instagram story, for example, which many fans took as a cheap shot at Darcey's plastic surgery and new hair extensions.
At one point, Tom posedwith a giant Ring Pop—seeming to hint at Darcey's longing for marriage. He alsofamously told his ex that she'd "picked up weight" after some time apart.
Fans accused Tom oftrying to use Darcey for clout or attention. "Stop Tom. You're playing the game,"one 90 Day Fiancé viewerreplied to Tom's comment.
Another critic reminded Tomthat he hadn't always been so nice about his ex. "But I thought she picked upweight…remember that?" they wrote.
Yet another fan wrote simply, "Get off of her Insta page clown."
Viewers had mixed reactions to Darcey's post about motherhood
While some fans defended Darcey to Tom, others took the opportunity to criticize the 90 Day Fiancé alum for her behavior on the show.
"Beautiful girls!" onecritic wrote. "I wish them the best and hope Darcy's body dysmorphia anddesperate dating antics don't distort them going forward. She certainly has notmodeled successful relationship skills for them."
Another viewer agreed,commenting under the snapshot of Darcey's daughters, "They look so pretty.Don't follow your mother's absurd obsession with plastic surgery or herdesperation for a man."
Still, it's clear thatDarcey has plenty of diehard fans as well. One Instagram user complimented thegirls' beauty and maturity, writing, "So beautiful! They seem like such goodgirls."
Another gushed, "Darcey,you should have your own show!! You're the only reason I watch 90 Day!"
Darcey certainly has ahabit of drawing strong reactions, both good and bad—even, it seems, from herown exes.
Source: Read Full Article