Adam Sandler's 'Hubie Halloween' Includes Tribute to the Late Cameron Boyce (Photo)
"In loving memory of Cameron Boyce," the dedication in the credits reads
Columbia Pictures
Adam Sandler paid tribute to his former "Grown Ups" co-star Cameron Boyce in the credits of his newest Netflix movie, "Hubie Halloween."
At the end of the Halloween comedy, about halfway through the credits, a picture of the late actor appears along with a message that reads, "In loving memory of Cameron Boyce. Gone way too soon and one of the kindest, coolest, funniest, and most talented kids we knew. You live on forever in our hearts and are truly missed every day."
Boyce starred in Sandler's "Grown Ups" and "Grown Ups 2." Sandler's new "Hubie Halloween" also stars a few other actors who starred in "Grown Ups," including Maya Rudolph, Kevin James, Steve Buscemi and Rob Schneider.
Boyce, who was born on May 28, 1999, was found unresponsive in his home on July 8, 2019. He was pronounced dead at the scene at 2:35 p.m. The Los Angeles County Department of Medical Examiner-Coroner determined the cause of death to be "sudden unexpected death in epilepsy." He was 20 years old.
Following Boyce's death, Sandler took to Instagram to pay tribute to the "Descendants" star.
"Too young. Too sweet. Too funny. Just the nicest, most talented, and most decent kid around. Loved that kid," Sandler wrote. He also honored the star on what would have been Boyce's birthday in May.
"Hubie Halloween" is now streaming on Netflix.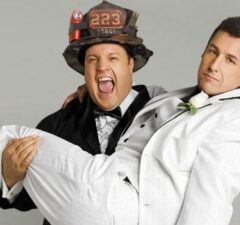 (Tap photo and swipe to view gallery)
Source: Read Full Article