'Below Deck Sailing Yacht' Season 2 Premieres With Strong Ratings and Viewer Optimism
The Below Deck fandom interest continues to surge for the upstairs/downstairs reality series, as viewers had a strong turnout for the Below Deck Sailing Yacht Season 2 premiere.
"S02E01 – 1.049 million viewers (0.33 18-49 demo)," Bravo Ratings tweeted about the season premiere on Monday, March 1. Below Deck Sailing Yacht Season 2 premiered the week immediately following the Below Deck Season 8 reunion. The Below Deck franchise has dominated the ratings on Bravo for the last year with Below Deck Mediterranean Season 5 crushing competing shows with close to 2 million live viewers at one point. Below Deck Med Season 5 became the highest-rated season within the Below Deck franchise.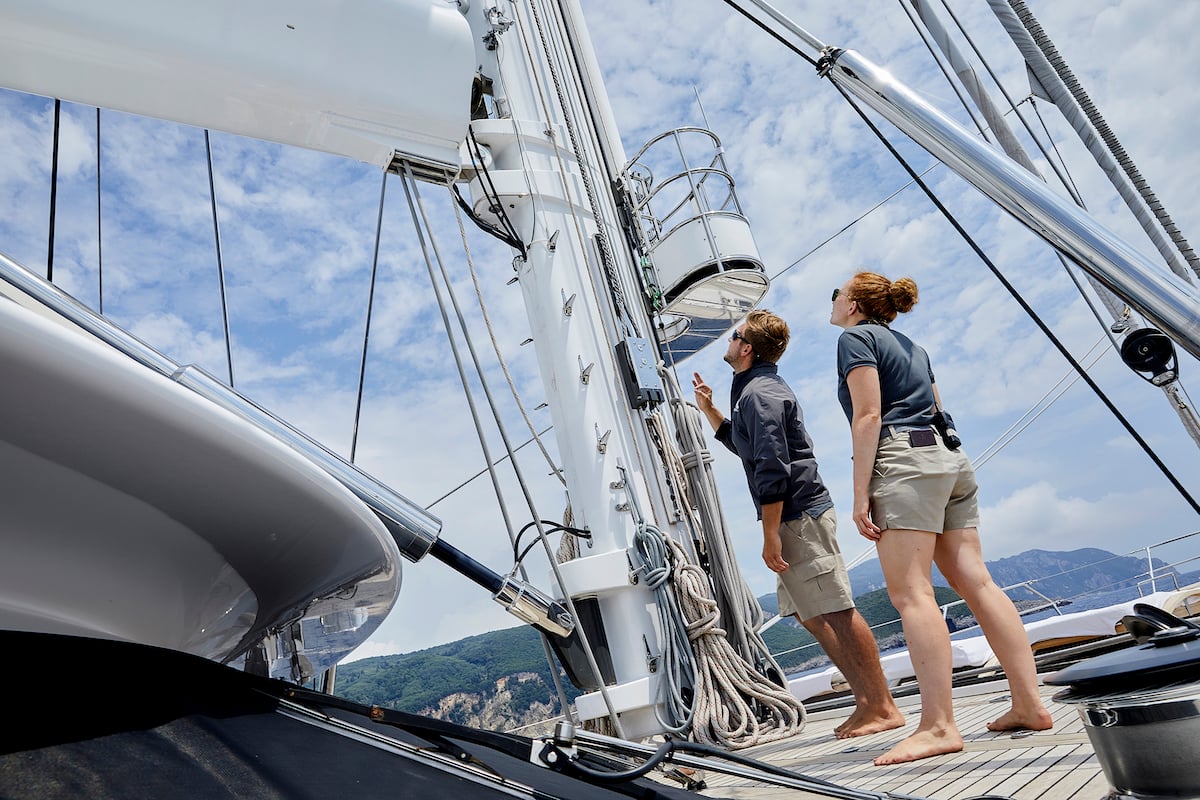 'Below Deck Sailing Yacht' fans are here for the new season
Despite season 2 premiere ratings being slightly lower than the Below Deck Sailing Yacht Season 1 premiere, fans are optimistic that this season will be appointment television. "It's better than last season," one person tweeted in the Bravo Ratings thread.
The crew seemed to gel, but fans are here for the drama that has teased to unfold. "I love the first episode. Everybody loves everybody. But. We all know how this ends," another fan tweeted. Speaking of drama, sparks already fly in the galley kitchen between chef Natasha De Bourg and chief stew Daisy Kelliher. The two sniped about the guests' breakfast and viewers were loving it. "I can tell I will love this season, I'm here for Natasha!!" a viewer shared.
A slew of fans couldn't help but comment on deckhand Jean-Luc Cerza Lanaux's soaring height. Standing close to 7 feet tall, Cerza Lanaux is seen struggling to get comfortable in his crew bunk. He's longer than the space provided and is not able to sleep. One fan likened Cerza Lanaux's bedtime situation to Buddy the Elf in the film Elf. "Jean-Luc lying in bed at night trying to sleep," the fan wrote along with an image.
The new season of 'Below Deck Sailing Yacht' is poised for a successful season
The Below Deck franchise ratings have been consistent and strong, setting up Below Deck Sailing Yacht for success. Below Deck Season 7 posted solid ratings ultimately surpassing any series on Bravo in 2020.
"S08E07 – 1.547 million viewers (0.55 18-49 demo) *season high*," Bravo Ratings reported on Twitter on Dec. 15. Adding in a thread, "Below Deck is the #1 Bravo show now." The Real Housewives, who once dominated the network lost viewers throughout 2020 with The Real Housewives of Atlanta shocking viewers with low premiere ratings.
The Dec. premiere of RHOA only drew about 1.189 million live viewers in the demo, which typically commands a significantly higher viewership. RHOA ratings rebounded into the season but Below Deck continues to dominate. Even Below Deck Galley Talk, which aired live on Friday nights outrated shows like The Real Housewives of Dallas at one point.
Below Deck Sailing Yacht is on Monday at 9/8c on Bravo.
Source: Read Full Article