'Better Call Saul' Kettlemans' Office Re-Uses 1 Authentic 'Breaking Bad' Prop
Better Call Saul fans were happy to see the Kettlemans return in season 6. Craig (Jeremy Shamos) and Betsy Kettleman (Julie Ann Emery) were in the first season. Jimmy McGill (Bob Odenkirk) returns to terrorize them some more in the second episode of season 6. The Kettlemans also have one notable Breaking Bad prop and Vince Gilligan confirms it's the very same one you saw on the original series.
[Warning: This article contains spoilers for the Better Call Saul episode "Carrot and Stick."]
Gilligan was a guest on the Better Call Saul Insider podcast on April 19, the day after "Carrot and Stick" aired. The Breaking Bad creator directed this episode and shared, along with co-writer Thomas Schnauz, how and why they brought back both the Kettlemans and this significant Easter egg.
Saul Goodman got his Lady Liberty balloon from the Kettlemans on 'Better Call Saul'
In Better Call Saul Season 6, the Kettlemans are now running petty frauds in the desert. That's quite a step down from the $1.6 million they embezzled in season 1. The Kettlemans have a Lady Liberty balloon, and Gilligan confirms that's the same balloon Saul Goodman eventually has at his strip mall office in Breaking Bad.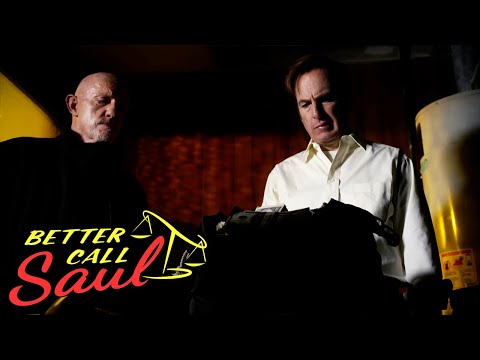 "It is the same Lady Liberty, it sure is," Gilligan said on Better Call Saul Insider. "It is so damn big. This is so weird. I shot this thing, was around it even when I wasn't directing on Breaking Bad. It would be up on the roof of the strip mall. And it didn't seem as big up there. When you're standing at the base of this thing, it's as tall as a telephone pole. It is huge. It's 30 feet tall."
'Better Call Saul' Season 6 had to take special care of Lady Liberty
Gilligan brought Lady Liberty out of storage for Better Call Saul Season 6. The Kettlemans' prop required special handling on the set.
"It didn't take much to go get it because we had it," Gilligan said. "What took a lot of thought and a lot of meetings and discussion was it was really windy out there. We were shooting in an area on Native land on a reservation to the northwest of downtown Albuquerque and it was really windy out in that area. The fear was this is the only balloon we've got. This is the only Lady Liberty we got. It was impossible to find a duplicate."
The Lady Liberty balloon was one of a kind.
"Our crew looked all over the country and maybe Canada. They looked all over. There's only one that we could find because I know more about these things than I used to. These things don't come off an assembly line. Basically an artist designs them and a team of cutters or seamstresses, however they do it, they make these one by one. THe fear was the wind was going to rip this thing to shreds. So we had balloon handlers that were out there. They had to tie this thing down, they had to deflate it when the wind got too high."
The reason Lady Liberty was important
The Lady Liberty balloon wasn't just a cool easter egg from Breaking Bad. Schnauz, an executive producer and writer on both Breaking Bad and Better Call Saul, explained why Jimmy remembers the Kettlemans' balloon.
"You watch the show from the very beginning, I don't know if we started intentionally doing it, but Jimmy always picked up things from other people," Schnauz said. "He'd always adapt and repeat lines that other people say. It felt right for him to see Lady Liberty and this really obnoxious way to draw in people who were desperate that he adopted this for himself later on. He saw the trap they were setting and felt oh, this'll work for me too."
Source: Read Full Article