Cannes Film Festival director signs gender equality pledge
CANNES, France
Time's Up is making progress, one major public event at a time.
Jury members Ava DuVernay, from left, Robert Guediguian, Chang Chen, Cate Blanchett, Khadja Nin and Cannes Film Festival Director Thierry Fremaux with the 50/50 2020 Gender Equality Pledge
On Monday, European time, the gender parity-driven Hollywood organisation partnered with its French equivalent, 5050X2020, with the latter hosting a panel discussing women's issues in the industry worldwide.
At its conclusion, Cannes Film Festival director Thierry Fremaux signed a pledge promising to promote gender equality and increase transparency in how the festival considers film submissions.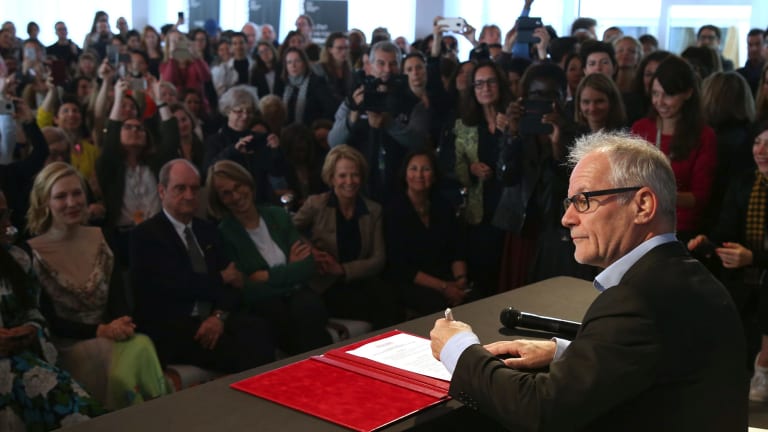 Fremaux signs the pledge.
"We will be more engaged," he said.
Fremaux's festival has come under the microscope in the wake of the Me Too and Time's Up movements. On Saturday, 82 filmmakers, directors and actresses stood in unity on the steps of the Palais des Festivals, symbolising the number of women whose films have been invited into competition for the prestigious Palme d'Or at Cannes in the festival's 71-year history. In the same span of time, the festival has welcomed films from 1688 male directors.
On Monday morning, groups representing the US, Spain, Italy, France and Greece gathered for the panel in a packed tent on the beach to discuss how to achieve gender equality in the industry.
Maha Dakhil, the industry agent who co-founded Time's Up (Reese Witherspoon is a client), represented the US.
"It's hard to yield," Dakhil said afterwards, commending Fremaux. She called the act "a great example of leading the charge" – particularly given resistance to the Me Too movement in France.
"To have France be the first country – and Cannes, such a prestigious film festival – to embrace this kind of change was beyond thrilling and exciting," she said. "And I think it really bodes well for other [festivals]."
The event was one of many during the Cannes festival working to push equality forward. Monday's schedule included a panel on how to budget for inclusion riders to ensure diversity among casting and production staff. Later in the day representatives from New Zealand, Austria and South Africa planned a discussion on inclusion and gender issues across the industry.
The issue of intersectional gender equality is at a global level now and impossible to ignore, said activist Melissa Silverstein, who founded the website Women and Hollywood.
Silverstein was one of the 82 women who walked the red carpet in protest on the weekend, alongside "women who have been working for a really long time on these issues with people not paying attention," she said.
"There is the ability to hold the festival accountable for being more transparent about how films get picked, making sure that the committee that picks the movies has more women on it, and also for their board to have more women on it. This festival is so far behind."
Fremaux signed the pledge on a rainy Cannes afternoon, which also happened to be jury president Cate Blanchett's 49th birthday. The crowd, which included jury members Ava DuVernay and Kristen Stewart, launched into singing Happy Birthday as the ink dried.
"Exactly what Thierry did is an example of how Time's Up works successfully," says Dakhil, noting the organisation's umbrella has expanded to include tech and advertising.
"Where we can come to a table with leaders and CEOs – men or women – of top institutions and say, 'Here's what's going on. This is what you can do and we're here to help you. We're not here to take you down, we're here to help enhance and make this a place that is equal for all.' "
USA Today
Source: Read Full Article