Carrie Fisher will appear in new Star Wars movie
The Force is strong with Carrie Fisher's Leia Organa, who will continue to shine in the upcoming Star Wars: Episode IX.
Walt Disney Studios announced on Friday that the role of Leia will once again be played by the late actress, using previously unreleased footage shot for Star Wars: The Force Awakens.
Director J.J. Abrams said the decision to feature Fisher's Leia had the blessing of her daughter Billie Lourd, and was the only way to truly honour Fisher's legacy for the final installment of the Luke Skywalker saga.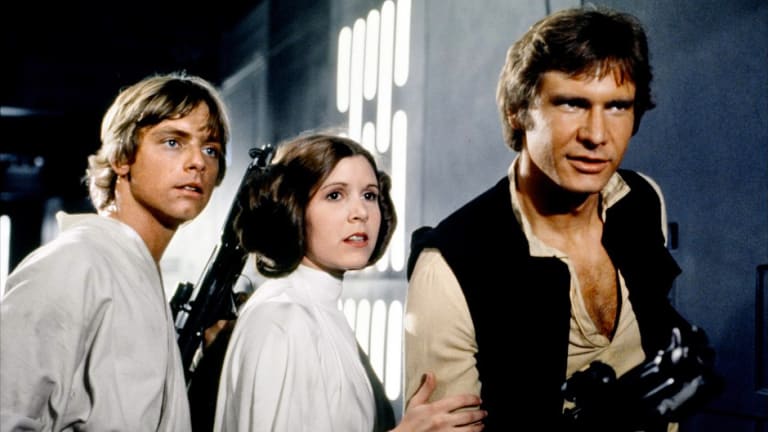 Carrie Fisher starred with Harrison Ford and Mark Hamill.
"We desperately loved Carrie Fisher," Abrams said in a statement posted to StarWars.com. "Finding a truly satisfying conclusion to the Skywalker saga without her eluded us. We were never going to recast, or use a CG character. With the support and blessing from her daughter, Billie, we have found a way to honour Carrie's legacy and role as Leia in Episode IX by using unseen footage we shot together in Episode VII."
Fisher died in December 2016 after filming her role in Star Wars: The Last Jedi. Leia appeared throughout The Last Jedi, released a year later with a dedication, "In loving memory of our princess, Carrie Fisher."
Star Wars: Episode IX will begin filming at London's Pinewood Studios on August 1, with a screenplay Abrams wrote with Chris Terrio.
Mark Hamill will rejoin the cast as Luke despite the character's uncertain fate at the end of The Last Jedi.
The new statement also confirmed that Billy Dee Williams will reprise his role as Lando Calrissian.
New additions to the cast include Naomi Ackie and Richard E. Grant in unspecified roles.
The new instalment will hit cinemas in December 2019.
USA Today
Source: Read Full Article