Did You Spot These 'Sex and the City' Actors in 'Friends'?
Friends and Sex and the City might not seem to have a ton in common at first glance. After all, Friends appeared on a mainstream network, while Sex and the City served as one of HBO's early endeavors into original programming. If you look closely, though, there was a fair bit of crossover with actors. Several well-known stars appeared on Friends and Sex and the City.
Kristin Davis had a one-episode arc on 'Friends' during the run of 'Sex and the City'
Eagle-eyed Sex and the City fans couldn't miss Kristin Davis when she appeared on Friends. In 2000, a couple of years after she made her debut as Charlotte York on Sex and the City, Davis agreed to take on a guest role on Friends. In the season seven episode, Davis played Erin, Joey Tribbiani's potential love interest. The arc only lasted a single episode. 
Davis has spoken at length about the guest appearance. During an interview, Davis revealed that she was incredibly nervous, despite her experience on successful shows. She noted that filming in front of a live studio seemed to take things to another level. She said she even lost sleep over the job. 
Evan Handler and Willie Garson both appeared on 'Friends,' too
Davis may have been the show's only main actor to appear on Friends, but several recurring actors appeared on the series, too. Evan Handler and Willie Garson both took on brief roles on Friends. Handler famously wooed Charlotte as Harry Goldenblatt, her divorce lawyer turned husband in Sex and the City's later seasons. Garson appeared in all six seasons of the show as Carrie Bradshaw's best friend, Stanford Blatch.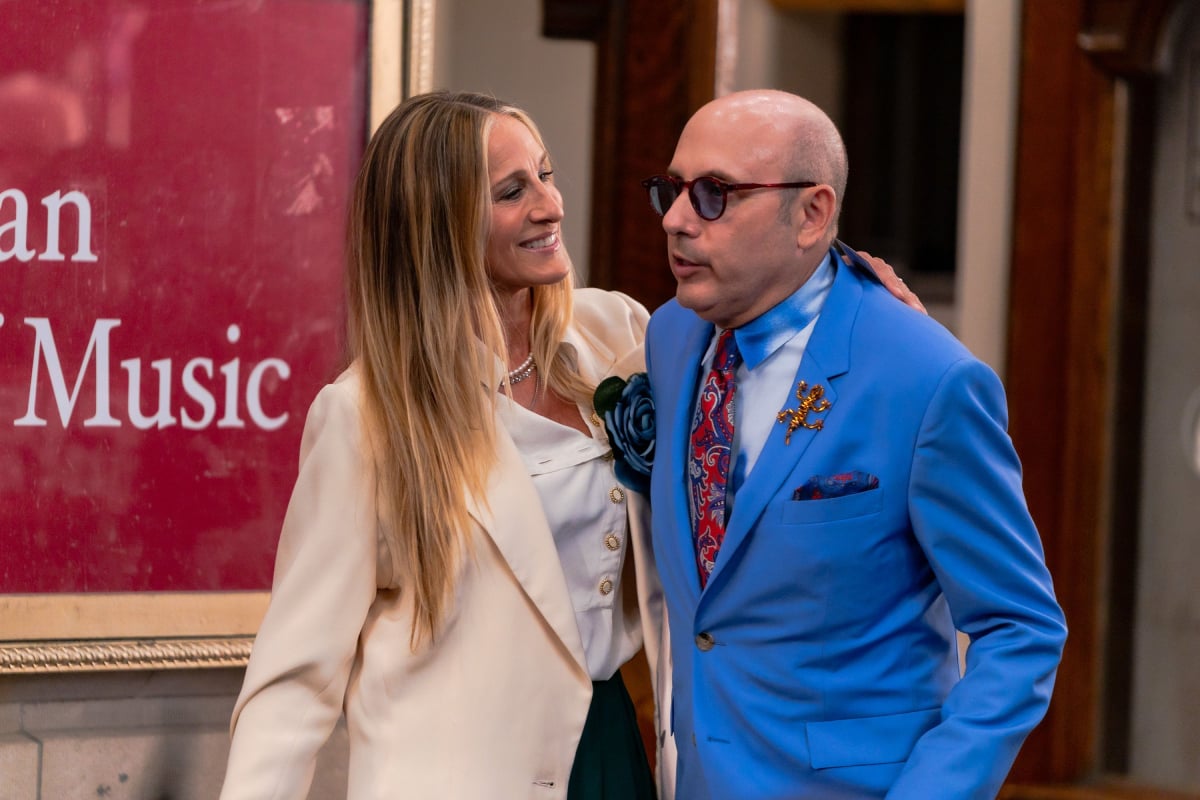 In Friends Handler portrayed a director in the season 9 episode, "The One Where Rachel Goes Back to Work," His role in the episode was rather insignificant. Garson's part was a bit juicier but it still only lasted a single episode. In the episode, "'The One With The Girl Who Hits Joey," Garson plays Ross Geller's new neighbor, Steve. Steve is offended when Ross refuses to donate to a collection the residents are taking up for the building's longtime caretaker. Steve became a bit of a problem for Ross. 
The actor who played Rachel's boyfriend, Tag, also had a brief fling with Carrie Bradshaw
Shortly before Eddie Cahill landed his breakout role as Tag Jones on Friends, he appeared in a single episode of Sex and the City. Cahill played Sean, one of Carrie Bradshaw's love interests in season 3 of the HBO series. In the episode, "Boy Girl, Boy Girl," Carrie is dating Sean, a man several years her junior. While his age initially caused a bit of discomfort, Carrie quickly learns that Sean is bisexual, and while she doesn't want it to bother her, she doesn't seem to "get" what it all means.
The episode was supposed to highlight the different takes on sexuality across multiple generations. Today, it is considered one of Sex and the City's most problematic episodes. Sean and Carrie split by the end of the episode, and he was never mentioned again. The part was Cahill's first acting credit. He appeared as Tag the same year.
Source: Read Full Article