Every Single Reason You Should Watch 'Hunters' on Amazon Prime
The first episode of Amazon Prime's Hunters is 90 minutes long, and if a series really expects me to watch a pilot in more time than it would take me to watch Stand By Me, it better be worth it. Turns out, it is! But as your TV doctor in residence I strongly advise against the binge strategy for the "Logan Lerman and Ted Mosby kill Nazis" show. Amazon's descriptions for each episode are written like passages from the Old Testament. It's a lot. But this is why you should watch anyways.
The actual plot
In case you haven't been paying attention, here's what Hunters is actually about: After his grandmother is murdered in 1977, Jonah Heidelbaum (Lerman) is recruited by an eclectic group of vigilantes who seek out and kill Nazis living secretly in the United States. Meanwhile, a cop, played by Jerrika Hinton from Grey's Anatomy, is also investigating the Nazi situation. Dylan Baker from The Good Place squares off against his IRL wife Becky Ann Baker from Girls.
The nerdy film stuff
The style and tone is heavily influenced by '70s B-Movies, which is what influenced Quentin Tarantino, if you happen to be more familiar with that vibe from his films like Pulp Fiction. There are also so many references to comic books, science fiction, and Broadway musicals in Hunters that I started to suspect it was a conspiracy to get this writer to look up from her notes and pay attention.
The cast
The team is led by Al Pacino, NBD, but if I didn't know what Pacino looked like I wouldn't be able to tell his character from the handful of other old men with on this show. Another member of the squad is played by Carol Kane, who might be playing the same character she played on Unbreakable Kimmy Schmidt. Jury's still out.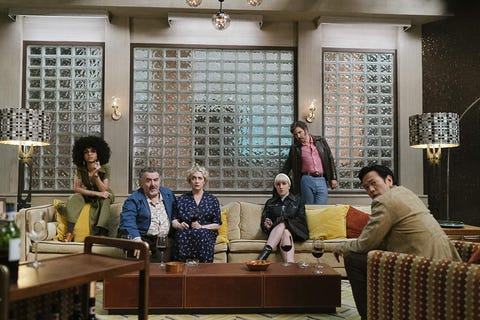 Josh Radnor is hot now??
It is with zero pride and no pleasure that I inform you Josh Radnor is hot in Hunters, forcing me to reckon with how much I liked How I Met Your Mother before it squashed my heart on the sidewalk. Maybe this character, who is so much cooler than ol' Teddy West Side, will help me to move on with my life.
The Jordan Peele factor
The show is executive produced by Jordan Peele, which means it is violent and spooky AF from time to time. It's cathartic when they get the bad guys, but there are also a lot of stressful flashbacks. Still, there's enough mystery to engage the true crime part of your brain, several surprisingly quirky characters, and in one episode Logan Lerman does a little dance.
Source: Read Full Article