Everything to Know About 'This Is Us' Season 3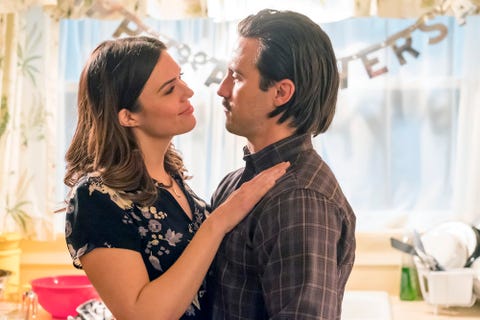 The season two finale of This Is Us saw Kate and Toby tie the knot, but the episode's final minutes left viewers with several questions: How did Kevin and Zoe (Kate's sometimes BFF) end up together? Why are they going to Vietnam? Is Beth dead? And what's going on with Future Toby? Below, what we know about season three so far.
1. Season three premieres on September 25. Mark your calendars. In June 2018, NBC confirmed that This Is Us will return with new episodes beginning on Tuesday, September 25 at 9 p.m. Per the announcement, this is approximately one month after Jack's birthday and the Big 3's birthdays.
The season will consist of at least 18 episodes, following the footsteps of the first two seasons.
2. Production began in June 2018. Here's Mandy Moore getting a proper mold of her face for Old Rebecca.
3. There will be more flashbacks, particularly the origin story of Jack. As teased in the few precious moments that aired following the Super Bowl episode, aka the Crockpot episode, fans will see a young Jack in uniform as he faces battle in Vietnam. "We're definitely going to see Jack in the Vietnam era… We're going to explore that side of Jack's 20s and what broth him into the man that we all knew," Milo Ventimiglia told PEOPLE.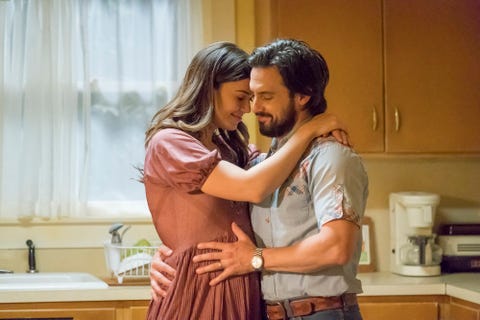 4. Jack and Rebecca's courtship will also be explored. "I know that's an area that Mandy and I have always enjoyed playing around with," Ventimiglia told Entertainment Weekly in May 2019. "It would be fun to see the discovery of these two people and past that blow-back-your-hair, first moment of sight.
5. Beth is alive. In the final minutes of the season two finale. Future Randall tells Future Tess, "It's time to go see her." But don't worry, Future Beth is not dying. According to Susan Kelechi Watson, there are no plans to kill Beth off, at least, that's what show creator Dan Fogelman told her. "It's just so lovely. I was so surprised by it, of course grateful for it, and didn't expect it," she told Deadline in June 2018. If anything, you'll see more of Beth's backstory, something fans haven't really encountered, save for the birth of Tess. According to Fogelman, season three will do a "deep-dive where we learn about her backstory; she'll get a showcase."
On July 10, Fogelman shared this behind-the-scenes season three photo of the Pearsons at home on Twitter:
First scene up, Season 3 baby!!! #ThisIsUs pic.twitter.com/1HW00ZKSub
6. Whoever the mystery "her," is, things still don't look good. "I know who the person that future Randall is referring to, but Fogelman would cut off my big toe if I actually told you who it was," Sterling K. Brown told EW. "But I can tell you it's probably not what you suspect. In classic Fogelman style, it will be like, 'Oh, wow — didn't see that coming.'" Adds Chrissy Metz: "It's not good. It's actually very heartbreaking."
7. Get ready to see more of Toby's family. You met his parents (Dan Lauria and Wendy Malick) in the finale for the wedding, but what about the mystery brother who also missed the bachelor party? According to executive producer Elizabeth Berger, season three will give Kate's in-laws some screen time. "Obviously, it's such an estranged relationship that he didn't even bother to come to Toby's wedding," Berger told EW. "And moving forward as we get to know Toby better in season three, we're definitely going to be exploring his family and his relationships in a deeper way."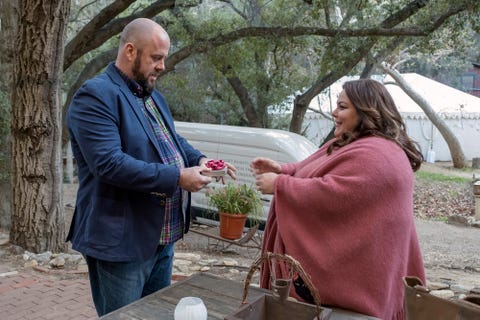 8. Deja's storyline will continue to grow. This is a given since she'll need to deal with the repercussions of smashing Randall's car window at Kate and Toby's wedding. "Navigating Deja's role in the family is going to be huge," Brown told GoodHousekeeping.com. "She's angry and finding that balance that 'The Black Pearsons' once had is going to take some time."
9. Pieces of the final scene of the entire series have already been shot. As Fogelman revealed at a For Your Consideration Emmy event in May 2018, not only does he know how the show ends, whenever that may be, but he's also filmed parts of it. "We're pretty far out," he said, via Deadline. "Our writers and I are kind of to the end. We know where it ends and we have a path for each season of the show. We've always had a plan. We didn't want to get stuck. We had the kids and the timelines, and had to have a plan. I don't think this show despite any success it may or may not have, will overstay its welcome."
This post will be updated as more season three news is announced.
Source: Read Full Article