Handmaid's Tale season 2 makes most of Aunt Lydia and 'bad' women in the Colonies

THE HANDMAID'S TALE ★★★★
Series return, Thursday 8.35pm, SBS
It'd be easy to see groundbreaking drama The Handmaid's Tale as a nightmarish vision of misogyny taken to its logical end. Women forbidden from reading, writing and participating in public life, used as slave labour, constrained in their every movement – not to mention the institutionalised rape. At least it would be easy, if it weren't for characters like Aunt Lydia: a woman 100 per cent complicit in the oppression of other women.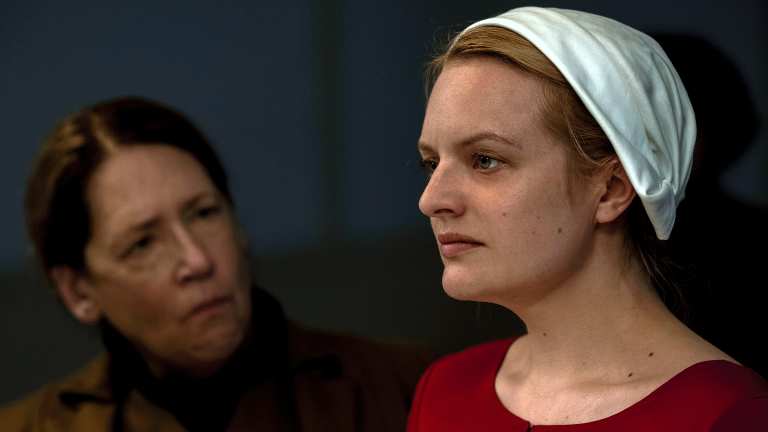 Ann Dowd, left, and Elisabeth Moss in a scene The Handmaid's Tale season 2.
Dowd, for her part, credits Miller with providing her with a way in to the character, by suggesting that pre-Gilead, Lydia might have been a teacher. Dowd was educated by nuns and says while they weren't violent or controlling, they did put a great deal of emphasis on self-discipline, an idea she worked in to her vision of where Lydia came from.
"What I appreciate about her is her work ethic," Dowd told Deadline.com. "I think she most likely was an only child who wasn't paid much attention to. When someone has such a rigid way of thinking and believing, you wonder, how did you get to that place? Did Lydia get pregnant at 18 and have an abortion, and never could forgive herself? Never told anybody?
"I think she is all in with the religious part of it. If, in fact, she did do something she felt she could never be forgiven for, her attachment to the Bible, to a very conservative lifestyle, has been paramount for her. Can't you imagine her in an all-girls' school, or in a public school, watching the promiscuity, the language, the disrespect of authority, the disrespect for the Bible? Can you imagine her being mocked every second?"
That would certainly explain a lot. If the series is about anything, it's about the corrupting influence of power, especially on those who lacked it – or felt they lacked it – in the old world. And that, in one way or another, is the key to all the "bad" women of The Handmaid's Tale.
The Handmaid's Tale season 2 returns Thursday on SBS.
Last season we discovered Serena Joy, the wife of Commander Fred, was instrumental in the construction of Gilead and quite prepared to sacrifice her own autonomy for the chance to control the women she'd grown to despise. This season we travel to the Colonies, where the desperate struggle for survival – and the trauma of what the exiled handmaids have been through – brings out the worst in them too.
No one – including Dowd – knows if, as season two progresses, we'll discover precisely what formed Aunt Lydia, although Dowd did tell Newsweek: "I think what the writers are doing with all of the characters is shedding a light on other aspects of who they are, which is always a pleasure."
And Bruce Miller has told The New York Times that more Aunt Lydia is definitely on the cards.
"Aunt Lydia is one of my most fascinating characters," Miller said. "We would like to explore her backstory, and what the lives of the aunts are like."
Source: Read Full Article