Hannah's Story, It's Always Going to Be Part of My Life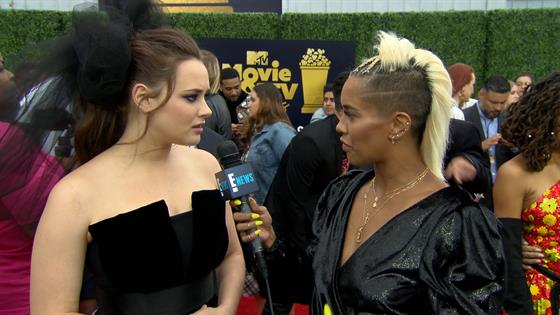 13 Reasons Why's Hannah Baker will live forever—at least for Katherine Langford.
Netflix renewed the teen drama for a third season and Langford, who was nominated for a Golden Globe for portraying the teen girl who takes her own life and leaves her reasons behind for her peers to listen to, announced she would not return to the series via an Instagram post.
"Even though I say that I am wrapped, I still am very much a part of this show. A few of the cast, we all started season one together, we went through everything together, but I think it was about time—it just felt right for Hannah to leave. I'm so excited for the show and what it's going to continue to do," Langford told E! News' Sibley Scoles at the 2018 MTV Movie and TV Awards.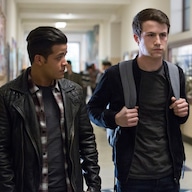 Photos
13 Reasons Why Season 3: Everything We Know
"Hannah's story, it's always going to be part of my life and a part of other people's lives," Langford added, noting she was excited for other projects in the pipeline.
The first season of the series featured Langford's Hannah Baker narrating the story as Clay (Dylan Minnette) listened to her 13 tapes, the 13 reasons why she took her own life. The second season featured narration provided by other characters as they took the stand in the Baker family's lawsuit with the school district following Hannah's death.
"Hannah…I love you…and I let you go" Those are the words I was able to say six months ago, and now can finally share with you as my journey on @13reasonswhy has officially come to an end…as most of you know, this was my first ever job and I am so grateful to have had the opportunity to tell Hannah's story so fully in season 1, and to be asked back for a season 2. Thankyou to @netflix @paramountpics @anoncontent , the incredible producers, creatives, cast and crew for making these last 2 years so special. And to all of you here – Thankyou for filling my life with love and light ? This show will always be a special part of my life, and regardless of whether Hannah is there or not, I know that I will continue to strive to do work that is meaningful and has a positive impact – whether that be in film, music, or any other form of art. There is a lot coming up this next year, and I can't wait to share it with you ? #hannahbaker
A post shared by KATHERINE LANGFORD (@katherinelangford) on
Alisha Boe, Jessica on the Netflix drama, said Langford's exit stirred up a lot of emotions.
"We are family," Boe told E! News. "Even if she's not on the show, we're all going to be in touch. She is part of us, forever. We're all lifelong friends. It's going to be hard without Katherine…I just love her a lot."
13 Reasons Why season three will debut in 2019.
Source: Read Full Article