Here's What Tempestt Bledsoe Has Been Up To Since The Cosby Show
Actor and TV personality Tempestt Bledsoe earned herself major fame as the middle daughter, Vanessa Huxtable, in Bill Cosby's popular family sitcom, "The Cosby Show." It dominated airwaves for eight seasons from 1984 until its series finale in 1992, and in syndication for many years afterward. Bledsoe, who was born in Chicago and began her career modeling and acting in commercials at a very young age, per The Grio, was just 11 years old when the show premiered. But by the time the beloved series wrapped, she was a young adult who had not only managed to become a well-known actor in her own right, but who was also hitting the books. 
In 1994, Bledsoe graduated with a bachelor's degree in finance from New York University, but told Jet magazine at the time, "Acting is still what I love to do. I'm looking forward to going back to work." With plenty of options in front of her, Bledsoe would take on new and sometimes surprising roles in the entertainment world. Even though it may seem like we haven't seen or heard from her in a while — these days she seems to really like her privacy — she's actually had quite an active career. "This is a tough business for anyone, especially if you start out young," Bledsoe reflected to People in 2011. "I feel really lucky about the way things have turned out."
Keep scrolling to see what Tempestt Bledsoe has been up to since her days on "The Cosby Show."
Tempestt Bledsoe dabbled in talk television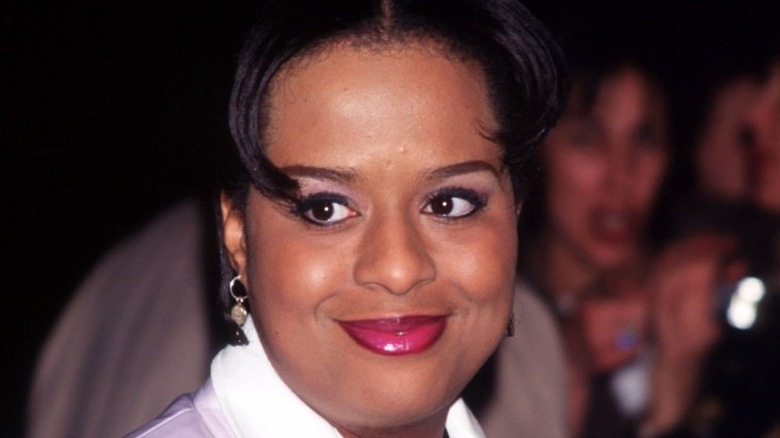 Just a few years after her time on "The Cosby Show" ended — and not long after completing her studies at NYU's Stern School of Business — Tempestt Bledsoe switched career lanes yet again when the actor signed on to host her own syndicated talk show. The concept was similar to other tabloid-style talk shows of the era, like "Ricki Lake" and "The Montel Williams Show," which typically featured guests discussing and debating personal issues — such as cheating spouses and weight loss struggles — in front of studio audiences, and were hugely popular at the time. 
For Bledsoe's part, "The Tempestt Bledsoe Show" premiered in 1995. At the time, the star was just 22 years old, making her the youngest television show host on the air at the time. Not too shabby. "My viewpoint's pretty unique from all the other hosts on television," Bledsoe told the Chicago Tribune in 1996, adding of her multi-faceted efforts, "Whether it's the fact that I'm young, and I just got out of college, or that I'm African-American and a woman — there are lots of things that come together that make me different."
Unfortunately, Bledsoe's "unique" place in the talk show circuit of the mid-'90s wasn't enough to keep the show on the air. Despite her approachable and bubbly personality, the series simply known as "Tempestt" was soon canceled.
This former Cosby Show kid took a break from acting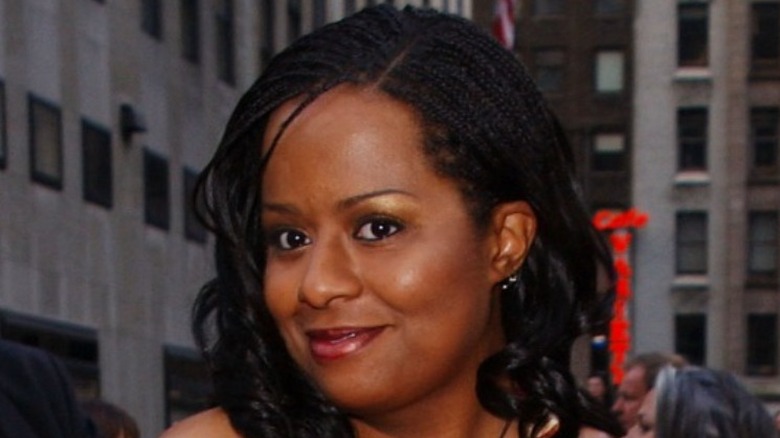 After her short-lived attempt at talk show TV, Tempestt Bledsoe jumped back into what she knew best: episodic television work. But it had noticeably been five years since she was last seen acting on the small screen. "I never intended to stop [acting]," Bledsoe later told Access of this unplanned hiatus. "I really wanted to just experience something different that was going to be of real use to me and take me into a whole other realm."
In 1997, Bledsoe returned to acting on Jenny McCarthy's sitcom, "Jenny." She had just a one-episode, guest-role stint, but it seemed to be a jumping off point for her future in television, as she went on to appear on quite a few shows. Typically, these were also one-off roles, including appearances on  "The Parkers" and "South of Nowhere," but in 1998, she nabbed a three-episode run playing a single mom named Roberta Baylor on popular legal drama "The Practice."
Bledsoe's longest-running onscreen acting gig after "The Cosby Show," however, was on creator Jimmy Fallon's sitcom, "Guys with Kids," on which she played "Black-ish" star Anthony Anderson's wife and a mom-of-four in 18 episodes. While NBC canceled the series after just one season in 2013, it was a good fit for Bledsoe, who told HipHollywood: "I tend to mother people, so it's not really alien to me as far as being an actor to kind of assume that role. I always want to take care of people."
Tempestt Bledsoe has also acted in a number of made-for-TV movies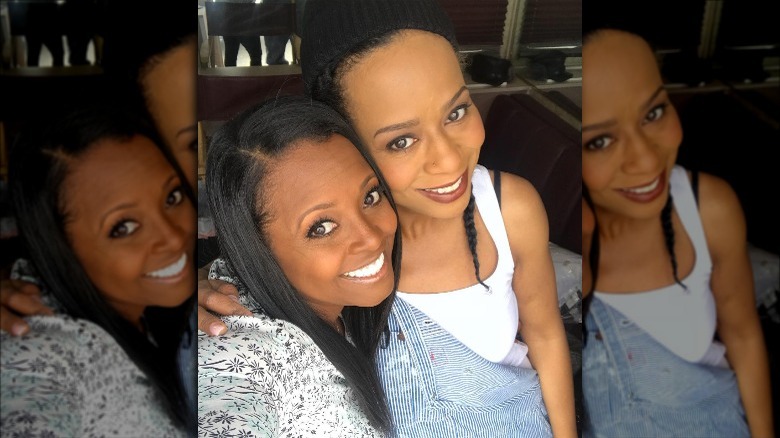 Tempestt Bledsoe's only lead role in a TV movie was in the teen film, "Dream Date," back in 1989, which she filmed while still starring on "The Cosby Show." It was a genre she'd dabbled in a year before, when she appeared in the NBC Sunday Night Movie, "Dance 'til Dawn," with other teen stars of the time, including Alyssa Milano, Christina Applegate, Matthew Perry, and Tracey Gold.
After "The Cosby Show" ended, Bledsoe landed supporting roles in several made-for-TV movies. Throughout her decades-long career, she's worked with networks like The Hallmark Channel, Oxygen Network, and BET Pictures, alongside other '80s and '90s mainstays like Lark Voorhies, Flex Alexander, and Robin Givens. By the early 2000s, Bledsoe was appearing in a different movie or TV series almost every year. She has even been in some of those cheesy televised Christmas movies we all know and love. More recently, she appeared in the 2018 Lifetime flick, "Jingle Belle," in which she reunited with her former co-star on "The Cosby Show," Keshia Knight Pulliam, as pictured above (fun fact: Pulliam also made a guest appearance on "Guys with Kids").
Bustle called the duo's "on-screen chemistry" with the movie's lead — "The Fresh Prince of Bel-Air" alum Tatyana Ali — "powerful." Recapping its interview with Ali, the outlet noted, "She describes their love as sisterly and says working together was amazing and effortless because they had known each other most of their lives as '90s sitcom kids."
All the while, she was nurturing a romantic relationship with a former co-star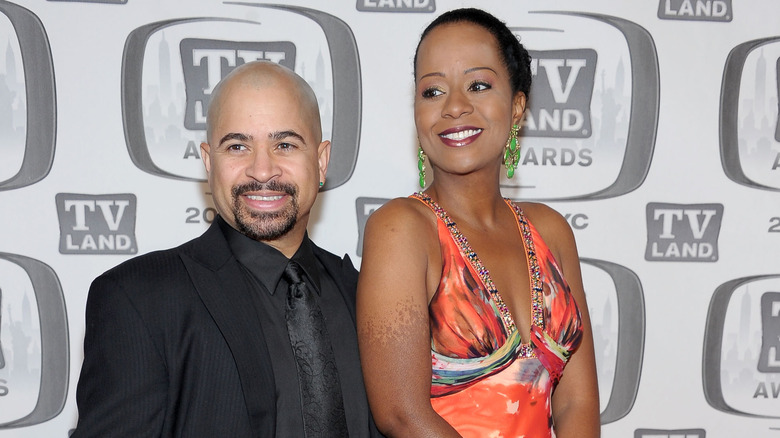 Back in 1989, Tempestt Bledsoe made a guest appearance as Vanessa Huxtable on "The Cosby Show's" spinoff, "A Different World," where she met Darryl M. Bell — an actor 10 years her senior who played fan-favorite Ron Johnson Jr. throughout the series' six-season run. Five years later — and not long after "The Cosby Show" wrapped — Bledsoe and Bell, having clearly clicked on a romantic level, began dating, per BDO. 
But in 1993, Bell was sued by his two aunts and his father's widow after he lost the majority of his late dad's New York City-based security firm's $14.9 million fortune, of which he'd been left in control following his father's 1988 death, per Jet magazine (via ILoveOldSchoolMusic). However, a judge ruled that Bell "mismanaged" the funds "out of imprudence, rather than wrongdoing" — and Tempestt has stood by Bell's side through it all.
These two have been together ever since — a true feat in Hollywood, which is more known for whirlwind romances and dramatic divorces — but they chose not to get married or have kids, according to the New York Daily News. "I think we are very compatible," Bledsoe explained of their longtime partnership to BDO. "I think that is really the heart of it. People ask us what it is. I think a lot of couples find themselves together and find out that they are not really a good match. And laughter is also very important."
Tempestt Bledsoe and her man caught the reality TV bug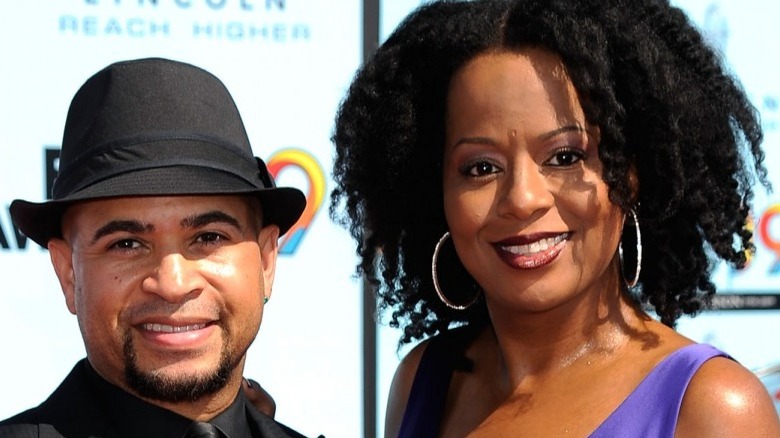 Although they weren't technically married, Tempestt Bledsoe and Darryl M. Bell — who had been together for 16 years at this point — appeared on the 2009 reality series, "Househusbands of Hollywood." The show aired on the ill-fated Fox Reality Channel and seemingly attempted to piggyback on the success of Bravo's "Real Housewives" franchise … only without quite as much drama. "There are universal themes that we wanted people at home to relate to," producer Marilyn Wilson explained of the concept to the New York Daily News. "It's not without conflict, it's just that the conflict comes internally and organically within the couples."
Bledsoe and Bell were featured in nine episodes of the series, in which Bell's life as a stay-at-home husband while Bledsoe earned most of their income was on display. Bell was one of five stay-at-home husbands featured on the show, but it unfortunately only lasted one 10-episode season — and at the end of its run, Bledsoe concluded that this sort of docu-style reality show wasn't the right fit for her. 
"I'm a little too private for that so it's not my forte," the actor told CNN a few years later. "The genre is so huge at this point and can be so many different things it's just another way to communicate with an audience, but as far as talking about my private life and stuff like that, it's not my thing."
How Tempestt Bledsoe segued into reality TV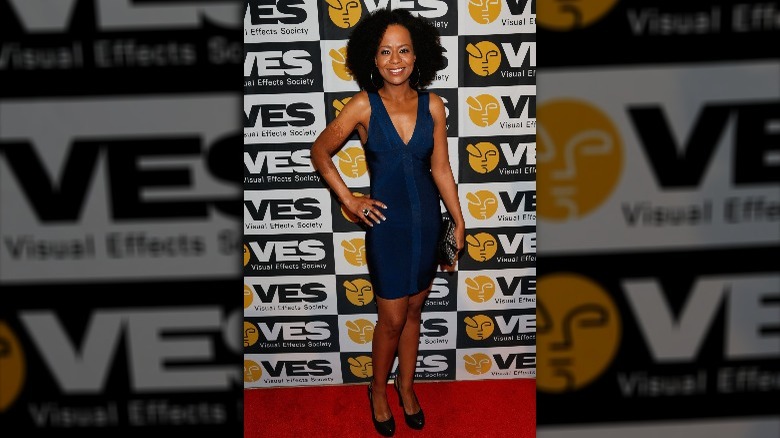 It was in 2006 that Tempestt Bledsoe first began dabbling in reality TV, though. She appeared on Season 3 of the VH1 celebrity reality competition, "Celebrity Fit Club," on which she attempted to lose enough weight in order to achieve a body fat percentage of 25 over the course of 100 days. Throughout the contest, she was pitted against other stars, such as fellow actors Kelly LeBrock and Jeff Conaway. 
"I've always worked out, but I thought the opportunity to focus on it solely for 100 days would be really good," Bledsoe, who is a vegetarian, told People at the time. "The Cosby Show" alum did have some weight loss success while appearing on the show, in the end losing 19 pounds, which she managed to keep off after her run on the series ended. In another interview with People five years later, Bledsoe revealed, "For me, what works best is to try to eat healthy and not worry about the scale."
But her reality TV career didn't end there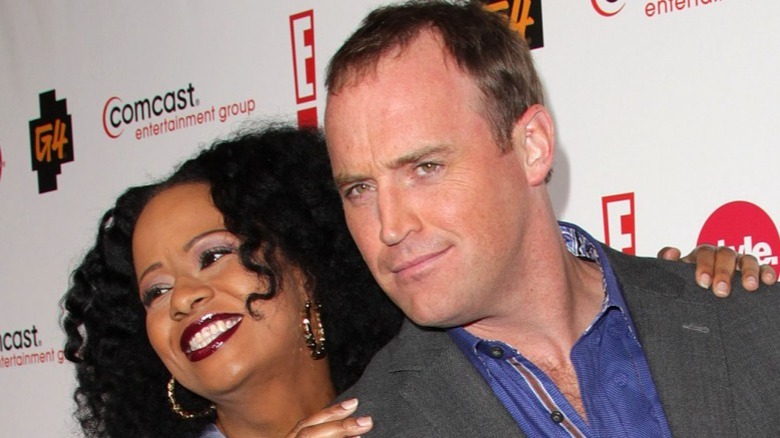 After Tempestt Bledsoe and longtime partner Darryl M. Bell's time on "Househusbands of Hollywood" ended, she returned to scripted TV and movies for a couple of years — but then, a new opportunity arose in 2011, and this multi-talented star took it. Bledsoe took over as the host of The Style Network's now-defunct long-running reality series, "Clean House," in which a crew that also included future "American Ninja Warrior" host Matt Iseman would show up at the messy, cluttered, and downright dirty homes of participants and completely overhaul them. 
When comedian and "Reno 911!" star Niecy Nash, who was quite popular as the home makeover series' original host, left the show, Bledsoe (who is a self-proclaimed "neat freak") stepped in. "This is a show where people are really helped and transformed each and every week and you can feel good about watching it," she explained to Access, noting that this is the kind of reality TV she personally enjoys. Bledsoe added, "Every time I've talked to a family member that says, 'You've really helped me, you've changed my life…' You can't replace that."
Unfortunately, this venture was also short-lived. With Bledsoe's time as host marking the show's final season, she hosted just 14 episodes before "Clean House" was canceled for good.
Tempestt Bledsoe nabbed some fun voice-acting roles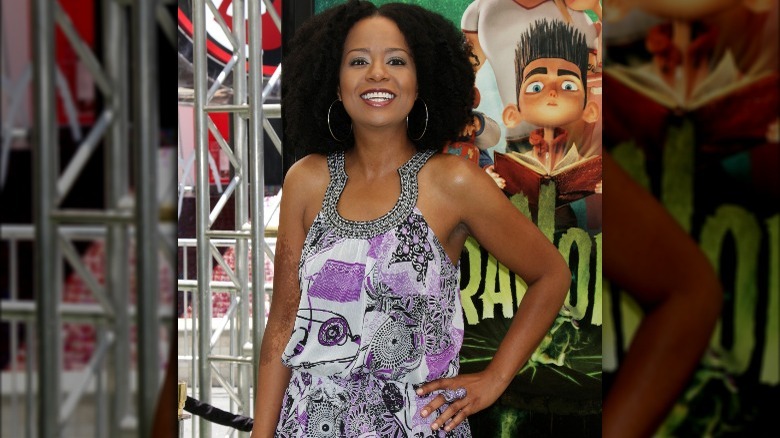 From 2008 to 2009 — prior to her reality TV hosting stint on "Clean House" — Tempestt Bledsoe did a bit of voice acting on the Disney Channel original animated series, "The Replacements." She worked on quite a few episodes in the roles of Abbey, Claudia, and Abbey-clone, and her skills were apparently impressive because a few years later, she scored the role of Sheriff Cooper in the full-length animated feature film, "ParaNorman." 
The flick is a super cute and slightly spooky kids' movie about a young boy with the ability to talk to dead people, who finds out that a curse is about to descend on his hometown, and he's the only one with power to save his community. Hitting movie theatres in 2012, the children's movie also featured the voices of stars like Anna Kendrick, Casey Affleck, and Leslie Mann. "ParaNorman" was also nominated for an Oscar in the best animated feature category, further making it one of the most notable projects of Bledsoe's long and varied career. 
"The movie is so emotionally, you know, connective," Bledsoe told ST Media at the red carpet premiere. "It just makes you feel like you can do anything, you can accomplish anything, that it's okay to be a little bit different, so, I'm in love." The star added, "I think it's very important for kids to see that message over and over again."
There's one thing this Cosby Show alum hasn't done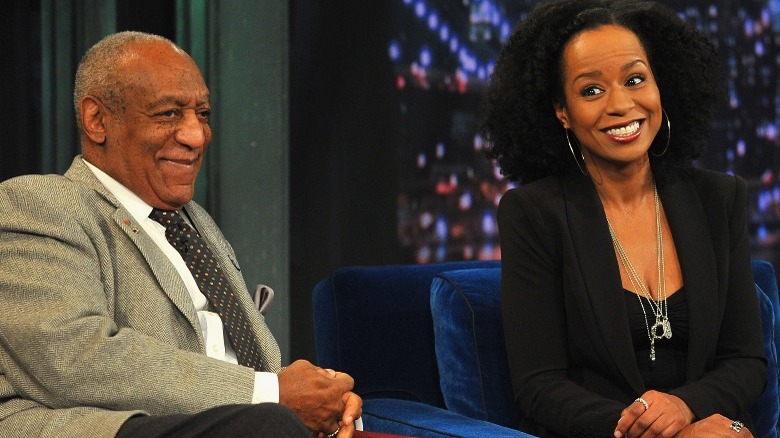 As of this writing, Tempestt Bledsoe has yet to speak out on former TV dad Bill Cosby's 2015 arrest and subsequent conviction in 2018. The man known as "America's Dad" was found guilty of drugging and sexually assaulting Andrea Constand in a 2004 incident at his Pennsylvania home (to date, 60 women have made similar accusations stemming back to the '60s, per NBC News). He was sentenced to three-to-10 years in prison, but ended up serving less than three when his conviction was overturned by the state's Supreme Court in June 2021: According to Forbes, his counsel proved that a previous prosecutor had promised not to charge Cosby while encouraging him to testify in an early 2000s civil suit. The decision shocked many, but Cosby was released from prison. 
Several "Cosby Show" alumni have publicly addressed these allegations, but Bledsoe — who's long credited Cosby for not only kicking off her acting career, but for supporting her NYU studies — has never commented on the controversy. She's therefore avoided the fate of her former TV mom, Phylicia Rashad, who's faced much backlash after repeatedly voicing support for Cosby, once professing (via The Hollywood Reporter), "What you're seeing is the destruction of a legacy. And I think it's orchestrated." 
But as Vanity Fair once noted on Bledsoe and others' continued silence, "Whether that choice stems from pragmatic business-related reasons, or a desire to keep their emotions private, these women aren't talking — as is their right, especially for former celebrities who have been living privately for many years, removed from the spotlight."
If you or anyone you know has been a victim of sexual assault, help is available. Visit the Rape, Abuse & Incest National Network website or contact RAINN's National Helpline at 1-800-656-HOPE (4673).
Tempestt Bledsoe has even gotten in on the Netflix action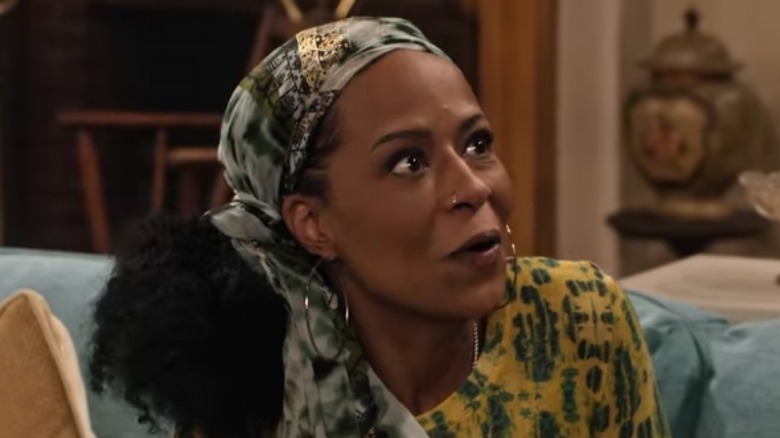 In 2019, Netflix premiered the original series, "Family Reunion," starring Tia Mowry-Hardrict, Loretta Devine, Anthony Alabi, and Richard Roundtree. The popular show is about a family who moves from Seattle to the suburbs of Atlanta to be closer to extended family, but struggles to adjust. With its fourth season premiering in August 2021 (and fans hoping for a Season 5), the comedy features an all-Black writing staff led by "Family Matters" writer-producer Meg DeLoatch. It's a true throwback to the classic Black sitcoms of the '80s and '90s that we all know and love, and often features guest appearances by the TV stars who defined that era in entertainment — including "Smart Guy's" Taj Mowry, "Sister, Sister" alum Jackée Harry, former "Hangin' With Mr. Cooper" star Mark Curry, and one Tempestt Bledsoe.
Bledsoe joined "Family Matters" actor Jaleel White (who famously played the iconic Steve Urkel) on the final episode of "Family Reunion's" first season, titled "Remember When Our Boys Became Men?". Together, they play a bubbly but competitive couple who rope the show's main characters into a couple of game nights. 
The guest appearance marked Tempestt Bledsoe's latest acting credit at the time of this writing in 2021 — as well as her most high-profile TV appearance in more recent years. But with an estimated $6 million to her name, per Celebrity Net Worth, this former child star can afford to be a little picky about her onscreen prospects.
Source: Read Full Article