Inside Keegan-Michael Keys Shocking Divorce
Keegan-Michael Key's first marriage came to an abrupt end in 2017 when the writer, actor, and comedian finalized his divorce from Cynthia Blaise, a Hollywood dialect coach. While the couple kept most of their personal lives to themselves, the news of their divorce came as something of a shock to a lot of people. After all, Key and Blaise had been married for 17 years, and it wasn't long before the "Schmigadoon!" star announced his engagement to another woman.
Because Key and Blaise were so private about their relationship, the tabloids went nuts with both the timing and nature of Key's public announcement of his proposal to Elisa Pugliese — the same month his divorce settlement was finalized.
There hasn't been much information released to the public about the Key and Blaise's marriage and/or divorce, but some interesting facts have been revealed. Ultimately, only Key and Blaise know precisely what brought about the end of their long union. Still, it's possible to piece some details together to find out what went down when Keegan-Michael Key divorced his first wife.
Keegan-Michael Key married Cynthia Blaise before his career took off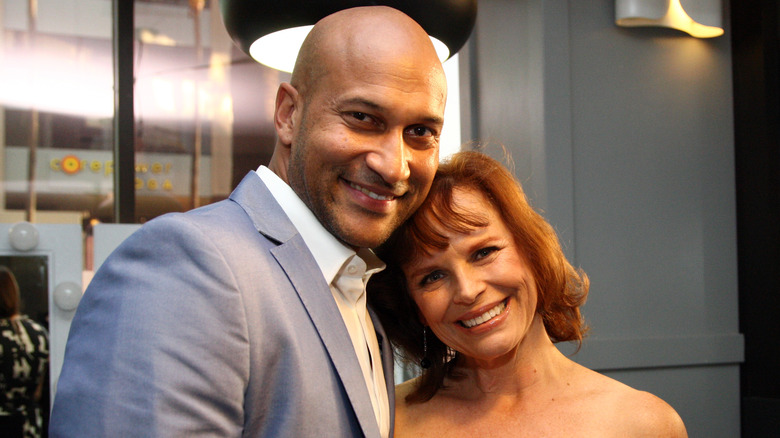 Keegan-Michael Key first met Cynthia Blaise while the two were working at the Detroit Repertory Theater. At the time, Blaise worked as a voice and speech teacher at Wayne State University, according to Hour Detroit. Blaise met Key while they worked together on the production of "Hamtown." It wasn't long before they began dating, and they tied the knot in 1998. 
When they married, Key was at the beginning of his career in comedy, while Blaise had been working professionally as an actress, dialect coach, and teacher. After obtaining a Bachelor of Arts in Theater at the University of Oregon and a Master's in Fine Arts from the University of California, Irvine, Blaise teleported into Hollywood (per The U.S. Sun). Her first acting job came in 1989's "Star Trek V: The Final Frontier" when she played Spock's mother, Amanda Grayson.
Despite appearing in such a prominent role in one of the biggest film franchises in the '80s, Blaise shifted her focus toward becoming a professional dialect coach. She began working with both television and film productions in 1996. While she was working on her career, Key was doing the same. However, it would be several years after their wedding before Keegan-Michael Key became a household name.
Keegan Michael-Key worked With Cynthia Blaise on various projects throughout their marriage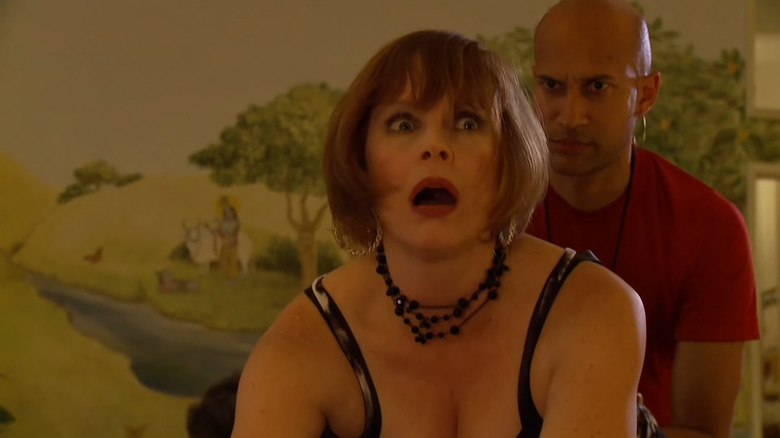 Keegan-Michael Key met Cynthia Blaise when they worked together on a Detroit theater production of "Hamtown," but it wasn't their only collaboration. While Blaise spent most of her time working behind the camera as a dialect coach, she managed to perform in several skits on her husband's popular sketch comedy show, "Key & Peele."
Blaise showed up in five episodes between 2012 and 2015, playing several different characters. In addition to appearances on "Key & Peele," Blaise acted in a sketch for The Second City alongside her husband. In the 2010 sketch, "Meditations on Yoga" (screenshot above), Blaise struts in with the caption, "Ode to a Cougar," emblazoned on the screen before she takes some rather intense instruction from the Yogi, played by Key.
While they worked together over the years, Key and Blaise continued to build their solo careers. Key has appeared in dozens of television series and a plethora of films since he started acting professionally in the late '90s. Blaise's credits include several acting appearances and more than 20 TV series and movies while working as a dialect coach.
Keegan-Michael Key's shocking divorce came out of nowhere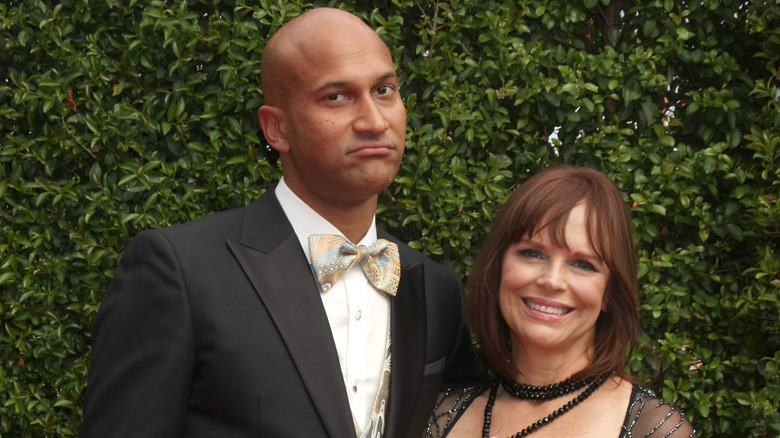 As far as anyone outside the marriage knew, things were going great for Keegan-Michael Key and Cynthia Blaise. Key and Blaise kept their relationship private, so there wasn't any salacious gossip about their private lives spreading online or in the tabloids. All appearances suggested they were as happy in 2015 as they were in 1998.
The couple even continued to make public appearances together until less than two months before the divorce was filed in 2015. Key and Blaise graced the red carpet at the Creative Arts Emmy Awards on September 14 of that year (above), and the pair was all smiles. Of course, that would all change when Key filed the divorce papers before the year's end, asking for a dissolution of his marriage to Blaise.
Ultimately, the couple's preference for privacy is what probably kept the public in the dark about whatever problems Key and Blaise had in their marriage. In the years since, Key and Blaise have largely remained silent on what drove them apart, but some documentation from the divorce has certainly told part of the tale. 
Keegan-Michael Key cited 'irreconcilable differences' as his reason for wanting the divorce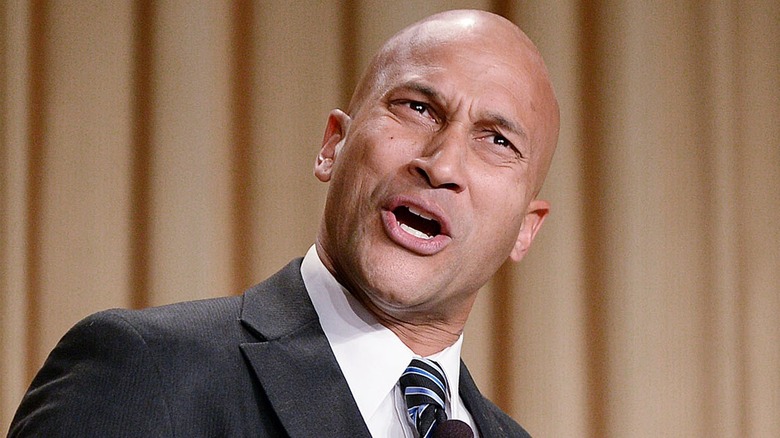 When Keegan-Michael Key filed for divorce from Cynthia Blaise in 2015, he cited "irreconcilable differences" as his reason for wanting the split. The couple separated from one another on November 2, 2015, and Key didn't wait long to file the divorce papers. He filed on New Year's Eve, only 59 days after the separation began. 
In his filing, Key "asked the court to make a determination on spousal support at a later date," per Daily News. This was likely due to a need for time to come up with a complete division of assets, and the court agreed. Beyond citing "irreconcilable differences" in his petition for divorce, at this point neither Key nor Blaise had made any other public indication about what triggered the end of their marriage. 
"Irreconcilable differences" is commonly used in family law courts to end a marriage in "a no-fault divorce," according to Cornell Law School's Legal Information Institute. It basically means that the couple cannot get along with one another to such an extent that the marriage is unsalvageable, but could mean something as basic as "one party wishes to have a divorce and the other does not."
Keegan-Michael Key And Cynthia Blaise's divorce took two years to finalize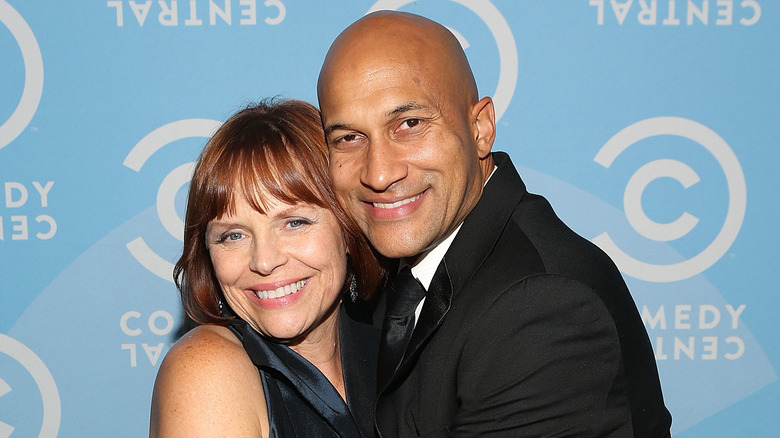 Getting divorced isn't typically something that's over and done with quickly, even if the couple remains amicable to one another. Most divorces take a while to process, and if there's animosity between the two parties, it can take even longer. Keegan-Michael Key filed for divorce in November 2015, but it wasn't finalized until November 2017.
The exes remained quiet about the details of their divorce while it was making its way through the courts. In the meantime, Key started seeing Elisa Pugliese. The pair started making red carpet appearances in March 2016. By September the same year, they were holding hands at The Emmys. Granted, these fleeting public displays of affection are basically the only details of Key and Pugliese's early courtship that are known to the public, as Key is as private in his second marriage as he was in his first. 
It should also be noted that while two years may seem like a long time for a divorce, it's relatively common — as it is for estranged spouses to begin new relationships while divorce proceedings come to an administrative end. Still, divorces involving a lot of money and property typically take more time to complete than those without much to split between the parties. Add to that the fact that Key and Blaise had been together for 17 years, and there's going to be a lot of communal property to divide.
The courts split the couple's assets and ordered Keegan-Michael Key to pay spousal support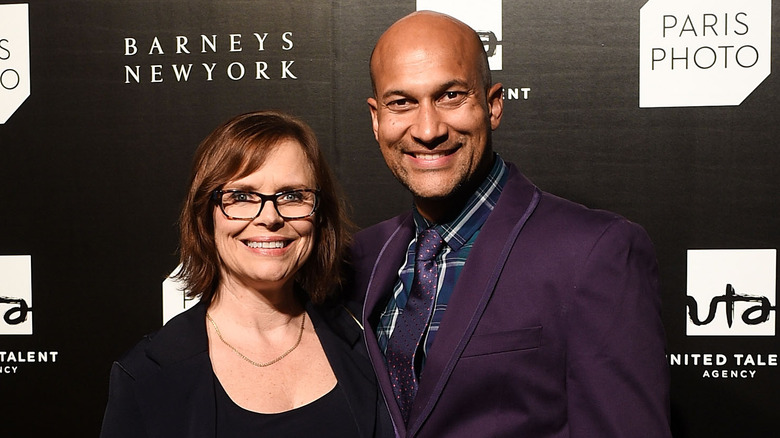 When the courts finally finished dividing up the couple's assets, Cynthia Blaise walked away with half of everything she and Keegan-Michael Key possessed. When they were first married, Key's success was a few years down the road. This ostensibly left Blaise providing most of the financial support initially, which was likely taken into account, and it seems Key didn't put up much of a fight. 
Once the court finalized the divorce, Key was ordered to pay his ex-wife $655,649. That may seem like an odd amount, but it was determined necessary "to equalize the division of assets." On top of that one-time payment, Key was ordered to pay Blaise $34,000 per month in alimony (via People). That amount was the base determination, and he was further ordered to fork over 21% "of his gross annual income from all sources in excess of $2,153,846." 
The total amount of spousal support would "not exceed the sum of $700,000 gross." In addition to the money, Blaise kept the couple's timeshare and 2016 Subaru Crosstrek. They had no children, so their divorce focused entirely on the division of their assets. As is common in divorce settlements, Key is required to provide spousal support "until the death of either party," or if Blaise were to remarry.
Cynthia Blaise suffered health problems as a result of the divorce
While Keegan-Michael Key and Cynthia Blaise's divorce was being processed through the courts, Blaise's health deteriorated. She reportedly experienced several serious physical and mental health issues resulting from the breakup of the marriage.
According to TMZ, Blaise alleged to suffer from depression and anxiety, which physically manifested in both "hair and weight loss." Additionally, she claimed that she suffered from symptoms of post-traumatic stress disorder (PTSD). Each of these issues can be dangerous if left untreated. Fortunately, Blaise sought treatment, which resulted in her "taking 5 different meds" in mid-2017 to treat her ongoing health concerns.
Blaise's health wasn't the only problem she faced during the divorce proceedings. While she was waiting for the courts to decide on an appropriate spousal support order, Blaise was left dealing with financial problems. This probably didn't help her deal with her other issues, as the Mayo Clinic lists financial hardship as one of the "risk factors" that "may increase your risk of developing a mental illness." 
If you or someone you know is struggling with mental health, please contact the Crisis Text Line by texting HOME to 741741, call the National Alliance on Mental Illness helpline at 1-800-950-NAMI (6264), or visit the National Institute of Mental Health website.
Keegan-Michael Key wasted no time in announcing his engagement to Elisa Pugliese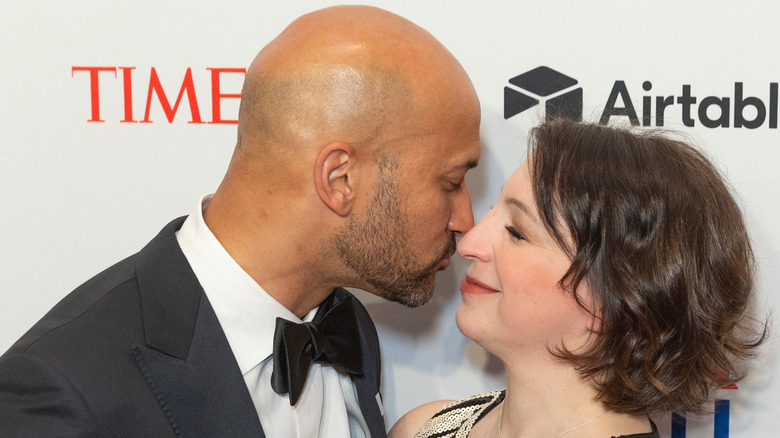 When Keegan-Michael Key and Cynthia Blaise's marriage was officially over, Key hopped online to let the world know he was engaged. The same month his divorce was finalized from Blaise, Key tweeted of his then-new fiancee, "I'm the luckiest man ever. She said yes." This announcement was a bit shocking, seeing as it came so soon after the divorce wrapped up in the courts, but in reality, Key and Blaise had been apart for two years.
Because Key is careful about exposing his private life to the public, there isn't a lot known about his courtship with Elisa Pugliese. Like her husband, Pugliese works in the entertainment industry, though she mostly keeps herself working behind the camera. Still, she has appeared in several films and TV series over the years, though most of her work is as a producer.
As previously mentioned, the pair seems to have officially stepped out as a couple at The Emmys in September 2016, and continued making red carpet appearances together thereafter. Key and Pugliese married at their New York home on June 8, 2018. They held a small ceremony with a select group of family and friends followed by a much larger party the next day. Although they shared some details of the big day with the tabloids, most of their life as a couple, both before and after their wedding, has remained private.
Cynthia Blaise has kept herself out of the public eye since the divorce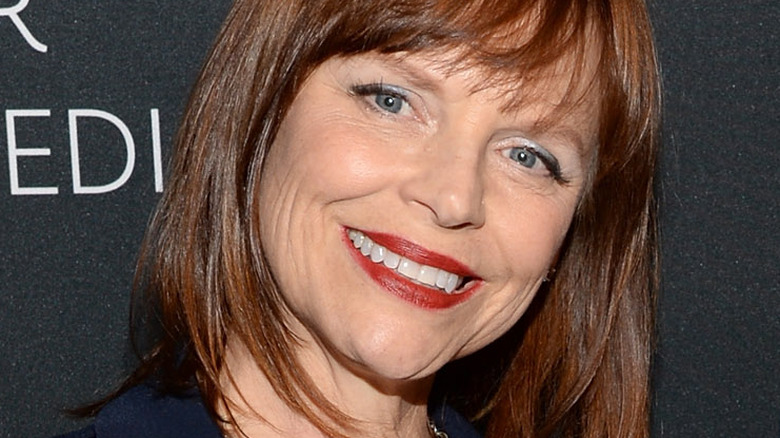 Cynthia Blaise continued working as a dialect coach in Hollywood on television shows and movies through 2016, including some voice work for "Robot Chicken." Still, she doesn't have any additional credits after working on 2016's "The Tiger Hunter," as of this writing. The film came out just before TMZ reported she was having mental health and financial issues, which may have impacted her ability to continue working. Since the divorce, Blaise has managed to remain out of the public eye.
In her court filings indicating her mental health and financial hardships, Blaise claimed she gave up her career to support her husband. As their marriage progressed, her work as a dialect coach became somewhat sporadic, with fewer credited films and TV shows as the years passed. Her work did seem to decline as Keegan-Michael Key's career exploded, so she may have prioritized Key's celebrity over her own, as her court filings (via TMZ) indicated. 
Hopefully, Blaise's health situation improved once the courts finalized her divorce from Key. Still, without any public appearances or statements, her employment and relationship status, as of this writing, remains unknown.
Source: Read Full Article