Julie Chen Recreates Big Brother Contestant Opening Door GIF
Big Brother host Julie Chen couldn't help but recreate one of the most popular GIF memes, which originated on her show.
She posted on Twitter on Friday a video of her channeling former contestant Da'Vonne Rogers' exit from the Big Brother house after she got evicted on season 17 in 2015.
Wearing a black halter top and pink handkerchief skirt and carrying a black bag, Rogers was grinning and practically prancing as she made her way through the doorway. Chen wore a black and white embroidered mini dress and also carried a black bag.
A GIF of Rogers' exit went viral in 2016 and remains one of the most widely-used memes on Twitter and Tumblr.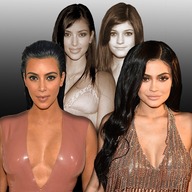 Photos
Kardashian-Jenner Style Evolution GIFs
"I maaayyyyyy have decided to recreate some of my favorite gifs from #BigBrother as we countdown to #BB20," Chen tweeted. "RT if you know this one !!!"
Rogers takes her role as a meme in stride.
"Yes Julie GIRL !!!" she tweeted.
Source: Read Full Article