No Time to Die Ending Quote Explained: What Does M Read?
The new 007 film ends on a bittersweet note, with a quote that calls back to an early James Bond book
MGM
Warning: This story contains major spoilers for "No Time to Die."
As Daniel Craig's final outing as James Bond, "No Time to Die" is packed with action and intrigue — but also turns surprisingly emotional with the deaths of several key characters.
And the film ends on a bittersweet note as characters gather in the London office of spy chief M (Ralph Fiennes) to pay tribute to a fallen comrade — with a quote that calls back to the history of Ian Fleming's James Bond series.
In one of the film's final scenes, M picks up a book and delivers a eulogy: "The proper function of man is to live, not to exist. I shall not waste my days in trying to prolong them. I shall use my time."
If you're wondering about the origin of those lines, look no further — but fair warning, there will be spoilers ahead.
The lines that M reads come from Jack London, the 20th-century American novelist best known for adventure books like "The Call of the Wild" and "The Sea Wolf." The passage was first published in the San Francisco Bulletin in 1916, which said that the author "is known to have said these words, just two months before his death, to a group of friends with whom he was discussing life and living."
It's a fitting tribute for James Bond, who appears to have sacrificed himself in order to save the planet — and his true love, Madeleine (Lea Seydoux), and their young daughter (Lisa-Dorah Sonnet) — from the bioterrorist plot of Rami Malek's Lyutsifer Safin.
But it also has another connection to James Bond. The very same passage appeared in the 1964 Ian Fleming novel "You Only Live Twice" — which had a plot that is very, very different from the 1967 film of the same name. And the book connection suggests that we might be too quick to write off 007 for good.
In the novel, the Jack London lines are used to eulogize Bond after a newspaper obituary appears and the world (mistakenly) thinks that he has been killed. MI6 agent and 007 love interest Mary Goodnight suggests "these simple words for his epitaph. Many of the junior staff here feel they represent his philosophy: 'I shall not waste my days in trying to prolong them. I shall use my time.'" (Mary Goodnight, of course, turns up in the film franchise much later, played by Britt Ekland in 1974's "The Man With the Golden Gun.")
So, is this another Easter Egg to suggest that our favorite British superspy might not really be dead and this is another premature obituary?
Well, the new movie does offer another clue at the very end of the credits: "James Bond will return."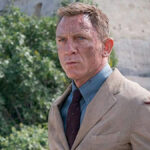 Source: Read Full Article