'Real Housewives of Salt Lake City': Lisa Barlow Talks Jen Shah's Arrest for Fraud and March 2022 Court Date [Exclusive]
Jen Shah's arrest in The Real Housewives of Salt Lake City Season 2 shocked everyone, but no one had a bigger reaction to the ordeal than Lisa Barlow. Showbiz Cheat Sheet connected with the Bravo star to learn more about what was going through her mind when the RHOSLC cast left for Vail, Colorado. Plus, Barlow shared her thoughts on Shah's 2022 court date. 
Lisa Barlow says Jen Shah's arrest on 'Real Housewives of Salt Lake City' was 'a lot' 
In March 2021, the RHOSLC cast was filming for season 2. The episode "Highway to Vail" revealed what happened the day Shah was arrested before her castmates headed out on their girls' trip. Shah, Jennie Nguyen, Whitney Rose, Meredith Marks, Heather Gay, and Barlow met at Beauty Lab and Laser to board their luxury bus when Shah suddenly received a call. 
She told her colleagues it was about her husband, Sharrieff, who was allegedly in the hospital for internal bleeding. Shah left, and moments later, federal agents arrived in pursuit of the Bravolebrity.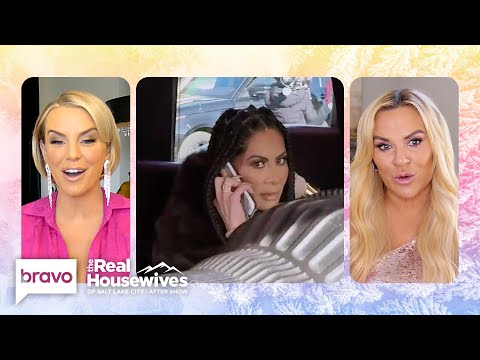 "I was emotionally overwhelmed," Barlow told us via email. "I hadn't really spoken to Jen prior to the Vail trip because she was being extremely combative." At the time, Barlow was looking forward to having a conversation with Shah on the trip to "fix things." 
"Going from initially thinking her husband was in the ICU to branches of our government showing up was a lot," Barlow admitted. "I was processing everything and we didn't have the luxury of doing so privately. Others seemed to know more and were less shocked." Some are convinced Marks was the one to call the feds.
Lisa Barlow and Jen Shah have never spoken 'in-depth' about her businesses
Showbiz spoke with Shah earlier in 2021, just before her arrest. When we asked about her businesses outside of RHOSLC, including Shah Squad Marketing, this is how Shah described it: 
"Anywhere that I can acquire a customer [and] build out a remarketing cycle to continue to add value and offer products and services to [them] once they've been acquired based on a specific brand or content. That's where I carved out my niche in the direct response marketing space." 
We asked Barlow, who previously referred to Shah's business as "ambiguous," what she thought of Shah's definition. "Jen has always been ambiguous when explaining what she was doing," Barlow wrote to us, adding:
"I understand remarketing and DR marketing and how you can use to generate leads. I also understand lead generation and sales. We never had an in-depth conversation on what she did or how she did it." 
'Real Housewives of Salt Lake City's Lisa Barlow on Jen Shah's allegations and 2022 court date 
Barlow believes we are all innocent until proven guilty despite what is unfolding on new episodes of The Real Housewives of Salt Lake City. "[Shah] has serious allegations against her," Barlow said. "If she is found guilty — I side 100% with the victims."
Shah's charges are for telemarketing/wire fraud and conspiracy to commit money laundering. She could face up to 30 years in prison. 
"Right now, these are all allegations," Barlow concluded. "We need to let a judge and jury decide based on evidence and facts." 
Watch new episodes of The Real Housewives of Salt Lake City Season 2 on Bravo Sundays at 9 PM ET. 
Source: Read Full Article