Robert Pattinson Found Inspiration in The King of Rock and Roll for His Accent in 'The Devil All the Time'
The Devil All The Time is a new Netflix original movie that skates along the lines of dramatic and just plain disturbing. It might take a little more effort to finish for more squeamish or jumpy viewers, but the performances from the star-studded cast are worth it. 
Since the film takes place in various towns in the American south, the actors all had to take on accents. For a cast with a handful of British and Australian actors, it's pretty interesting to see. And Robert Pattinson's Tennessee drawl has probably gotten the most attention. While he didn't consult a dialect coach, he did look to The King of Rock and Roll for inspiration. 
Robert Pattinson didn't show his accent on set until filming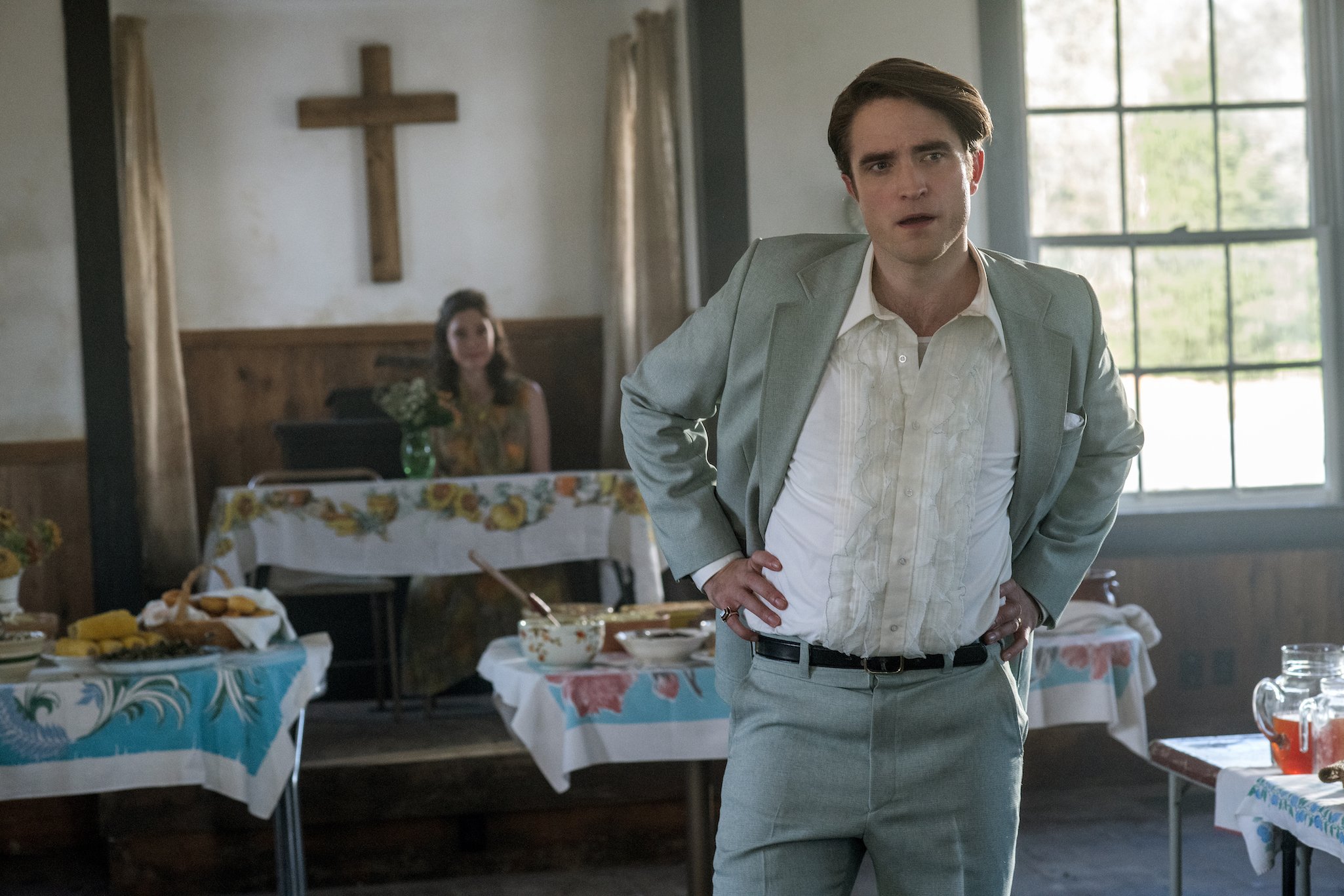 On Sept. 16, director for The Devil All The Time Antonio Campos told Insider that the other actors worked with dialect coaches to nail their accents. Again, most of them don't naturally have that southern sound. They'd even send Campos recordings of their voices for the parts. However, Pattinson didn't do this.
"Rob was impossible to get dialect coaching," Campos said. "He just didn't want to do it. He was just adamant about figuring it out on his own."
Campos described how Pattinson vaguely described what he was thinking, it terms of the role, but didn't work with professional help. Nor did Campos hear his accent until filming started. 
However, even though there was a bit of mystery about his sound, Campos wasn't worried at all if Pattinson would give him "something bad."
"I might not have dug it, but it wasn't going to be bad," Campos said about anticipating Pattinson's sound. "I'd rather have someone come with something weird that's a choice than something that isn't thought out. So I knew he would come with something interesting."
Pattinson looked at Elvis Presley and preachers at the time for inspiration
Pattinson's accent was definitely interesting, to say the least. But it was a role that he picked out himself, after seeing the script.
"Rob said right away, 'I want to play that guy Teagardin. That guy seems like he would be fun to play,'" Campos said to Insider. Especially in his dramatic scene with Tom Holland's Arvin, his accent and fun with the role really had a moment.
Pattinson did have some preparation for the role, though. Even if it wasn't with a professional dialect coach. Campos told Esquire that he and Pattinson looked to YouTube and found some great material on evangelical preachers and "pop-stars of the time." This did include Elvis Presley, who is from the South. Presley was born in Mississippi, not Tennessee like Teagardin. But Presely did move to Tennessee by the time he was in middle school, so maybe it was a decently accurate representation of the accent Pattinson was going for.
But apparently it was "Rob's own madness" that added more to his portrayal.
"He had his own process and was on his own consuming a lot of different references," Campos told Espire.
Pattinson doesn't method act or stay in a role the whole time of shooting. Campos said he was "very fluid" that way, going in and out of his Teagardin persona. Campos said that he told Pattinson to "go as far as you want to go" and leave it all out there while shooting. 
"Sometimes he'd go so far he'd make himself laugh and even in those takes we might get something brilliant, but it was like he would kind of zero in and be in it," Campos said. "The performance is almost closer to a possession than it is a performance."
Even though Pattinson didn't use a dialect coach, one coach liked it
While his accent is one of the wilder things in the movie (although not the scariest), it's not entirely incorrect. GQ interviewed dialect coach and voice actor Erik Singer and he had good things to say about Pattinson's southern accent.
For starters, he pointed out that Pattinson's character is from a different region than most of the other actors' roles. So it made sense for him to have a different accent. He also said that when it comes down to it, he's portraying a southern preacher, which was pretty spot on.
"It's both of the place and time, but also of the character and his profession, and deeply idiosyncratic," Singer said.
Especially in the scenes where Pattinson is preaching his sermons, Singer noted that it fits in with those at the time.
"He's a preacher who is absolutely in love with his capacities with language," Singer said. "He's buying into his own magic, and he's intoxicated by it."
Source: Read Full Article