Sam Heughan Has Playful Banter With Karen Gillan Over Chance to Get A Part in 'Outlander'
The actor portraying Highland warrior Jamie Fraser in the historical drama series shares an interesting response upon learning that the 'Guardians of the Galaxy' actress is obsessed with his show.
AceShowbiz -"Outlander" hunk Sam Heughan has offered actress Karen Gillan a "wee part" on the historical drama series after discovering she is a big fan of the show.
The "Guardians of the Galaxy" star has been catching up on her TV during the COVID-19 pandemic, and took to Twitter to share her love for "Outlander", in which Heughan plays Highland warrior Jamie Fraser.
"Ok I'm late to the party but I started 'Outlander' and I am officially obsessed," Karen tweeted.
The post caught Sam's eye and he responded with a job offer, writing, "Still time to find you a wee part Karen…"

Sam Heughan offered Karen Gillan a 'wee part' when reacting to her tweet.
Jumping at the opportunity, the actress quipped she could feature in the background in scenes shot in her home city of Inverness, Scotland.
"Can I be an extra loitering around Inverness asking people, 'what's the craic, eh [sic]?' " she replied.
"Yes, with a bottle of bucky [alcoholic drink Buckfast Tonic Wine]…," Sam added, before quipping, "but you may not be ginger enough I'm afraid."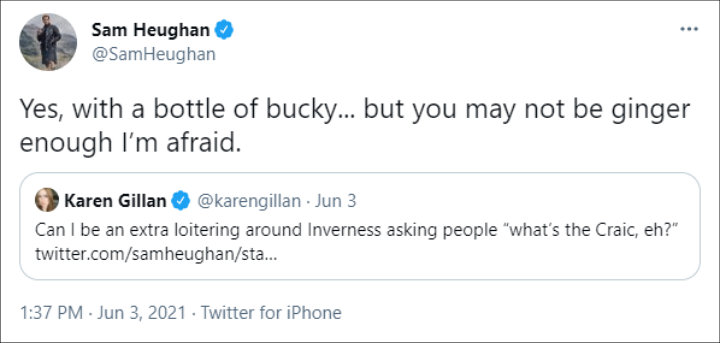 Sam Heughan playfully responded Karen Gillan's post.
Sam was not the only one responding to Karen's online confession over the series. The show's official Twitter page tweeted back, "Welcome to the club, thrilled to have you!" It continued, "[smiling face] I'd warn that symptoms of Outlander addiction may include starting to say anything and everything in a Scottish accent but you've already got that covered."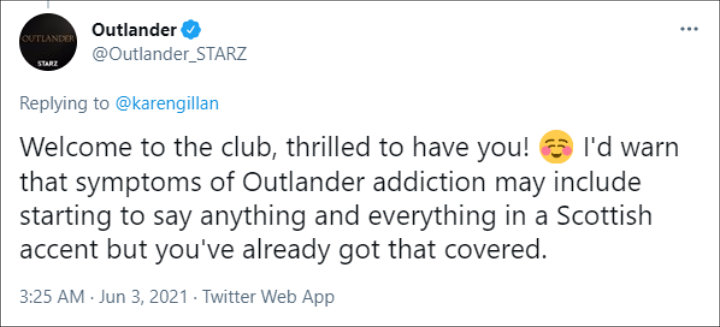 The 'Outlander' official account also replied to Karen Gillan's confession over the show.
"Outlander"'s fifth season aired in 2020, with season six expected to premiere next year (2022). The sixth season will come with eight new episodes and a 90-minute premiere.
Source: Read Full Article