Savannah Guthrie's Trump Town Hall Performance Gets Rave Reviews From Journalists
The NBC News town hall got contentious as Guthrie challenged Trump's noncommittal answers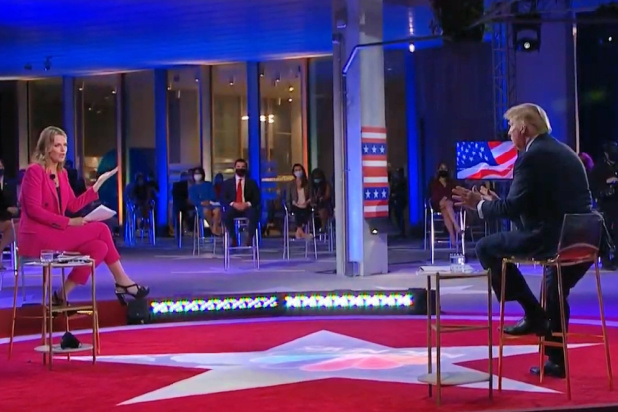 NBC News
Many liberals were frustrated by NBC News' decision to hold a town hall with Donald Trump, moderated by Savannah Guthrie, at the same time as Joe Biden's town hall on ABC. It was, after all, Trump who pulled out of the presidential debate that has previously been scheduled for Thursday night by refusing to participate in a virtual debate after he was infected with COVID-19.
But once the town hall concluded, a lot of those folks changed their tune. The town hall ended up having much more of a debate feel than folks had anticipated, with Guthrie repeatedly pushing back on Trump whenever he gave an evasive or otherwise noncommittal answer. It was not an easy evening for Trump, who took umbrage at Guthrie's attempts to pry real answers out of him.
As was the case in August when Jonathan Swan of Axios was lauded for simply asking basic follow-up questions in response to Trump's various claims, Guthrie was lauded on Twitter by many on the left for how she handled her duties on Thursday.
Perhaps the most notable moment of the hour-long session came when Guthrie asked Trump about a tweet he had retweeted this week which pushed a conspiracy theory about Joe Biden and Osama bin Laden. Trump defended defended himself by saying, "I'll put it out there, people can decide for themselves. I don't take a position."
But Guthrie wasn't having it. "You're the president! You're not someone's crazy uncle who can just retweet whatever!" she told him.
Here's some of the raves that Guthrie won after her Trump town hall performance:
The town hall was contentious basically from the get-go, with Guthrie and Trump going back and forth for the first ten minutes about whether Trump had tested positive for COVID-19 prior to his debate with Joe Biden two weeks ago. Trump's eventual answer: "Possibly I did, possibly I didn't."
If you missed the Trump town hall on NBC News, you can watch a full replay on YouTube right here.
Source: Read Full Article