'Superstore': Amy and Jonah's Parenting Skills Are Scrutinized
Superstore's newest episode "Playdate" truly blessed Amy and Jonah shippers everywhere. It offered fans a glimpse at Amy and Jonah's lives outside of Cloud 9, and maintained the show's trademark humor.
[Spoiler Alert: This article contains spoilers for the most recent episode of Superstore.]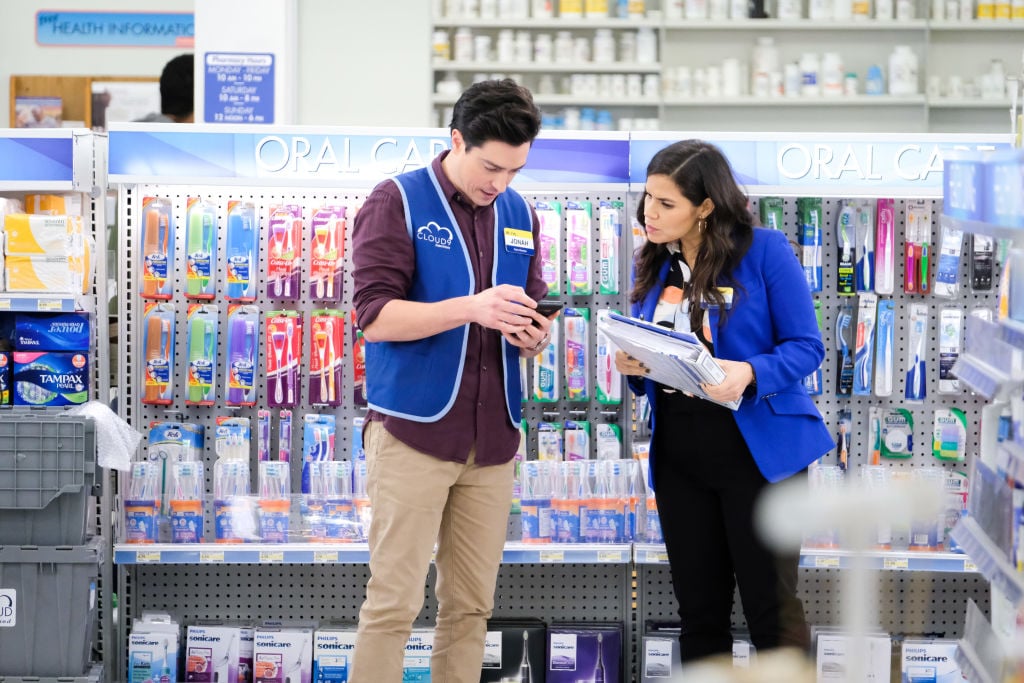 Amy has to bring Parker to work in 'Superstore'
The Superstore episode opens with Glenn and Dina arguing over who should lead the morning meeting because Amy is running late. She arrives with Parker and Jonah in tow, and tells the Cloud 9 employees that Parker's daycare unexpectedly closed because a kid got lice.
Amy leads the morning meeting while holding Parker, and all of the employees begin to scrutinize her. They worry Parker is uncomfortable or scared of heights, and it distracts everyone so much that Jonah holds him instead.
As a reminder that men are awarded for the bare minimum when it comes to parenting, everyone is impressed that Jonah is so natural with Parker. He reminds them that he lives with Amy and her kids.
Garrett tries to help Dina
While most of the Cloud 9 employees are focused on criticizing Amy's parenting skills, Dina has other priorities. She has a new boyfriend, and is busy planning a fun date with him. Except her date ideas are totally absurd, and range from photoshopping a picture of the two of them together to stalking his mother on Instagram for baby pictures.
Garrett finally calls out Dina for her behavior, though she writes it off that Garrett is just jealous of her new relationship. To make amends, Garrett helps her plan out an actual normal date. It's nice to see the two of them getting along, but there also seemed to still be a small glimmer of a romantic connection between the two. Only time will tell if the exes will ever get back together.
In another subplot of the Superstore episode, Sandra and Cheyenne speculate over Parker's parentage. Both start a conspiracy theory that Jonah is Parker's real father; they just need proof. Sandra steals a cup Jonah used and Parker's pacifier to test their DNA, but Cheyenne decides that is too far and drops the subject.
Amy and Jonah are defensive of their parenting in 'Superstore'
To help Amy out, Glenn's wife Jerusha arrives with their daughter Rose to have a playdate with Parker. Except Jerusha's help also causes Amy to be insulted for being a working mom. The Cloud 9 employees comment on the fact that one of Parker's toys seems to be a dog toy and that Amy still lets him have a pacifier.
Glenn and Jerusha brag that Rose only ever eats homemade food and that she is already potty trained. Amy and Jonah get even more defensive of their parenting skills, and at one point the couples try and have their kids race each other through a child obstacle course. Naturally, both Rose and Parker just sit there, unaware they are supposed to be racing.
This Superstore episode comes on the heels of America Ferrera announcing she is leaving the show. It's still unknown how the show will write out Amy, and "Playdate" makes Ferrera's soon-to-be absence even more bittersweet.
The episode showed Jonah and Amy as equal partners with Amy's children, making it very clear the two see Jonah as Parker's dad. As they sat in Amy's office discussing how Jonah will feel if Parker plays sports years down the road, it struck a cord. After being the slowest of slow burn TV romances, Amy and Jonah seem to be endgame in Superstore. Hopefully, fans will be able to see that happen.
Source: Read Full Article