The BTS Drama Between Tia Booth and Blake Monar Is On Another Level Right Now
Last week's episode of Bachelor in Paradise was unhinged and deranged for many reasons, but like…did anyone notice that Tia Booth and Blake Monar's fight on the beach came literally out of nowhere?
As a reminder, these two had a chat on some random daybed, and their conversation quickly devolved into a fight. It all started when Tia reasonably said "I want to be pursued, I want to be chosen," which Blake didn't seem to get. "There's nothing I want more out of this than leaving with you. Like, what more do you need to hear from me?… If you just tell me what you want from me, I literally would do anything in the world, Tia." Meanwhile, Tia was just all, "All I needed was for you to act like you gave two fucks for like two seconds when we first got down here. That's it!"
This conversation truly came out of nowhere and left viewers even more confused than usual, so Tia hopped online to explain what was happening BTS:
Tia's comment was captured by fan account @bachelorettewindmill, as was Blake's response. Because yes, he most definitely responded.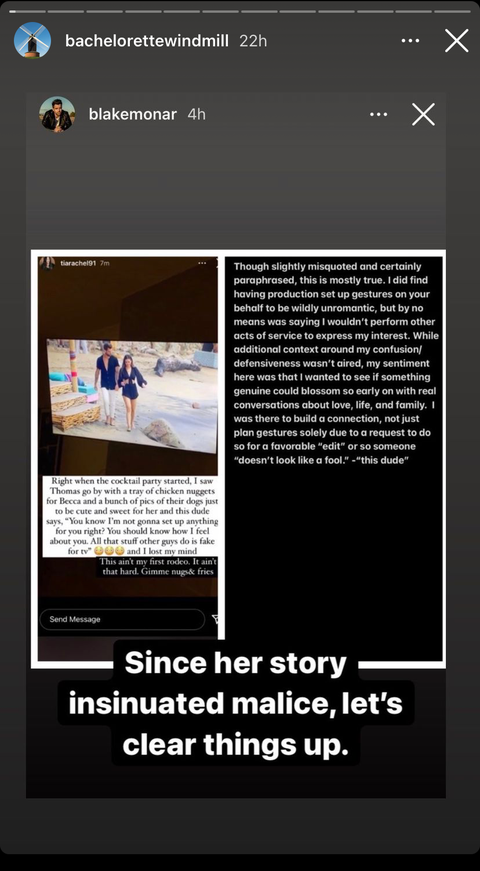 "Though slightly misquoted and certainly paraphrased, this is mostly true," Blake said. "I did find having production set up gestures on your behalf to be wildly unromantic, but by no means was saying I wouldn't perform other acts of service to express my interest. While additional context around my confusion/defensiveness wasn't aired, my sentiment here was that I wanted to see if something genuine could blossom so early on with real conversations about love, life, and family. I was there to build a connection, not just plan gestures solely due to a request to do so for a favorable 'edit' so someone 'doesn't look like a fool'— 'this dude.'"
Well, yikes! Guess we'll see how this resolves on-screen this week, but uh…it's certainly not resolving off-screen. Like. At all.
Source: Read Full Article