The Masked Singer Unmasks the Giraffe
The Masked Singer said goodbye to another singer in Group A and he managed to fool the panel until the very end.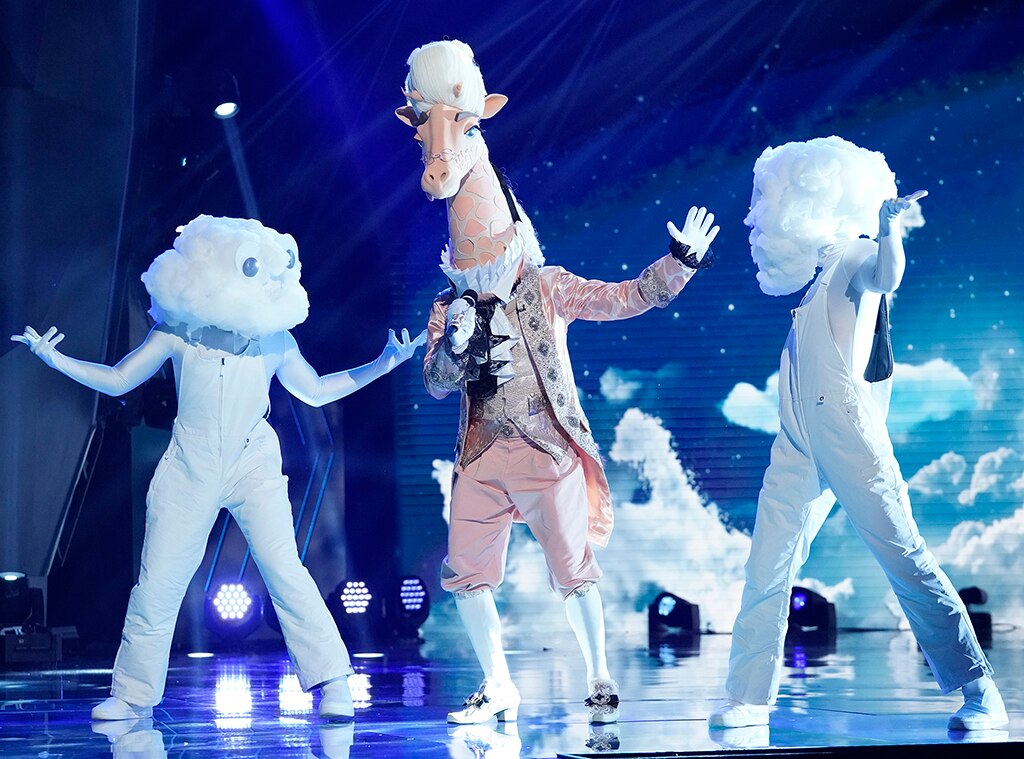 The unmaskings continue on The Masked Singer. 
While our fave Snow Owls continue to avoid capture, the Giraffe was the unlucky singer forced to take off his mask this week. He revealed that he was actually Beverly Hills 90210 star Brian Austin Green. The panel managed to guess pretty much any and all people vaguely related to the actual Giraffe, including his 90210 costar Jason Priestly and last name-sharer Seth Green as well as Shia LaBeouf, who co-starred with Green's ex-wife Megan Fox in Transformers. 
Robin Thicke was just sure it was Travis Barker of Blink-182, but no one quite managed to get to BAG himself, which is impressive even as he's eliminated. 
Just three singers remain in Group A now: Popcorn, Sun and those elusive Snow Owls. 
Sun really impressed the panel with her performance of Kesha's "Praying." They even told her she might be the best female vocal the show has ever had, but it also feels like they say that in every episode. Popcorn gave off some very big '80s vibes, complete with a hair crimper and a Rubix cube. 
The Owls continue to do their best to keep us all confused about their relationship. Are they brother and sister? A couple? Coworkers? It's unclear, which is absolutely on purpose. She supported him after a bad breakup and he encouraged her to take a big leap of faith, but that could literally mean anything. 
Unfortunately, we'll have to wait a few weeks to see the Snow Owls again. Next week, Group B returns for their playoffs, and then we'll get two weeks of Group C before Group A returns. That's plenty of time to for us to compile as many duo guesses as we possibly can and still probably be wrong. 
Keep up with all the contestants so far by scrolling down! 
"If you're looking for a hint to my identity, you should know I share something in common with a powerful giant."
Clues: He's had a roller coaster career, music is in his blood but he became the butt of jokes when he took a big risk and crashed and burned, $3, drummed up towering success, he's in the driver's seat and he's off to the races. He's survived and thrived by seeing the big picture and staying above the drama, peaches, his whole world recently became crashing down, his life was transformed in the blink of an eye, had a terrifying episode that scrambled his brain, he defeated his invisible predator and now he's at a crossroads in life, but as long as he has his herd he'll be fine. A green apple, Fox, a domino with two fours. 
"Check the gremlin manual and you'll see I can thrive when the temperature is a cool 66.5 degrees." 
Clues: Checkered history, has a fluffy side and adores all animals, loves to cook. 
"If you want a hot clue to finding my identity, just look into stocks and bonds." 
Clues: His lair is a bit humid, he loves a funky outrageous costume, he's on a quest to be the best, his fire is "dangerous," he switched gears and now he has a lot of gold, a bone, the Statue of Liberty
Revealed to be Busta Rhymes in episode one.
"Mirror, mirror on the wall, what makes me the biggest miracle of all?"
Clues: Snacks and the City, goldfish wearing hoops, tiger, built a career around love but she's a "hard-corn" hustler, works long nights "rushin'" from one job to the next, meatloaf, snake, apples, a little cheesy, she jet sets to exotic places with royalty. She wanted to step out of her comfort zone and loves "flirtin'" with Nick. She wasn't always healthy and had trouble eating or sleeping until she found her voice, soap opera vibes, 16 candles, hair crimper, Rubix cube, rainbow flag, Venus. 
"If you're trying to figure out who I am, here's a hint: This sun knows how to shine like a torch even during the freezing winter."
Clues: Gold Member, extreme seasons, felt like the center of the universe but the spotlight was too much, Mickey Mouse ears, frozen, A Quiet Place, feels like the sun is a reflection of her. She missed out on a lot of childhood growing up in a fractured home, now she's discovering childhood outlets, into the woods, loves dirt in her toes, cauldron, immaterial girl, she's burning ugly rumors, a magic eight ball. 
"You can try and figure out who we are, but as for who is more talented, it's a tie." 
Clues: We haven't seen them together in a while but now it's time for a family reunion, he's a prankster who once covered their house in snow, a pearl, a rose, Hollywood, Magnolia and "Quarrel Canyon." He was going through a messy breakup and she acted as his anchor, DAL on a basketball, a light up D, she had an opportunity "fit for a queen," she took a leap of faith and he was her knight in shining armor, a witch's hat. 
"A special set of keys reversed my game forever. Tic-tac-whoa." 
Clues: Grew up in Hollywood, a fish in a pineapple, naturally into water, Italy 
"If you're looking for a hint about this Baby Alien, all you have to do is look to the stars."
Clues: used to be on the Tony Awards stage, the Liberty Bell, roses, sleeps in a crib, "stuck in second gear" 
"Living in the ocean can be dangerous, so it's always good to find a quiet place to hide."
Clues: Felt trapped by her insecurities, too shy to release the fire burning inside, felt lost in the world, a warthog, always swimming up stream, gets to stop playing tug of war with herself and gets to explore the "dauntless diva" within. 
"Some might say that my career had a magical start."
Clues: People think he's shy and he lets others absorb his spotlight, "dance with the stars," candybars, time to turn the tables on the world because he doesn't want to be "hair today," gone tomorrow. 
"If you want to know how I instantly appeared, here's the prescription number to my identity." 
 Clues: Library, he wanted to "heal pain," the Caribbean, a book called "How to Get Yourself Out of Debt," a fire extinguisher, his dad helped him get on a path to success by lighting a fire inside him. 
"I assure you that even though I may be cold-blooded, I have a warm and glowing flow with H20."
"It's very fitting that I have so many appendages. After all, I'm known for having a lot of hands to latch onto."
"If you want a hint about me, I own who I am. I know my voice can go high, but my dishes go deep."
"If you want to know who's behind the mask, you'll need to figure out who's under my hats."
"I'm a broco-lean, mean, heart-pumping machine. After all, it's how I got my six-pack."
Trending Stories
Nikki Bella Responds to Social Media Backlash Involving Dwayne Johnson
The Biggest Celebrity Bombshells from Perez Hilton's Memoir
Meghan King Edmonds Reveals Son Hart Has Cerebral Palsy
The Masked Singer airs Wednesdays at 8 p.m. on Fox. 
Source: Read Full Article