'The Office': Fan Discovers Bizarre Jim Conspiracy Theory and Jenna Fischer Confirmed It's True
The Office spanned nine seasons, so there's no shortage of conspiracy theories about the show. This one involving a small detail about Jim Halpert (John Krasinski) might seem totally random, but Jenna Fischer, who played Pam, confirms the theory is true. It has to do with, of all things, Jim's wardrobe, and whether he wears his shirt sleeves rolled up or not.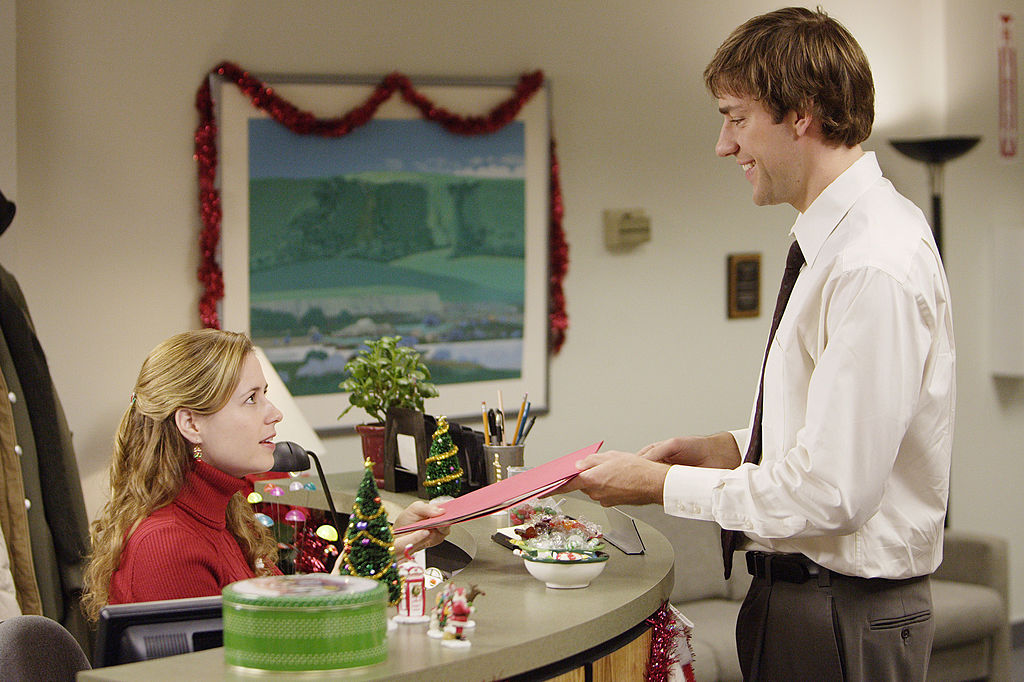 A fan noticed Jim's sleeves
During the June 10 episode of the Office Ladies podcast, co-host Jenna Fischer addressed a fan's question about the way Jim's sleeves had been rolled up until he transferred to the Stamford office and during the time he dated Karen. When he started dating Pam, however, he was back to rolling up his sleeves.
Fischer shared the involved conspiracy theory that a fan sent in to the podcast. "This is the Jim Halpert sleeve conspiracy," the fan shared, admitting they had taken "a deep dive on Jim's sleeves."
"For all of season 3, Jim's sleeves are not rolled up. He is famously known for rolling up his sleeves… and he is even sometimes wearing a blazer," the fan pointed out. They theorize "it's love," explaining, "Jim's iconic look is him with his dress shirt sleeves rolled up and never wearing a blazer."
Things changed when he was dating Pam
When Jim moved to Stamford, he changed his look and was seen either wearing a blazer or wearing his dress shirt sleeves not rolled up throughout the season 3 episodes. When he returned to Scranton the sleeves were still rolled down but in season 4 episode 1 his sleeves were rolled up again and he didn't wear a blazer. The fan believes that his sleeves are correlated to him dating Karen and "starting a new chapter" in his life.
Is it "symbolic that he was comfortable with Karen," the fan wondered. When he started dating Pam, his sleeves returned to being rolled up, after all.
Hmm. That's an observant fan! They wondered if the small wardrobe detail was intentional and Fischer confirmed that yes, it was done on purpose.
RELATED: 'The Office': Jenna Fischer Reveals the Heartbreaking Pam and Jim Moments That Made Her Cry
That's not the only detail about Jim
In the May 6 episode of Office Ladies, there was a discussion about why Jim's talking head interviews are in a different location than everyone else. While his co-workers typically are in the conference room with a window into the office bullpen behind them, Jim sits in front of a window that faces outside. That detail was also very intentional.
When Fischer contacted showrunner Greg Daniels about it, she got the scoop on why Jim was seated with an exterior window behind him for these interviews.
"I asked him, 'Was this deliberate? Was this an accident?,'"she explained on the podcast. "And he said that it was something that RandallEinhorn, our cinematographer, suggested to Greg starting with the pilot andGreg absolutely loved it."
She continued, "He said Randall's intention here was that it didn't necessarily have to be only Jim, but the idea was that any character that had a future outside of Dunder Mifflin or held some sort of internal optimism would sit in front of a window leading out into the world, but characters who didn't want to leave Dunder Mifflin, or who maybe were in more of a position of being trapped, would do their talking heads facing into the office."
Source: Read Full Article