The Truth About Sterling K. Browns Wife
Sterling K. Brown is probably most famous for playing one third of The Big Three on "This Is Us," as well as for being one of Hollywood's all round good guys. The likeable star is a father of two sons with his wife, Ryan Michelle Bathe, but just who is his other half?
Well, Brown and Bathe have quite the cute meet cute, first crossing paths while they were students at Stanford University. Bathe explained to Entertainment Tonight during a joint interview in 2018 that they found themselves in the same dorm during their freshman year and she was "mesmerized" when she saw Brown audition for a play.
Bathe ended up in the play as well, and they started heading to rehearsals together by biking and chatting along the way. "We found out that we were both from St. Louis. We didn't know that we were both from St. Louis, like, our parents went to rival high schools. We were born in the same hospital. Like, we were friends," Brown shared.
But it wasn't exactly love at first sight. Sterling admitted his now wife was "of course" dating someone else because "she's gorgeous," so they spent a while just being friends and getting to know one another. "We were just buddies. We were homies before everything else, and then it grew," he said. Things have blossomed quite a lot since then and the couple went on to marry in 2007. Keep on scrolling for more on Bathe's life.
Ryan Michelle Bathe is a successful actor, just like her husband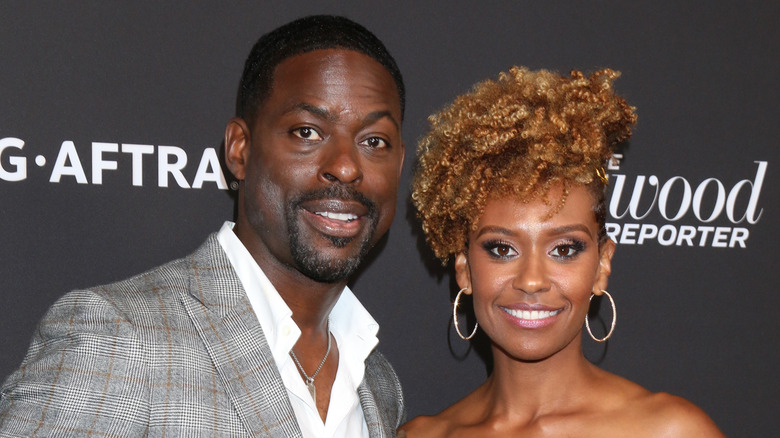 If Ryan Michelle Bathe looks familiar to you, that's probably because you've spotted her on the small screen. The actor is very much a star in her own right, having appeared in big time shows such as "First Wives Club" (as Ari Montgomery), "Empire" (as Celeste) and "Timeline" (as Mrs. Skylar).
"This Is Us" fans will also have seen her before, as Bathe appeared alongside her husband, Sterling K. Brown, on several episodes of the NBC hit between 2016 and 2018, playing Yvette in a series of throwback scenes. Fans may remember that Yvette got into a heated debate with Mandy Moore's character Rebecca (the mom of Brown's Randall) over how to raise her children. Bathe also starred with her husband when she played Charlie in "Army Wives."
But just don't expect Bathe and Brown to mix work and pleasure. "Sterling and I have been in the game for a long time. We go back to college," she explained to E! News in 2017. "We've learned that there are certain minefields and pitfalls in our relationship, like a slalom, we just move right past them. Rehearsing together is one of those things."
But it's not just on screen where Bathe shows off her skills. "Sincerely, she is infinitely more talented than her husband! She acts, she sings, she dances, she writes — as an artist, there's not much she can't do," Brown gushed to Good Housekeeping. Aww!
Ryan Michelle Bathe and Sterling K. Brown spent years apart because of a psychic vision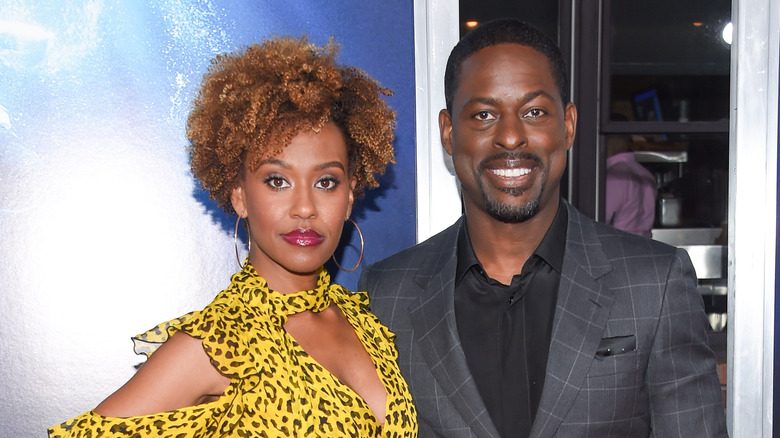 Though they may be college sweethearts, their school romance didn't exactly make it all the way into adulthood unscathed. Yep, before officially getting back together in 2004, Ryan Michelle Bathe and Sterling K. Brown actually split up for three whole years because of a psychic vision two of her family members had. Really.
Bathe revealed the "crazy" story on OWN's "Black Love" in 2018, when she confessed that her mom and grandmother had a "vision" that Sterling didn't have the best intentions. "The vision was he is this horrible person, you need to be deathly afraid of him, he's evil, they basically gave me the full-court press," she recalled.
It sounds like the two have had quite the rollercoaster ride over the years, with Sterling admitting to Entertainment Tonight in 2017 — one year before he gushed over Bathe at the Golden Globes — that he thinks their romance would make a "good movie" because it's so darn dramatic. "We need to actually put pen to paper and get it produced because people wouldn't believe it. The multitude of ups and downs that we went through before we finally got together and figured it out," he said, confirming they've been "solid since April 2004" but had enough drama before that to sustain a feature film.
It doesn't seem like there's anything in the works just yet, though that's a movie we'd definitely watch!
Source: Read Full Article